(Compare) Antivirus or Internet Security ? which one to choose?
Antivirus or Internet Security Difference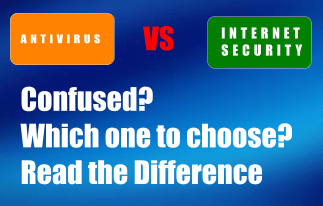 Many people get confused between antivirus and Internet Security product. Which one is better or which one to choose? antivirus or Internet Security. Here I have tried to mention Antivirus and Internet Security differences. It can help you to choose the best Antivirus or Internet Security.
| Antivirus | Internet Security Suite |
| --- | --- |
| It is a standalone antivirus program. These days some companies also include Anti-malware and some other basic security features in it. | It is a collection of many features including antivirus like Firewall, Antimalware, Antispyware, AntiSpam etc. |
| Normally Firewall not included | Firewall Included |
| Can be usefull for just basic protection | Effective for full protection from Internet threats and USB threats |
| Free or in cheap price range | Costly then antivirus |
| Can be useful for Basic protection for home users. | Useful for Business users and serious home users to protect data. |
Anti virus can only scans the virus that it knows. It cannot prevent any virus it does not recognize. So Anti-virus software just fights Viruses, Worms and Trojans they have signatures for and just provides a basic protection. But because as technologies grows method of cyber crime also get advanced and bad people uses many other methods to do the bad things with computer users. Though these days many antivirus software providers are using cloud based and behavioral protection system to make the antiviruses more powerful. But still there is one thing that mostly all provider miss in their antivirus is Firewall. Firewall works greatly to protect the device from hackers etc.
Internet Security includes and provide defense against many threats and keep the computer secure even from hackers. It is not just one program, but is usually composed more than one application that aims to provide total protection towards the user. Still at its core is certainly an anti-virus program. But aside from an anti-virus program, another programs inside the suite provide more peace of mind in the potential risks that came into being along with the web age. It includes the another application that's essential in a web-based security suite is a firewall. A firewall limits others on the internet from getting utilization of your computer or network by decreasing connection demands .Internet Security Suite could safeguard you from spyware and adware programs that could send your own personal together with additional information to organizations outdoors and other sorts of malware and spy ware.
Many antivirus companies are providing even more features in a Internet Security suite these days. Like Multiple layer of protection, two way firewall, Wi Fi and Network Protection, System Cleaner, Parental Control, Community based protection, Social Network Protection etc.
Different Software provider have different features in their particular product, So choose wisely and read and compare all the features carefully before making your decision to buy an antivirus or Internet Security Program.
So just only antivirus is not enough to keep your computer safe & secure. You need a Internet Security Software. Always buy a total internet protection or Internet Security suite to keep your computer safe & Secure. Although it costs you a little more but it would give you a complete peace of mind.
Other useful related links which can help you to choose the best Antivirus for you.
You can check here latest deals or Discount Coupons codes to get Cheap Internet Security software.
Read  the Review and features of Popular security Programs
Related Search:
What us the difference between antivirus and internet security the difference between antivirus and internet security software is big difference, what is the difference between antivirus and internet security here you can compare best free internet security software which can you have to install  easily, antivirus and internet security software how to compare internet security because best internet security and virus protection is AVG what is the best internet security i can say Norton and AVG here you can find difference between Internet Security Comparison,What is the Best Internet Security you find this from there Best Internet Security and Virus protection you also can Compare Internet Security if you want to compare you can find the Difference Between Internet Security and Antivirus this the nest way to find best Internet Security Comparison you can compare Compare Antivirus and Internet Security here is the best Antivirus Comparison the great Compare Internet Security Software 2015
Was this article helpful?
Let us know if you like or dislike the post. That's the only way we can improve.