Avira Internet Security 2017 offers a robust antivirus protection and a host of other extras. The core antivirus engine is a powerful one, which has consistently been scoring well in numerous lab tests. The major changes that they did in the 2017 version is that first time they introduced the Free security suite bundled with Anti-ransom-ware feature, which show their commitment to give maximum protection for their users and Device control feature which which let to protect your removable devices from threats.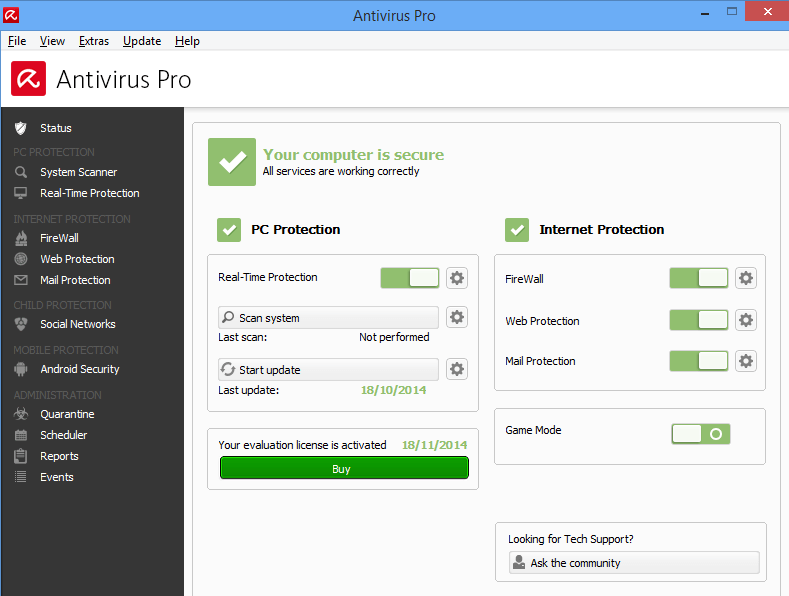 The software also offers browsing protection, by detecting and blocking malicious websites before they can even load, and preventing virus infection via downloads.
What is New in Avira 2017
Added new layer of protection with Device control to Detect and scan removable storage devices.
Added Anti-Ransoware feature to safe guard from cryptoware to avoid encryption of your data.
Revamped Avira Connect Launcher.
Free Antivirus become Free Security suite by including privacy protection, browser protection and anti-ransomware feature and with automatic continuous update.
What was new in 2016 version
It is now compatible with the latest OS Microsoft Windows 10
Avira's Self Defense Technology is more powerful to protect itself from any attack.
Blocks PUA (Potential Unwanted Applications) actively.
System Speed up Tool kit has been revamped to make it more super fast and light antivirus solution for your device.
Now you can manage your Avira from an online Interface from anywhere.
Many other bug fixes and improvements.
For android based devices new Applock, privacy adviser and browser protection features itroduced to make it more powerful.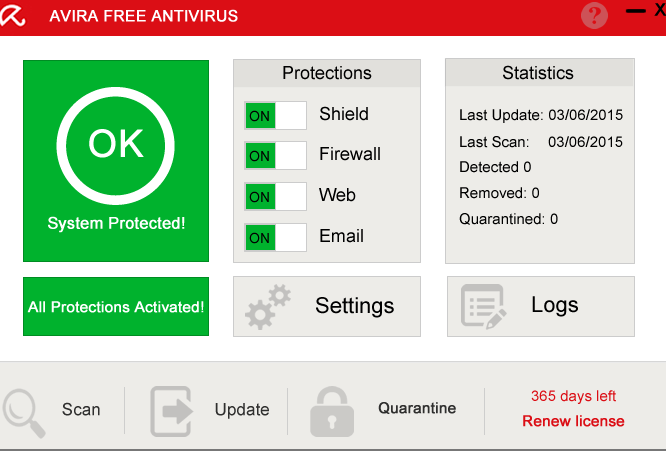 What was new in 2015 version
The main highlight in the 2015 version is a powerful engine to enhance your personal computer protection, together with enhanced iOS apps and android experience. The full package also comes packed with a free Antivirus setup process that offers the option to install Avira Browser Safety, Dropbox and Avira SafeSearch. We found these not to be as annoying as they sound, because they open in a different window to the program installer, and if you do not want to accept the offer, you can simply close the windows by a simple click.
---
---
Avira antivirus 2015 is managed via Avira Online Essentials, which is a web dashboard that gives details of all your packages and gadgets, and enables you to install additional modules such as System Speedup, Browser safety, Dropbox…again and Identity Safeguard.
There are no major upgrades, but this is not a surprise if you recall that Avira has been busy delivering new features throughout the year, rather than saving them for one landmark update. This is a more stable approach that is best for everyone.
Over the years, Avira (A Germany firm) has become known for providing top rated antivirus packages. The 2015 product line comes packed with Avira Antivirus Pro 2015, Avira Antivirus 2015, and Avira Internet Security 2015. Below, we will check out the useful features of Avira Antivirus 2015: In simple terms: What's new in Avira 2015?
The Free package offers enhanced personal computer protection with a strong anti-malware engine.
The product line is fully equipped with better iOS and Android apps.
To guarantee the safety of your browser, this software offers the option to install Avira browser safety feature. With this, others will not be able to track or sniff your online activities.
The Avira SafeSearch Feature: This is an awesome feature to have. Using it, you can perform safe searches on the web.
In the place of new Virus Definition File (nVDF) format, the 2015 version comes with extended Virus Definition File (xVDF) version. This yields a higher number of virus definition together with file download speed optimization. As such, you PC will boot or restart much faster than before, and with relatively less consumption of resources.
Identity Safeguard; This is an extra update with the 2015 version for fearless web browsing and enhanced security.
What's more, most of the features highlighted above can be managed via Avira Online Essential Dashboard. You will also have the freedom to opt for as much of these features as you may want, and if you feel you do not need any later, you can easily disable them by a mere click. This means that Avira 2015 has been designed to offer the end user full control over the software he or she want to have along with the level of online virus protection.
A few Essential points to note about Avira Antivirus 2016
Connection with Avira Protection Cloud enhances performance, with unknown files being classified in real time.
Browse tracking blocker maintains your online privacy by blocking more than 650 networks from tracking your online activities.
Website safety advisor embeds icons to your search result page (if they are conducted through Avira Toolbar), warning you of potentially dangerous site the moment you click on one.
Integration with Avira SocialShield enables you to protect your kids on Twitter, Facebook, Google+ and all the other social media platforms.
Avira Antivirus 2016 package also comes packed with Avira's system speedup Module.
Note that the 2016 version does not come with a standalone Avira Internet security 2015.
How to download Free Avira Antivirus 2017 Version or Avira Security suite?
You can visit Avira official website for online installation. The link to the site is: Online free download Avira Antivirus. From the same link, you will be able to download Avira Antivirus Pro.
The Verdict
As they are claiming super fast, super light and super secure. So there is no harm in giving a 30 days free trial and then decide have to keep or look for another solution. We are also looking for your views on this. Please write your experience in the comments.
Install, Upgrade and Renew:
Installing Avira 2015 is as easy as like other Antiviruses, Just download and run the installation file it will guide you complete the installation process. To upgrade from the previous version to the new version 2015, first of all you have to remove the old version from the system and then install the new Avira 2015 in your system. If you got any error during upgrade process then use the Official Avira Removal Tool to remove the old installation completely from the system and then try re-installing newer version. If still you have issues then contact directly to Avira Customer support. Their Tech department is very friendly and will help you to solve your issue.
Avira Coupons and Promos.
If you have decided to buy Avira Premium product then you can save some bucks using these promotional links offered officially by Avira. Check out the latest Avira Coupon codes.