AVG Antivirus Free edition provide a basic protection for the PCs for Free. If you can't afford a paid security solution then it is better to install a Free Antivirus than using it without any protection.
There are many Free Antivirus options available in the market. See a list of  best free antivirus which are free for life. You can compare their features and choose the best one. AVG is also one of them.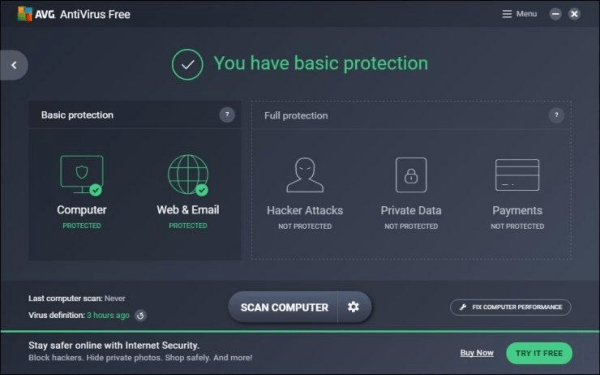 Buy AVG Online Security Products at a Discounted Rate
It includes feature like: anti-spyware, anti-spam, and firewall safety, It also have a basic ransomware protection.
---
---
Download AVG Offline Installer
If you require to download offline installer to install on computer on which internet connectivity is not available or have a limited bandwidth or have slow computer. You can activate offline.
Download AVG Free offline installer
About Free AVG Antivirus
One amazing fact about this antivirus is that it is offered for free. Even with no price attached to it, the antivirus still manages a decent score when it comes to the performance. The user interface is quite appealing and also easy to use.
This antivirus will not slow down your system whenever it is running, which assures you of a normal speed as your system is monitored by an effective antivirus. As you would expect with any free service, this antivirus also comes with multiple ads that prompt you to upgrade to the premium version.
Hope Favor In the current digital age, technology is growing at a supersonic rate. While some people are developing programs to assist the users differently, others develop viruses to attack computer systems.
Luckily, you can find reliable antiviruses that help to combat those viruses and keep your device safe from any attack. Over the years, many companies have been on the front-line in the pursuit of developing dependable antiviruses.
Features of AVG Free
The User Interface
This is also another feature that impressed many users. It comes with a similar color scheme to the previous version, but with a different design and style. For instance, there are two panes in the main window; the Full Protection and the Basic Protection.The Basic Protection section covers the protection of your computer, along with email and web protection.
Conversely, the Full protection panel lets you protect your online payment process, private data, and hack attacks. You can choose to enable all the three protections if you want to have a secure system. The limitation here is that the Full Protection is only available in the premium version.
A Scan Computer button is located just below the two panes, and you can quickly scan your system by clicking on it. The antivirus will scan for malware, system logs, junk files, registry issues, as well as browser traces. A full scan takes less than six minutes to complete. You can also fix those bugs by utilizing the AVG PC Tune Up trial version.
All in all, the user interface is appealing and easy to navigate.
Malware Protection
The AVG Free Antivirus comes with a Resident Shield Real-Time Scanner and an Active Scanner. These two scanners run in the background, and they will alert you in the event of any malicious software. The behavioral analysis will capture any suspected software that gets through.
The antivirus will upload all the malicious items to the AVG servers for further analysis. You can choose to cancel this in the Privacy Preference menu.
It also inspects the websites you connect to, as well as email attachments that you receive. Nonetheless, it doesn't scan an online file-storage system.
Security and Privacy
AVG FREE Antivirus comes with an Identity Protection feature, which monitors your system for any possible incident of personal data theft. It will keep you protected when receiving email attachments, but the free version doesn't come with the Anti-Spam filter.
The free version also features the Link Scanner, which checks Facebook, Twitter, and other Web links for any malicious content. On the negative side, it will not scan files that you download (but you can enjoy this feature when you upgrade your version).
There is a rescue disk that helps you clean your computer if it has been loaded with malware and other harmful content. The Rescue Disk can be downloaded for free and installed on a USB or CD drive.
AVG  features a couple of dedicated segments to shield you against antivirus, spyware and rootkits and spam.  As well as it also includes which is known as an additional level of protection that checks Google search results and web links to ensure they are safe.
Click on the below link to download the AVG Free Antivirus directly from the AVG Website.