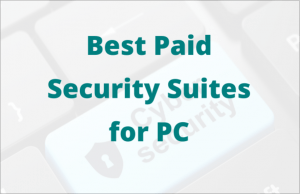 Today when cyber threat is a major concern, and every one must require a good antivirus software. We are listing here Best Internet Security suites for Windows 10 PC. Not just Windows 10, most of these can be used to protect other platforms as well like Windows 7, Windows 8, Mac, iOS, Android based devices.
These days mostly all top antivirus or security suites are equally effective, So choosing a particular one program as the best is not possible and giving them rating is also not possible but still we have prepared a priority wise list of Top Premium Security Software keeping in mind about their features, Ease of use and experience. So practically you can choose any of the below Antivirus Program for your protection. A factor that you can consider is "Support in your region". As different company have different level of support and services in a particular region choose the one which best suitable in your local language and is easy to reach.
Best Security Software
Price comparison of top 10 Best Antivirus Internet Security Software
Best Antivirus Security Suites Compatible with Windows 10
If you are interested Download Best Free Antivirus Software.
Comparison of Top 5 Antivirus Software
Comparison of Best Business Antivirus
---
---
We are listing these top antivirus of 2019 as per their protection ability. To clean an infected device their are many other scanners and Removal tools available here Best Malware Removal Tools and Best Adware Removal Tools.
Reviews and Features of Best Antiviruses
Find below brief review and features of the best security suites / total security / internet security software.
1. Norton Security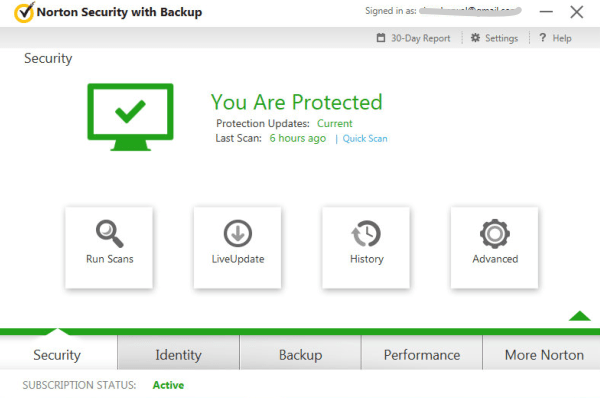 Regular Price: $89.99 (10 Devices License)  Promo Price :  $59.99  Buy Now
Norton is on the top of our list as they are global leader and have worldwide reputation. They have many layers of protection to keep a computer virus free. Norton have recently launched the new Norton 360 for overall protection.  New norton 360 is the improved version of Norton security.
Norton security Premium comes with a license to protect up to 10 devices. You can choose the Norton License as per your device requirement from Standard (1 device), Deluxe (5 Devices), Premium (10 Devices). They are in business from 1982. Its shows their experience in computer security business. Norton's confidence of providing 100% guarantee makes it the number 1 internet security software suite.
Main Features of Norton Security
One solution to protect all of your devices types like Windows, Mac, Android and iOS.
Protection from Virus, Spyware, Malware, Rootkits etc.
Smart two way firewall.
Norton Safe Web to Avoid unsafe websites and dangerous download.
100% Virus Free Guarantee Otherwise your money back.
SONAR – Behavioral protection technology to detect even unknown threats.
Insight – To identify the unknown files for the threat from its 175 Million Norton users feedback.
App Adviser, Remote Locate, Lost Notice, Remote Wipe, Contacts Backup Restore for smartphones.
System optimization tools.
Norton Family for Parental control.
25GB online backup cloud space with premium protection.
Its fast and very low impact on computer resources.
2. Bitdefender Total Security
Price: For 3 Devices – $89.95  Sale Price :  $58.47  Buy Now
For 5 Devices – 139.95
For 10 devices – 229.95
Bitdefender is a most awarded company and all its security products are very fast in scanning with its innovative Photon technology and is very light on system resources. Bitdefender total security have lots of protection layers and integrated many tools to give an overall protection from mostly all threats. Its AV engine is also known as the best AV engine in the world. Many other Antivirus programs are build on its engine. So it is on the third in our list. It also integrates many other features like Ransomware protection, Cryptoware Vaccines etc.
Main Features of Bitdefender Total Security
Low on System Resources and can adjust the performance as per system resources.
Two Way Firewall.
Device Anti theft feature.
Anti-Ransomware to protect from Cryptoware.
Photon Technology for Fast Scanning.
Anti-Spam, Web Filtering, Anti Rootkit with Anti-malware.
SafePay for secure online financial transactions.
System Optimization Tool.
Parental control features.
Gamer Mode.
Very fast scanning and less impact on system resources.
4. Trend Micro Maximum Security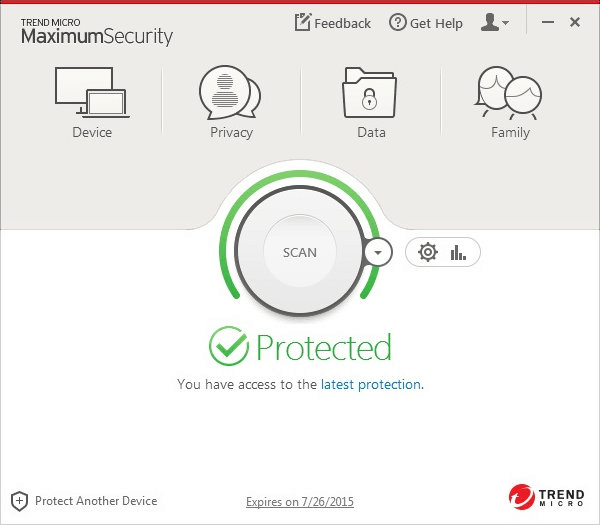 Regular Price: $89.95 (3 Devices protection)  Sale Price :  $39.95  Buy Now
You can also buy Trend Micro Premium Security for 5 Devices license with the same set of features just in $99.95 $49.95.
Trend Micro is another old name in security industry and is widely used world wide specially in Australia and North America continent. It scored very well in real world tests and have some great features like Ransom-ware protection to block cryptowares which can encrypt your important data. Trend Micro is also providing its Internet Security suites with 3 device license and 5 device license. The unique feature that it includes is scanning of online cloud storage OneDrive which makes your backup data safe and prevent it being infected if your system get infected.
Features of Trend Micro maximum security
OneDrive storage Cloud Scanning.
Ransomware Protection.
Family Protection.
Privacy Protection.
System Optimization tools.
Antimalware and antivirus protection.
5. Webroot Internet Security Complete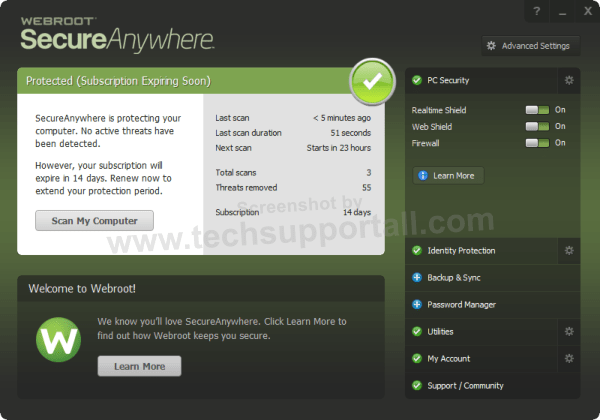 Regular Price: $79.99   – Promo Price : $39.99  Buy Now
The next in our list is Webroot SecureAnywhere  Internet Security Complete. Webroot have Ransomware protection capability, which is a growing ongoing threat. It has many great features like USB Shield, Web Shield, PUP Shield etc. Webroot is less known name but is a good internet security software with affordable price. It takes very short time in installation or I can say that it is the quickest installation Antivirus software. Install it and you will start loving it. It is very lightweight and effective antivirus suite. Instead of 30 days the are providing a 70 Days money back guarantee. After Emsisoft it the second internet security suite in our list which is providing a real PUP protection. It is a very lightweight and fast scanning antivirus software.
Highlighted features of Webroot Internet Security Complete
Anti Ransomware feature which can block or warn about cryptoware which results in ransom.
Real time Anti-phishing to block access to harmful websites.
Network Monitoring and protection.
Fast scans technology with low impact on system.
Protects account login and passwords.
Eliminates traces of online activity.
25 GB Secure online storage.
Advanced protection for PC, Mac and Mobile Devices from malware and viruses.
70 Days Money back guarantee.
6. Avira Internet Security Suite
Regular Price: 44.95 Euro
Avira scores very well in real world test results. Avira products have been improved a lot in recent years and is in our list of Top Internet Security suites as it have many good features like Self Defense system to protect itself from getting disabled by any virus or malware. It also have the feature to protect from Potentially unwanted software like unwanted tool bars, adware etc. It includes a unique feature Browser tracking blocker which let your block any tracking cookies which spy on your internet activities which they used for targeted marketing.
Main Features of Avira Internet Security suite
Self-Defence to avoid disabled by any program.
Anti malware with antivirus and spam protection.
Intelligent Repair System to repair the damage done by malware.
Smart AI for 0 day attack protection
PUP Protection to protect from unwanted software.
Web Protection for safe browsing.
Network Protection.
Browser Tracking blocker.
Game Mode.
PC Tune up and cleaner.
7. McAfee Total Protection – LiveSafe Internet Security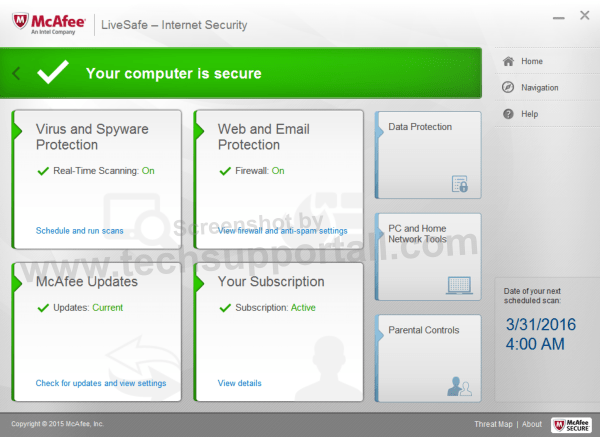 Regular Price: $89.99 (Unlimited devices)  – Sale Price : 44.99 Buy Now
Intel McAfee is also among the global leader and is an old trusted name in Antivirus industry. In the mid days it was a little behind other security software but now Intel security researched and make it again a good Internet security software. McAfee Total protection is compatible with all device platforms Windows, Mac and Smartphones. Another product with same features but with Online cloud space is also available known as McAfee LiveSafe. Mcafee LiveSafe is designed for multi devices compatible with Windows, Android, and iOS. McAfee license provide you unlimited devices protection in your household.
Intel true key Password Manager.
Personal Locker Online Space.
Protection from risky website and malicious download.
Anti Spam, Anti Malware with Antivirus features.
Parental Control.
Unlimited Devices Protection.
WiFi Protection.
8. Avast Premier
Regular Price: $89.99 – $74.99 (3 Device Protection)
Avast Internet Security 60 Days Free Trial Download
Avast is a fast growing antivirus popularly known for its Free Antivirus for essential protection. It is most trusted and most downloaded Free Antivirus program. In Its product Avast premier which is a paid security program includes many great features like:
Protection from Virus, Malware, Spyware, Ransomware and Phishing.
SafeZone for safe banking and online transactions.
Data Sherdder to wipeout system completely.
Home network security.
Browser Cleanup.
Password Manager to only remember one password instead of lots of passwords.
SecureDNS.
AntiSpam.
9. AVG Internet Security
Regular Price : $54.99
Note: AVG was acquired by Avast. Now both comes with different brand names but with identical features.
AVG is the strong competitor of Avast as AVG is also popular for its free antivirus program. Internet Security is a paid programs which includes some extra features.
AVG Online shield with malicious link protection.
Data Safe to protect private files.
File Shredder.
Anti-Spam.
Social Network Protection.
Anti-Rootkit and Anti-Spyware.
WiFi Guard.
Identity Protection.
AVG Do Not Track.
Game Mode.
AVG Accelerator for faster web experience.
AVG AutoFix, AVG Advisor.
Shopping protection with enhanced firewall
10. Vipre Internet Security Pro
Regular Price : 54.99  Sale Price : $39.99 Buy Now
Threattrack Vipre has also scored well in real world threat protection. Vipre internet Security Pro provides great protection.
Features of Vipre Internet Security Pro
Antivirus with antispyware and antimalware.
Bad website blocker.
Behavioral based analysis and cloud based protection.
Removable device scanning USB drive protection.
Two way firewall.
History cleaner.
Auto patch for vulnerable software.
Search Guard and Social Watch
Secure file eraser.
2. Emsisoft Internet Security
Regular Price: $49.99  Promo : $39.99 with 2 Free Gifts Buy Now
Emsisoft anti malware is a great antimalware and we found it most effective in view of malware protection. In Internet Security Software "Emsisoft Internet Security" they have added an additional Firewall feature to make their anti malware software to use as Internet security. They are using two scanner for their real time protection one their own scanner and another is the industry leading Bitdefender Scanner. So due to the power of two scanners we are putting it as second choice. They are in business since 2003.
We found its real time protection very effective as it block and warn you for serious changes on your system like if some trojan or malware try to change even your browser home page it immediately ask your permission to allow or block. It is like built in antimalware and anti adware tool. Its user interface is also very friendly and clean. As like Norton they have also mentioned to provide guarantee of malware removal which make it on the second position in our list.
Main Features of Emsisoft Internet Security
Surf Protection and browser protection.
Real time File Guard.
Behavior Blocker.
Automatic Evaluation of Good and Bad Programs.
PUP Protection to keep away from unwanted tool bars, browser hijackers and other unwanted software.
They also provide Guaranteed Malware Removal.
small impact on system resources and user friendly interface.
Our best paid security software for windows 10 list ends here. Please share your comments and reviews. Also share which antivirus are you using and what is your experience using that. and if you think there is some other internet security software is more eligible for this top 10 list post your feedback using comments section.
Small / Medium businesses must have to use a paid antivirus solution
Small business owners are at the greater risk of malware and hacking threats. Small / Medium business computerized their work but they do not focus on investing money on their security. But we recommend every business owner to invest on a Antivirus security suite to protect their sensitive data and time. These days antivirus software are cheaper due to the competition in the market. check the Antivirus Coupons for latest deals and offers on antivirus software.