Business antivirus is a type of antivirus software designed for use in a business environment where all the system is managed by a centralized server or admin. It is usually deployed to cover the network and all endpoints in order to protect against malware, phishing, ransomware, and other cyber-attacks. There are many types of business antivirus software available in the market. Some companies offer volume license packs for the small businesses, who do not require server security feature. In this article we will checkout the list of both type of software, business antivirus with volume license packs and Endpoint security software.
Business antivirus is different from regular antivirus products
A Business Antivirus is different from the regular antivirus product which we use for our personal computers. Business antivirus offer options to manage multiple devices from a single point. These are also specifically designed for the better security of servers and networks. Security software designed for business infrastructure is also known as Endpoint Security.
Best Business Antivirus software (with volume license packs)
These are ideal for small and medium companies who are looking for volume license pack. Below table will give you an idea that these lacks server security features whereas an endpoint security software provide all the server security features. Check out the next section for best endpoint security software.
Best Antiviruses for SOHO / SMB users:
Also check : Best paid antivirus for Windows 10
Best Endpoint Security for Businesses
These includes the Best Endpoint security software suitable for small / medium to large enterprises. All these are featured packed with server level security and management features.
---
---
Comparison of best endpoint security software
Business Antivirus Reviews
A short review and description of each business antivirus product mentioned above. I have installed every software and tested them before writing these reviews.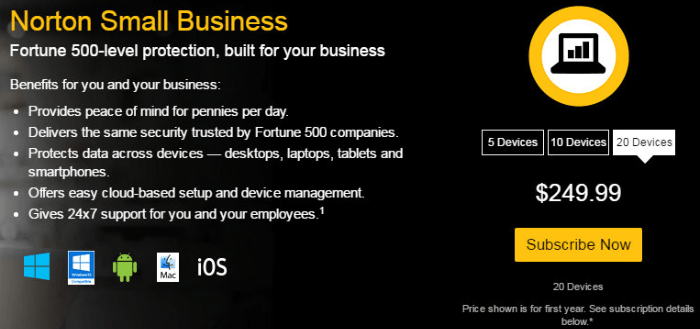 Norton Lifelock is providing security software for home users. But if you own a Small business with up to 20 computers and does not have servers etc. Simply you can use the Norton's Small Business 20 user packs. This is the same as of Norton Security but with 20 user packs and additional cloud based setup and device management. It is compatible with Windows10, mac, ios and android devices. It comes with 5, 10 and 20 user packs. choose as per your requirement. But if you also have servers established in your organization then you should consider Symantec Endpoint Security.
As like Norton, McAfee has also introduced a Small business security for the business users. You can choose the security from 1 device up to 25 devices. You can choose the exact number of licenses that you require and pay only for the licenses that exactly you require maximum up to 25 license in single package. It is an ideal product for those small businesses with up to 25 devices and does not have servers. For more then 25 licenses and up to 250 and you own servers then you can go for the McAfee Endpoint Security for SMB.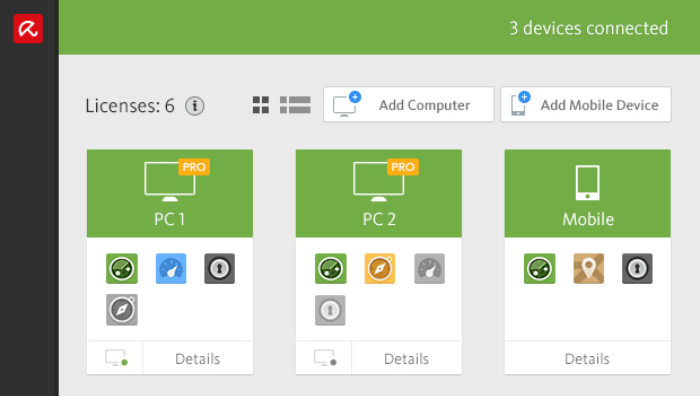 Avira launched a special business edition for its Antivirus Pro which includes all Antivirus Pro features and Centralized management online dashboard, mobile device management and system information features which is for the small businesses. It is an ideal software for small business of any size, you can scale as you grow. You can license upto 3 to 10000 devices. The best thing is that you can add new license at any time as your organization grow bigger.
BitDefender's GravityZone technology is for the Business Security used in their Antivirus designed for Corporate. It provide some great features in its Business Security Antivirus. This is one of leading corporate security software with some advanced features. It let the organizations to do risk management very efficiently. Bitdefender GravityZone is the top anti-malware solution for the corporate. Bitdefender Endpoint Security tools adapts to any virtual or physical system automatically.
Bitdefender uses technology that catch zero day threats without impacting system performance.
Powerful web console for remote management with local and cloud hosted option.
Protect both workstation and servers in your license.
Remote access management to restrict or block access particular application or webpage remotely.
It includes firewall, Intrusion detection, web filtering and search adviser.
It is also compatible with virtual machines.
5. Symantec Endpoint Protection for Small Business
Symantec is now part of broadcom Symantec provides an enterprise security suite which covers desktop, servers, virtual servers etc. It also provides mobile device protection and disk encryption. Symantec have four layers of protection with a network layer and behavioral monitoring layer. Symantec uses a shared insight cache instead of antivirus solution for the performance concern. For insight cache each machine uses a dedicated virtual machine. It requires an agent installed on each guest to provide high level of protection. It provide great protection then just a simple antivirus scanning technology. Licensing can range from $30 to $50 per endpoint.

Trend Micro is a leading company in Business Security and this worry free business security product is great fit for small organizations having up to 100 workstations, servers. It include many great features along like Ransomware Protection, Data protection, Antispam and Web Security etc. It can protect all Windows, Mac and Smartphone devices.

AVG Business security scored very well in independent test labs. AVG Includes the following features apart from all the basic features available in a Business Endpoint Security like anti-malware, web protection, identity protection, file shredder etc.
Remote management.
Data safe to provide encryption and password protection for business files.
New Network Antivirus with proactive AI detection.
File server and email server protection.
Free Phone Support.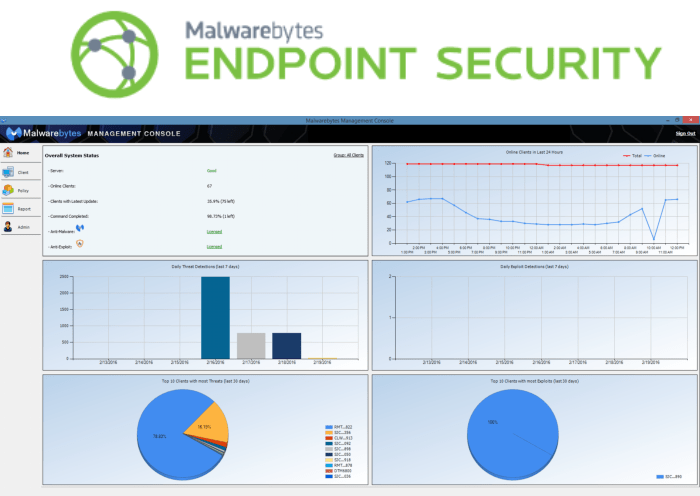 Malwarebytes is very popularly known for its free Antimalware Software. Malwarebytes Endpoint Security is relatively a new product for the small businesses, but we believe it would fulfill the requirement of business security. Malwarebytes integrated many technologies to bring up strong Business security software for Endpoints. It have the features:
Multiple client management console.
Active directory integration and synchronization.
Virtual deployment simulator.
Integrated Anti-exploit technology.
Four different layer of protection.
Compatible with all Anti-malware and Anti Virus products.
Remove all traces of malware.
Zero hour malware blocking.
Ideal for SMB with 250 or less devices which covers desktops, laptops and servers for the enterprise level security. With a single console you can manage all devices in the network. Intel McAfee is a also a popular corporate product. More then 200,000 SMBs trust on McAfee Solution.

Webroot Endpoint protection for upto 249 endpoints. For more then 249 you have to contact the Webroot channel partners to buy. You can also get additional discount from the channel partner for larger licenses. Above then 249 endpoints it comes under enterprise service. Webroot is very lightweight and fast antivirus solution. Check out their comparison page where they compared their software to other leading business / corporate antivirus.
Avira Endpoint protection covers endpoints and servers from 3 to 10000 devices. Choose the exact number of devices and you can add them later on as your business grow. A flexible licensing option and device management. It is ideal for any size of small business or enterprise.

Avast Endpoint Protection is one of the best security products available in the market. It is a comprehensive product that provides protection from viruses, malware, and other malicious programs. It comes with a powerful antivirus engine that can scan files and folders in real time. The software also features an anti-ransomware module that prevents data from getting encrypted by attackers.
ESET provide two variant of their Business Antivirus. ESET Small office security includes a file server license and in ESET Small business bundle it includes one file server and one mail server with an option upto 15 desktop Licenses. A good product for office or small organization.
ESET Small Office Security (with file server)
Panda is also a good option for Small businesses and freelancers. You can choose maximum upto 25 licenses.

Business Antivirus Vs Consumer Antivirus
Below comparison table will let you know what is the difference between an antivirus and business antivirus or endpoint security. Antivirus Software for home users limited to approx. 3 to 10 devices. They are easy to manage individually.
But in Antivirus for Business environment mostly IT administrators manage everything from a centralized management system. They manage All PCs from a local or remote server. So antivirus for Business are designed specifically to fulfill the requirement of an administrator. It helps them to manage remotely worry free in less time.
| | |
| --- | --- |
| Consumer Antivirus | Business Antivirus / Endpoint Security |
| No Centralized Administration features. Though these days some companies providing some features to manage all devices from a single point. But it is limited maximum up to 5 devices. | Centralized administration from a controlling server. |
| Alerts and log entries only available on the individual computer. | Alerts and logs are sent to one centralized location. |
| Update takes place individually on all workstations / devices | Update downloaded at a centralized controlling server and then pushed to every endpoint. |
| Not Ideal for servers like file server / mail server | It can be used to protect any type of server or any workstation device. |
| Ideal for small license packs like 3 /5 / 10 devices. | Ideal for volume license packs like 25 / 50 / 100 / 250 or more devices. |
Related : Comparison of Top Antivirus Security
Why use business antivirus Software for Small businesses?
Business License is little different then the home user packs. Home user packs are maximum upto 5 or 10 user licenses, So if you own more then that computers you require a Business license for that. To protect the cloud and virtual environment from the malware and hackers enterprise or small business need a different security environment instead of traditional consumer based security software. Antivirus Security companies have designed different products for the Corporate Security / Enterprise security or Small business security.
If you own a Small / Medium business with multiple devices in your office then a volume license or large user pack is a good option to manage them easily and also can save money. It can be 10 users pack / 20 users pack / 50 users pack or 100 users pack etc. Businesses can not use the Free Antivirus as because Free antivirus is just for the home use only. For corporate use you need a paid Antivirus.
How does a business antivirus work?
Corporate antivirus works by scanning all incoming emails, downloads, files and web traffic for any signs of corruption or infection. If it detects anything suspicious, it will notify the IT department immediately so that they can take appropriate measures to ensure. Specially in this pandemic environment if employees are working from home, they are well protected with the business security infrastructure and can be monitored for malicious activities.
What is endpoint security?
Endpoint Protection is a form of cybersecurity that aims to defend computers from malware and other cyber threats.
Endpoint protection is most effective when it's combined with other forms of cybersecurity like antivirus and web protection. Endpoint protection solutions are usually comprised of two main components: a "host" component that runs on the user's computer and a "server" component called the Management Console.
There are three types of endpoint protection: Host-based, Network-based, and Cloud-based. The type you choose will depend on how your business operates, your IT infrastructure, your budget, and more.
Endpoint protection comes in many different forms: antivirus software, firewalls, email filters, etc. The key is finding the right one(s) that best suits your needs within your company's budget and technical infrastructure. While it can be overwhelming at first glance,
Endpoints can be defined as any type of device in a corporate environment like desktop, smartphone, server etc. Endpoint protection is different then consumer antivirus as they includes extra set of security features like
Centralized administration.
Ingress/egress firewall.
IPS / IDS sensor and warning system.
User management and application management.
Data input / output control.
Data leak prevention.
Disk encryption.
Also read: