New AVG 2019 is here
---
Below post was written for AVG 2016. Read the new post on AVG 2019.
AVG Launched its latest edition 2016 version with new added Cloud Detection Technology to catch even unknon or newly released threats. AVG updated all its products Free Antivirus, Internet Security and PC tune up software with the latest release. Check out what's new in AVG 2016 and coupons to buy it in cheaper price.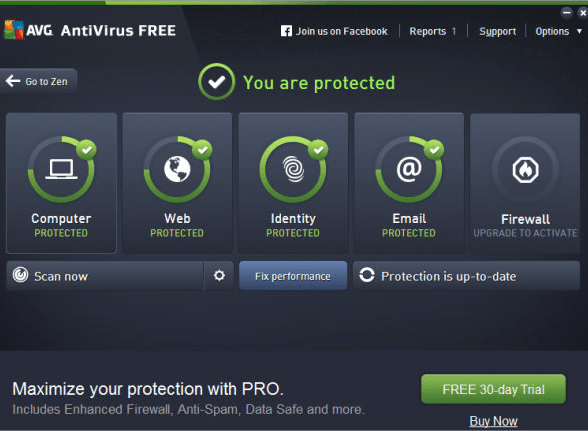 As like 2015, New AVG 2016 updates focuses more on new Outbreak Detection features which helps block Zero-day malware exploits and Compatibility with windows 10.
---
---
New in AVG 2016
Fully Compatible with latest OS Microsoft Windows 10.
Added Cloud Detection Technology to block malware in real time.
On Android based devices improved its Anti Theft feature.
Improved battery saver feature and now can be enabled directly from the notification panel in android.
Many bug fixes and minor improvements.
AVG 2016 Download, Install, Upgrade and Renewal
AVG Renewal Center – To renew or upgrade your AVG License.
After downloading your desired version you can easily install New AVG 2016. Upgrading to the newer version is also very easy as it will automatically detect and uninstall the old version and install the new one.
Trouble shooting
if you are getting any error during installation or some compatibility issue and need to uninstall it completely from the system use the official AVG removal tool to do this. This will uninstall the software completely from the system. Removing and Installing again can solve your problem easily. If still you are facing issues then you contact directly to the AVG customer support.
In this article, we will give a detailed AVG Internet Security 2016 and AVG AntiVirus 2016 review which will give you an Idea what new is included or improved in its latest release.
AVG Internet Security Review
AVG Internet Security 2016 is a capable security suite that protects your computer from dangers; both online and offline. This software monitors each file you choose to access, to detect and removing malware before they can cause damage. This suit also comes packed with a firewall, which protects your PC from network attacks in addition to monitoring running programs to ensure malware can't enter into your system. At its core is AVG's powerful antivirus engine which is more accurate and with reduced scanning times in this release.
The spam filters has also been materially improved. The 2013 version blocked only 55% of our test junk Emails, but the 2016 version has raised the detection rate to 88%.
The program Windows 8-style interface has been a little changed, but it's still simple to use with a couple of tiles that deliver faster access to the suite's various features and functions. An option menus enables one to carry out just about any Internet Security Suite Action in just a couple of Clicks, and if you are still confused, then a good local help file will quickly point you in the right direction.
Like its predecessor, the 2016 suite only flags potential risky search engine results if you install its toolbar, which the software program does by default. You can change this if you select the custom installation option.
AVG Internet Security 2016 also comes with extra technologies for enhanced security when you are online. These include;
AVG Advisor
AVG Advisor is a proactive service that controls the computer, and offers the user possible solution to various problems the PC might have. Research tells that users have browsers open for long periods of time (as many as 16-35 hours at a go) without being aware that such applications are constantly consuming their PC memory space. Over time, the free memory capacity decreases and this causes the computer to slow down. AVG Advisor does the following;
Advises on overuse of memory capacity by browsers (Internet explorer, Mozilla Firefox and Google Chrome.)
Prompts possible overuse of memory space by Internet browsers.
It can be turned off manually
It can be managed via the pro-active pop-up, that open advanced settings in tray notification.
AVG Accelerator
The 2016 Internet Security suite is the only AVG product that comes with an Accelerator. Its main functions are;
It maximizes connectivity to deliver content faster.
It reduces the time it takes for content-rich files (such as videos) to download.
It supports flash Videos – additional files will be added in future releases
Settings can be customized via advanced settings.
AVG Turbo Scan
With the AVG 2016 internet Security AVG Turbo Scan, scans are faster than ever before.
Verdict:
AVG internet security 2016 provides high-level online and offline protection. It's faster and comes packed with new and improved features. It delivers premium protection for business and PC.
AVG AntiVirus Review
This is AVG 2016 commercial version of Malware hunter. It includes everything you would expect from an antivirus software, and plenty of additions for enhanced protection.
The first change you will notice is a new and very Windows 8-like UI. Plain green tiles placed on a dark background organize its functions into 4 main core categories; Web Browsing, Identity, Computer and Emails. Separate buttons enable you to launch a scan using a single button, and an easy to reach options Menu offers easy access to anything else you might want to access.
The next improvement you will note is scan time. During its test, the program proved to be quick but this does not apply a lot to the first scan which took approximately 8:20 to scan 680,000 objects. However, subsequent scans take on average 1:20 minute; which is highly allowable. What's more, this enhanced speed comes without compromising accuracy.
Beyond these core antivirus features, the suite also installs AVG's Toolbar which is Firefox, IE and Chrome compatible to provide detection of malicious sites as you browse. If you don't like the toolbar, no problem, simply use custom installation and decide not to install it.
Verdict:
AVG AntiVirus 2016 is a premium antivirus tool that comes with solid improvement from the 2014 version. It's more accurate, faster and lightweight than its predecessor.
AVG Coupon codes
In the end here we can also help you to buy your favorite AVG products in cheaper price as we list the latest AVG promotions and coupon codes. So check out the latest AVG coupon codes and promos.