Are you looking to buy Bitdefender antivirus software? but confused that which subscription is good for you or how good is Bitdefender and how it is compared to other similar antivirus software? And What are other alternates of Bitdefender. Where to buy it in cheaper price with coupons and deals. Let's find everything here in this article with Bitdefender review.
About Bitdefender
Bitdefender, a leading cybersecurity company, has been at the forefront of providing top-notch antivirus solutions for over two decades. Its antivirus scanning engine is know as the best in the industry even some other software companies are also using the Bitdefender's AV engine. So before we explore its features let's find out what subscription plan are offered by Bitdefender.
Comparison: Bitdefender pricing and subscription plans
Bitdefender Subscription Plans Bitdefender offers various subscription plans tailored to suit different needs and budgets. As like the other big brand in antivirus industry Bitdefender also offer various type of subscription from device security to the plans which includes identity protection features. Here is a comparison table give you an exact overview of all of its subscription plans and its major features.
Features
Bitdefender
Total security
Bitdefender
Premium Security
Bitdefender
Ultimate security
Bitdefender Ultimate Plus
Devices
5
10
10
10
Antivirus, Antimalware
✓
✓
✓
✓
Multilayer ransomware
✓
✓
✓
✓
VPN
200 mb / day /device
Unlimited
Unlimited
Unlimited
Privacy protection
✓
✓
✓
✓
Device optimizer
✓
✓
✓
✓
Parental Control
✓
✓
✓
✓
Mic protection
✓
✓
✓
✓
Cam protection
✓
✓
✓
✓
Password manager
✓
✓
✓
✓
Privacy breach monitoring
✓
✓
✓
✓
Network Inspector
✓
✓
✓
✓
Phishing and fraud protection
✓
✓
✓
✓
Identity theft protection
✗
✗
✓
✓
Identity theft coverage
✗
✗
$1 million
$2 million
Credit monitoring
✗
✗
1 bureau
3 bureau
Bank and CC monitoring
✗
✗
✗
✓
401(k) and Investment monitoring
✗
✗
✗
✓
Bitdefender subscription plan comparison table
All Bitdefender subscription plans comes with 1 year / 2 year / 3 year subscriptions. Total protection have the option to either choose 5 devices or 10 devices license whereas all other higher plans come with 10 devices license. Monthly subscription plans are only available for premium and ultimate plans.
There are two more plans which are Windows only plans. Bitdefender antivirus and Bitdefender Internet Security.
---
---
Where to buy Bitdefender and find coupons?
Bitdefender can be purchased from its Official website or from Amazon. Companies time to time offer discount coupons and promos to get the Bitdefender in cheaper price. Find the below deals and promos.
Deals from Amazon
Bitdefender Products
1. Bitdefender Free Antivirus
Safeguard your digital experience without breaking the bank with Bitdefender Free Antivirus. As compared to Avast's free antivirus, it is not feature-loaded but does its work perfectly and more silently. It ensures a secure browsing experience while keeping your device safe from common threats. Read more about Bitdefender free antivirus
Major Features: Essential antivirus protection, real-time threat detection, anti-phishing and anti-fraud
Best Fit: Users seeking basic protection at no cost
Price: Free
2. Bitdefender Antivirus Plus
Bitdefender Antivirus Plus takes security up a notch, delivering advanced threat defense and multi-layer ransomware protection. This powerful antivirus solution is perfect for users seeking comprehensive protection for their PCs without sacrificing performance or usability.
Major Features: Advanced threat defense, multi-layer ransomware protection, secure browsing, and a password manager.
Devices: 1 / 3 / 5 devices
Best Fit: Users looking for comprehensive antivirus protection for Windows PC
Starting price: $24.99/year
3. Bitdefender Internet Security
For those who want more than just antivirus protection, Bitdefender Internet Security offers a robust suite of features designed to shield your online activities. With its built-in firewall, parental controls, and privacy tools, you can confidently navigate the digital world knowing your sensitive data is protected.
Major Features: All features of Antivirus Plus, parental controls, privacy protection
Devices: 1 / 3 / 5 devices
Best Fit: Users who need additional protection for online activities and privacy and need parental control feature for Windows PC.
Starting price: $34.99/year
4. Bitdefender Total Protection
Bitdefender Total Protection is the ultimate solution for users seeking comprehensive security across multiple devices and platforms. Combining the features of Internet Security with performance optimization and anti-theft tools, Total Protection ensures your devices are safeguarded from all angles.
Major features: All features of Internet Security, multi-platform support, performance optimization, and anti-theft tools
Devices: 5 / 10 devices
Best fit: Users looking for comprehensive protection across multiple devices and platforms.
Starting price: $39.99/year (5 devices).
5. Bitdefender Premium Security
Enjoy the pinnacle of digital security with Bitdefender Premium Security. This plan builds on Total Protection by offering unlimited VPN traffic and priority support, making it an ideal choice for users who demand the highest level of protection and privacy.
Major Features: All features of Total Protection, unlimited VPN traffic, a cross-platform password manager and priority support
Devices: 10 devices
Best Fit: Users seeking advanced protection and privacy features, including VPN and priority support
Price: $59.99/year (10 devices)
6. Bitdefender Ultimate Security
This is the latest product launched by Bitdefender. It includes the full identity protection features which makes this product more than just a device security.
Major Features: All features of premium security, data breach monitoring, Identity theft protection, identity theft insurance, Credit monitoring.
Devices: 10 devices
Best Fit: Users seeking data breach alert and full identity protection with identity insurance.
Price: $89.99/year (10 devices)
7. Bitdefender Ultimate Security Plus
This is an advanced plan which includes all the identity protection features, banking and financial fraud protection and transaction monitoring.
Major Features: All features of Ultimate security, 3 bureau credit monitoring, bank and credit monitoring, investment and 401(k) monitoring.
Devices: 10 devices
Best Fit: Users seeking for complete digital security.
Price: $129.99/year (10 devices)
8. Bitdefender Family Pack
Protect your entire family's digital life with Bitdefender Family Pack. Offering all the features of Total Protection, this plan is designed to secure up to 15 devices, ensuring everyone in your household can browse, work, and play online safely.
Major Features: All features of Total Protection, designed for family use.
Devices: 15 devices
Best Fit: Families needing protection for multiple devices across various platforms
Price: $49.99/year (15 devices)
9. Bitdefender Small Office Security
Secure your business with Bitdefender Small Office Security, a comprehensive solution tailored to meet the needs of small businesses. Combining advanced protection features with easy remote management and priority support, this plan ensures your business stays protected and productive.
Major Features: All features of Total Protection, tailored for small businesses, easy remote management, and priority support
Devices: 5 / 10 / 20 devices
Best Fit: Small businesses requiring comprehensive protection and centralized management.
Price: $124.99/year (20 devices)
Download and install Bitdefender
Before downloading Bitdefender Antivirus, ensure your device meets the minimum system requirements specified on their website. Follow these steps to download and install the software.
Visit Bitdefender's website and choose the right product or plan for your needs.
Create an account or log in to your existing Bitdefender account.
Download the installer file and run it on your device.
Follow the on-screen instructions to install the software.
Activate the software using the activation code provided in your purchase confirmation email or start a trial.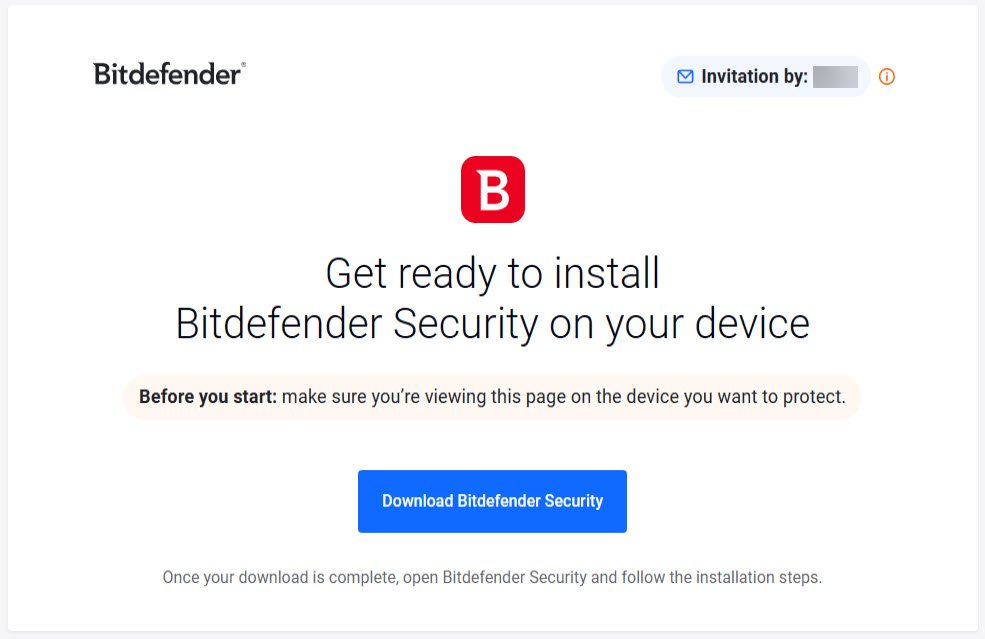 Upgrade or Renew Bitdefender
Today's modern security software update and upgrade automatically. But if you are using an older version of Bitdefender can easily uninstall that and install the latest version as mention above.
If you already a license and want to renew it go to this link to renew it online Renew Bitdefender License.
If there is any issue in installation that simply uninstall the Bitdefender software completely from the system using the official uninstaller tool and then reinstall the software. It will eliminate most of the issues automatically.
Features that make Bitdefender stand out
1. Password Protection
This is unique feature that I didn't find in other antivirus software. Once password protection is enabled, any attempt to modify Bitdefender settings, disable protection features, or uninstall the software will require the password you set. This adds an extra layer of security to your Bitdefender product and ensures that only authorized users can make changes to its configuration.
2. Anti-theft
Bitdefender's Anti-theft feature is designed to help protect your devices and sensitive data in case of loss or theft. This feature is particularly useful for laptops, smartphones, and tablets, where the risk of theft or misplacement is higher compared to desktop computers.
The Anti-theft feature offers several functions that assist you in locating, locking, or wiping your device remotely.
3. Mic protection
Other security software are providing webcam protection but Bitdefender is also providing mic protection. So Microphone protection feature ensures that cybercriminals, hackers, or other malicious programs cannot eavesdrop on your conversations or record audio without your consent.
Other useful features of Bitdefender security
File shredder: This functionality makes it impossible for one to recover files that you have permanently deleted from your computer.
Security Widget: This displays one's computer health and corresponding computer protection level.
Password manager: This comes in handy for anyone who has multiple passwords it helps you to keep them in one accessible pool.
Safe Pay: a handy application that allows you to safely transact online using a separate window to help log in to a transaction is a safety catch.
VPN: VPN is useful for the privacy protection along with other useful tasks. Bitdefender provides 200mb / day /device data which is enough to preform important tasks. Unlimited plans available on the higher subscription plans.
Anti-tracker: Anti-tracker helps block the websites collecting and sending browser data to the advertisers or hackers.
Parental control: This is helpful feature to track and restrict kids online activities.
Video audio protection: It stops accessing Mic and webcam without permission
Multi-layer ransomware protection: It provide a ransomware remediation along with anti-ransomware.
Vulnerability scanner
System optimizer
WiFi security advisor
Bitdefender Review
Pros
Easy interface.
Feature rich security software.
True identity protection software with insurance cover.
Flexible devices options to choose from.
Strong independent lab test results
Cons
Unlimited VPN is only available in higher plans.
Conclusion
In conclusion, Bitdefender is an impressive security solution that delivers top-notch protection and an easy-to-use interface. It has all the features that you can think of as a strong security software along with the identity protection features. The installation process is smooth and fast, although the separate installation of the VPN client could be improved. Overall, I highly recommend Bitdefender for users seeking a reliable and user-friendly antivirus software to safeguard their digital devices and data.