Recently Bitdefender announced its new version 2017 series for its products. Bitdefender antivirus pro, Internet security and Total security – Multi Device Protection. See what new features they included in it and how it is different from its previous versions. You can also find here information that how you can upgrade to the latest version and coupon codes to buy or renew it in discounted price.
Bitdefender Cyber Monday Sale – Save 60%
---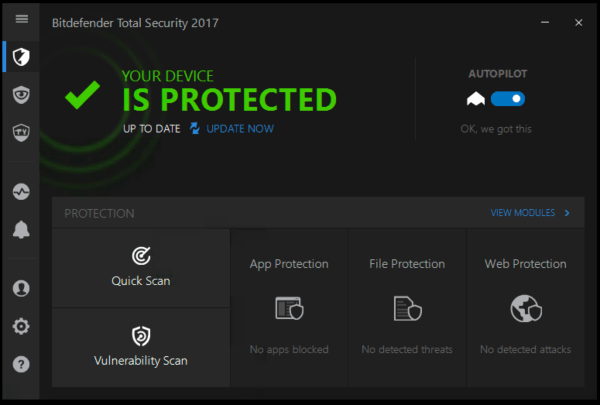 ---
---
What is new in Bitdefender 2017
New Improved Intellegent Anti Virus Protection to stop all e-threats
Improved Anti-Ransomware now with data protection
New Wi Fi Security Advisor
Disk Cleanup Feature added in System Tuneup
Startup Optimizer Integrated with Bitdefender Central
Better User Interface
Improved Parental advisor
Improved Anti-Theft
Improved Mac Protection
Following changes were made in Previous Bitdefender 2016 version
The major changes that bitdefender made in its 2016 release are Bitdefender central and Ransomware Protection.
With Bitdefender Central multiples devices can be managed from a web interface like Windows, Mac, Android and iOS.
Ransom-ware Protection let users prevent from hackers attack who encrypt or delete your private data and ask for money to recover them.
Newly Added BitDefender Central to manage multiple device from the web interface.
Improved User Interface now compatible with windows 10.
New Anti Ransomware feature to protect from hackers.
Improved Antimalware engine with better Firewall
Improved Password Manager
Improved Financial Security tool
Improved Anti theft system and Parental control module.
In Previous 2015 edition Bitdefender made the following changes?
Integrattion with windows 8.1 and improved GUI.
New Bitdefender 2015 is now compatible with Touch devices as well. User interface is more simplied then its previous versions. Now it can be used on touch friendly windows devices like Surface or tablets.
New Bitdefender Widget: With this widget on desktop you can see what bitdefender is doing as it changes its color and icon for different situations. But if it annoying you then have the option to disable it. You enable or disable it as per  your requirement.
Bitdefnder 2015 act silently when set to autopilot mode. It will not show any notification or allow / deny type of message every time. In autopilot mode it take the decision automatically.
External media will be scanned automcatically to protect from any malware. Now your computer will be protected from the malware transferred from USB drives or any external device.
Scanning speed is faster. Bitdefender improved its performance greatly now it scan faster and take less system resources.
New and hot feature of the new 2015 version is the Tuneup utilities : one click optimizer, startup optimizer, registry cleaner, pc clean up, disk defragmenter, Duplicate finder, registry recovery etc. One Click optimizer optimize your system by running all the optimzer tools listed above and keep your system like new always. It does not get slow down.
Bitdefender improved its features which are already included in its products like Antitheft, Safego, Safebox, Wallet, Safepay, Parental control etc.
Added new Movies, Work, Games Profiles.
Added new Startup Optimizer.
Added One click optimizer
Bitdefender 2017 Download, Install, Upgrade and Renewal
Simply you can download using this link Download Bitdefender 2017
Upgrade is simple, if you are using later then 2011 version. As it will show you a warning during installation that previous version has been detected and it will automatically remove the previous version and install the new version by remembering your old license key. It keep remember you old key and you don't have to do anything to register or activate your new version. It will get activated automatically. If you are having any issue you can uninstall previous version and note down the activation key and use it when you install it manually.  It will ask for the previous version key to activate it. You can download Bitdefender uninstaller from here http://www.bitdefender.com/uninstall . Reinstalling eliminate many problems but still have any issue contact directly to Bitdefender Tech Support Team. If you are still facing any issue during upgrade or installation. You should use Bitdefender uninstaller to remove it completely from your system and then you can retry installing Bitdefender. See here for more information on upgrade.
Renewal
If you already a license and want to renew it go to this link to renew it online Renew Bitdefender License.
If you are going to purchase a new license or migrating from other antivirus to Bitdefender or going to renew it, You can save money on your purchase by using our coupon codes and promos given by Bitdefender. Find out the Renewal Coupon Codes, Migration Promos and discounts. Find the latest Bitdefender Promos here.
Bitdefender 2016 Review
Bitdefender 2016 clearly goes beyond the call of duty as a comprehensive computer security suite. This installation of the well-respected antivirus program ensures quality malware protection for computing devices in addition to offering premium features that have endeared Bitdefender 2016 to many users. Despite featuring a broad array of security features, in many regards they rival those of the top antivirus programs. In fact, some features of Bitdefender 2016 set new standards on what users expect from top-range antimalware programs. This Bitdefender 2016 review delves deeper into what this popular security suite has to offer.
Pros
The major pro is the Ransomware protection which is must have for any serious computer user.
There are certain things you should expect from a top antivirus program: negligible impact on the performance of your computing devices, easy setup, and unquestionable ability to thwart potential security threats and remove existing threats. Bitdefender 2015 can do all these at levels that not only match those of premium quality antivirus programs but also establish new standards in the industry. In general, Bitdefender 2016 will act as protection against virus, spam, phising, threats to online banking, and theft. Bitdefender 2016 also offers a 2-way firewall and parental controls.
Additional benefits of this antivirus program include its superior antiphising abilities, parental controls, and online backup, synchronizing, and sharing. The parental protection allows for remote control and monitoring, a feature not always present in some top antivirus programs that incorporate the parental control feature. Furthermore, Bitdefender 2016 also offers file encryption, and an easy-to-setup firewall.
Cons
For those unfamiliar with the Bitdefender platform, some of the features may be a little hard to understand at first. However, once you spend a little time with the program, you will be able to configure the software to your security needs without a problem and enjoy the full benefits Bitdefender 2016 has to offer.
Conclusion
Bitdefender 2016 is an all-in-one security suite that actually delivers as advertised. This software's abilities stand out in all respects, especially when it comes to Internet security, which explains why the program has a glowing reputation among its users. Bitdefender ranks highly in terms of usability, protection, and ability to maintain a computer device's overall performance. Bitdefender 2016 continues to be one of the top antivirus programs currently on the market, and purchasing yourself a copy of this security program will be a decision you will certainly not regret.
Products Comparison
Bitdefender Antivirus Plus vs Internet Security vs Total Security
Compare Bitdefender vs Other Top Antivirus Software