McAfee 2016 Release – Coupons & Free Version Download
McAfee 2016 Released – Next generation antivirus security software
Everyone known about McAfee, So it does not require any introduction. McAfee is a brand of Intel Corporation which they acquired some years back. Intel put the McAfee again in the race of best antivirus software. McAfee announces its 2016 edition of all its security products. See the below complete detail of the new McAfee from Whats new to the buying in cheap price.
McAfee Free Antivirus
Its a great news for McAfee community or also for those who have never tried it, that McAfee has also joined the race of Free Antivirus Software provider. Recently along with its newer 2016 release of its existing products a beta version of its Free Antivirus has been also launched. It is still in beta and waiting for an official announcement. But you can download it from the below link directly from the McAfee websites.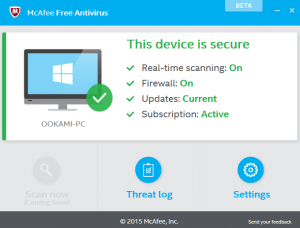 McAfee 2016 trial download and Products Comparison
As compared to other companies McAfee has more no. of products to choose the right one for you. Apart from free Antivirus there are below other paid options to secure your computer from viruses, hackers and all other type of threats.
McAfee Antivirus Plus 2016
McAfee Internet Security 2016
McAfee Total Protection 2016
McAfee Live Safe 2016
Comparison
See a Complete comparison chart in the below table to compare the features of McAfee Products and choose the most suitable product.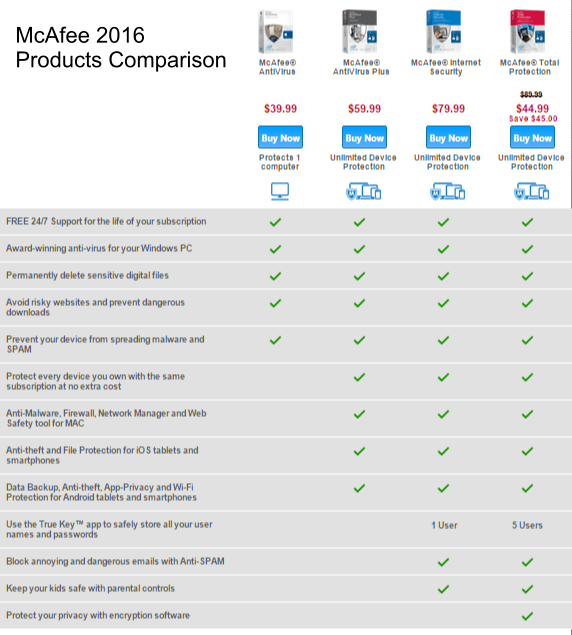 What's New in McAfee 2016
McAfee improved its products in many ways in its new version. Check out some major features below.
McAfee enhanced the performance of the product to make it lighter and faster.
Online backup has been integrated again in this version which was discontinued in previous year.
In recent versions adware was taken very lightly by McAfee but now they have improved the adware protection.
True Key identity manager.
Fully Compatible with Windows 10.
McAfee Coupon Codes
McAfee 50% Off Promo on all products
Right now we have not a complete review of the new products. Please share your review or experience using the below comment box at the end of comments.