Top 6 Best Free Antivirus Software to Download for 2018 compatible with Windows 10
 Top 6 Free Antivirus download for Windows 10 in 2018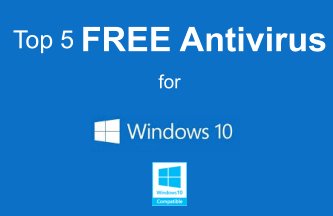 Antivirus Software become must have software in every computer. Though Microsoft's security software 'Windows Defender' bundled with Windows, But that is not much effective to protect you from all kind of threat. It is just effective in protecting its own windows. So a reputed third party security software required to protect all kind of threats. In the Market there are many options Paid and Free antivirus / Security Software are available. But we are here providing you the Reputed Free Antivirus solutions for Home Users. For Commercial & Business users we still recommend a paid Internet Security suite.
Below we are providing you the information on Best Free Antivirus Software which are compatible with Windows 10 in year 2018.
Best Free Antivirus Software 2018
Checkout the below list of Free Antivirus of 2018. Also check  Best paid Antivirus . Choosing a particular software to be the best is not possible, But we give them priory according to their experience, user interface, and user reviews etc. All software listed here are almost equally effective but features vary.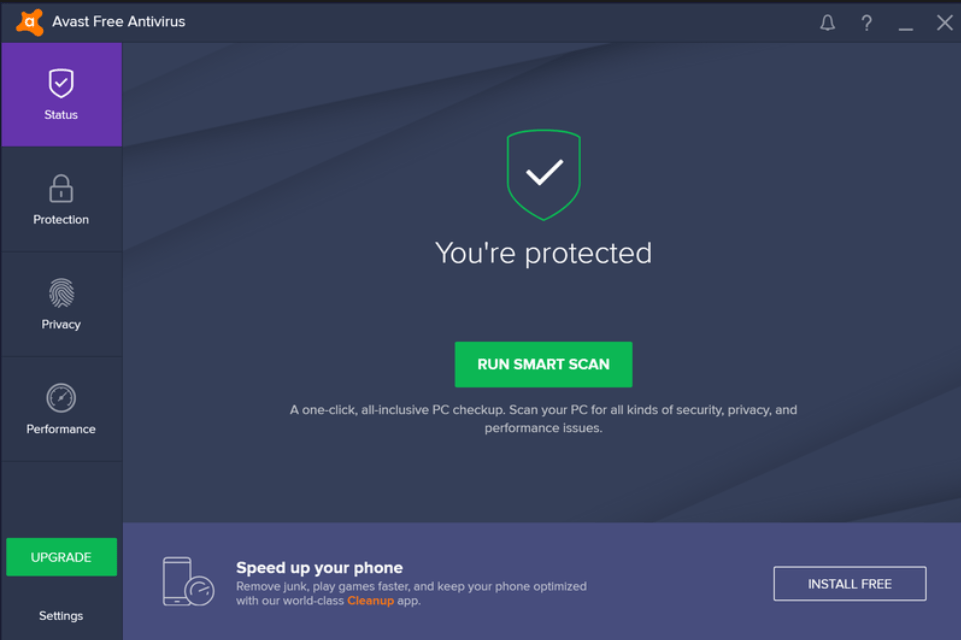 We put this on No. 1 as it is no. 1 in terms of Download and installs. Avast does not need an introduction these days. Avast antivirus continues to be among the best antivirus software available in the market. It provide some great features for safe online banking and shopping in its free version, so we marked it the number one choice for your new Windows 10 PC. The recent release of the Avast free Antivirus 2018 edition is an improvement of its predecessors. It comes with new and improved features that give your PC the protection it needs and the safety you did not expect. Avast free is fully compatible with Windows 10 and multi-platform compatible for Mac, Android and iOS as well. Its latest version includes Home network security and password management features for Free. Avast was the first company which started offering free Antivirus to the consumers.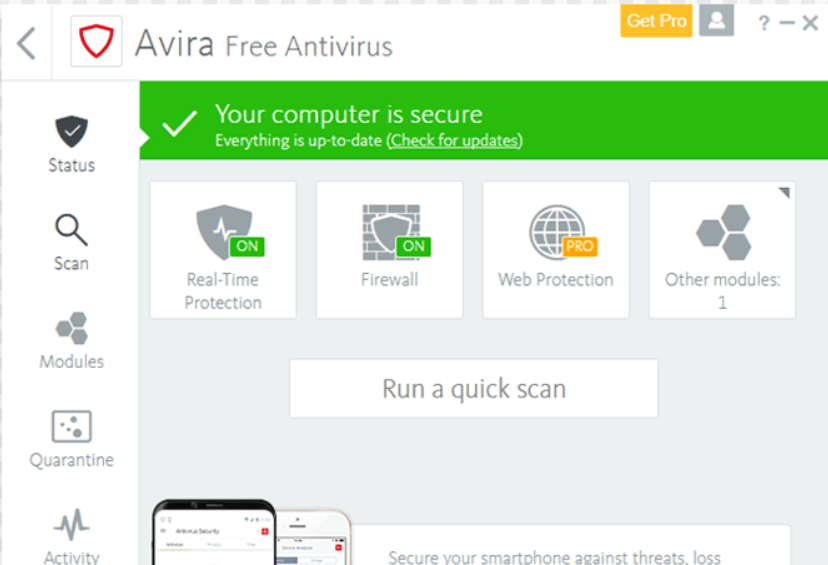 Avira offers free security suite. Actually it is bundle of Free software provided by Avira. It includes Avira free antivirus, Avira free system speedup and Phantom VPN. As like Avast free antivirus it also includes free password manager. Avira have refined its security products to a high quality and its Free Antivirus 2018 looks very committed. It has a cloud detection technology to give zero day protection. Avira also offers a free browser safety extension to protect your browser from PUA and unwanted extensions. It also scans malicious urls while you browse. Avira community is growing rapidly and it is the next strong competitor of Avast in free antivirus industry.
Next is Bitdefender's Free Antivirus. Very less people know that bitdefender has its Free antivirus product. Bitdefender offers the best protection against cyber threats. It's no surprise therefore, that the free version of BitDefender is among the best free to download Security software. It's not only compact, but also runs in the background protecting your computer without troubling you. It is an install and forget type light weight Free Antivirus Solution. There is not much option to configure in it, just install and forget it. Bitdefender Free Antivirus 2018 also includes Free Phishing protection and fraud protection.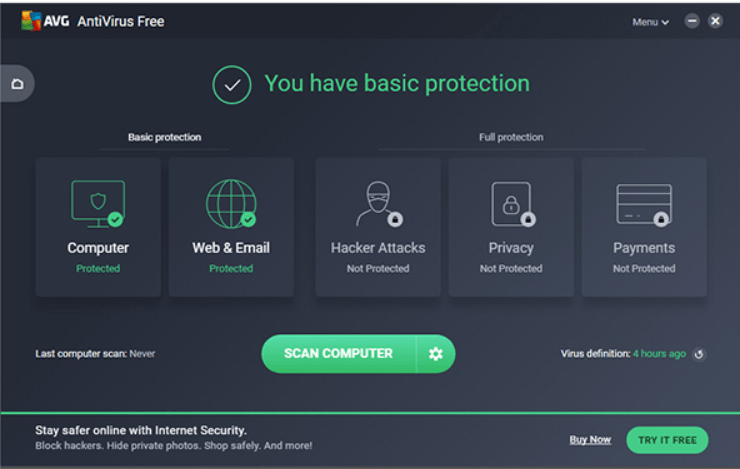 AVG antivirus is yet a good choice for the protection of your computer. The free AVG antivirus 2018 has earned good ratings from independent labs as a good free protection software for common computer threats. AVG Free is available for Mac, Android and PC. It has features like link scanning for malicious links, downloads and emails. You can also scans for PC performance problems with this free antivirus. Recently AVG was acquired by Avast but still all AVG products are continuing. So it is your choice now you choose the Avast or AVG.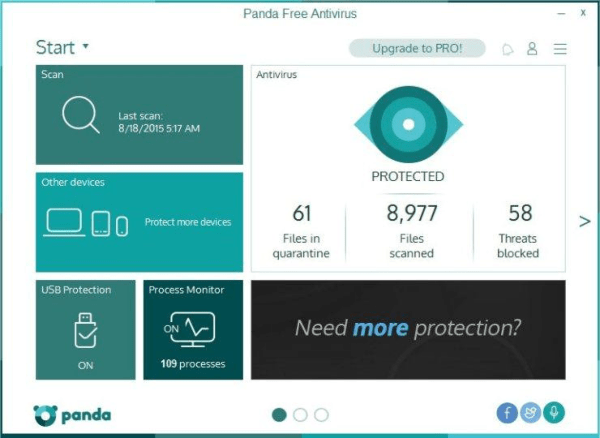 The panda free Antivirus 2017 is an easy-to-use software that will provide you with the best protection for your PC. It comes with a user-friendly, modern design with tiles for USB protection, process monitoring, scan statistics and a link to the dashboard. Some of its key features include:
Improved protection against phishing, spyware, Trojan and rootkits.
USB protection.
Real time protection.
Improved protection against both known and unknown viruses.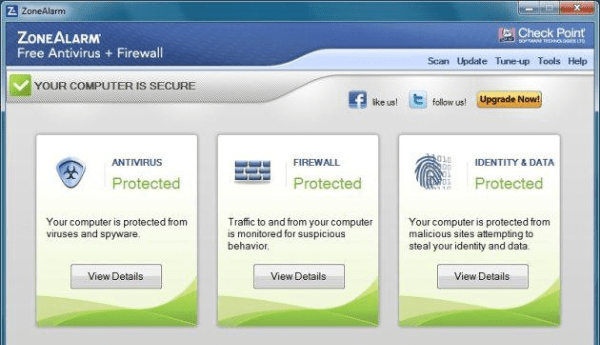 Download Free ZoneAlarm Antivirus 2018
ZoneAlarm by checkpoint is the only company offering two separate products Antivirus and Firewall for Free. As like avast was the offering the free antivirus, ZoneAlarm is the first offering a free firewall to the consumers. It also offers Free antivirus. So basically you can use both antivirus and firewall for free. Its Antivirus includes features like Antispyware, Personal firewall, Identity protection, Wireless network protection, Gamer mode and online backups etc. So it looks a nice package as your free protection.
Which is the best free Antivirus? Which one I choose?
This is the common question came into everyone's mind after seeing many option or a list of good free antivirus softwares. First of all we have already make the list short to choose the best one and now it depends on your choice and requirement. If you want to know my recommendation then I will suggest you to go with Avast. Avast have many advanced features over other available Free Antivirus options. Please share your experience and reviews. It will help other users to make the perfect choice to choose the Best Free Antivirus for PC.
Windows defender comes inbuilt in windows 10 and is much better then its previous release. But still we recommend you to install a third party antivirus solution as they provide better level of protection with variety of tools. With these Best Free Antiviruses for your PC for 2018, you have no excuse for going without protection this year!
Also check : Best Free Antimalware Software
Click to Check out the Coupon codes for all Paid Antiviruses
Top 5 Internet Security suites comparison
Best Business Antivirus Comparison
Please post your review or suggestion in the below comment box.