Norton is my favorite antivirus software. I have been with Norton for a long time and have experience of more than a decade. I will provide you my honest review and personal experience with the Norton. Let's know everything about Norton 360 and Norton 360 with LifeLock.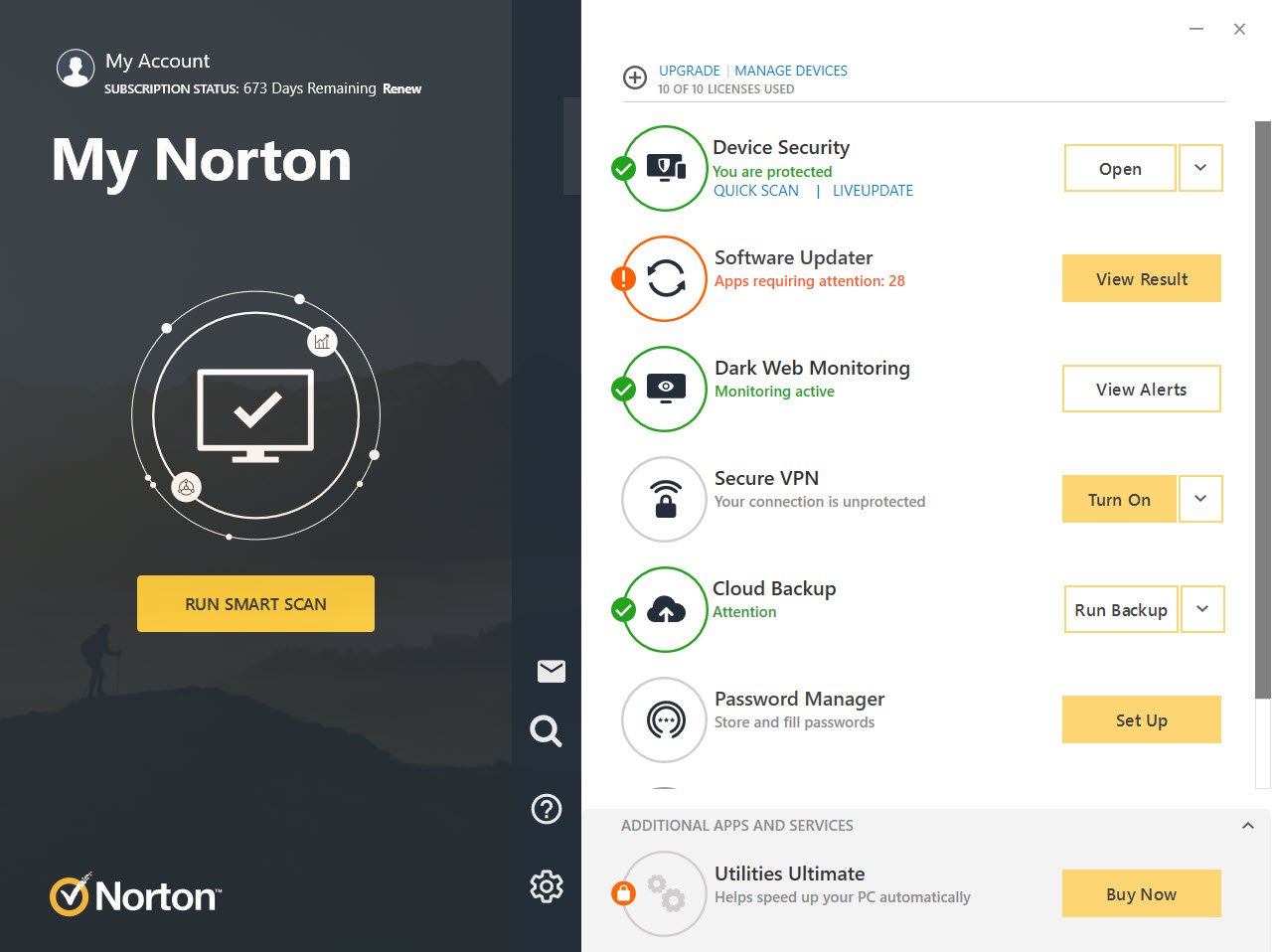 About Norton company
No doubt, Norton is a reputed brand in the cybersecurity world. It has set many standards in the industry, and others keep following them. It was founded in 1982 by Peter Norton.
Since then, with the rise of cyber threats and the ever-evolving landscape of the digital world, Norton has continued to innovate and expand its product offerings to keep its users safe from many kinds of online threats.
Their latest security software, Norton 360, is more than just an antivirus software. They have integrated many great features in it to provide maximum security from all kinds of threats.
Not just the device security, but they are also providing privacy protection, and identity protection features with Norton 360 with LifeLock subscriptions. Let's find out more about what Norton is offering.
---
---
Let's understand the products offered by the Norton Security
Norton products
Note:
Norton provide 3 major security modules. Device security, Privacy protection and Identity protection.
Norton is now more than just a device security. So some people may get confused about its new products. We are categorizing subscription plans according to the type of protection offered for the easy understanding.
Norton security modules
Now let's find out about the 3 security modules of Norton.
1. Device Security
Device security simple means the antivirus module.
Device here means any Windows PC / Mac / Android phone, / iOS phone. So this is a program which protect a device from all kind of online threats like viruses, malware, ransomware, spyware, scamware, etc. Norton Antivirus Plus is the only product under this category.
2. Privacy Protection
Basically it includes VPN service, Privacy monitoring & Safecam.
Privacy here means that you have the right to share certain personal information and behaviors on your computer. Nowadays, it's becoming a big issue because some big companies are trying to gather as much information as they can about user behavior like browsing history etc.
Even some hackers also try to control your camera without your permission. So a SafeCam feature is a great thing.
They use these data to monetize, advertise and market their products. Some people really doesn't like this. So if you are concerned about this, you can choose a product that offers privacy protection. Norton 360 includes both device security and privacy protection.
3. Identity Theft Protection
Simply it helps to protect your identity to avoid frauds.
Most of our work these days is done on the Internet, such as online shopping, online payments, etc. And some bad people's eyes are on stealing information like credit card details or other personal information. So basically, identity theft means that someone uses your personal or financial information for fraud purpose. This is a big concern these days.
By joining hands with LifeLock, Norton has integrated many useful tools to alert yourself when some one uses your identity to commit some kind of fraud. It also provide tools to keep your identity safe from the bad guys. Norton 360 with LifeLock subscription plans include additional identity theft protection bundled with Norton 360.
Features that I like most in Norton 360
Features that I personally likes in Norton antivirus software which I feel makes it stand out from other antivirus software.
1. Norton family (parental control)
I personally like this feature very much, and it helped me a lot to monitor my kid during his online classes. It lets you easily block the websites and set the time for the Windows user.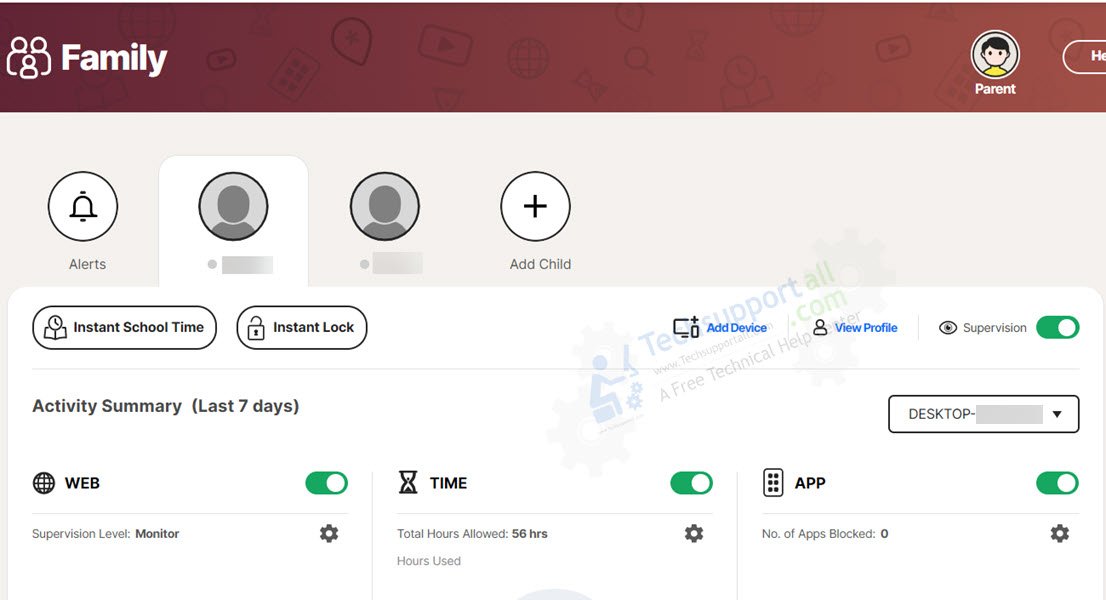 It will automatically let the kid log off from the Windows system. Though in special cases he can also ask to extend time. So overall, this is a powerful and effective parental control system.
This feature is only available with the multi-user license packs. Parents can monitor and get alerts for their kids inappropriate activities. They can set screen time and allowed or blocked list of websites. All this can be managed remotely from your phone or computer.
2. Dark web monitoring
Protect and alert about the personal data breach on the internet
It is a web service included with Norton 360 and is provided by LifeLock. The Dark Web Monitoring Service regularly searches the Dark Web places where identity or personal information is traded. So it notifies you as it found your private information there.
It looks for Driver License, Insurance IDs, Addresses, Email IDs, Phone numbers, Bank or investment account numbers, credit card numbers, gamer tags, SSN etc. Dark web monitoring is includes with all the Norton 360 subscription plans.
3. Cloud backup
Not all the antivirus are providing this feature. It is useful to protect the important files in the cloud. Cloud backup is a secure place to keep your important data safe from all kinds of threats, and it is especially useful in case of a ransomware attack, disk failure, or if your device gets stolen.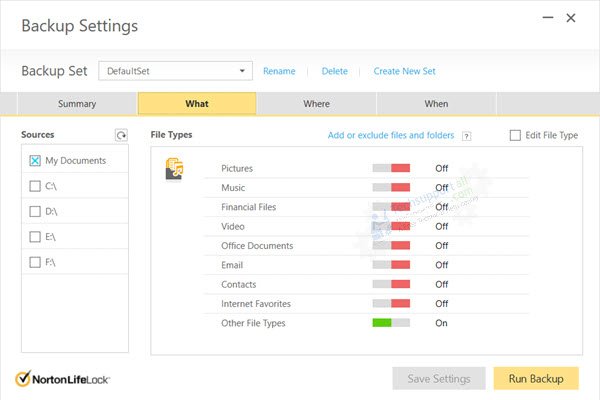 Cloud backup is now included with all Norton plans but have different storage capacity according to the subscription plan. It automatically backs up the selected files to the secured cloud drive.
Backup is convenient, and you can easily access the files across the devices. It is a good habit to store your important files in a secure cloud backup to protect them from ransomware attacks.
Another great option is that it can backup the file according to the file type. Backups can be scheduled on weekly or monthly basis.
But there was issue when I tried to stop the backup service. It was a little confusing for me to stop and delete the online backup files. After many hours of research my fellow writer explain to easily stop Norton cloud backup and how to delete Norton cloud backup files.
Other useful features of Norton 360
It ranks on the top among the best antivirus software, and there is no doubt it is a powerful security software against modern cyber threats. According to our test it promptly defend attempt of file encryption. It warns when data transferred to outside from the system or some one hijack the CPU for cryptocurrency mining. Here are features and Norton Security suite is packed with.
1. Virus protection promise
The Norton virus protection promise is a guarantee for a 100% virus-free environment. They said that it is unlikely that any virus will enter your system if you have an active subscription, but if anyhow it happens, users have access to get the help from Norton Experts.
And if Norton is unable to remove the virus, you get the 100% refund of your subscription. All Norton products come with this virus protection promise.
2. Million dollar protection package
This is a unique feature provided by Norton powered by the LifeLock identity protection. It covers you if your money stolen or any expense occurred due to Identity theft.
It includes lawyers and experts fees limits up to your subscription plan from $25k to $1 million. What more do you require from a security company? So nothing matches with Norton LifeLock. This reimbursement plan is only available with the N360 with LifeLock plans.
3. Secure VPN
To browse anonymous on the internet Secure VPN is includes with the selected Norton plans. VPN or Virtual Private Network are useful to keep your private data safe and secure. Norton VPN includes the Bank-Grade Encryption means you can browse internet securely even on public WiFi network. It also let you browse anonymously to protect online privacy.
It also blocks unwanted tracking by the advertisers and other companies. Other benefit of using a VPN is that in certain regions some apps or websites are not accessible while you are travelling, But with the help of VPN you can easily access them.
It includes features like kill switch and ad tracker blocking.
So actually VPN adds another layer of protection to your antivirus software. It hides the original IP address and also encrypt the data that hackers can't spy on you. Norton Secure VPN has strict no log policy. So it means. VPN also helps you to hide your true location.
It has servers over 30 countries.
VPN is not available in India due to govt. regulations
4. PC Tune ups
Every device require a tune up to keep it running smoothly. All Norton product include this feature which optimize the PC for better performance. It fixes common issues that slowdowns the device and cleanup junk files from the system.
A startup program manager let you disable the resource consuming program from the startup. It automatically start optimizing PC when your PC is in idle mode.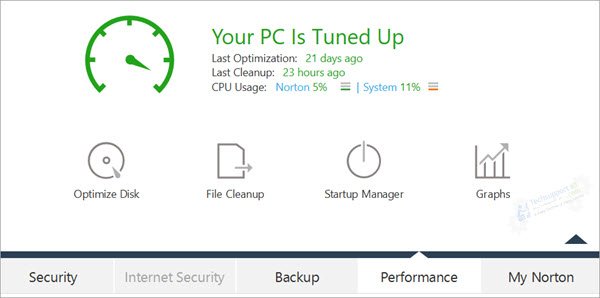 5. Internet Security
Under internet protection it comes with 4 browser extension which you need to install on the browser to setup. Though it is totally optional. The extensions that it includes:
Norton Safe Search.
Norton Home Page
Norton Safe Web.
Norton Password manager.
6. Antivirus Protection
Obviously an Antivirus must have this feature. And Norton Device security comes with many features to protect from all types of online threats like viruses, malware & spyware, ransomware etc.
It includes many world class technologies to detect and stop the known and unknown type of threats like SONAR Protection, Smart Firewall, Intrusion prevention system, Email protection, Browser protection, Download intelligence, advance machine learning by testing what files do, Reputation Protection (Insight), Behavioral protection etc.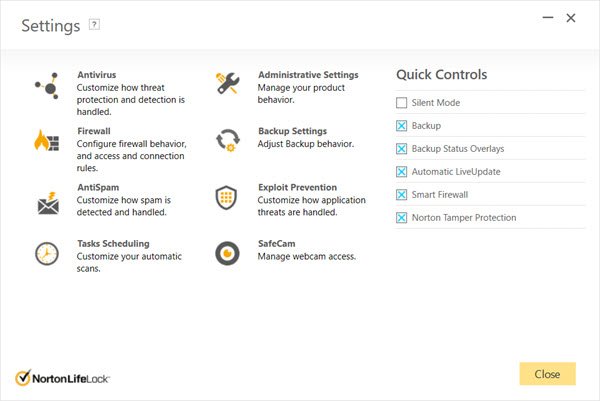 7. SafeCam
It is a feature to protect your camera being accesses by the unauthorized programs. It alerts when any program get access to the web camera. It is also called camfecting when cybercriminals control the camera remotely without the knowledge of user.
So SafeCam is a great feature provided by Norton to combat this threat. This feature comes under privacy protection. except antivirus all 360 products include this feature.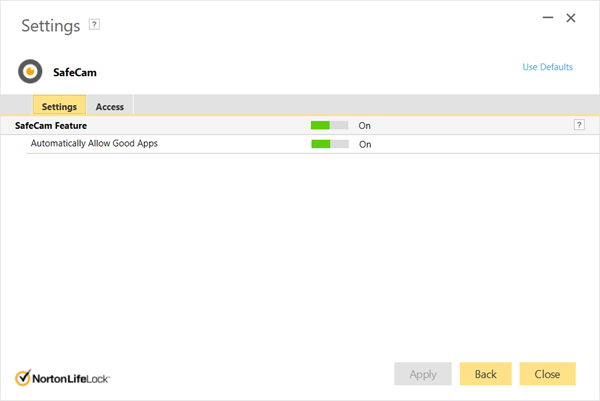 8. Software updater
In 2022, Norton adds this new feature in its security suite. Software updater checks for all the software / apps installed on a computer and inform the user for all the outdated versions. It also provide an option to auto update the software or you can manually update the apps to the latest version.
Some times outdated apps become the vulnerable to the new threats, so it is always a good practice to update them regularly. Norton software updater tool helps to manage it.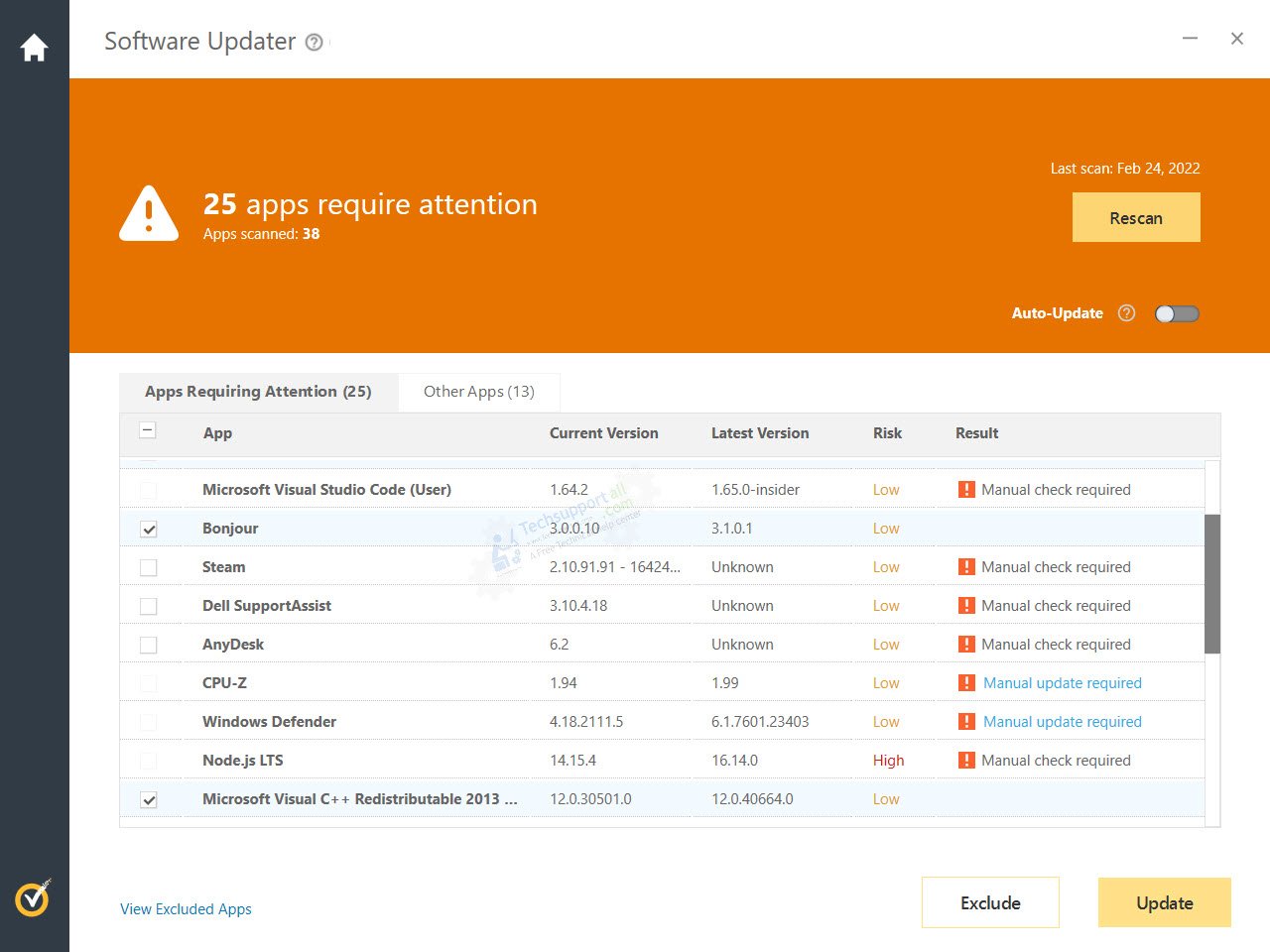 Norton 360 Review
For years, the digital landscape has been a battleground for combating viruses and malware, and Norton Antivirus has been my steadfast companion throughout this journey.
Like an impenetrable shield, it safeguards my digital devices, instilling a sense of confidence and peace of mind. The moment I power on my computer, I can almost feel the robust protection wrapping around my system, vigilantly scanning for threats lurking in the shadows.
The software's user-friendly interface is a breath of fresh air, intuitively guiding me through its comprehensive features. Norton Antivirus has consistently proven to be a reliable and secure fortress in a world teeming with cyber threats, earning my unwavering trust and loyalty.
As I am using the Norton personally from a long time and has also tested other antiviruses. So here is my finding and honest review regarding the new Norton 360 Lifelock. I have purchased Norton 360 ultimate with 10 devices license. Its malware protection is very effective, as any of my systems with Norton antivirus never get any infections.
Below are some of my observations.
Error during password manager setup
I tried to enable the Password Manager extension on the Edge browser. After clicking on the extension, It gave me two options to setup password vault. First by logging in Norton account and second by using the mobile app.
So first I tried the login method but it was giving me error "Error occurred while processing your request". I tried many times but failed to setup it.
Then I tried the second method. QR code scanning install the Norton password manager app in my android phone. After logging in my Norton account, it showed this screen.
After setting up the password vault on mobile Now I am also able to access the password manager with login method. The above error has also been fixed now just by setting up it on my mobile device. Mobile app can be used to unlock the password manager.
Personally I am using the chrome's inbuilt password manager and it is working fine for me. I don't know how safe is that. But I will also give try to the Norton password vault and will update my review accordingly.
Avast provide a feature to add an extra layer of protection for the Chrome's password manager. So, that kind of feature would be good instead of a separate password vault.
VPN is helpful, fast and easy
Secure VPN is very helpful and now there is no need to buy a separate VPN service. Previously I was using the HMA VPN. VPN is smooth to connect and I am not noticing much difference in speed in normal browsing behavior. VPN service is not available for Indian users due to the government laws.
Parental control is extremely useful and feature packed
Norton parental control is also a useful feature, I tried it to limit the screen time for my 8 years old child. He takes his online classes at home and it makes me easy to monitor the kid from my office. The only thing that I am missing is that there is no option to limit the time for particular games or apps.
There is option for instant lock and kid can ask for permission for more time. You can add multiple child accounts and set the school timing and allowed hours for the child. For emergency unlocking for parents there is also an option to unlock with the PIN.
There are options to add multiple parents and multiple kids to manage them separately.
New Norton Family School Time feature is also a useful tool to set the school timing to restrict children from online activity on school days. Computer will be accessible only during the allowed time and with the restricted or allowed websites.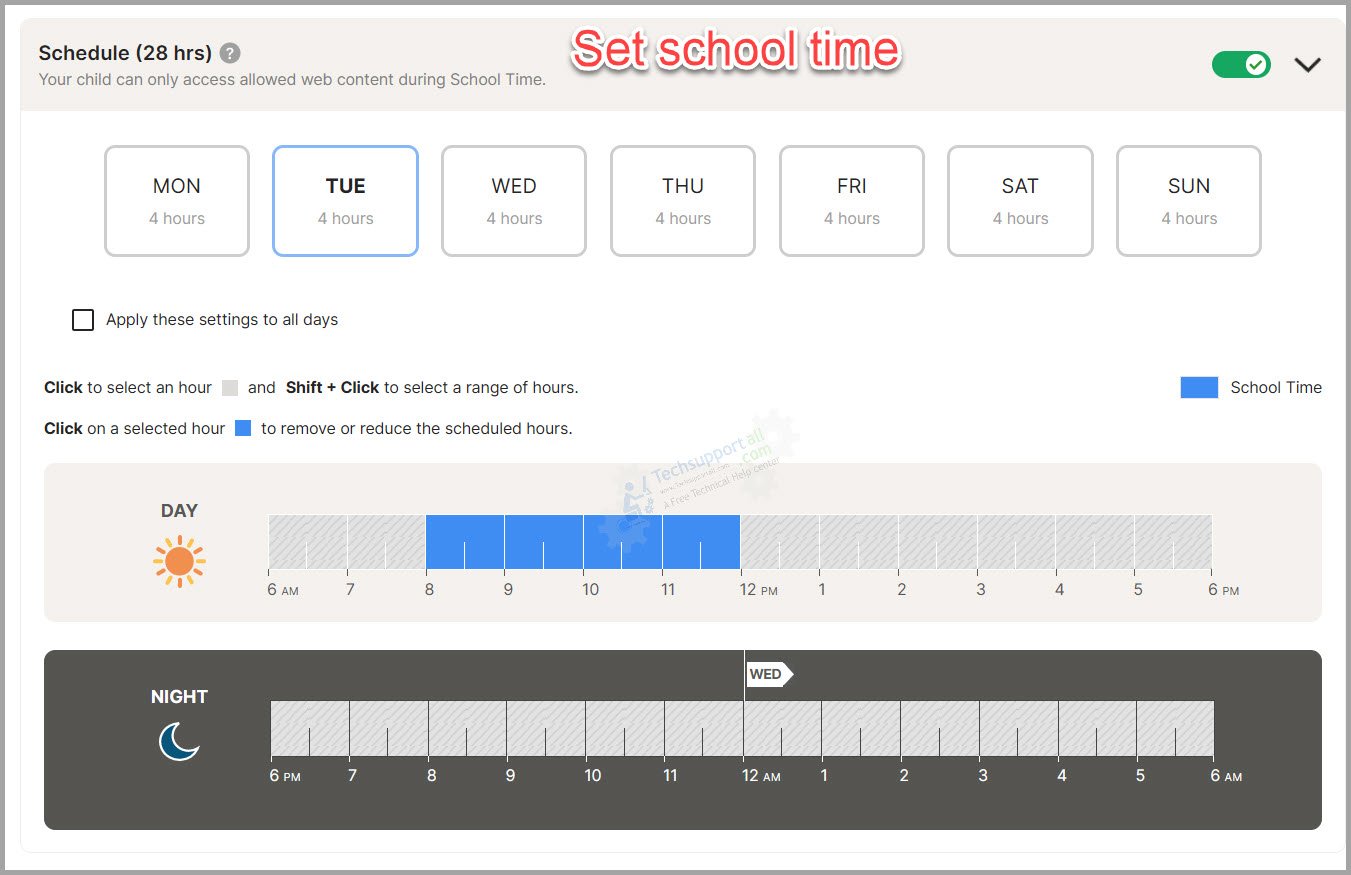 Parents can allow or block categories of websites during school time. beside categories parents can also add any custom website in allowed or blocked list.
Powerful protection without compromising performance
Performance wise and protection wise I am very much satisfied with it. Norton always give surprises as it mentioned less and provide more such as there is no where mentioning of the Fake pop up ads protection.
These ads popped by mostly fake support scammers. I found it accidentally and it stopped that immediately. And I had taken the immediate screen shot of it. So it also included the tech support scam protection.
Norton also give you notification and alert about the latest threats or scams. here is an example that I received as Norton notification educating about the Push Notification scam
Here is another alert that I get recently regarding the password stealers.
Finally below are sum up of my all positive and negative of the Norton 360.
Pros
VPN has no data limit.
VPN comes with strict no log policy.
Virus protection promise.
stolen funds reimbursement with LifeLock plans.
Dark web monitoring.
Powerful smart firewall.
Useful Parental control.
School time feature.
Cloud backup.
Cons
Norton Family School Time is not available in Mac version.
Identity protection is not available in all countries.
VPN is not available in India due to govt. regulation,
Password manager is a little tricky to setup.
Conclusion
Conclusion of my personal experience with the Norton Antivirus is very much satisfied. It is light weight and does not take much system resources. It works efficiently in the background. VPN and parental control are great features apart from its security capabilities.
Some people think that Norton is costly, but it is not actually. Its price is competitive to the market. Norton Security is an excellent security system which is not only effective but also cheap.
It have many layers of protection and scanning engine to protect completely from any type of threats. Personally I am using it from years and found not any issue using this software. Neither my computer got infected in presence of the Norton. I wholeheartedly recommend Norton antivirus to anyone seeking a reliable and robust security solution.
They are also providing a money back guarantee under their 100% virus free promise. So I think it is worth to go with Norton Security. It is more affordable if you use the Norton Coupon Codes.
Comparison of all Norton subscriptions
Here is a comparison of all the Norton products with their regular price and promo price and major features provided in them.
antivirus plus vs 360 standard vs deluxe vs with lifelock select vs advantage vs ultimate
Explore All N360 Lifelock plans
Other than Norton 360 products there are some other cyber security products are available
Norton 360 for Gamers
Norton has also introduced a new product designed specially for the gamers. It is a product build by gamers for the gamers.
Features:
Covers up to 3 devices
Device Security
Norton Secure VPN
Dark web monitoring
Gamer's tag identity protection
Doxxing protection
Why a special antivirus for Gamers? Actually, antivirus for gamers includes some special features like DDoS, doxxing protection, Gamer tags identity protection etc.
It includes gaming account protection and minimize interruption during game play. It detects the full screen mode and silence all notifications except severe security issues.
Norton Small Business Security
Norton was serving business users under its Symantec brand. Symantec was recently acquired by the Broadcom. And there is no Symantec brand exists now . But anyway there is a product under Norton brand for the small businesses.
Norton Small Business Antivirus is a perfect product for SOHO users or even for some bigger companies as it provides a centralized console to manage all the devices from a single place. It comes with 5, 10 & 20 device license options.
Checkout : Norton business antivirus
You can also browse other top best business antivirus software.
Where to buy Norton? Get discount
Norton 360 can be purchased from its official website or from the Amazon website. Occasionally companies offer limited promotional offers, you can get latest Norton coupons at our deals section.
Buy it on Amazon.com
Buy from Norton Store
How to download & install Norton 360
With in a few clicks it will be ready to protect your PC. Installation is easy and fast. Just login with your Norton account or use the license key to activate its subscription. Use the respective app store to download and install on a smartphones and tablet.
Norton provide a 7 days free trial but you need to create an account and enter the payment detail. Though it will only be charged after 7 days. You can cancel the subscription before it charge the payment.
If you have already purchased the Norton subscription, You can manage devices and download Norton from Norton my account after logging in to your account. https://login.norton.com or visit the setup page. https://www.norton.com/setup.
If you have previously installed any other antivirus software then firstly it will ask you to uninstall that software. So allow to uninstall it. It is common installation practice by any antivirus software to remove other installed antivirus as it can cause compatibility issues.
Installing two antivirus software simultaneously is not recommended. But you can install an antimalware Software along with your antivirus software. Read about Malware & Antimalware software.
Norton 360 alternates
If you are looking for Norton 360 with Lifelock alternatives, then here are a few suggestions for you. Recently, Avast has also launched its Avast One Platinum plan to compete with the Norton 360 LifeLock plans. Another strong competitors are McAfee+ Ultimate and Bitdefender Ultimate . As these are the only companies which are providing antivirus with true identity protection features. One minus point for Avast is that it does not have a parental control feature.
And for Norton 360 antivirus alternatives, there are many other options as well like Bitdefeder, Eset, Webroot etc. You can compare antivirus products on antiviruscafe.com.
Why Choose Norton Antivirus?
Below are some other strong points to choose the Norton as your security partner.
Norton has an experience of more than 25 years in consumer cyber security.
The product has over 200 million users worldwide which show that the product is trusted to offer what it promises.
100% virus free promise.
It has won several awards recognized globally.
Good ranking in independent test labs.
What requirements are needed to run Norton 360?
In order to ensure that Norton software successfully operates on your PC, you should check the requirements list. You should have any of the following operating systems installed: 7 SP1, 8, 8.1 or Windows 10, Windows 11 in 32 or 64 bits.
Many PC users are concerned that will this security system run on older devices with older installed operating systems or not. Unfortunately, Norton Security perhaps is not fully compatible with older systems and devices and it is preferable that anyone with an older device should consider another security program. New Norton is fully compatible with Windows 11 & 10.
Apart from Windows it can also be installed on Mac and can also be installed in Smartphones or Tablets. Norton mobile security is fully compatible with Android and iOS based devices.
Troubleshooting Norton installation or activation issues
For older version you can use this tool to remove and reinstall the Norton product. It do the things automatically. Download this official Norton Removal and Reinstall tool. Please note that this will uninstall all Norton old version products and only install the latest release automatically.
If you are already using the latest release in future you will get the updates automatically. If you are not sure if product is updated then visit to check and do the things manually by visiting here
If you are facing any issue in installing or upgrading Norton security or seems any compatibility issue. Then basic troubleshooting step is to Uninstall and reinstall it using its Official Norton Removal Tool. It will solve most of the problems.
But if still you have some issue then try contacting directly to the Norton Support. Please also beware of Fake Norton Calls claiming as Official Norton Tech Support.
Norton help and support
Norton antivirus is one of those few security systems that are easy to follow and install. However, if there are still issues, Norton provides its users with a very gracious help and support system. It has a 24/7 help and support system which helps the users a lot.
Apart from the Norton product support, which is included with every subscription plan, Norton also provide "Ultimate help desk" which is a paid remote technical support which cover any software or setup related issue for devices and peripherals.
Norton Ultimate Helpdesk comes with one time support and with a monthly subscription plan as low as $19 per month.
Norton device care for device hardware protection.
Some facts about Norton
I have seen that Norton has taken a number of bold steps to ensure honest and quality protection for end-users. I'm listing some of them here that have set new standards in the antivirus industry. Here are some facts about Norton that took my attention.
Norton released version-less products in 2013. Previously, there was a trend to release a new product each year with year suffix, such as 'Norton Antivirus 2022'. So Norton broke the trend and released a version-less product, which is expected to be get updates several times a year. Obviously still there is version for the development use, but not for the public.
Norton was the first company to announce that bare antivirus are useless in modern cyber world. So in 2015, Norton Antivirus product was scrapped and approximately 9 products merged into a single product named Norton Security. In addition I want to make it clear here that antivirus means basic antivirus product, which all companies offer with less security features at a cheaper price and not the other variants like internet security or total security etc. Truly, bare antivirus is not able to stop the emerging threats like malware, ransomware etc. Now actually they are not really exists.
In 2019, Norton Security became more than just a device security software and started providing full 360 degree protection against all types of online threats under its new name Norton 360. It includes malware protection, protection of privacy and identity theft which includes Secured VPN, Parental Control and dark web monitoring, secured cloud backup, pc optimization etc.
In fact, you may don't know that Norton 360 was also the name of an older product that Norton had discontinued in 2014. At the same time Norton merged all its products (Antivirus , Internet Security & Norton 360 and 6 more products) into one single product with the Name of Norton Security. And then in 2020 Norton has reinitiated its brand Norton 360.
Norton Antiviru FAQs
Norton Antivirus deals
Last updated on September 22, 2023