What is Avast?
Avast is a popular cyber-security company, which is now a part of Gen Digital Inc. It offers many security products to home users and business users.
Avast Antivirus is a strong antivirus program that will keep your computer safe from viruses, spyware, and Trojans. It protects the digital life of a user, from device security to privacy and identity security.
Avast is also well known for its free antivirus products, Avast Free Antivirus and Avast One Essential.
subscription. And it offers two types of these products. with free and paid editions.
Avast Antivirus Subscription Plans
Avast bundles its different modules or products in their subscription plans. These subscription plans are available for free as well as for a fee. Obviously, the free version has some limitations, while the paid version has full access to these tools.
---
---
Before we go further let's first understand all the Avast subscription plans.
Avast Free Products
These are the completely free subscription plans for life. You just require to register for it. Registration is also free.
Avast Antivirus Free
Avast One Essential
Avast Paid Products
Paid subscription plans are available with different set of modules and tools with different pricing.
Avast Premium
Avast One Individual / Family
Avast One Platinum
Avast one is currently available in selected countries. But they are rolling out for more countries. As per my opinion they will completely replace the Avast One with their older products.
Let's have a quick comparison between different Avast subscription plans
| Features | Avast One Free | Avast One Individual / Family | Avast One Platinum | Avast Free | Avast Premium |
| --- | --- | --- | --- | --- | --- |
| Device Security | ✓ | ✓ | ✓ | ✓ | ✓ |
| Email Spam protection | ✗ | ✓ | ✓ | ✗ | ✓ |
| Phishing / Fake website protection | ✗ | ✓ | ✓ | ✗ | ✓ |
| VPN | 5 GB / Week | Unlimited | Unlimited | ✗ | ✗ |
| Leaked password check | ✓ 1 email | ✓ 5 / 30 emails | ✓ 30 emails | ✓ | ✓ |
| Software updater | manual | automatic | automatic | manual | automatic |
| PC optimizer and cleaner | ✓ | ✓ | ✓ | ✗ | ✗ |
| Webcam protection | ✗ | ✓ | ✓ | ✗ | ✓ |
| Driver updater | ✗ | ✓ | ✓ | ✗ | ✗ |
| Identity protection | ✗ | ✗ | ✓ | ✗ | ✗ |
| Identity theft insurance | ✗ | ✗ | $2 million | ✗ | ✗ |
| 24 /7 tech support for any issue | ✗ | ✗ | ✓ | ✗ | ✗ |
| | Free | $50.28 / year | $119.88 / year | Free | $69.48 / year |
How to download and install Avast antivirus on your PC or mobile device
It's easy to download and install Avast Antivirus on your PC or mobile device.
How to install Avast Antivirus:
Select your desired subscription plan.
Click on Download or Buy Now button.
Make payment and download the Avast.
After downloading, installing the right product is simple and easy. Just follow the simple on-screen installation instructions.
If you need to upgrade your Avast to a higher or newer version, then you need to uninstall the old product and install the new one. Use the activation key to activate the product, and you will be protected in a few minutes.
If you have some issue during installation or upgrade, then simply use the Avast uninstaller tool to remove the product installation completely from your device. And if you still have issues, contact the tech support department to solve your query.
Features of Avast antivirus that I liked most
These are some major features that I really liked in Avast Antivirus. All these features are also available in the free version.
1. Ransomware Protection
Ransomware protection puts an extra layer on the important folders to protect them from being stolen or changed by malware. So it will stop hackers from encrypting those folders.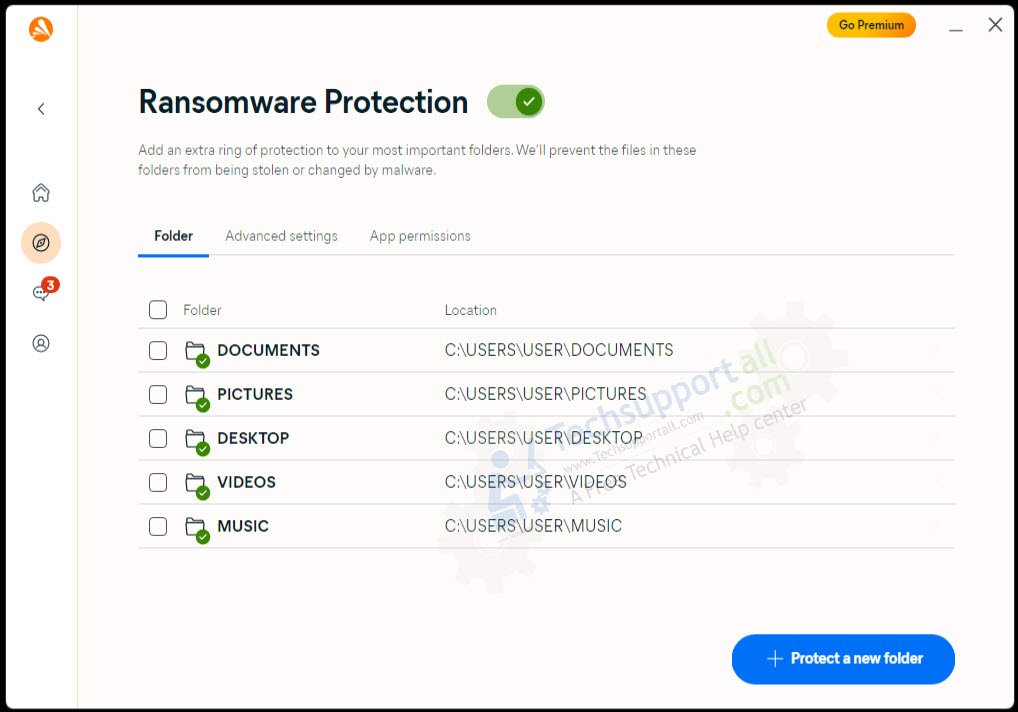 The best thing is that you can add or remove folders from this list. It will not allow access to the content of those folders without your permission. I personally found this feature to be a good extra layer of protection from cryptoware attacks.
2. Network Inspector
As per my understanding, the Network Inspector feature of Avast does two things. One scan for DNS hijacking, and two, it finds the weak WiFi password. Finding weak passwords is not much use, but DNS hijacking is a simple and powerful feature.
DNS hijacking is a cyber attack in which an attacker changes the Domain Name System (DNS) entries to send a user to a malicious site when he tries to open a legitimate site.
One of the key attributes that give it a higher cutting edge is that it not only scans but also provides a comprehensive list of all computers and routers in your network by showing IP addresses.
3. Web Shield
Did you know that there are websites that can install malware on your computer without your consent as you browse? HTTPS scanning is a third-generation web shield that scans all encrypted HTTP traffic in order to find and remove any viruses that might be a threat.
It is also important to point out that it can detect threats even in TLS/SSL protected traffic.
It also helps to stop botnet attacks, script scanning, and other useful protection under its web shield feature.
4. Passive Mode
You can easily use another antivirus along with the Avast
This is another great feature that I like most. Enabling the passive mode option will turn off the real-time protection of Avast antivirus. This is a great feature when you need to temporarily disable Avast antivirus without uninstalling it.
It can be useful in many cases, like when you need to install another antivirus program for whatever reason. Or you need to turn it off for a short time to check anything or perform a particular task.
5. Protect Browser Passwords
Avast takes care of everyone's security concerns to protect their digital life. We usually save passwords in our browsers. Though they are secure, but it is better if you get an extra layer of protection.
I didn't see this feature in any other antivirus software. But this feature is available only in premium versions.
Other Features of Avast Antivirus
Browser Cleanup
As the name suggests, this is a feature that allows you to delete browser history in a bid to delete cookies and other sorts of content associated with websites visited.
PC optimization
There are some programs that have the capacity to slow down the performance of your computer. Avast can optimize your PC by scanning all installed programs and the computer registry to identify such areas. It will automatically tweak your system registry to free up more data storage space on the hard disk.
Sandbox
This is an additional feature that is designed to create a safe, isolated virtual environment that you can use to open files downloaded from the internet if you suspect they contain viruses.
Software Updater
It will keep your browsers and programs updated by looking for and installing updates to ensure they are always up-to-date and secure to use.
Driver updater
Driver updater help you keep all your device drivers updated. It automatically scans and downloads the updated drivers. It helps to reduce the crashing and freezing issues due to the outdated drivers.
Secure Browser
This feature is designed to secure your online banking, financial transactions, and shopping. This is extremely helpful nowadays with the tremendous growth of online businesses of all kinds. This is exasperated by the trend towards paperless banking.
Game Mode / Do Not Disturb Mode
It silences notifications from Windows, other apps, and Avast.
Ever been engrossed in your video game only to lose your life because a Windows or other notification pops up? Feel like punching your monitor or worse? Well, relax! Help, i.e., with Avast's new Game Mode, all such notifications will be turned off, allowing you to place all of your concentration and your computer's processing power at your game's disposal.
Protects from remote access attacks
Avast comes with a feature that prevents hackers from taking over your PC using any remote control software or Microsoft RDP.
Protect from fake websites
Cybercriminals frequently employ phishing, or a fake website, to obtain sensitive information. Whenever you see a website that appears suspiciously like an official one, it may be a spoof. Spoofing is commonly used by cybercriminals to get access to sensitive information, such as passwords.
With Avast Premium Security's warnings about potentially dangerous websites before you ever load them, you can surf the web with complete peace of mind.
Webcam Shield
Blocks untrusted apps from accessing your webcam.
Data Shredder
When sensitive files are deleted permanently, they cannot be recovered.
For more detailed review about Avast One read: Avast One review
Avast Free vs Paid: Which is the best option for you?
When it comes to choosing antivirus software, you want to make sure that you get the best protection for your device.
Avast offers two versions of their software: Free and Paid. Both versions offer excellent protection against malware, viruses, and other threats.
Free versions protect against viruses, malware, and ransomware, but there are many more cyber threats in today's digital age. The paid version includes all those extra features to protect from advanced cyberattacks. There are some limitations in the free version, whereas there are no limitations in the paid version. Like in the free version, VPN is limited to 5GB per week, but there is no limit in the paid version.
So my recommendation to you is that if you are a normal user and there is not much important data on your computer, you can go with the free version. But if you are concerned about the security and privacy of your data, you should choose the premium version.
Find out more at Avast Free vs Paid.
Is Avast Free is better than Microsoft Security?
Avast Free Antivirus gives you extra layers of security, such as a Wi-Fi inspector, privacy protection, protection against phishing, etc., which all work together to keep you safe from the dangers of the internet. It also has a more comprehensive collection of customization options and a user-friendly interface.
Alternatively, Microsoft Security is an antivirus tool that is in-built into the Windows operating system. It lacks the additional tools and customization options that Avast's free antivirus offers. Its Anti-phishing protection is limited to only Microsoft Edge browser.
Read Avast Free Antivirus Review
Comparing Avast antivirus to other popular security solutions
In this section, we will compare Avast Antivirus to other popular antivirus software solutions in order to determine which one is best for your needs.
As per my observation, I found these strong points that go with Avast: its secure browser, ransomware extra layer protection, network inspector, passive mode, and browser password protection.
But it also lacks some features, like parental control, that all of its competitors—Norton, McAfee, and Bitdefender—are providing. They also provide a password manager, whereas Avast has protection for browser passwords, which is a more practical approach for a user.
Other competitors lack the one-click private mode and secure browser option.
You can compare Antivirus software side by side.
Avast Discount
Every company promotes its products by offering some kind of discount. Please remember that most security companies provide this discount just for the first year, and on renewal they will charge the regular price.
With the launch of the Avast One product line, Avast is currently offering a 50% discount for the first year.
Visit official Avast discount page. Or you can also find more Avast deals here.
Where to Buy?
Avast one is right now not available on Amazon. But you can buy directly from Avast Store.
$39.99
in stock
as of June 7, 2023
Conclusion
Avast Antivirus is one of the most popular and reliable antivirus software programs available today. It offers a range of features that make it the ideal choice for protecting your computer from viruses, malware, and other online threats.
Avast Antivirus protects you in real time from malicious programs and websites. It also updates itself automatically so that your system always has the most recent security patches.
It also has more advanced features like sandboxing, which helps you keep suspicious files separate from the rest of your system so they don't do any harm.
Avast Antivirus also comes with a number of tools that help you improve the performance of your system while keeping it safe.
With these features and benefits, Avast Antivirus is the top choice for protecting your computer from online threats.
Avast claims more than 435 Million Downloads which shows its trust and popularity.
Another thing that I observed is that Avast describes their features very efficiently, whereas some features are present in other competitors products but are not mentioned in depth. Like for other providers, just mentioning that a VPN is included with the subscription is enough, but Avast describes it with all the benefits that a VPN provides. Some of these features confuse the user when they compare Avast products with other products.