What do you do if you get infected with virus, crimeware, malware etc? In this case you can run the Norton Power Eraser to remove such infections.  Norton power eraser is a free to download tool by Symantec to scan and clean your computer deeply in aggressive mode to eliminate these crimewares and viruses which are hard to detect in normal virus scans.
Norton Power Eraser is small portable utility which use  Norton Insight in-the-cloud application ratings system to find if the program installed on your system is safe or malicious.
Norton Power Eraser download
If the program is unrated it will also verify it by uploading to the Symantec secure server to scan that program. It is very useful in removing unwanted toolbars and plugins in your browser from your computer's browser. In latest Norton release it has been integrated into the product to run it easily without downloading.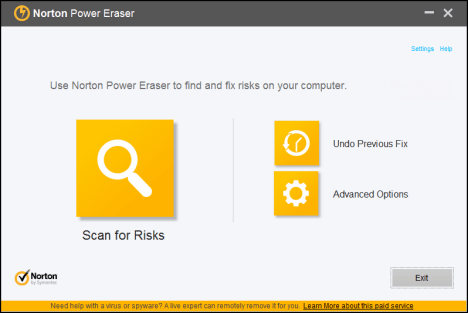 ---
---
Norton power eraser is free virus scanning utility powered by Norton In-sight.
But be cautious this power eraser even can remove some legitimate programs as well as it scan the system with strict mode. Though you have option that you can undo actions done by power eraser by reviewing past repair sessions But you should use this tool carefully.
Always create system restore point before scanning and fixing or running any of these kind of software it will help you to restore your system as it was before if something wrong get happen.
You Can Buy Norton in cheap price just for $19.99
If you feel that infections are still there after scanning with power eraser then Norton Valid license key users can also use the Norton Bootable Recovery Tool.