Are you looking to buy McAfee antivirus, But want to know how good is it, what features it offers, and which subscription is right for you. Then read my personal review and finding for McAfee.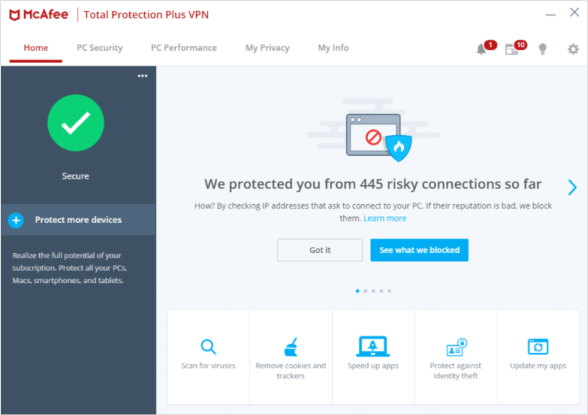 About McAfee Antivirus?
McAfee is one of the first name that come to mind when discussing antivirus software. It was founded by the John McAfee. In 2011 it was acquired by the chipmaker Intel corporation. They changed its name to Intel security but revert back to its original name McAfee.
Though it was the first antivirus company which was founded in 1987. But in mid term it lose its effectiveness because it was not performing well Independent test labs.
But in recent few years McAfee has again regained its effectiveness and credibility. They have redesigned their security software and integrated new features to combat the latest trend of cyber attacks.
McAfee's new features are currently focused on identity and privacy, which includes device security as a component. As like the Norton, McAfee has also keep a single device security with the other security addons.
---
---
Now McAfee includes excellent malware detection rates, a password manager, and a VPN, as well as friendly customer service. In addition, it's a breeze to get up and running. When it comes to security, how good is McAfee? Compared to other anti-malware programs, how safe is this one? What is the price of McAfee? All of this and more can be found in our in-depth analysis of McAfee Antivirus.
McAfee Products and Subscription Plans
McAfee has mainly three types of products Device security, Device security with privacy protection and lastly device security with privacy protection and identity protection.
Let's understand it table format for easy understanding.
Device security
Device security + Privacy protection
Device security + Privacy protection + Identity protection
McAfee Antivirus (Basic)
(1 device)
McAfee Total Protection (Essential)
(5 device)
McAfee+ Premium
(Unlimited devices)
McAfee+ Advanced
(Unlimited devices)
McAfee+ Ultimate Individual
(Unlimited devices 1 user)
McAfee+ Ultimate Family
(unlimited devices 6 users)
Comparison of McAfee Products
This comparison table will help you to find out the right subscription plan for your need.
Features
Basic
Essential
+Premium
+advanced
+ultimate
Devices
1
5
Unlimited
Unlimited
Antivirus, antimalware
✓
✓
✓
✓
✓
File shredder
✓
✓
✓
✓
✓
Phishing protection
✓
✓
✓
✓
✓
Darkweb monitoring
✓ 10 emails
✓
✓
✓
✓
Personal data cleanup
✗
✗
✓ Scan only
✓ Full service
✓
VPN
✓
✓
✓
✓
✓
Password manager
✓
✓
✓
✓
✓
Parental control
✗
✓
✓
✓
✓
Identity protection
✗
✗
✗
✓
✓
security freeze
✗
✗
✗
✓
✓
Transaction monitoring
✗
✗
✗
✓
✓
Credit monitoring
✗
✗
✗
✓ (1 bureau)
monthly report
✓ (3 bureau)
daily report
$1 million identity theft coverage
✗
✗
✗
✓
✓
Credit lock
✗
✗
✗
✗
✓
Regular price
$89.99
$119.99
$149.99
$199.99
$279.99
First year price
$29.99
$39.99
$49.99
$84.99
$189.99
McAfee antivirus vs Total protection vs McAfee plus subscriptions
Where to buy McAfee and get discount coupons
Basically you either buy it from their official website or from Amazon. Company as well as other retailer sometimes give promotional offers to buy McAfee subscriptions in cheaper price. To check out our deals page to get the latest McAfee deals.
Deals from Amazon and other online retailers
Download McAfee
Note: McAfee does not allow to download free trial without providing payment detail. So now it is providing a 30 days free trial by providing your Credit card detail.
So what you have to do is to go to the official McAfee website and select the right product subscription.
Click on the Buy Now button and enter your payment card detail. Though you will not be charged immediately as you have the option to take trial of this product for 14 days.
After subscribing for the free trial you can download the Free trial of desired McAfee product.
Install, upgrade and renewal of McAfee products
After download you can Install it normally as you install other software. If you are an existing user and want to upgrade your previous version to the New version then you have to remove the previous installed version and install a fresh copy of the new release.
Though McAfee product subscription comes with Auto-Renewal functionality that your product get renewed automatically but if you auto renewal option is disabled you can renew it manually using following steps.
If your subscription is already active you will get a notification one month before its expiration and you just have renew it. But if your subscription has been already expired then along with the renewal you also have to Re-Install the McAfee product.
Troubleshooting
If you are getting problem in installing, re-installing of McAfee products then you can use the Official McAfee removal tool to uninstall McAfee product completely from your device and then re-install it. This will solve the majority of your problems. If you still have some issues, contact McAfee customer support.
McAfee Security Modules
McAfee has 3 security modules and under its Total protection it bundled various security products and addons with different subscription plans for different needs. So lets find out more about the security modules first.
1. Device Security (McAfee Antivirus)
McAfee discontinued different variations of its antivirus products like Internet Security, Total Protection, Live Safe, etc. and kept a single, powerful, fully featured antivirus product. In the next section, I will explain the features of this antivirus product. In the meantime, let's find out about the other two modules of MacAfee Security.
2. Privacy protection with VPN
Some good companies tries to track your behavior or personal dat to offer you more personalized information. But hackers also do this for bad purposes and some times they sell this data on the dark web.
So for many people privacy is a major concern for online users. McAfee has introduced a privacy protection which includes a VPN service which hides you on the internet and also search and warn for any privacy breach.
3. Identity security
Apart from your privacy, today your identity is also on risk and even some hackers or bad people use your identity information to commit fraud online. McAfee has also worked on this and launched its McAfee+ products which includes an identity theft protection and monitoring system to alert you for any type of fraud. It also includes an insurance up to $1 million in case of any such incident.
McAfee Review
McAfee Security Scan Plus, a free product from McAfee, checks your PC for probable vulnerabilities and recommends additional security measures, such as antivirus, firewalls, or internet protection. Use this product to examine your system's security requirements before purchasing.
If you enable auto-renewal for paid programs, McAfee offers additional services like a VPN, identity theft protection, and complimentary gamer security.
To complete our review, we had to put it through its paces, starting with installation and ending with actual use.
Installation began by checking our system to determine if it fit the criteria and if there were any programs that would interfere with installation. This tipped us off to Bitdefender's VPN service, so we turned it off and proceeded. It took no time at all to complete the installation of McAfee Total Security.
Launching the app brought us to a clean and straightforward home page. At the very top, there was a quick summary of the current situation. Under it were links to the PC, Web, and Identity protection features.
Additionally, there is a button at the bottom that takes you right to the scan interface. Even though the features were well-organized, the gear icon in the upper right-hand corner of the window provides quick access to all of the features' configuration options.
When it came to Web protection, the closest thing to "annoying" we found was McAfee's Secure Search, which is powered by Yahoo and became our default search engine. As a result, we went back to our old search engine, Google.
Despite the fact that Secure Search was no longer our default search engine, if we put "McAfee" into the search field and struck space, we could still utilize Secure Search. When we desired an extra layer of protection when browsing, we'd use this method.
Features
All of McAfee's products provide a wide range of security features, including but not limited to:
An anti-malware scanner and firewall
VPN
Password manager
Windows, Android, and iOS parental controls
Anti-spam
Analyzer for home networks
Shredder for confidential documents
Anti-phishing and anti-exploit extensions for browsers
Customers in the United States are protected from identity theft.
Pros
McAfee is User-friendly
McAfee has cheap multi-user options
Offer superb customer support
VPN
Password manager
Encrypted storage
Cons
VPN traffic limitations, some plans have 500 mb limit
Very less detail on website for ID protection features
Free trial without credit card is not available.
Conclusion
McAfee did a good job to discard lot of products keep the inventory limited. Though still due to the double product names their is some confusion like 'McAfee total protection' is also named as 'McAfee essential'. There many great features are integrated into the security suites so overall I can say that you can give it a try as it is offering unlimited devices.
McAfee Antivirus Features
As an antivirus, McAfee Total Protection worked perfectly and kept our computer virus-free. Real-time scanning is to be credited with a large portion of the success. Our computer was inspected in real time and viruses were stopped before they had an opportunity to infect it, as the name says.
The question is, how exactly did it go about its business? McAfee Total Protection did a short scan on every file we opened, including downloads and email attachments, to check for viruses and malware. Files that were suspicious were blacklisted so that they could not be opened and potentially harmful code was not executed.
1.
Antivirus, Anti-Malware, Anti-Spam
Antivirus and anti-malware are now the standard feature of every security software. But McAfee security also includes Anti-Spam feature.
Full, rapid, custom, and scheduled scans are also included in Total Protection. Using the desktop client, these options were easily available.
Full Scan
All the folders and files on the hard disk were scanned by the utility. As expected, each scan took a long time. Four threats were eliminated during our initial scan, which took five hours and 22 minutes to complete. Further complete scans took on average less than two hours.
Quick Scan
In our tests, quick scans took an average of only eight minutes. The reason for this is that they only looked at the places where infections are most likely to spread, such as system files and registry entries. Over 12,000 objects were scanned, but it wasn't clear how McAfee made its selections or whether or not it had the option to adjust the scope of the scan. Eight minutes isn't awful at all!
Custom Scan
Our specified files, folders, or drives were subjected to a custom scan. To put it simply, it was a breeze to operate. We only had to right-click on the things we needed to scan and selected the Scan option to get the scan. Individual files and folders as well as full hard drives were supported.
Scheduled Scan
An automatic thorough scan was performed in accordance with the schedule we established. Every second Monday of the month was pre-programmed, but it was also possible to establish a bespoke schedule by selecting the frequency, day, and time of each scan individually.
2. Firewall
A firewall also protected us from network-based threats. It let us keep track of the Wi-Fi networks we connected to our laptop, as well as preventing potentially dangerous programs from gaining access.
NetGuard, a firewall function we loved, kept an eye on everything we did on the network and blocked any connections to unknown URLs or IP addresses. Monitored background processes, as well as the apps operating on the computer.
For example, the firewall promptly blocked a connection to a server that appeared to be in Russia by a security camera companion software. McAfee just saved us from a possible identity theft if it had been spyware. Finally we were able to manually approve the software because it was only trying to connect to a Russian cloud server.
3.
Ransomware Protection
Ransomware is a rising threat and a security software without ransomware protection is nothing. So you will get the ransomware protection to keep your data safe from the bad guys.
4. McAfee Speed Up
Using this service, you'll be able to browse the web and use your apps more quickly.
McAfee Web Boost
The McAfee Web Boost prevents auto-play videos from starting to speed up your browsing. Overlaying a notice that reads, Paused by McAfee Web Boost, on top of the video achieves this effect.
Our testing discovered that it performed admirably and even aided in the speeding up of some websites. This is a nice feature, but it is unlikely to impact how fast your browser runs significantly.
As a side note, it only works on Google Chrome, so it's not much use to those who prefer another browser.
McAfee App Boost
In the past, several security solutions were known for slowing down computers to the point where users uninstalled them. That isn't very good for security, of course, and security companies have learned to design products with a more relaxed approach to quality control and functionality. Some, such as McAfee, go even further, seeking to speed up the performance of their software.
With the App Boost feature, which can be accessed from the PC tab, users can speed up well-known programs like Microsoft Office and browsers.
This background process searches for apps in need of additional resources, provides them with those resources, and then diverts those additional resources to the currently running foreground app. App Boost zaps a program, a popup notification appears, and a chart on the feature's main page shows which apps were affected.
With the help of its PC Boost feature, McAfee helps free up system resources so other programs can use them. Load times will be reduced as a result of this change.
McAfee's research department tests demonstrate that this improves load times by 6 percent. We couldn't tell the difference in speed during our tests. However, our McAfee analysis showed improved our app's performance by 8%.
5.
PC Optimization: Quick Clean, Shredder
A PC optimizer is included with this security software to keep PC running like new. Other then this it also block auto-play videos.
6.
File Encryption
One of the best option to keep your sensitive data safe is by encrypting that data that no other one can read it. It also helps to avoid encryption the data by ransomware.
7. Real Protect
There is a completely new virus detection system under the hood, called Real Protect. Real Protect focuses on behavior-based detection, and if it detects any malware, can roll back any activity. So, you will be protected from both known and unknown viruses since the system will look at the behavior of each program over time to check if anything is being compromised upon.
8. McAfee's password manager: True Key
McAfee's True Key now comes with multi factor password authentication like facial recognition and Fingerprints. True key is a way to securely login to any websites without remembering lots of passwords. Now with new updates it includes Master password reset and Import of passwords from other password managers.
True Key, the password organizer from McAfee, is a well-known option. And with good reason, too. It allows you to keep track of your passwords while ensuring their absolute safety.
One of the strongest encryption techniques available is used by True Key to ensuring that no one can get their hands on your passwords. You can only decrypt your passwords.
Multi-factor authentication is now available to better protect your account. Before you can log in, you'll need to verify at least two factors. Additional security considerations are also an option if you so desire.
9. Web Advisor
The WebAdvisor browser extension works really well, and first examines a download to check if it is safe. There are two protection layers to ensure nothing suspicious passes through
In terms of web-level security, McAfee's most important and valuable feature, WebAdvisor, does not appear on the Web protection page. For example, WebAdvisor can help you avoid malware-infected websites and phishing scams. Using the browser plugin, you can also see before you even click whether a site is safe, harmful, or untested in popular search engines.
Web-based cryptojackers, phishing sites, and exploits are all blocked by this free Windows-only application.
McAfee Anti-ransomware measures
To keep your data safe, McAfee's real-time ransomware security, called Ransom Guard, monitors your online activities in the background. This is the best feature about Ransom Guard, which is that it doesn't bother you while you are online. For the most part, unless you specifically look for it, you won't realize it's there.
File Content Transformation, as McAfee calls an attempt to encrypt your data, will raise your level of protection. It will also make protected copies of the files that are at risk, so you don't have to worry about losing any of your data.
Anti-Ransom Guard will keep an eye on the situation. If the problem persists, it will isolate it and restore your files from backup.
Once you've downloaded McAfee, it should immediately install the McAfee browser extension for you. McAfee's WebAdvisor, the extension's name, provides quick access to McAfee's security features.
If you're concerned about malware and phishing attempts when browsing the web, McAfee WebAdvisor is a good choice. Except when anything goes wrong, this is another function that keeps you safe online without interfering with your browsing experience.
Norton vs. McAfee
Norton's performance and safety have both been beefed up thanks to the addition of new features. It's a little costly, but it's worth it in the long run. However, even though McAfee is less expensive, it still delivers comprehensive protection. For those willing to go the extra mile to safeguard their data, Norton is an excellent choice.
McAfee has great malware detection rates. It's designed to catch and alert users to phishing sites and emails. ID theft protection is also included. Additional features include system optimization utilities, a virtual private network, and a password manager. Compared to other options, this is more affordable.
Main Differences Between McAfee and Norton Antivirus.
There is a price difference between them. In comparison to Norton Antivirus, McAfee is less expensive.
If you're not satisfied with McAfee, you can get your money back with in 30 days. With Norton Antivirus, you get a 60-day money-back guarantee.
McAfee's capabilities include security against identity theft, system tune-up tools, VPNs, password managers, and good device optimization tools.
Some features include 100 GB PC Cloud Backup, Password Manager, Parental Control, private VPN for up to 10 devices, and Safe Cam.
McAfee isn't user-friendly. Norton Antivirus is a breeze to work with and understand.
McAfee has superior support features than Norton Antivirus.
Conclusion
McAfee is a well-known name in antivirus, and it has made a concerted effort in recent years to make its protection solutions more user-friendly, not just for the technically savvy.
McAfee's latest edition of Total Protection focuses on utilizing language that everyone can comprehend, rather than jargon that only a few people are familiar with.
Even the notifications have been improved. They used to be a source of anxiety for some users, but not any longer. Combined with a recent update for the Windows client, Total Protection has become a lot more user-friendly.
The year has been omitted from the name, which is logical. It's not a one-time purchase, but rather a subscription service.
In addition, McAfee has added a function that was previously unavailable to UK customers: ID security. Leaking information and hackers are becoming more common, as is the reality that hacks might take months or even years to become known to the general public.
All of your personal information (such as credit and debit card details, passports and social security numbers) may be monitored by Total Protection to notify you as quickly as it is detected on the dark web. An early-warning system like this might save you from both identity fraud and financial ruin.
McAfee Protection Centre, a new web site, is where it's all handled.
Scam prevention is the other major goal. Phishing has been labeled a "scamdemic" because of the large volume of messages and emails being sent out. The Total Protection software can alert you when a website can take over your PC and when it's not a good idea to click a link on a social media site like Facebook, Twitter, LinkedIn, Reddit, or any one of those.
McAfee Pricing & Coupon Codes
McAfee does not offer monthly subscriptions; all plans need a one-year agreement. All plans have a 30-day money-back guarantee, so you may test any of them out before committing to one of them completely.
When signing up for a McAfee subscription, you can choose from one, five, ten, or even an unlimited number of devices. Before you join up, be sure you have everything you need. Most security protections are available on single-device plans, so the only incentive to upgrade is to cover multiple devices.
McAfee offers coupons and promotions to promote their product. This promotion let you buy their products in cheap price. We try to bring up the latest promos at one place. So visit our antivirus deals page .
A 50% promo is a regular promo offered by the McAfee security. You can buy their products 50% cheaper for the first year. Onward you may be charged as regular price, Always keep an eye on the coupon codes and promos offered by the company.
McAfee deals