McAfee Antivirus Total Protection has improved for the 2019.  As you know that McAfee has also make a single security suite as compared to previously many version of its antivirus products as Norton did many years ago.
Now McAfee have two major products in consumer section. 'McAfee Total Protection' and 'McAfee Live Safe'. McAfee Total protection comes with 1 device, 5 device, 10 device subscription license options.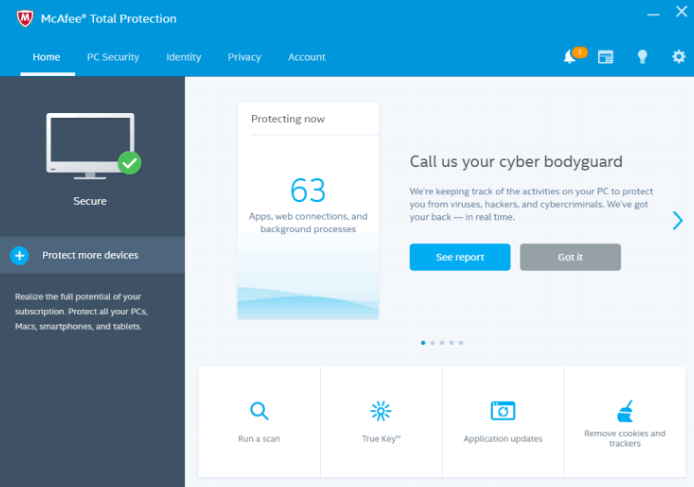 Download McAfee
Download from the below link for a 30 days McAfee Trial. You will also get the 50% discount option with this link if you plan to buy it after free trial.
---
---
Install, upgrade and renewal
After download you can Install it normally as you install other software. If you are an existing user and want to upgrade your previous version to the New version then you have to remove the previous installed version and install a fresh copy of the new release.
Though McAfee product subscription comes with Auto-Renewal functionality that your product get renewed automatically but if you auto renewal option is disabled you can renew it manually using following steps.
If your subscription is already active you will get a notification one month before its expiration and you just have renew it. But if your subscription has been already expired then along with the renewal you also have to Re-Install the McAfee product.
Trouble shooting
If you are getting problem in installing, re-installing of McAfee products then you can use the Official McAfee removal tool to uninstall McAfee product completely from your device and then re install it will solve most of your problem. If still you have some issue then you contact McAfee customer support.
Features
McAfee security loaded with the following features
Compatible with Windows, Android and iOS
Your single subscription is compatible with all the devices Laptop, desktop or smartphone on either OS like Winodws 10, iOS or android.
Virus Protection Pledge
Under it, if there is any virus that the software couldn't recognize, McAfee's tech support will help you with everything including remote diagnosis and remediation. And if the problem cannot be fixed, you get your 100% money back. However, you would need to sign up for the automatic renewal service if you want the pledge to be activated.
ID Theft Protection
To keep your personal information private it includes a ID theft protection system. ID theft protection enhanced  with 1 bureau credit features. More advanced level of ID theft protection see more products at McAfee
Antivirus, Anti-Malware, Anti-Spam
Antivirus and anti-malware are now the standard feature of every security software. But McAfee security also includes Anti-Spam feature.
Ransomware Protection
Ransomware is a rising threat and a security software without ransomware protection is nothing. So you will get the ransomware protection to keep your data safe from the bad guys.
PC Boost, PC Optimization: Quick Clean, Shredder
A PC optimizer is included with this security software to keep PC running like new. Other then this it also block auto-play videos.
File Encryption
One of the best option to keep your sensitive data safe is by encrypting that data that no other one can read it. It also helps to avoid encryption the data by ransomware.
Real Protect
There is a completely new virus detection system under the hood, called Real Protect. Real Protect focuses on behavior-based detection, and if it detects any malware, can roll back any activity. So, you will be protected from both known and unknown viruses since the system will look at the behavior of each program over time to check if anything is being compromised upon.
Multi Factor Password Management
McAfee's True Key now comes with multi factor password authentication like facial recognition and Fingerprints. True key is a way to securely login to any websites without remembering lots of passwords. Now with new updates it includes Master password reset and Import of passwords from other password managers.
Web Advisor
The WebAdvisor browser extension works really well, and first examines a download to check if it is safe. There are two protection layers to ensure nothing suspicious passes through
McAfee Review
Just like before, McAfee online security solutions are designed to protect users from the latest online threats, malware and viruses while surfing through the Internet. It also includes parental control for keeping the young ones safe not only from malware and online threats, but also from malicious websites.
McAfee features cross-platform protection from Mac to PC and from tablets to smartphones. This security solution enables monitoring and managing the various security solutions from a single location which greatly increases its convenience, functionality and usability.
The latest edition also features upgraded protection from mobile spam and viruses. Also, the latest edition comes with an interface that is easy to use and intuitive for the average consumer.
McAfee is a very old company which was later acquired by the chip maker Intel. They are continuously improving their security capabilities.
McAfee offers coupons and promotions to promote their product. This promotion let you buy their products in cheap price. We try to bring up the latest promos at one place. So visit our deals page .
A 50% promo is a regular promo offered by the McAfee security. You can buy their products 50% cheaper for the first year. Onward you may be charged as regular price, Always keep an eye on the coupon codes and promos offered by the company.