Top 5 Free and Effective AntiMalware Software of 2019 for Malware Removal
These days malware attacks increases a lot and necessity of a good anti-malware programs has been increased widely. Almost all computer users know about Antivirus software, but what is this Antimalware? To know about Antimalware we first need to understand the Malware.
Malware is a term which defines all type of malicious software which can harm a computer in any way, which can include Viruses, Trojans, Spyware, Worms, Scamware, Adware, Ransomware, Scareware etc. 
All Antimalware tools listed below can be used simultaneously along with any Antivirus program installed in the PC
Top 5 Best Anti-Malware Software of 2019 for windows 10 / 8 / 7
We have researched and listed below only the best Anti malware software here, on which you can rely. There are lots of tools these days in the market but you can not trust blindly at anyone as there are lots of fake antivirus tools which are being promoted by fake tech support companies.
You can read the Tech Support Scams for more detail about it. These tools are best to use in year 2019 for Windows 7, Windows 8 or with Windows 10. Mostly all these tools are also compatible with Mac as well.
Never trust any unknown malware / adware / virus removal tool. Instead of cleaning they can severe infect your computer which leads to serious problem like money loss, data loss, private information theft etc.
Comaprison table of antimalware software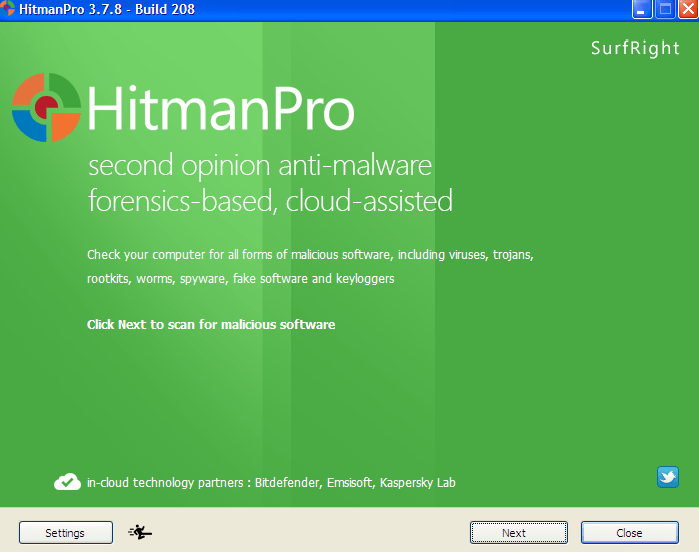 Free
30 Days Full Free Trial
Pro
$24.95
Download
HitmanPro which is now part of Sophos Security is a popular name for second opinion scanner. We put this on Top of our list as in our test results it detects the malware deeply. It uses its own database along with Cloud based scanning with Top 3 Antiviruses engine Bitdefender, Kaspersky and Emsisoft.
Hitman pro also uses a behavioral based technology which detects even unknown threats according to behavior and scan the suspected files using its cloud based technology scanning engine. The best thing is that it is very fast. It has scanning power of 4 scanners but still very fast.
But this utility is not completely Free, it offers 30 days free detection and scanning. After that you have to pay to use it. But its worth paying for this. It has both options you use it as a portable scanner or you can install it in the computer. Hitman Pro is fully compatible with any of the Antivirus Protection installed on the system. Hitman Pro is very effective in removal of Malware, Virus, Adware or unwanted programs etc. For real time protection HitmanPro.Alert is the option.
Free
Always Free Detection and Removal
Pro
30 Days Full Free Trial / $24.95 after trial
Pro benefits
Real time Protection
Download
Malwarebytes is a well known name for Antimalware software. It is very popular as it is effective and FREE. You can use it free for life to scan and clean malware.
It is also providing a paid option where you can get real time protection. In real time protection it worked in the background and stop any malware before they enter into the system. Malwarebytes is compatible with mostly all antiviruses and can be used along with any of your existing antivirus protection.
New Malwarebytes 3 includes new features like Ransomware protection, Exploit Protection, Web Protection etc.
Free
Always Free Detection and Removal
Pro
15 Days Full Free Trial / $24.95 after trial
Pro benefits
Real time Protection
Download
Zemana Antimalware can be a new name for the user, But it is an advanced version of the old popular software which was previously know as the Zemana Antilogger.
We found it effective against malware as well as adware. Cloud based multi AV scanning with its own database signatures make it powerful cleaner. Zemana is giving a tough competition to the HitmanPro and Malwarebytes.
It comes with a 15 days full free trial which let you clean the infections, but for real time protection you require to buy a paid subscription.
Free
30 Days Full Free Trial
Pro
$39.95
Download
Emsisoft antimalware scored very well in many AV labs. It uses 2 engines to scan and block malicious programs. One its own AV engine database and another is Bitdefender AV engine which makes it one of the good behavioral blocking software.
It has features like Surf protection, Real time file guard, Behavior blocker etc. Its user interface is with a nice look & feel and is user friendly. It also offer only 30 Days Free Detection and removal after that you have to pay for this software.
Its price is little higher then HitmanPro and Malwarebytes Antimalware. But it can become cheaper in renewal with your reward points. You can also use the Promos given by the company time to time.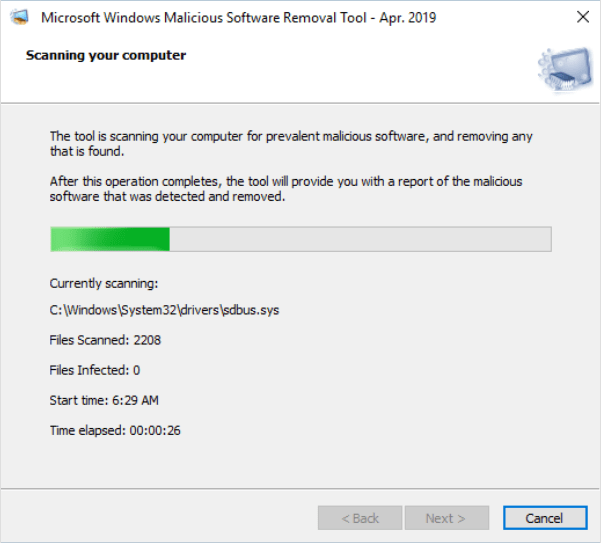 Very small people know about the existence of Microsoft's Windows malicious Software removal tool, which effectively removes popular malwares. But only the known one it is not effective in unknown threats.
It lacks of behavioral based protection. Microsoft update it every month by adding removal of newly discovered threats. Users can install it and can run it every month to remove newly detected malware. It installs and sit in the background in stealth mode when there is no use of it.
I can't consider it as a full time malware scanner but can be helpful for second opinion or to remove, hard to remove malwares. Microsoft clears that it does not provide real-time protection and it can be used as post infection removal tool.
As compared to other antimalware who updates their database almost every day, Microsoft only updates it once in a month. But it can effectively remove some popular hard to remove malwares.
It updates itself when windows updated occur or you can download the latest version from here. Some of the latest high risk malicious software removed by MSRT are like Vonteera, Fynloski, Winsec, Drixed, Brambul, Escad, Joanap, Diplugem, Tescrypt, Conficker etc.
Norton is one of top trusted brand in the computer security. They have developed this tool to scan deeply to eliminate any type of malware, crime-ware, adware etc. which a traditional antivirus is unable to detect.
Even it is able to remove scam-ware from your PC as they described on their website. If you are getting lots of Pop up ads alerting that your computer is not secure? or your computer infected etc.. These ads can lead to Scam or ransom-ware. Norton power eraser is aggressively designed for these type of scam-ware. As it is very aggressive tool so it may remove even some legitimate program but don't worry it has an option to review repair sessions and undo changes.
Comparison of Top Anti-Malware Software
See a basic feature comparison of all the top malware removal tools compatible with Windows 10 for 2019. It can help you to solve the issue, which Anti-malware should I choose?
Malwarebytes vs Hitmanpro vs Zemana vs Emsisoft vs Melicious Software removal tool vs Norton Power Eraser
Product
Install type
Free period
Real time Protection
Price for Premium

Installer
Always Free
Paid
$24.99
Installer and
Portable
30 Days
Paid
(with hitmanPro.Alert)
$24.95

Zemana
Installer and
Portable
15 Days
Yes
$24.95
Installer
30 Days
Yes
$39.95
Portable
Free
No
Free
Portable
Free
No
Free
Though today's all antivirus software also includes the malware protection but still they are not capable of catching all kind of malicious software, where the need of dedicated Anti-malware arises.
Antiviruses are mainly focused on Virus protections whereas anti-malware are focused on other type of malware other then viruses.
We do not recommend using anti malware software as your stand alone security software.
Always use Anti malware software along with your antivirus software. See the list of Best Antivirus. You can also use a Free Antivirus.
Today in a fast changing world where every day lots of malware getting discovered, It is very hard to recommend a particular software as the best.
Every software have their own methodology to detect the threats, So it is common that one software can miss threats and another one can catch them. Taking a second opinion is always a good idea.
There is no harm in using all the above tools to clear every possible malware. As mostly these below tools are portable tools, so you don't need to install them, you can simply run them as an On Demand Scanner to make sure that there is no malware residing in your PC.
Check out the Best Adware Removal tools to specifically remove unwanted software, unwanted toolbars & popup ads etc.
Comparison table of Best Antivirus Software
Top Business Antivirus Software
Please let us know if you have something which can be added in to the list. Write your experience and comments in the comments section.