Question
How do I fix this error message while installing Internet Explorer "Internet Explorer Did Not Finish Installing"
Solved Answer
When you try to install Internet explorer in it throw error message 'Internet Explorer did not finish Installing' , most probably the problem could be of 'Windows Update'. Below steps may help to solve this issue.
Steps
1. Turn off windows firewall. Some times firewall might block files in the package of internet explorer.
2. Turn off the antivirus temporarily.
3. Go to the Control panel ->program and features>>then select the left pane option>> Turn the windows feature on or off>>then you will get this below pop up and then>>unchecked the Internet Explorer>> and restart the computer, after restarting again open the same and now check that option and again do restart.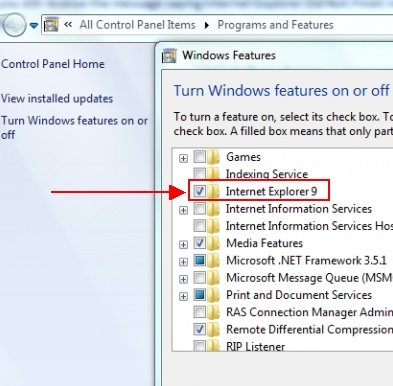 5. Now try to upgrade it. Download and run the installation package of latest internet explorer.
Download internet explorer 11 for Windows 7
6. If the problem resolved then turn on the firewall and antivirus.
If the problem persist, then follow these steps:
7. Check the Windows Update status. If it is running, then let it finish first.
8. Please click on this link and run that fix for
windows updates

.
http://support.microsoft.com/kb/956698 click here to download
9. Open the command line in administrator mode. (How?)
net stop wuauserv
cd %systemroot%\SoftwareDistribution
ren Download Download.old
net start wuauserv
Then restart the computer & it will automatically install the updates.
Initially this guide was written for the older internet explorer but it is also working for the latest IE versions up to 11. Above steps are for the Windows 7. In the latest Windows 10 Microsoft has introduced a newer browser known as Edge Browser and even in 2020 they revamped it and recreated it on a chromium based platform. The same platform used by Google chrome.
There are many older applications which still require internet explorer to run properly, So Microsoft still keep the Internet Explorer in Windows 10 as well along with the Edge browser.
---
---
Also check : How to upgrade Internet Explorer to the latest version. (For Windows 10, 8, 7)