How do i solve Internet Explorer did not finish Installing
Question
How do i fix while installing internet explorer error message comes  'Internet Explorer Did Not Finish Installing'
Solved Answer
When you try to install Internet explorer it could not installed and get this message 'Internet Explorer did not finish Installing' , that means here are some problem with the WINDOWS UPDATE. We have the proper solution for that error message 'Internet Explorer Did Not Finish Installing' please follow below steps.
---
Steps.
1. Turn Off Windows Firewall[br]some time firewall might be block files in the package of internet explorer
2. Turn off the Antivirus temporally
3. Turn off the Antivirus Firewall
4. Go to the Controlpanel>>program and features>>then select the left pane option>> Turn the windows feature on or off>>then you will get this below pop up and then>>uncheck the Internet Explorer>> and restart the computer, after restarting again open the same and now check that option and again do restart.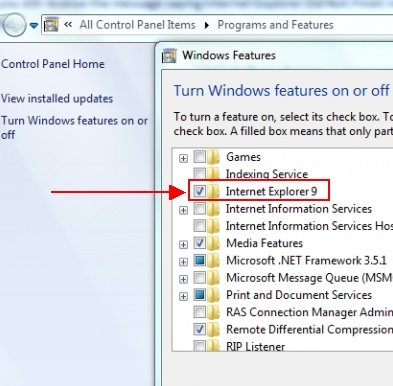 5. Now try to upgrade it
Download and run the installation package of Internet explorer 9.
6. If the problem resolved then turn on the firewall and anti virus as well.
If the problem persist, then follow these more usefull steps
7. Check the Windows Update is that running, or not, it should be running,
8. Please click on this link and run that fix for
windows updates

.
http://support.microsoft.com/kb/956698 click here to download
9. Click on Start button and ten type CMD and then click Run as administrator , when CMD will open then run these four lines one by one.
net stop wuauserv
cd %systemroot%\SoftwareDistribution
ren Download Download.old
net start wuauserv
then restart the computer.
Then restart the computer it has automatic install the updates, then after restarting try to install internet explorer again.
Was this article helpful?
Let us know if you like or dislike the post. That's the only way we can improve.