The wait is over, after a year of work, the new version of Edge based on Chromium is now available.  Some users had already tried the beta version of this browser and the truth is that their desire was satisfactory. On the other hand, we know that Edge was Microsoft's bet to replace the old Internet Explorer.
In the race for browsers, Edge was lagging. However, despite a new rendering and other changes, the truth is that Edge never caught on with users. For this reason, in 2018 they decided to take the plunge and started using the Chromium open-source rendering engine. Indeed, this engine is used by several browsers, the most popular being Google's Chrome browser. As a result, Microsoft Edge will work with websites without any compatibility issues. In fact, this was one of the limitations of using the previous version of Microsoft's browser. In addition, since it is based on Chromium, you can use the collection of extensions available in the Chrome web store.
On the other hand, Microsoft Edge offers an interface that is quite pleasant and easy to get used to. Additionally, I have tested it on computers with limited resources and it still offers optimized performance. Finally, it is available for all versions of Windows, including Windows 7. It is also available for macOS, iOS, and Android. It would be very interesting to know if in the future it will also be offered for the Linux ecosystem. But for now, it is too early to know. So without further delay, let's see the best way to download & install Microsoft Edge Chromium on Windows 10. Also know about main feature beneath the download and install section.
---
---
Where to download
In the first place, go to the MS Chromium official download page and select the version corresponding to Windows 10.
How to install
After download, the installer should run by itself. If not, double-click on downloaded file to start the download and installation of the chromium browser.
If you already have Chrome installed on your computer, Edge will ask you if you want to import the stored information or start from scratch. However, if you don't do this right now, you can try again later.
The wizard then offers the 3 types of appearance available:  Inspirational, Informational or Focused. Select one of them and press Next to continue.
If you have several devices with the new Edge, the browser will ask you if you want to synchronize your information. Select Yes or No and then tap Next.
Finally, you can choose whether you want Microsoft to customize the browsing experience. Depending on your answer press yes or no. Now you will be ready to surf the web!
Microsoft Chromium Browser has been installed.

here is its New Interface.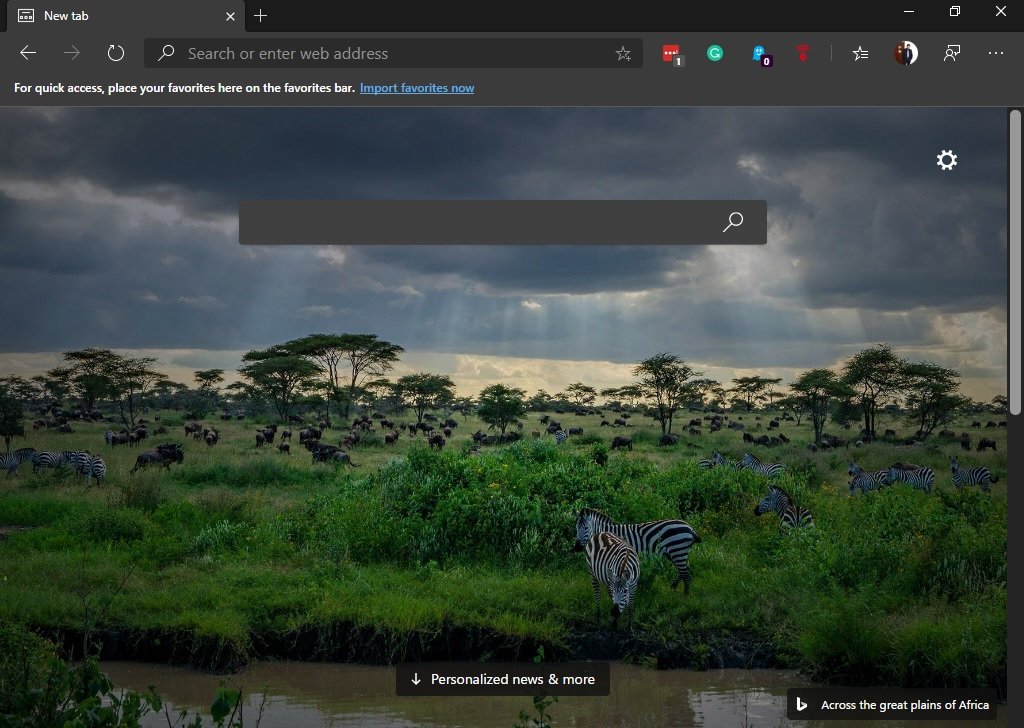 Useful Features
Microsoft has its own shop/store for installing extensions. To enter it, click on the 3 dots in the upper right corner and go to Extensions.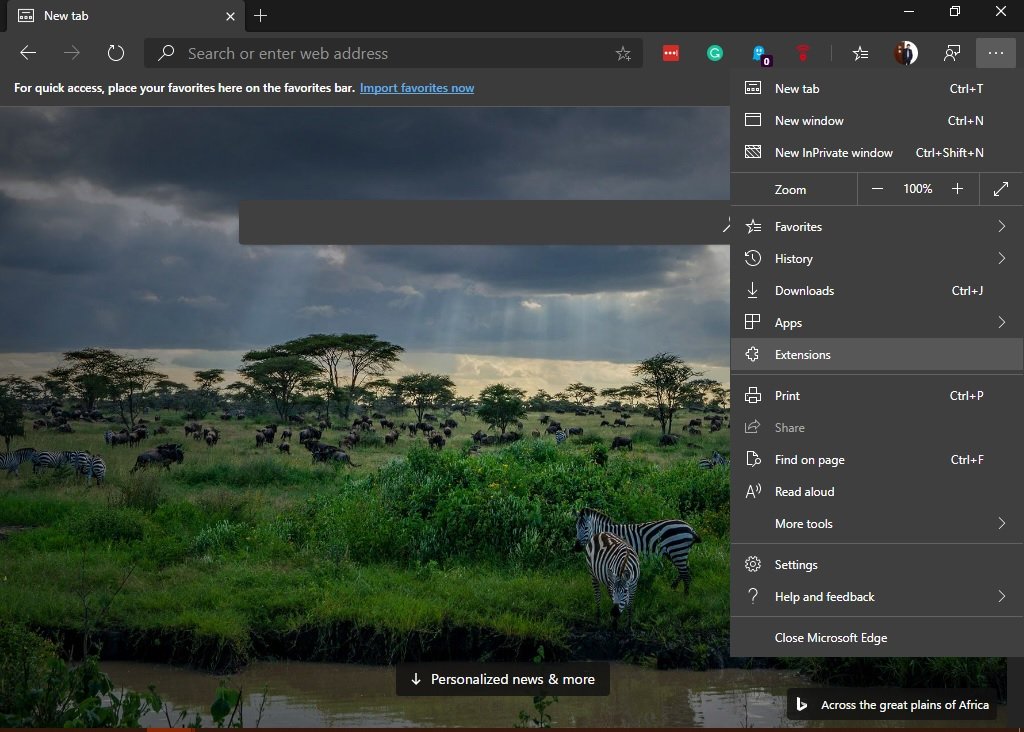 Then, from the Extensions menu, click on the Microsoft Store link. As a result, you can choose from a wide variety of extensions available: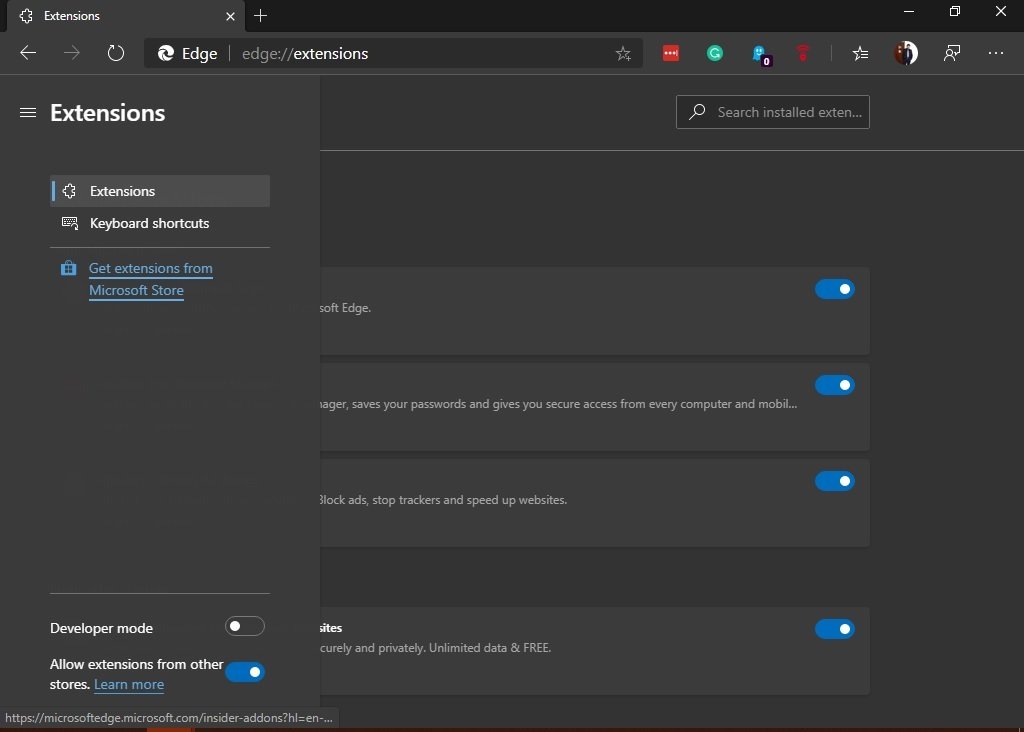 Enjoy Chrome's Extension experience in New Edge Chromium

Although the Microsoft store has a good catalog, it is still in Beta status. Therefore, in order to enjoy the complete collection of extensions, it is necessary to access the Chrome Web Store. In the first place, you must allow Edge to access the Chrome store. With this in mind, click on the 3 dots in the top right corner of the browser and enter Extensions:
Within the Extensions menu, scroll down and enable the Allow extensions from other stores option.
You can check that this function is working correctly by entering the Chrome Web Store. A message will warn that it is possible to add extensions from the Chrome Web Store for Microsoft Edge.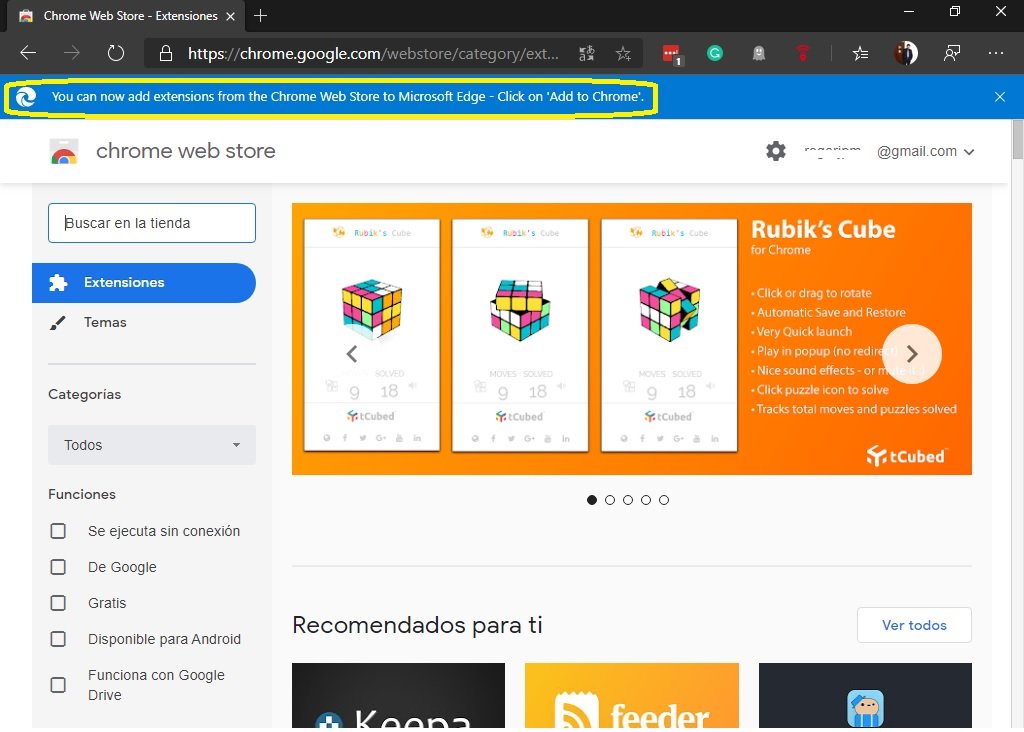 Extra anti-tracking features
The new Microsoft Edge chromium has ensured maximum tracking prevention by featuring three different levels that users can choose from for protection against web tracking while browsing in Edge chromium browser. Default setting ensures a full blockage of trackers from tracking sites you had not previously visited. It provides that ads and content are less customized and hence blocking malicious trackers. The strict setting ensures a rigorous setting that sees most of the trackers being stuck on the web you are currently in or previously visited. It is similar to Ghostery's protection.
Trust aspects
The trust aspect as well allowing the users to choose which browser company to trust with your privacy and browsing history features that are only available only in the new Microsoft Edge Chromium browser.
Collections features.
This feature allows users to collate images and other web content such as supporting features like 4K Netflix featuring Dolby Vision and Dolby Atoms which makes Edge different and better over Chrome
---
Conclusion
In short, Microsoft is betting heavily on its renewed browser. Combining Chromium's engine with Microsoft's support is a great move. I have personally used Chromium-based Edge since it was in beta. Although it still has compatibility problems with some websites, its features are excellent. Which web browser is your favourite? Do you already use the new Edge? If not, will you try it out? See you at the next opportunity.