Though Microsoft had ended free upgrade offer in 2016, but it is still working in 2020. Recently I have successfully performed upgrade from Windows 7 to Windows 10 on my laptop. Though I can not guarantee that it will work for everyone, but there is no harm in giving it a try, If you have not yet upgraded to the latest Windows. Users can either do an in-place upgrade on the same computer or a new clean install on a new PC.
Upgrade from Windows 7 to Windows 10
In place upgrade help you to upgrade your existing Windows 7 or Windows 8 to the latest windows 10 by keeping all your programs and data intact. But still we recommend you to take .
Make sure you have enough free disk space before upgrading to Windows 10. Check the minimum free disk space required for Windows 10 upgrade.
Before starting we suggest you to take a backup of your important data. Refer Best backup Software for Windows.
---
---
Method 1 – In-place Upgrade
Step 1:

Download & run media creation tool
The first step is to download the media creation tool from the Microsoft's website and run it.
Step 2:

Select the option 'upgrade this PC'.

When you run the media creation tool it will give you two options. Select the first one 'Upgrade this PC now'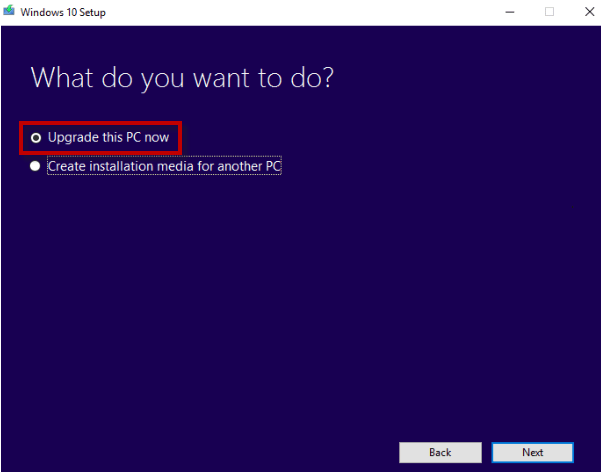 Step 3:

Wait while Windows download the required files and then click 'Install' button

It may take some time in downloading Windows 10 files from the internet. So it depends on your internet speed that how much time will it take. If you are using a pirated or cracked version then it may ask you to enter the product key. Otherwise it will not ask for any product / license key and upgrade process will go smoothly. After completion of download, click on the 'Install' button.
Step 4:

Select 'Keep the personal files and apps' option

After clicking on the install button, it will ask for what to keep. You can choose data only, data & apps or nothing. By default it will select the 'data & apps' option.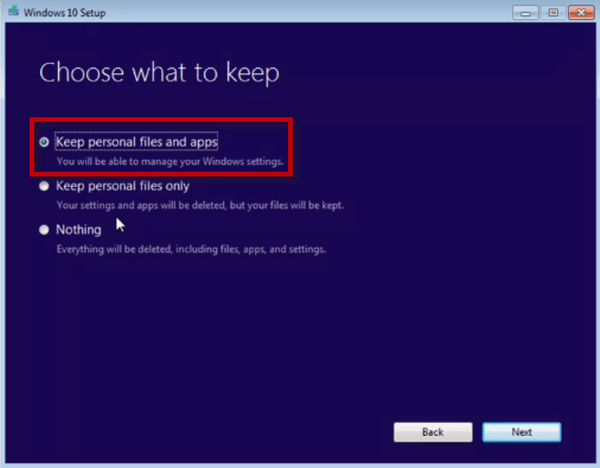 Step 5:

Wait while upgrade process finishes

Click on the next button and it will start the upgrade process and may restart Windows several times.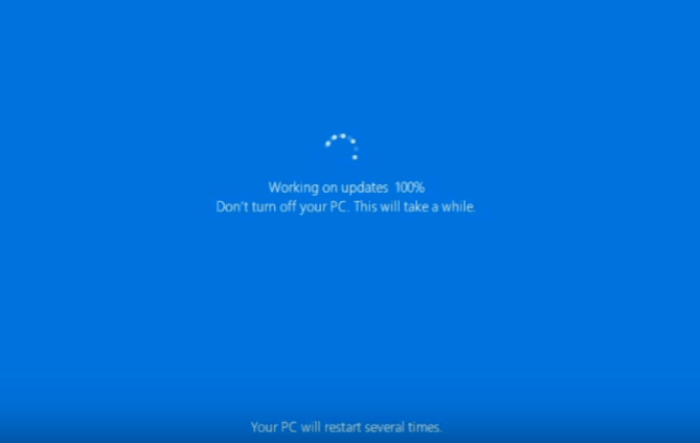 Step 6:

Congrats!! It done. Just set the privacy settings on first run

If everything goes smooth you are welcome by Windows 10. It will ask you to set the privacy settings. Set the privacy settings and you are ready to go.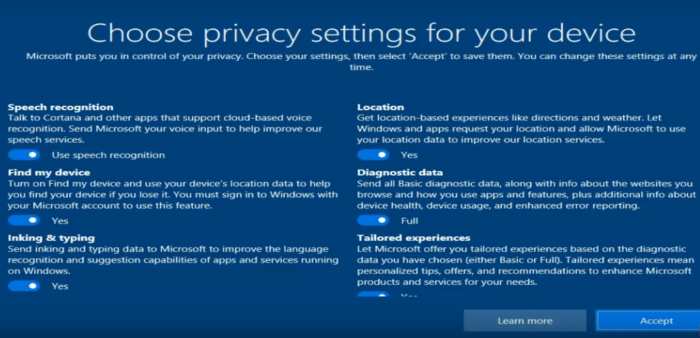 Watch video tutorial to see the step by step procedure of the upgrade process.
Method 2 – upgrade another PC without internet
If you have no internet connectivity on a PC then you can download the ISO file of the Windows 10 for the another PC. This way you don't need the Internet connection on that PC.
Step 1:

Download the ISO file and create a bootable USB.

Follow the below steps to create a bootable Windows 10 disk.

1. Download the Windows media creation tool from the Microsoft website.

2. Download and Run this file. It's an approx 18 MB file.

3. It will ask for two options – upgrade this PC or download for another PC. Choose second option.

4. Choose "Create installation media for another PC". It will ask you to make a bootable USB or download an ISO image. You can later burn an ISO file to an USB or DVD disk.

5. We prefer to use the bootable USB. It needs at least 8 GB free space in the USB Stick. After the completion of this process you have a Valid and legal official windows 10 available in your USB drive. Now you can install the Windows 10 on another PC or on a different partition.
Step 2:

Upgrade Windows on the target PC using the bootable USB disk.

1. Insert bootable Windows 10 USB disk and set to boot the PC with USB by making USB as the first boot device.

2. Windows 10 setup will initialize Click on the 'Install Now' Button. After that it will ask for the Activation Key. You can either enter the Activation key here. Or simply click on the I don't have a product key. But you need to enter the key later after installation.

3. On the next step it will ask for the Upgrade or for Custom Install. Select the Upgrade if you are going to upgrade the existing Windows 7 or For new Installation you can choose the custom installation. Choosing. With custom (Advanced) installation you will loose all your data and apps and it will be a fresh new installation.

If this does not work for you then I will recommend you to buy a valid Windows 10 product key from the Microsoft.
Buying Windows 10 is a onetime purchase and you will get the unlimited updates / upgrades. Microsoft announces Windows 10 as the last version and provides it as a service. There will not be next version like Windows 11 etc.
FAQs
---