Question
I have a problem in windows defender When i got to start it, it says please turn on "Windows Defender" Service and when i go to service.msc however the system don't have "windows defender" service, Where is my Windows defender, I know that the Windows 7 has Windows Defender service, please help me to get it back ?
Solved Answer
Actually, you system have lost windows defender service from registry as well, first you have to create windows defender service manually or you have to merge Windows defender default registry .reg file. We are providing you a default registry file for windows 7 / Windows vista it'd work for both. please follow the below instruction.
Automatic Fix it.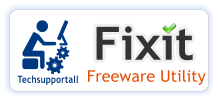 Fix it myself manually
Here is the default registry of Windows Defender
---
---
Download Microsoft Fixit for diagnose it automatically
Download this Default Windows Defender .reg file windefend.reg and merge it into registry.
Download this .reg file windefend.reg and just double click on it to execute and merge into registry.
Then restart your computer once.
It's all done your issue will be Fixed.
Related Searches
Windows Defender service is missing temporarily stop the service will not start and are both not listed windows defender service stopped So I get the 0x80070424 error stating that windows defender service not installed You're not really missing anything windows defender not in services If the windows defender missing from services please temporarily stop windows 7 windows defender service missing.
Windows Firewall and Defender missing files windows defender service missing vista I restarted my computer but everything was the same no windows defender service,  windows defender missing, windows defender service is not listed on Local Computer started and then stopped windows defender missing from services It is a component of the OS in Vista windows defender not in services list to be restored back on windows 8 windows defender will not turn on if any system files are missing or damaged windows defender service not starting.
Windows Defender Services the only items that Can't start Windows Defender If the Windows Defender wont start I've had this issue for a couple weeks now Windows Defender Start Error are related to the same problem I cannot get Windows defender to turned on Fix is at the bottom No Windows Defender Service Something else I noticed that Windows Firewall and Defender missing files and will not allow Windows Defender service does not starts. How to fix windows defender engine unavailable.