Cyberattacks are increasing every day. Antivirus software is a must for every device. We understand that they are not cheap for a basic user. But there is good news: some companies are offering free antivirus software for basic home users.
Firstly, I doubted them and then decided to do a thorough research. After a lot of research, I am writing this post to describe everything here. We can not rely blindly on any of them. So, I made the list of the best antivirus software available for free after installing and testing many popular free antiviruses.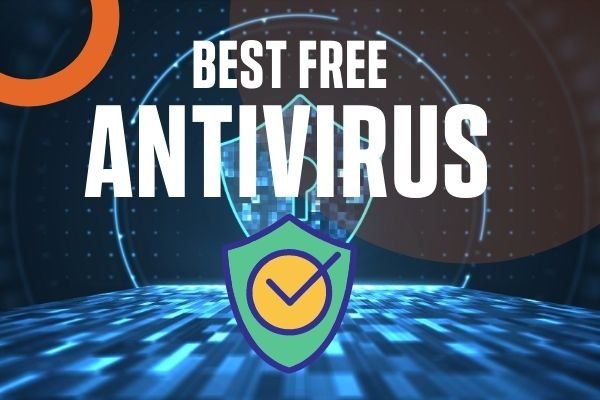 Before we do further discussion about free antivirus, Lets first find out the best free antiviruses. I attempted to compile a list of the top 10, but after the top 6, I couldn't find any free security software to round out the list.
My Picks for the Best Free Antivirus Software (Lifetime Free – Not Trials)
These are always free antivirus software from trustworthy security vendors. This list is primarily for Windows 11 and Windows 10 users. However, all of these programs are also available for Mac and mobile (Android, and iOS).
Today's mostly security software comes with cross-platform compatibility. Finally, here is a list of the top ranked truly free antivirus software. They are not just the trials.
---
---
I have prioritized and ranked them based on the experience, user interface, and user reviews. It is my own mind; yours may differ. While all of the free anti antivirus software on this list is nearly identical in terms of effectiveness.
The additional features they provide may vary and may make the difference. Indeed, all of these software performed well in testing labs.
Now lets know in deep what I have researched
Why do companies provide antivirus software for free?
Many companies provide free antivirus software to get popular and attract more and more users. They can later convert these free customers to paid customers by providing additional services or making the product advertisement free.
How do companies survive by providing free Antivirus?
Companies earn by upselling their other paid products to free users by showing them their own product advertisements.
Some security companies earn from third-party advertisements.
With free antivirus software, users can't ask for customer support. To get support from the company, users need to take out a paid subscription. So even by providing the software for free, companies are still making money.
So there are many ways to monetize the traffic they're getting by providing free antivirus software.
Is free antivirus any good?
The answer depends on which free antivirus are you going to use. Because in the market some fake antiviruses are also available. So obviously they are of no use, because those are just made to trap you steal your hard earned money.
But if I talk about the free antiviruses from reputed and trusted companies then they are useful in some cases. Many people think that free antivirus can't give the same level of protection as a paid antivirus. But actually, free antivirus software by reputed companies provides the same level of basic protection as their paid products.
As a result, legitimate free antivirus software is recommended, and they are good to use. These include features like antivirus, antimalware, anti-ransomware, web protection, etc. in its basic protection module. Some companies also provide additional tools like WiFi security and limited use of VPNs.
Compare and find the best free antivirus. I have written a short review below with the pros and cons of popular free virus protection software.
Comparison of best free antivirus programs
Here is a brief features comparison apart from antivirus, malware and ransomware protection. all of them have these common capabilities. Today mostly all software have integrated the cloud based technology, which make these software light weight. So they put little impact on system performance.
| # | Antivirus | Wifi Security | PC optimization | Game Mode | VPN | Other features |
| --- | --- | --- | --- | --- | --- | --- |
| 1 | Avast | Yes | Yes | Yes | No | Password manager, Web protection |
| 2 | Avira | No | Yes | No | 500 mb / month | Password manager, Privacy & web protection |
| 3 | Bitdefender | No | No | No | No | Web protection |
| 5 | AVG | Yes | Yes | Yes | No | Password manager |
| 6 | Panda | No | No | No | 150 mb / day | USB protection, USB rescue disk |
| 7 | ZoneAlarm | Yes | No | Yes | No | Identity protection, Free Firewall |
Comparison table Avast vs Avira vs Bitdefender vs AVG vs Panda vs Zone Alarm
Above free antivirus program are suitable for basic home users. For a professional grade security go for best paid antivirus option
*Note: We have tried our best to keep the data correct but due to changing nature of the products, features may vary.
Reviews: Top Free Antivirus Software for Windows
I have also written a short review of each security software below. I tested them on Windows 10 and 11, so the features mentioned here are for the Windows operating system. Refer for detailed feature comparison of these free antiviruses.
1.) Avira Free Security
Avira is a well-known name in the security industry and is famous for its free antivirus. It is known for its reliability and authenticity. And this could be the reason behind the acquirement of Avira by the security giant Norton Lifelock. It is a lightweight free security software.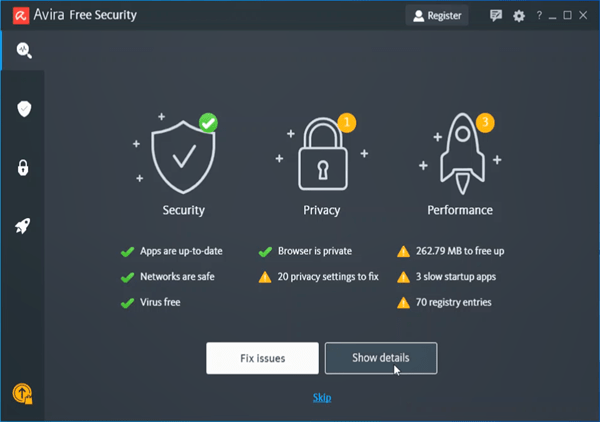 Features
Realtime antivirus, antimalware protection.
Anti-ransomware (basic protection).
Phishing protection.
Avira protected Opera browser.
Access to Free Avira Phantom VPN (500mb /month)
Malicious ad blocker.
Browser tracking blocker.
PUA Shield.
My observation
The Avira free security suite is packaged with multiple useful utilities. Though some of them are paid for full features, some basic features are available for free. These are Free Antivirus, System Optimizer, Driver Updater, Phantom VPN, and malicious ad blocker, unwanted app shield etc.
Additionally, the best thing about Avira is that it comes with a preconfigured Opera browser which helps for safe banking and shopping. This enables users to browse the internet in a secure environment. It also comes with a cloud detection technology powered by artificial intelligence & provides a zero-day protection.
As a matter of fact, I found an option in this software called "Windows privacy setting fixes." Despite the fact that it is only available for paid subscriptions, it is really useful for privacy protection. These are the hidden options in Windows 10. Even though this feature is not available in paid security software. Another thing that we noticed is that it installs the Opera browser automatically in the background. And we didn't find any option to skip it.
Pros
Integrated Opera browser for safe browsing and integrated ad blocker.
Free limited VPN (500 MB / month).
Malicious ad & browser tracking blocker
2.) Avast Free Antivirus
It is a cloud based light weight security tool to protect the computer for free.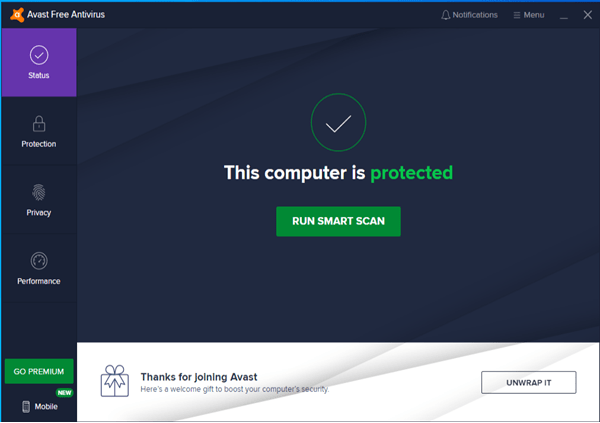 Features
Realtime antivirus, antimalware protection.
Anti-ransomware (basic protection).
Password manager.
Wi Fi Security.
Full screen mode disables notifications and reduces system load while you play games or watch movies.
Smart Scan to scan the system for unsafe settings and software which require updates.
My observation
Avast is the first security company to start offering true free antivirus. It has refined its products to a great extent. It provides some extra features, like a password manager and WiFi security, which other companies don't provide.
Though it recently lost credibility due to news about privacy issues in its browser extension. But still, it is the number one choice and there is no issue with using its antivirus product. Of course, in the free version, it may display some ads. And most of these ads offer to upgrade to the paid version.
During installation, it provides an optional Chrome installation. But you may skip it.
Pros
It is light weight and have good score in testing labs.
Password Manager available in free version as well.
WiFi Security.
Cons
No master password in password manager.
It aggressively advertise for paid version.
No automatic USB scanning for newly connected drives.
3.) Bitdefender antivirus – free edition
Next is Bitdefender's free antivirus. Very few people know that Bitdefender has its own free antivirus product. It is a light-weight and silent antivirus utility. I can say that it is the least annoying free antivirus.
Download Bitdefender Antivirus Free Edition
Features
Realtime antivirus, antimalware protection.
Anti-ransomware (basic protection).
Phishing protection.
Safe website filter.
My observation
Bitdefender offers the best protection against cyber threats. and is known for its best antivirus engine. Its antivirus engine is used by many other antivirus companies. Thus, it's no surprise that the free version of Bitdefender is among the best free to download security software.
It's not only compact but also runs in the background, protecting your computer without troubling you. In short, it is an install and forget type of light-weight free antivirus solution. Even though there aren't many configuration options, you can install it and forget about it.
Bitdefender's free antivirus also includes free phishing protection and fraud protection. So it could be the best option to protect the PC for free.
Pros
Phishing protection and safe website filter.
No ads
Cons
There are no extra features like WiFi security or a password manager, whereas some others provide these in their free versions as well.
4.) AVG Antivirus Free
AVG is offering almost the same things that Avast is offering, except its user interface. Avast & AVG are now a single company.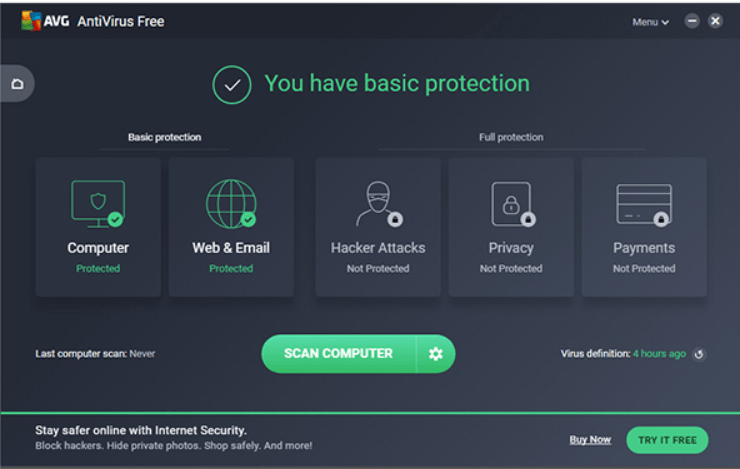 AVG antivirus is still a good choice for the protection of your computer. It earned good ratings from independent labs as a good free protection software for common computer threats.
AVG is free and is available for Mac, Android, and PC. It has features like link scanning for malicious links, downloads, and emails. You can also scan for PC performance problems with this free antivirus.
Recently, AVG was acquired by Avast, but all AVG products are still continuing. So it is your choice whether you choose Avast or AVG. Both are equally good and provide the same technology.
5. Panda Dome Free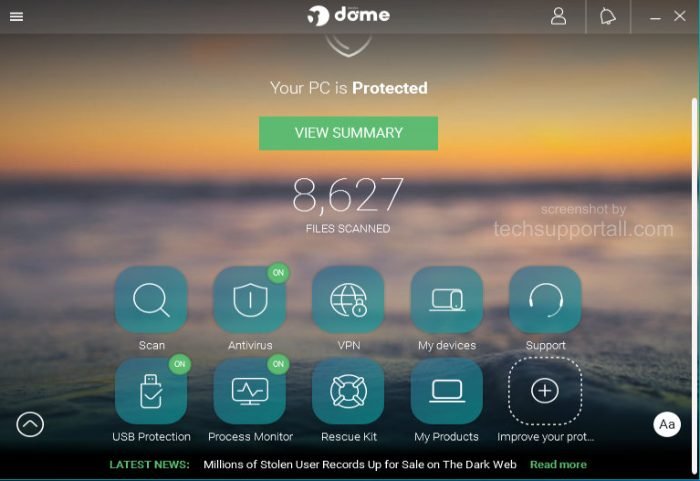 Features
Improved protection against Phishing, Spyware, Trojan and Rootkits.
USB protection.
Real time protection.
Improved protection against both known and unknown viruses.
Rescue disk option to create a bootable rescue to scan any infected PC.
Free VPN with daily limit of 150mb.
My observation
Panda is another light-weight cloud antivirus. USB protection is its unique feature that other antiviruses do not offer in their free versions. It also has an option to create a bootable rescue disk for an infected PC. It also provides a free VPN with a daily limit of 150 mb. During installation, it also provides the option to install the Opera browser. But there is an option to uncheck it. Every free antivirus promotes some kind of other software, but it is always optional and you can skip it.
Pros
Panda provides USB protection and USB rescue disk option in its free versions where other don't provide this feature.
Free VPN with 150mb / day limit.
Cons
No password manager, WiFi security, game mode in its free version.
6. ZoneAlarm Free Antivirus + Free Firewall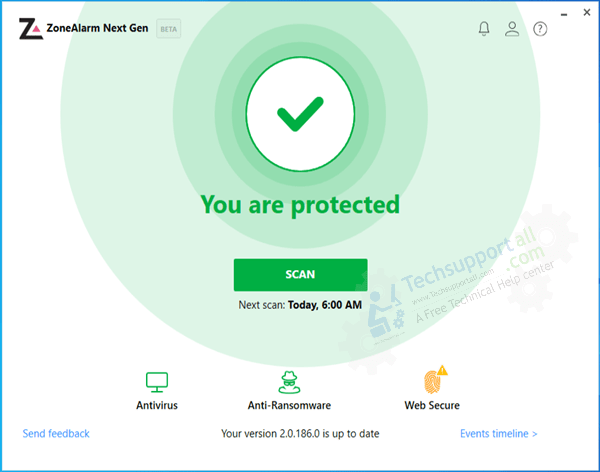 Download Free ZoneAlarm Antivirus
Features
Realtime antivirus, anti-malware scanner.
Firewall available.
Identity protection.
WiFi Security.
Game Mode.
My observation
ZoneAlarm by Checkpoint is the only company offering a firewall for free. Actually, these are two separate products, free antivirus and free firewall. So you need to install them separately. In fact, its antivirus includes features like antispyware, personal firewall, identity protection, wireless network protection, gamer mode, online backups etc. So it looks like a nice package to protect your computer for free. In addition, ZoneAlarm revamped its user interface and it is now available with a fresh new look.
Pros
This is the only free antivirus that also offers a free Firewall. No other free antivirus has this feature.
WiFi Security, Identity protection and Gamer Mode.
Cons
Good antivirus and firewall but lacks other extra features like password manager etc.
Is anti-virus software necessary for Windows 11 and 10?
The answer to this question is, "It depends." It is important to note that antivirus software is not a requirement for Windows 10 and 11. However, it does provide an added layer of protection against viruses and other malware.
Microsoft has been working on its own antivirus software for the past few years, and it has been getting better with every update. It is called Windows Defender Antivirus and it is free to download from the Microsoft store.
But there's some confusion around Microsoft Defender and whether it's enough to keep your PC protected against malware. Actually, Microsoft doesn't focus on security products, so they recommend installing third-party antivirus software.
Another good reason is the support and extra security features provided by the other companies. As a result, my suggestion is that Windows requires third-party antivirus software.
Is free antivirus software for PC better than Windows Defender?
Some people believe that free antivirus software is better than Windows Defender. The reason for this is that some of this free antivirus software is more up to date with the latest virus threats and malware. This can be seen as a benefit because it helps protect the computer against future attacks.
Others believe that Windows Defender has better protection and detection rates, which is why they think it is better than free antivirus software. Windows Defender is a pretty good option if you don't want to install any additional software on your computer. But it lacks some extra features, like web protection.
From my point of view, they are both good, but some additional features provided by free antivirus software make the difference. Like third-party antivirus software, it comes with web protection and phishing protection, whereas there is no such option in Windows Defender.
The other thing that matters is the option to upgrade to a paid subscription and support. Users can easily switch from free antivirus software to paid antivirus software to get more protection and help.
Is it safe to use a free antivirus software?
There are a lot of free antivirus providers on the market, some of which offer excellent protection against viruses and malware. but some of them are not safe to use.
Some free antivirus software might have malware bundled with it. So, it is very important to know about the antivirus software that you are going to install on your system. First of all, use only trusted and reliable antivirus software and, secondly, download only from the official and reliable source.
Who should use free antivirus software?
Free antivirus software is a great option for those looking to stay secure with minimal investment. Any user, like a blogger, freelancer, home user, or working professional, who is on a tight budget will suffice.
However, there are many features that come with the paid version that make it worth the investment. Many free antivirus programs have both a free and paid version.
Free antivirus compared to paid antivirus?
Here is a brief comparison between free and paid antivirus software. Today it is a trend that if you are getting something in free you have to see some ads for that. Same thing is with the free security software.
| | |
| --- | --- |
| Free Antivirus | Paid Antivirus |
| Free to download | Required a paid subscription |
| Good for basic level of protection. | Good with additional layer of protection that why paid antivirus are known as Internet Security or Total Security. |
| It is good for a user having less important data and who spend less time browsing online. | It is good for the users having important data in the computer and works most of the time of internet. |
| Firewall is the main feature that free antivirus lacks, they uses the Windows's default firewall. | Paid antiviruses include a firewall for a more secure environment. |
| Free antivirus show ads / popups which could annoy a user. | There are no ads or annoying pop ups. |
| Limited or No Support. | Premium support. |
| Best free antivirus software | Best paid antivirus software |
For more detailed guide read Difference between Free and paid antivirus software
Best Free Antivirus for Gamers
Gamers are at a higher risk of getting infected with viruses and malware. This is because they are always downloading new games, playing online, and spending hours on their computers.
Many free antivirus programs for gamers exist but in my point of view best free antivirus for gamers is Bitdefender Antivirus Free Edition because it is simple to use and provides protection against malware, ransomware, and other malicious threats.
Some of the other options are Avast and AVG. They both provide full screen mode or game mode option in its free edition.
Best Free Antivirus with Firewall
Most of the free antivirus software does not include the firewall security. And this is the major difference between a free and paid antivirus software. All the free antivirus uses the default windows inbuilt firewall.
I have only found one software which providing firewall for free. So best free antivirus with a firewall is ZoneAlarm.
So which free antivirus program should I choose?
This is the common question that comes to everyone's mind after seeing many options or a list of good free antivirus software. Many people have asked us which antivirus to use for their Dell laptop, HP laptop, or desktop PC, among other things.
Antivirus software is actually operating system-based, and most antivirus software today are multi-device and multi-OS compatible. So here, the first thing is that we have already made the list short to choose the best one and now it depends on your choice and requirement.
Consider the facts, like support in your country/language, price, and features they provide. From the above comparison, we are listing our findings below to help the users choose the best free security software for their computer.
If you require a free Firewall then go with ZoneAlarm.
For a silent, light weight and no ads choose the Bitdefender.
Avast is getting popular these days as it is offering lots of features in its free version. checkout what is the difference between free and paid Avast software.
In the end
In conclusion, completely free antivirus software are available in the market. Some companies provide them as a freemium service. Basic features are free, and premium features can be purchased as per requirement.
Whether you are looking for free antivirus software for your laptop, desktop, or mobile, modern antivirus software are multi-device and multi-os compatible. Free antivirus from reputable brands is safe to use and is recommended for essential device protection. Download the free antivirus and check if it best fits for you.
FAQs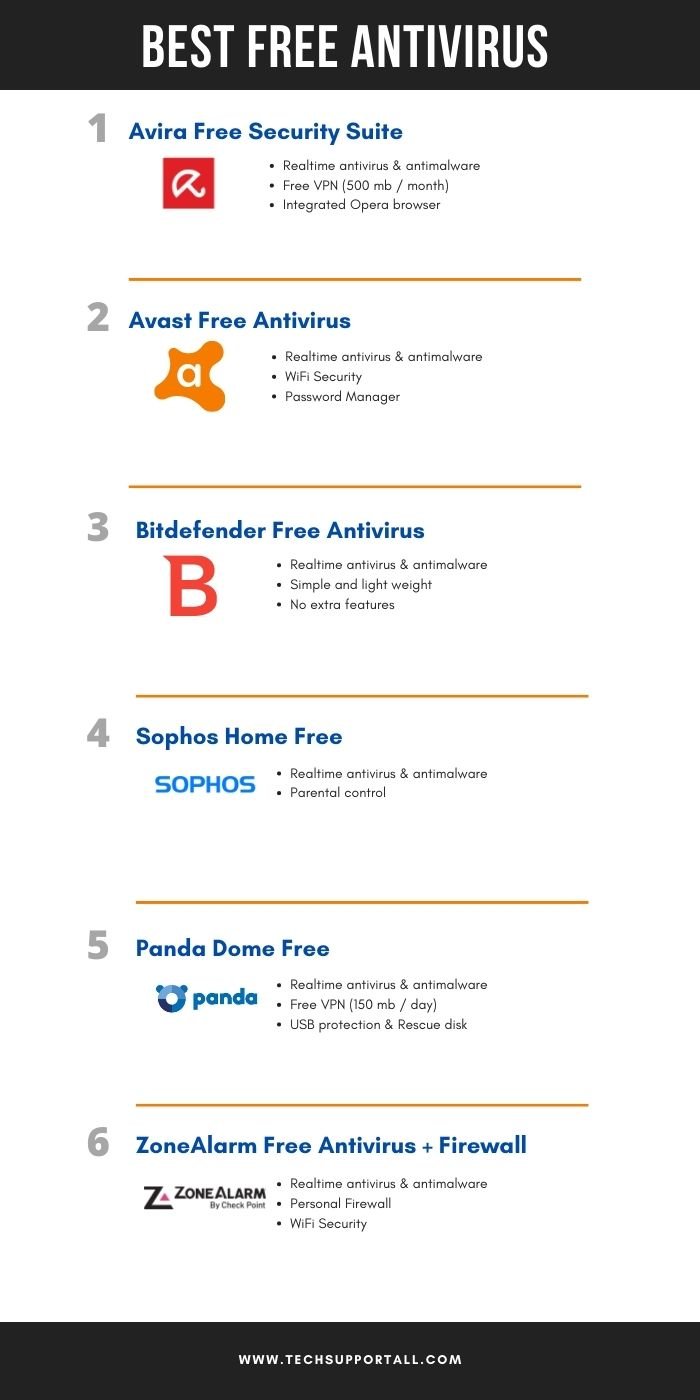 Also check :
Please share your experience and reviews. It will help other users make the perfect choice for the best free antivirus. Now you do not need to search for counterfeit, cracked antivirus software on dangerous websites. They may harm the system instead of doing any good. Any of the above free antivirus programs is a good way to get the basic protection you need for free.