Due to the increased cyber crimes and malware attacks a security software like antivirus or antimalware is the first software that you must have to install on your computer or mobile device. In the market, two types of antivirus software are available: free and paid antivirus. The question is whether you should go for a free antivirus or pay for one. I have researched thoroughly and personally used many free and paid antivirus software. So as per my experience let's find out the difference between Free and Paid Antivirus Software.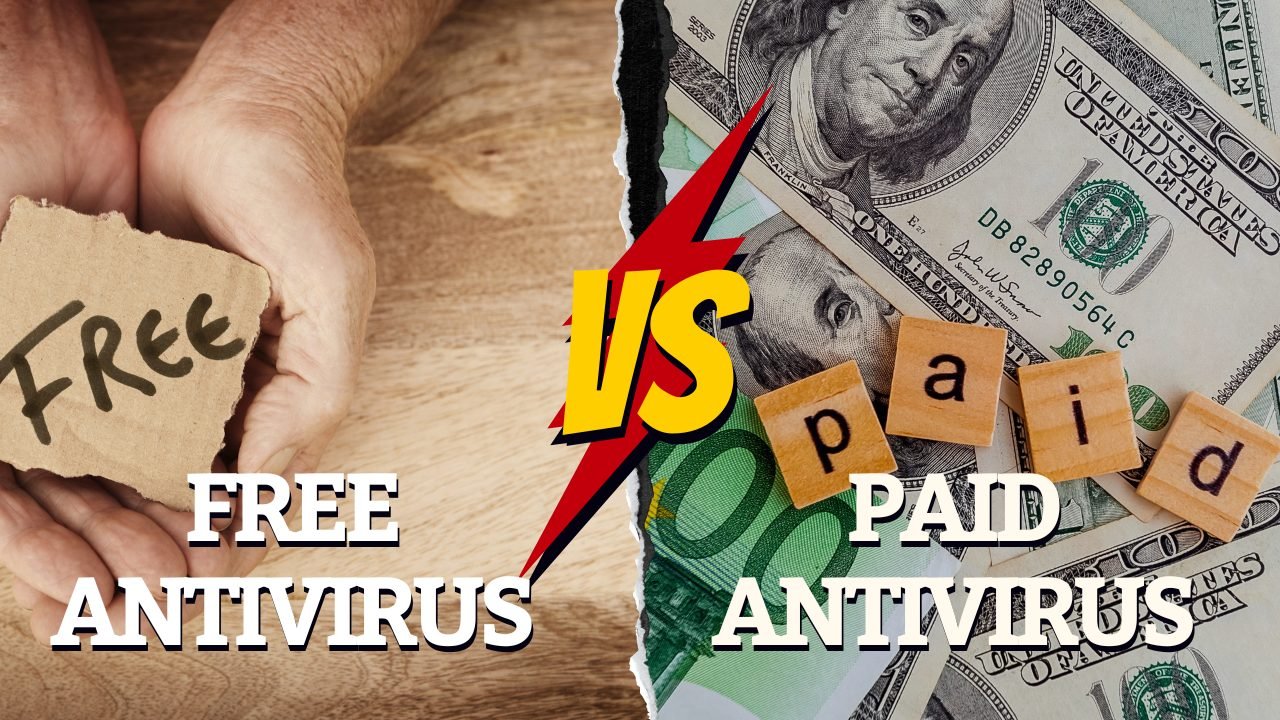 Free Antivirus Software
Free Antivirus software is a type of antivirus software that is free to use. This means users don't have to pay anything to use the security software. Now let's find out everything about the Free Antivirus Software.
Is free antivirus any good?
Some people might think that because it's a free service, the quality would be lower than other paid services. However, this is not the case, as security experts have confirmed that many of these free products are just as good as paid ones. Here we also warn you to never blindly trust any unknown antivirus program, but trust only the reputed brands that have good reviews in the market.
Free antivirus products provide basic protection like antivirus, antimalware, anti-ransomware, anti-trojan, antispyware, etc. included in it. So they are good enough for a basic level of protection. Mostly all good free antivirus comes with real-time protection to catch the malware. This type of protection is good enough for a normal user not having important data in their devices.
Why do companies offer free antivirus?
Many people don't believe that it could be possible. But the truth is that many companies are providing really free antivirus and antimalware software that actually works. They are not scams. But keep in mind market is also full of scam antivirus software. So beware of them. Use only the trusted companies.
---
---
Some free antivirus companies use a freemium model to generate revenue. This means that the basic service is free, but there are premium features that you can pay for if you want them. As I have researched and checked some reputed free antivirus software, they are working on the same model. So actually, free antivirus companies are making money by upselling or selling their other products. The software that I have checked is not showing third-party ads but only promoting their own paid subscriptions or products.
But there are also some free antivirus companies which make money by selling data to advertisers. or by showing third-party advertisements. So always use a reputed and trusted and established brand.
Can we trust free antivirus?
These days, there are many free antivirus programs available on the market. The question is whether we can trust them or not. We can trust reputed and established antivirus. But in the market, there are lots of fake antivirus and system cleaner apps available, which show fake virus infections and may charge money to remove them. They can even steal data. So, always look for reputed and trusted free antivirus software. I put together a list of some trusted and well-known free antivirus programs after going over them in detail.
As you can see, Avast Free Antivirus has an excellent protection score, and it also does not contain any adware or malware in its installation package. Therefore, you can be sure that your computer will be protected against all kinds of malware when using this product. Simply we can trust on the reputed free antivirus software.
Paid Antivirus Software
Paid antivirus software needs to be bought to use them. Antivirus companies provide paid subscriptions to provide their premium security services. let's find out all about these paid Antivirus Software.
Why should you pay for premium antivirus over built-in device security?
It is true that these days operating systems come with built-in security like Windows comes with Microsoft Security. Mac and Android also comes with in-built security. But they are not perfect and they may not be enough to protect your devices. The first risk is that these programs are not always reliable. They may detect some malware as safe, or vice versa. They are actually a single-layer security system, whereas other premium antivirus products provide multiple layers of security.
Paid antivirus offers additional security features.
Paid antivirus software is packaged with many useful security services & tools. So, actually, they provide an additional set of security features like:
VPN
Firewall
Parental Control
Anti-phishing
Anti-ransomware
web protection
password manager
Identity protection
Even some of the antivirus companies are providing more than just device security. They provide security for the digital life, like Identity protection, Identity monitoring, dedicated browser for safe payment, fraud protection, data breach, social security, credit alerts etc.
How do I find Best paid antivirus software?
There are lots of options in the industry providing paid antivirus and antimalware software and claiming to be the best. So it is better to compare the features of popular paid antivirus software and then choose the one that best fits your needs. Then buy the software after taking a trial of it.
So now we have got the idea of what the free and paid antivirus software are. Let me give a brief comparison between both types of security solutions.
Difference between free and paid antivirus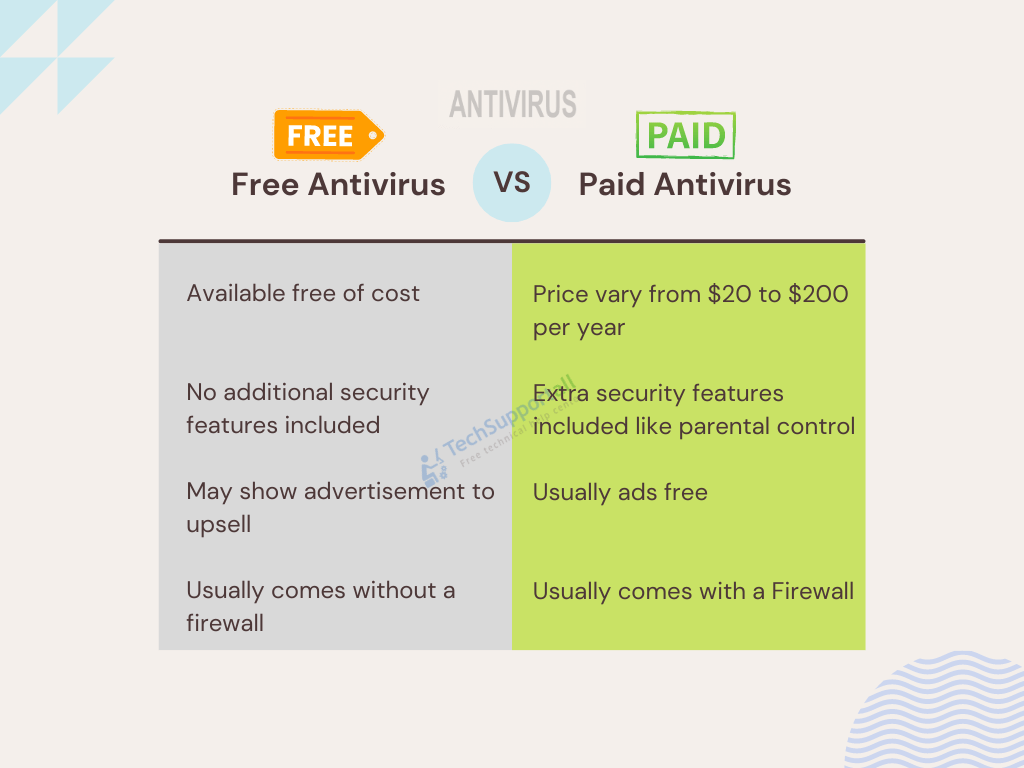 | Free Antivirus | Paid Antivirus |
| --- | --- |
| Available free of cost | Chargeable and renews every year |
| It usually comes without a firewall. | Usually includes a firewall. |
| There are no additional security features or tools. | Many additional security features and tools |
| It shows advertisements to upsell | Usually advertisement free |
| Good for those who do not have sensitive data. | It's good for users having important data |
| Best free antivirus software | Best paid antivirus software |
Comparison table free vs paid antivirus
Choosing Between Paid And Free Antivirus Software
Free antivirus is a great option for people who are on a budget or who only use their computers for basic tasks. It can be a good option for those who don't have any valuable information on their computer that would be at risk of being stolen. However, paid antivirus is a better option for those who want to protect themselves from malware, ransomware, and other viruses. So overall, it depends on the use case.
In the end
Simply, there is free antivirus software that works. Both free and paid antivirus software offer the same level of basic protection, but it's the extra security features that make the difference. So, in a nutshell, we can say that free antivirus software is Freemium antivirus software that companies give away to try to get you to buy their other services. Windows Defender isn't as good as free antivirus services, in my opinion. Now it's your turn to try out these programs. There's no harm in installing a reputable antivirus program, and even paid antivirus programs give you a free trial so you can see how well they work.
FAQs