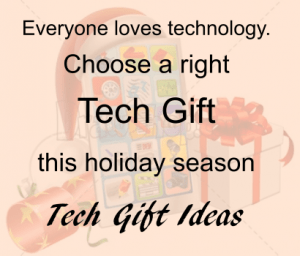 During the last months of the year, everyone knows that its buying season for the holidays. It's the time that we think of our friends and loved one and share a gift for them. These days, most people are highly appreciative of tech gifts. However, choosing a perfect gift for the holidays can get tricky. below links can help you.
Factors For Choosing The Right Tech Gift
So, how do you choose a perfect tech gift? What factors you need to consider? And, what are the popular tech gifts? If you are asking these kinds of questions, then stick around as this article is going to explore the answers.
Budget
the first thing that you need to consider when offering a tech gift is your budget. This is very important as tech items could range for a couple of bucks to thousands of dollars. Also, having a budget in mind will make it easier for you to shop for items as it narrows down your choices.
Personality
choosing the right tech gift for someone is part of the gift. It will tell that you are thinking about the person.
For finding the right gift for a specific someone, you can check for clues by observing the recipient. It could be the recipient mentioned something that he or she need or want. You can also find clues in what he or she wears, the accessories, music, beverages and the type of work.
Few Ideas For Tech Gifts
After you have set a budget, assessed for clues and considered other factors, it's time to shop around for actual gifts. With the many choices of tech gifts, things can get pretty confusing really fast. Don't worry; this article won't leave you hanging. Below are a few popular tech gift ideas worth checking out.
---
---
Popular Gifts For Less Than 20$
A flash drive is a great tech gift. For one, it's cheap as you can find a lot of flash drives for less than 20$. Also, flash drives come in a variety of designs and themes so you can find one that perfectly matches the receiver. Lastly, portable flash drives is very useful and everyone will need one at one point in time.
If your receiver is fond of taking pictures, then a mobile phone lens is a great gift. These kinds of photo lens attaches to the mobile device's camera lens. With it, the receiver can take shots that are not possible with the native mobile camera lens.
A mobile phone lens is very specific to the model of the phone. So be sure to get one that is specific to the receiver's phone.
Popular Gifts For Less Than $100
If your receiver is fond of watching movies or listening to music, then a wireless speaker may be the perfect gift. Most mobile devices have a speaker that is not powerful enough. Hence, a wireless speaker is very much welcomed.
Most adults these days love to play games on their consoles or PC. A good gaming headphone can definitely increase the gaming experience. Thus, if your receiver loves to play games, a gaming headphone would be greatly appreciated.
Fitness bands are high in demand to keep themselves fit in these technology friendly life. So it could be good choice to give a perfect tech gift to your loved one. You can find variety of brands and type of fitness band on the Amazon from cheap to costly one. Choose as per your budget.
Antivirus Software
This could be a great gift as in today's technology security for the gadgets are very necessary. And mostly people ignore this, But if you gift someone a premium security software which can protect all his / her devices like laptops, tablets and Smartphones they will surely love it. Checkout some premium antivirus software compatible with all devices.
For gifts that costs more than 100$, things can get tricky as you will be investing a lot of money. If you are planning to give someone such kind of gift, make sure that the person will love it. Depending on your budget, a tech gift that would cost more than 100$ may be in the form of new mobile phone, tablet, gaming console or even a new TV.
During the holiday season, people are busy getting a gift for their loved ones. These days, a tech gift is very popular for many people. Before you shop for a gift, make sure you set a budget and find clues on what the receiver may need or want. You can also check for popular tech gifts online when it the time comes to shop for an item and you need a bit of help.