Fixed: Print Spooler Error 1068
Question
When I try to install printer or  try to start the print spooler service,  I am getting an error message "Windows could not start the Print Spooler service on Local Computer Error 1068 The dependency service or group failed to start". How do i fix that issue? I need Help !!!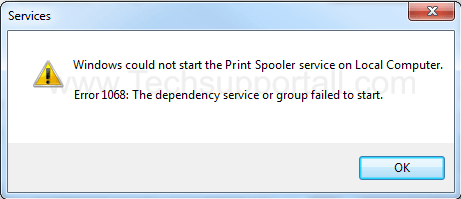 Solved Answer
If you are getting that error message "Could not start the print spooler service on Local computer. Error 1068: The dependency service or group failed to start" while trying to print, try to install printer, try to start the print spooler service. That means print spooler service don't have the correct dependency as RPC (Remote Procedure Control). or might be a possibility that RPC service have not started.
In order to fix this problem, you need to follow below steps.

---
Method 1
Automatic Fixit
Download a tool Print Spooler error 1068 repair tool.exe and run once. It'll automatically repair print spooler error 1068.
---
---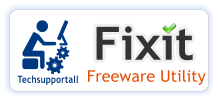 Print Spooler error 1068 repair tool.exe
---
Method 2
Manual Steps



Change the RPC Service as their dependency from command line.
To change the print spooler dependency, back to RPCSS, Please follow the below steps
1. Start the Command Prompt
Click on start and then click on allprograms and then go to accessories, In the accessories here you will see command prompt, right click on command prompt and then choose the option "run as Administrator", a black command line screen will be opened. Now type the following command in the command line.Run these command into command prompt window.
Run these following commands

(In Red Color), 

inside the command prompt (CMD) one by one, type one command and then hit enter (It may take some few seconds to complete.

Net stop spooler
sc config spooler depend= RPCSS
Net start spooler
exit
Method 3
Click on Start, then go to Run and type Regedit.exe
Browse through for the following registry path
HKEY_LOCAL_MACHINE \ SYSTEM \ CurrentControlSet \ Services \ Spooler
In the right side pane, twice click on the DependOnService value
Erase the current data, and after that type RPCSS only
Close registry editor
Delete any existing jobs in the spool folder (might be one of print job gone corrupt)
C:\WINDOWS\system32\spool\PRINTERS
Restart the computer
Method 4
Download the batch file to do the method 2 automatically.
Download Spooler Dependency Repair.bat

(Note:- Run this batch file with Administrative Privileges)
After completion please Restart your computer, You'll get your problem fixed.
If issue still persist then try this complete repair tool of print spooler Print spooler repair Tool
---
More Information about Print spooler Error 1068
Issue
Print Spooler error 1068 is a common printer problem arises due to error in printer software or printer driver. Print Spooler is a software which is a medium of communication between printer and windows OS. But sometime it get corrupted due to corrupted driver or windows OS. And print spooler service malfunction and print spooler service unable to register its status. we can fix the "print spooler error 1068" by performing some tasks. As it is not easy to find out the reason behind this error. And we can not say exactly which step will fix this issue. First of all we have to try uninstalling the printer driver and then installing it again and it can resolve the print spooler problem. But if not then you have to perform some advanced tasks to get rid of this print spooler problem.
Causes
Actually system wants to keep stars the print spooler however system get that is not in running stage then system try to start it, then it gives a error message error 1068, "The dependency service does not exist. or the dependency service or group failed to start." In order to fix this issue, you have to follow below steps to fix spooler 1068 issue.
Print spooler error 1068 error causes is that print spooler service don't have correct  dependency. Also might be possibility that print spooler service has gone corrupted by the virus. Print Spooler is dependent on one service RPC (Remote Procedure Control). If you get "Print spooler error 1068" error while starting print spooler service, might be a possibility RPC service is not in the running stage. So please check the RPC service status, is that started or not. If is it started, that means printer spooler service do not have set the RPC service as their dependencies.
Whenever I am doing to get start a Print Spooler Service, I got the error 1068 would mean "The dependency service does not exist. or the dependency service or group failed to start" there is there any simple way to solve this problem without having going into a system erase?  May I operate a restoration?  If that's the case, does it fix the problem?  I have tried using to help operate a system restore for an earlier date knowing that didn't do anything whatsoever to me sometimes.I'm not have the ability to uninstall lyour print spooler through my computer, it's been very irritating, keep receiving error message which indicating cannot find destination, I'd a pc virus several weeks ago and that i have tried using everything.  The print spooler won't start here we are at permit me to put my printer.  We get error cde1068.  Require help. Please?
Dependency
Depending in the situations as well as your kind of printer hooked up, your current Print Spooler Service may have some other dependent services that need to be running earlier than until the Print Spooler Service starts.  When your dependent services will not be running, you will notice an error 1068 or related message regarding reliant services any time doing in order to start your Print Spooler Service.
How to turn on the print spooler service getting the error message "error 1068" when i try to start spooler service get Error code 1068. Print Spooler will not restart. error 1068 the dependency service not associated with default services, All the dependency service or group failed to start in Windows vista xp windows 7, 8 or if you have done some steps to repair and again get the same message 1068 the dependency service or group failed to start printer spooler error 1068, Actually this error 1068 windows xp windows 7 occurs when the RPC Service not  started or not allocated error 1068 when if you fixed error 1068 windows vista  xp windows 7, 8 in windows xp error 1068 every one want to know how to stop print spooler you have to repair dependency service then you are able to install print spooler service, spooler error 1068 repair tool