Guide to fix 'Print Spooler' service errors.
It is a Windows service which give command to the printer for printing. It manages all print queues. But sometimes it get stuck and shows printing errors. Most of the printing issues are caused by this service. Many errors are associated with spooler service.
About Print Spooler Service.
It manages multiple print request and send to the printer one by one. So it take the printing request from the applications and keep them in the queue and give commands to the printer one by one. In Windows it works with two system files spoolss.dll and spoolsv.exe and one service.
Symptoms

If you are getting one of the any following errors then it means it is print spooler service which is creating the problem.
---
---
Local print spooler is not running. please restart the spooler.
Print spooler is not working.
Print spooler won't start.
Printer spooler service can't start.
Print Spooler service getting the error message while printing.
Says, start the print spooler service first, then try to print again.
And even some times it does not show any error but print nothing.
How to Fix "Print Spooler Service"
In order to fix print spooler service, follow the below steps.
1. Download  the Print Spooler Repair Tool. It is a free utility to quickly fix the print spooler error. It will reset print spooler service as default.
2. Run the print spooler repair tool.
3. Click on Repair Button to start repair process. It will take few minutes to repair whole print spooler service.
After finishing the task it will show a finish message (Successfully Finished). Now print spooler should be working.
Step by step guide with screenshot
Download Print Spooler Repair Tool.exe
(Freeware) for windows 10, 8, 7, Vista & XP,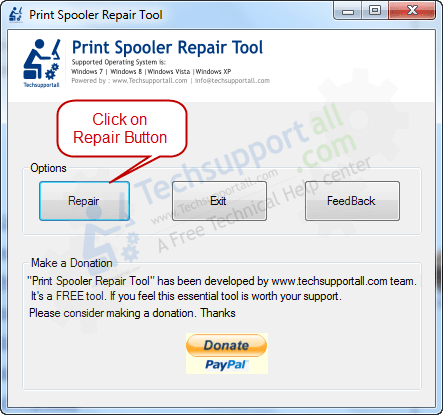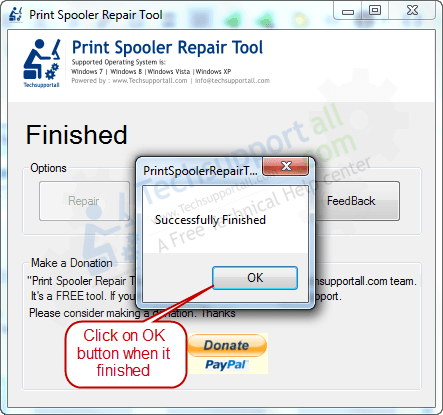 After finished, please Restart your computer, and then try to printout something, your print spooler problem will be fixed.
What Errors it can solve.
This utility may be able to fix the following kind of errors.
Print spooler service is not working
Print spooler error 1058
Print spooler service can't start
Refer to this page if you are getting issue print spooler is keep stopping automatically.
---
What is the cause of the problem
There are lots of causes for "print spooler is not working" issue. Actually, most of the viruses and trojans target the "print spooler service" to corrupt it. They can also corrupt the registry of print spooler service because print spooler service is the service which will effect most of the users who use the printer.
Users wants to take print out however they getting the error message "Print spooler service has stopped please restart the service, the local print spooler is not running. please restart the spooler" etc. So it is advised to protect your PC with a good antivirus software. See here free antivirus for Windows 10.
FAQs
Q: Does this fix work for all Windows.  My print spooler service is not running in Windows XP?
A: Yes, this quick fix utility works fine in Windows XP, Vista, 7, 8 and Windows 10.
Q: Does it able to fix the issue "Spooler SubSystem App error"?
A: It is supposed to fix it. Please let us know if it is not working for you.
Q: Why is my print spooler is crashing again and again?
A:If it is crashing again & again chances are some virus or malware is doing this. So it is better to scan the system with a good malware removal tool and then run this utility.
Q: I am getting the error : CAN NOT ADD PRINTER: Print spool service not listed in service list. How do I fix it?
A: This utility is designed to fix mostly all type of spooler related issues like 'Printer spoolier missing', 'Printer spooler terminated unexpectedly' , 'Unable to uninstall the printer because spooler is not running', 'Start the spooler and then install the printer manually' etc.
Q: I Can't add printer, error messages comes "print spooler service had stopped please start the print spooler service".
A: Just run this utility and your problem should be fixed. All of the spooler problems will be repaired automatically. It restore the spooler service and fix every spooler issues quickly and automatically.
Please download this tool, it will fix all the corruption of  print spooler. you just need to run this repiar tool (Freeware) and restart the computer once, after restart your spooler problem will be solved.
Please leave your valuable feedback below