What is Ransomware?
Ransomware is a term used for the malware that attack computers to extort money from users. It attack the computers and block the access of important data, which needs to buy a key from the malware creator to open the access. Actually they encrypt the data with a key and only that key can decrypt that data. It is one of the growing threat. Even FBI is not fully able to control them. So we have to keep ourselves aware about these threats to avoid them.
Ransomware require an exploit to enter the system and activated itself. Exploits are programs which look venerability into your system to find out a way to enter into the system and then call other serious Trojan and Ransomware in the system. Now the question is how can we block these ransomware and protect our system from attacks. Below is a list of Software and tools which can help your to protect from Ransomware and Cryptoware. Though recovering damage done by these Ransomware is almost impossible but you can remove the exploits and stop them entering again in your system. See the below list of Best Anti-Ransomware Software for Protection.
Best Ransomware Protection Software for 2018
These tools are best to vaccinate your computer to protect from Ransomware attacks. Check these Best Anti Ransomware Software.
1 HitmanPro.Alert with Cryptoguard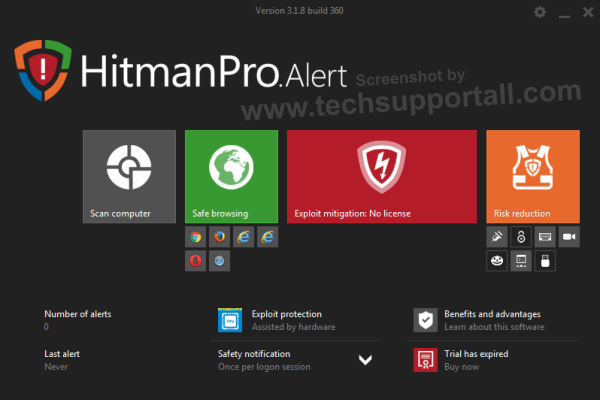 ---
---
HitmanPro.Alert is now a separate product from the Hitman Pro. But users who bought HitmanPro.Alert with cryptoguard get the Free Hitman Pro Scanner. So HitmnaPro.Alert is a combination of HitmanPro Antimalware and Realtime blocking of malware and crypto viruses. So it is a deadly combination against ransomware attack. It uses behavioral technology and cloud scanning to give a zero day protection.
HitmanPro and HitmanPro.Alert are different products. HitmanPro.Alert license include the free license of HitmanPro.
It has unique technologies to stop the threats before they start damaging anything. It can even protect you from unknown threats as well. It includes a CryptoGuard Technology to stop the Crypto-Ransomware which are also known as Cryptoware or Cryptolocker. Its behavioral based protection technology keep you protected from these high intensive threats even when your trusted program or files get hijacked. HitmanPro.Alert is also focused on Anti-Espionage like Webcam Notifier, Keystroke Encryption, BadUSB protection etc.
Hitman.Pro.Alert is an all in one solution having Anti-Ransomware, Anti-Exploit, Anti-Malware, Anti-Espionage features.
Features of Hitman Pro Alert
Prevents exploit codes running from the data memory.
CFI to stop Advanced ROP attacks.
Protection from process hijacking.
CryptoGuard to stop Ransomware.
Privacy and Espoinage Protection.
Browser Protection.
Integrated Anti-Malware Scanner.
Network Lockd own to stop attacks.
Advanced threat reporting with advanced technical data for forensic analysis.
HitmanPro Scored 100% in test conducted by MRG-Effitas lab to stop exploit and its was the only one scoring this score.
Perfectly capable of protecting from CTB-Locker, Locky, TeslaCrypt, Zeus, Shylock, SpyEye, Sinowal, Ice-IX, Citadel, Cridex, Carberp, Tinba and more type of Ransomware.
2. Malwarebytes 3
Malwarebytes have improved its previous version which was only known for its antimalware features. It has now integrated its Malwarebytes anti ransomware (Previously CryptoMonitor), Malwarebytes Anti-Exploit, And PUP Protection (Formerly AdwCleaner). This deadly combo gives you a great protection against malware, ransomware or any exploit. Even it has a malicious website protection feature which let you stop from visiting dangerous or infected websites.
Previously all these tools were available separately to download, But from version 3 Malwarebytes integrated all these tools into single package. It includes the features
Web protection from malicious websites
Exploit protection
Malware & virus protection
Ransmoware protection
Overall it is a complete security package and can be used in place of antivirus software.
3. Zemana Anti-Malware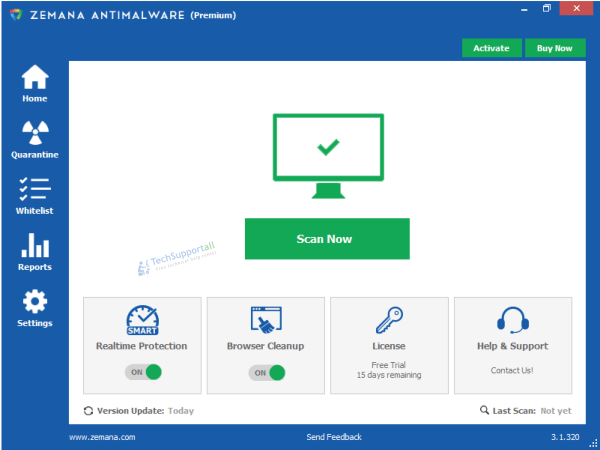 Zemana is also in our list of Best Antimalware Software. We are also keeping it in the list of Best Ransomware protection tools because it scored top in the independent test labs to give strong protection against some dangerous Ransomware. We also found it very effective as adware removal tool. One of a great security product worth to try. We recommend to atleast keep 2 second opinion scanner. Zemana was previously known for best anti-keylogger software and now it is a complete protection system integrated with cloud scanning with multiple antivirus engines and anti exploit features.
4. Malwarebytes Anti-Exploit
As this product has been already integrated into malwarebytes 3.0. So we are skipping it from our list of best anti ransomware of 2018.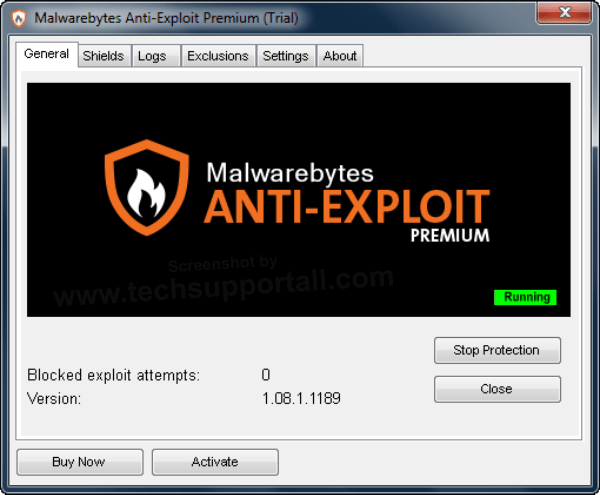 This tool is not specially designed for Ransomware Protection but as we mentioned in the starting of the article that Ransomware enters into the system with the help of exploits. So this Anti-exploit tool can help you to protect from mostly all type of threats to a great extent. Malwarebytes Anti-Exploits stop the attacks which try to enter into the system by finding vulnerability in the system. There are some inbuilt shields in the system for the the Browsers, Browser Addons and Java Shield. You can also create your own custom shield for third party software but this feature is only available in Premium version.
Main Features
Protection against OS security bypasses.
Memory Caller Protection.
Application behavioral protection.
Java Shield.
Browsers & Addons Shields.
Custom Shield for any software.
5. Bitdefender Anti Crypto Vaccine and Anti-Ransomware (Not Much Effective)
Not longer available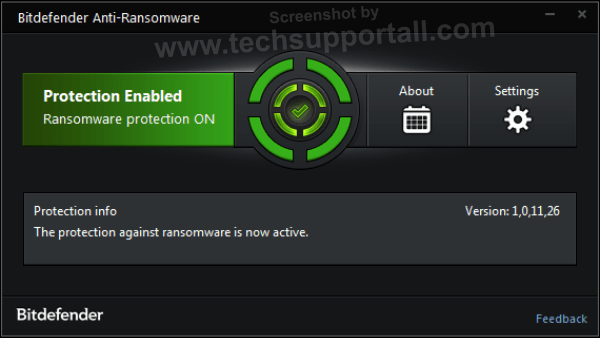 Bitdefender released the latest version of its Cryptoware Vaccine and changed its name to Anti-Ransomware instead of Anti-Cryptowall. Now it can protect users from CTB-Locker, Locky & TeslaCrypt Ransoware. It is a Free Software tool for everyone to download from Bitdefender Labs. It is a very simple tool just download and install it and it reside on your system tray to keep you protected from Ransomware. Please keep in mind that it is simply a protection tool and there is no removal functionality in it. But for the Ransomware which is not easy to get rid of, this saying is perfectly fit on it that "Prevention is better then cure". So keep yourself prepared from these nasty money pulling bad software.
6. EMET
Enhanced Mitigation Experience Toolkit (EMET) is a free security tool provided by Microsoft for windows users to enhance security defenses to defend third party vulnerable applications against exploits. EMET uses 12 specific techniques to prevents exploits.
Data Execution Prevention.
Mandatory Address space layout randomization.
structured exception handler overwrite protection.
export address table filtering.
SSL/TLS certificate trust.
Hopefully these tools can help every one to protect their computer from Ransomware. These all tools are free or have a free trial. But what to do if you get infected with a ransomware and malware. Below related articles can help you to get rid of your issues.
Best Antimalware software to Scan and remove Malware for Free
Best Antivirus Software to Scan and Remove Viruses for Free
If you are a business owner then we suggest you to consider a good paid Internet Security Suite for your protection. As business owners are their best target.
Best Premium Antivirus Software
Top Antivirus comparison table
Best Business Antivirus Software
To fully protect yourself from ransomware make your malware defense system strong with a Paid anti malware which provide you real-time protection against malware along with a good paid antivirus software
Please share your feedback for this list of Best Ransomware Protection tools. And let us know if there is any other useful tool available there.