Question.
My desktop icons are not showing. Most of my programs are also not showing in start menu.
Answer (Solved)
There may be three reasons behind this.
Sometimes the desktop settings "show desktop icons" get disabled unusually. See Solution 1 for this.
If you can't see your taskbar along with your desktop icons,  that means the explorer.exe file could not be loaded properly. See Solution 2 to fix this.
Might be a possibility that a virus came into your computer and changed the desktop file's attribute as hidden. Also, change the same settings in the system registry as well. See Solution 3, Solution 4  for this.

We are giving you some possible methods to fix this issue, please follow the steps carefully.
How to fix – Desktop icons are not Showing
Below solutions may help you to fix this issue in all the versions of Windows like Windows 7, 8, 8.1, Windows 10, Vista, XP, and Server as well.
---
---
4 solutions to fix it



Solution 1

– Enable "Show Desktop Icons" option
Right click on the clean area of the desktop
Then click on "View" and then go to "show Desktop Icons" and click on it to make it checked.
Your desktop icons will start appearing again.
Solution 2

– Reload Explorer.exe (Fix it myself manually)
Note:

Apply only if the taskbar does not appear

 
On the desktop (No icons Screen) Press Ctrl+alt+Delete key together to open the Task manager
In the Windows task manager, click on the "Processes" tab and here you'll find Explorer.exe in the list, right-click on it and click on the End Process Tree. The explorer process will be killed, you'll get a blank screen with task manager.
Now go to file menu and click on new task (run), A run box will be opened. Type here: explorer.exe and press the enter button.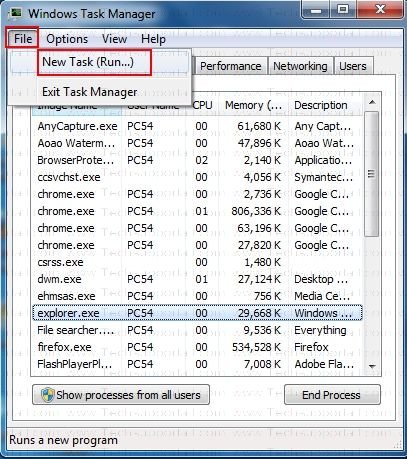 Solution 3

– Registry Fix
Press Windows 'R' (to launch Run.exe)
In the Run program, type there regedit and hit enter
Then in the Registry Editor program. follow this folder path route
HKEY_LOCAL MACHINE / SOFTWARE / Microsoft / WINDOWS NT / CurrenVersion / Winlogon
Now click on  Winlogon and after clicking then look at the right side pane.
Here you have to find the Item called "shell" and click on it twice (Double click)
In the Value Data Edit box, Type Explorer.exe (The value of this key "Eplorer.exe) then click on OK
Now restart your computer. After restarting the problem will be fixed.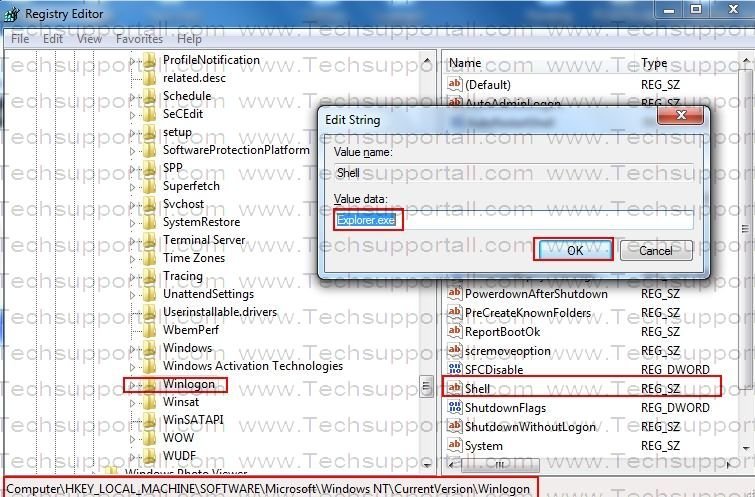 After that your desktop should be restored, you will get your desktop back.
If you are still not getting your desktop icons, it means there is no problem with explorer.exe. Now we have to go to solution 4.
Solution 4

– Run Unhide Tool Automatic Fixit

Download Unhidetool.exe
(Freeware Utility)
Run this Unhide tool to fix the desktop icon hide issues.
---
If you still do not see the desktop icons, that means Virus has changed some registry settings, please Download the Unhide tool  and run it to unhide all the desktop of start menu data to solve the "no desktop icons issue" 
Enjoy the post and if you feel the post is worth donating to so please click on the link below to donate to us.
FAQ:
Q: My taskbar and start menu have also disappeared. Can I use this guide to bring them back?
A: Yes, this tutorial will work to bring back the missing desktop icons,  Start button, Start Menu, Task bar etc.
Q: Desktop icons won't appear. Is it due to virus attacks or is there any other issue?
A: If you are not using any antivirus software it could be due to the virus otherwise you may try to fix if it is due to some other Windows internal problem. If there is no antivirus in the system, at least  download free antivirus for basic protection.
Q: Desktop icons and taskbar suddenly went. Is it due to malware?
A: Yes it could be, firstly follow the steps above to fix this issue. If that doesn't help, then scan your computer with a  malware removal tool. And to avoid future occurrences, always keep a free antivirus in your system to protect yourself from basic virus attacks.