A portable virus scanner is an offline version of a virus protection program, and it is a more convenient option because you don't have to be connected to the internet while using it. Virus or malware are the biggest threat today for business users as well as for home users. Once your system get infected it get very hard to install or run anything in the system. So in this situation we require a stand alone portable virus scanner. A portable virus scanner utility can be run without installation, even it can be run from the USB Media. A badly infected PC may also not have access to internet, So in this situation a portable offline virus scanner can play an important role.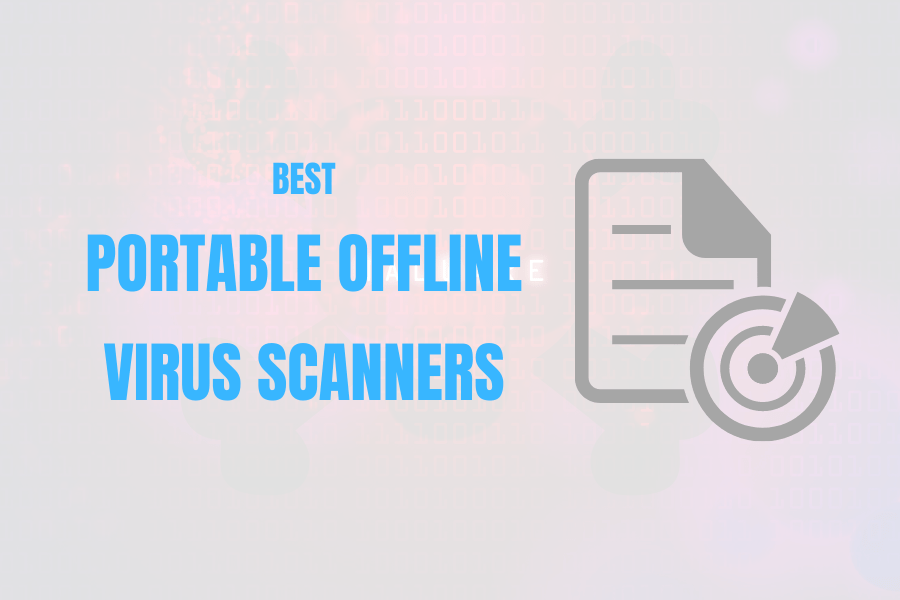 Offline Virus Scanners
We are providing some good & amazing Free offline portable tools which can help to get rid of a virus infected PC. All these tools are stand alone (portable) virus scanners. So you can easily run them from the USB stick. Below comparison table can help you to instantly review all the tools. We have reevaluate the software in 2021 with latest updated version and update this list accordingly.
Best portable offline malware scanners
Portable virus removal tools
Below are the best Free portable virus removal tools or offline scanners. All these tools can be run through USB stick. Some of these tools also provide command line support to run them through DOS. These are useful when your severe infected PC denied to run any executable file.
1. Emsisoft Emergency Kit
Download Emsisoft Emergency Kit
---
---
Emsisoft is the perfect tool to rescue an infected PC. It provide portable USB based scanner, which do not require any internet connection. No installation required. Can be run directly from the USB. It is a collection of portable software which includes powerful Malware scanner, HijackFree and BlitzBank in its Pro version. But in Free version you get a Powerful Malware Scanner to eliminate most of the threats deeply. This can be run through a USB stick. Emsisoft emergency kit supports both GUI and Command line. It is available for free download for personal use but you can also purchase a pre-compiled USB stick for the commercial use. It is ideal to rescue from a badly infected PC.
Downloaded and extract the emergency kit files and run the executable file. If you run it on a PC without an internet connection, you can skip the online definition update by selecting 'No'. You can transfer the EEC folder to update the latest virus definition from one computer to another computer, Although the website appears to update the Emergency Kit executable at least once a day. So the definitions should never be more than 24 hours old when you download it from the website.
2. Kaspersky free virus removal tool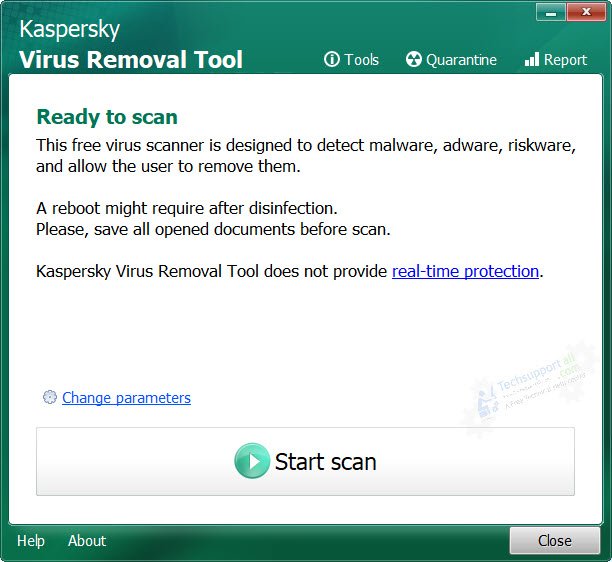 Download Kaspersky virus removal tool
KVRT is also a portable utility to detect and fix virus issues. It does not require internet connection and can be run directly from USB. After closing the program it automatically deletes all the temporary file generated by it. In its latest 2020 release Kaspersky has also included a new feature named as 'System Analyzer'. It will collect the OS information and generate a report. User can send this report to the virus analysts for further investigation. Please be aware as this could include some sensitive information, so you should only share this report to the trusted persons only.
This is a very simple tool and it does not have virus database update option. So you require to download the tool again from the website to get the latest updated virus definition.
3. ClamWin Portable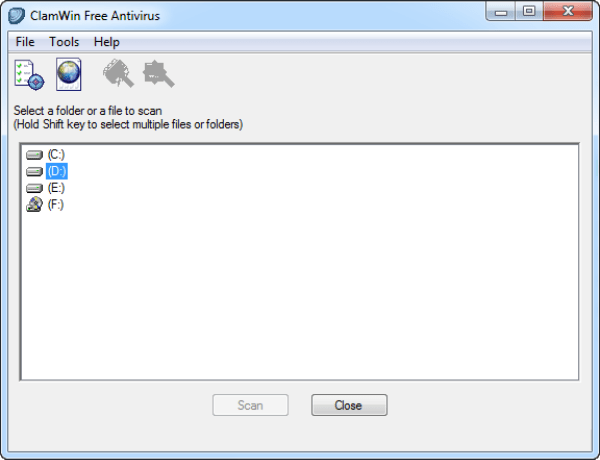 It is free and open source Antivirus. And it have a good detection rate. You can use it offline directly from a USB stick. Clamwin team updates its virus database regularly. You need to download the latest update virus definition from their website. it provides a Graphical user interface and have the option to choose the folder or file to scan. It does not provide command line interface.
4. eScan Antivirus toolkit
Download eScan Antivirus Toolkit
eScan by microworld also offer rescue toolkit. It is also a portable standalone virus scanner. You can use it from USB drive or CD without any installation. It can detect and remove virus, malware, spyware from the system. Its database is being updated every day to catch the latest possible threats. No command line option is there in this tool but you can choose the drive or folder to scan.
In eScan it has an option to update the definition automatically. If you are connected with the internet you can update the definition just by one click whereas in other scanners you require to download the fresh copy of scanner for the updated database definitions.
5. Microsoft Safety Scanner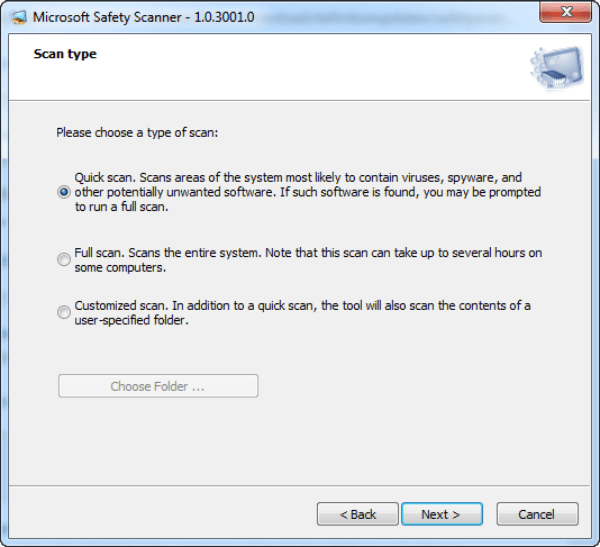 Download Microsoft Safety Scanner
Microsoft Safety scanner (MSERT) is an on demand scanner to remove virus, spyware, malware and malicious software from the windows PC. Though overall its detection accuracy is less as compared to other scanners, but still it is a good and quick option to scan your system.
It get expired automatically after 10 days of download to bring up the tool with the latest virus definition. Microsoft updates this tool several times a day. So always download the latest updated package. Download the Safety Scanner version according to your system (32 bit or 64 bit). It has 3 scan options quick scan, full scan and customized scan.
6. Vipre Rescue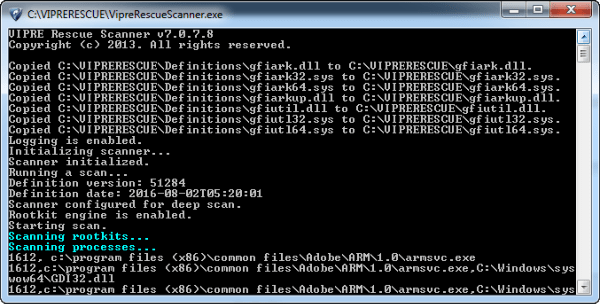 Download Vipre Rescue
Update: Vipre recue disk is no longer available for download from the official website.
Vipre Rescue is an easy and handy virus scanner tool. If windows is unstable and do not allow to install any software, then this tool is very effective. There is no configuration option in it. No choice of selecting folder or drive. Just run and stay relaxed while it scan the system. This tool only supports command line.
---
Why you should use a portable or USB offline virus scanner?
Portable antivirus is very useful, when a computer device get severely infected with the malwares and even block you to connect to the internet or installing any software. In this case the only hope is the portable offline antivirus scanner. Neither they require an installation nor they require an internet connection. You can keep them in a Rescue disk for the emergency use. Or you can download these scanners from another computer and copy to a removable USB device. Then attach it to the infected PC and run the software directly from the USB.
Note:
After scanning with an offline virus scanner we also recommend you to scan with a cloud based Anti Malware Software to eliminate the every possible threat.
Things to do after scanning with portable malware scanners
After scanning with these tools, probably you will be able to connect to the internet. And you can scan with an Online Virus Scanner or a Second opinion scanner. As a result it will clean the system more deeply for any type of latest malware. In the end we recommend everyone to install a good paid Antivirus software in the system. If you are unable to afford a paid antivirus, then free antivirus software is better then nothing.
Still some people take this very lightly and does nothing to protect their computer. Computer ignored with minor infection can become severe, which is hard to clean. furthermore an infected computer can give way to enter serious ransomware. It can end up with data loss or money loss.
FAQs:
Best Business Antivirus Software