Windows 11 is the latest released edition officially announced by Microsoft on 24 June 2021. Before the announcement every one was believing that leaked news of Windows 11 is just a rumor. Because at the time of Windows 10 launching, Microsoft had also announced that Windows 10 is the last version of Windows. Then why Microsoft is launching Windows 11?About Windows 11
Windows 11 is the next generation operating system launched by Microsoft on June 24, 2021. This is the successor version of Windows 10. This version is specially focused on increased security and revamped user interface. Windows 11 is redesigned with simplified design and user experience in order to boost the productivity and stimulate the creativity. It's contemporary, bright, clean, and lovely. Everything, from the new Start button and taskbar to the sounds, fonts, and icons, was designed with the intent to control and instilling a sense of calm and ease.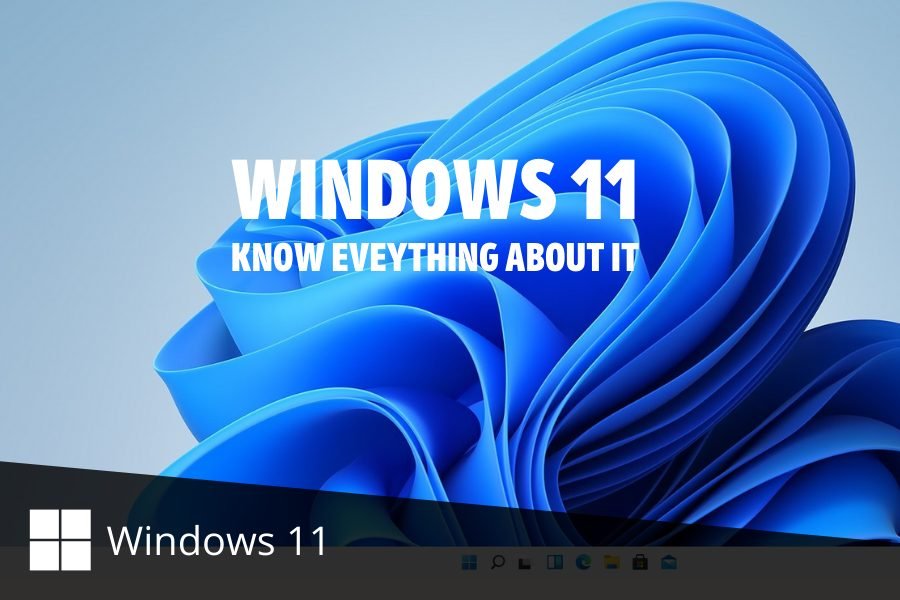 Why Windows 11?
As per my personal opinion Windows 11 is nothing more then an update of Windows 10. Then why they named it as Windows 11. Actually this is a major update to provide a secure environment for the Windows users. People consider Mac more secure then Windows. But in mac case Hardware and software both are made by the Apple. Whereas Windows is not making hardware but other companies like Intel and AMD are making hardware for it. Hardware also plays an important role to hardened the computer security. That's why Microsoft forced people to upgrade the hardware before upgrading to the Windows 11. With this upgrade Windows will be more secure now. And I think that's why they have made the new user interface looks like a Mac. So to distinguish between these two versions a new name should be a required thing. Hence Microsoft releases the Windows 11. Another thing is that to upgrade to Windows 11 you require the most latest hardware. So for the older computers Windows 10 still be available for them. Check the difference Windows 10 vs Windows 11.
What will be the price of Windows 11?
Microsoft has publicly announced that eligible Windows 10 PC users will be able to upgrade to Windows 11 for free. Officially free offer will be available till the 5th October 2022 The price for other users or new users has not yet been confirmed. So we still have to wait for that. So far its free for the existing users. Before Windows 10 users upgrade to Windows 11, they first must meet the minimum hardware requirement. They can only upgrade to Win11 if system fulfil all the hardware requirement.
Hardware requirement for Windows 11
Windows 11 has some strict system requirement. The first thing is that it require 8th generation CPU. And the second important thing that it require is TPM 2.0.
---
---
Here are the minimum system requirements.
What is new in Windows 11?
Here are some of the major features that Windows 11 has introduced or improved.
A Mac-like new interface
Windows 11 get a look similar to Mac. Windows 11 has a simplified and aesthetic design with slightly rounded corners, soothing pastel hues, and a taskbar and Start menu that are all centered. Microsoft has redesigned the Start menu and Taskbar, which are now center-aligned by default. Live tiles have been replaced by a resizable grid of app icons. The Taskbar's pinned and running applications are now also centered, and there are numerous new subtle animations when clicking and dragging objects. The System Tray and Action Center have been redesigned to reflect this change, with Notifications and Quick Actions now separated into two distinct menus.
Download Android Apps in Windows 11 from Microsoft Store
There will be Android apps coming to Windows 11, and they will be able to be installed by launching from the Amazon AppStore within the new Microsoft Store. Previously, there were 2 options for accessing Android apps on Windows 10. If you had a Samsung Galaxy phone, you could install apps from the Google Play Store. With this update, Android apps will be built-in and accessible from within Windows 10.
Widgets
Widgets are now easier to access and more customizable in Windows 11. They bring information that you want and need closer to you. Simply click the widgets icon on the Taskbar, swipe left with your finger, or press WIN + W on your keyboard to have your widgets slide out from the left across your desktop. You can customize your experience by adding or removing widgets, rearranging and resizing the content, and customizing the look and feel. We currently provide widgets for your calendar, weather, local traffic, Microsoft To Do lists, OneDrive photos, sports and esports, stock watchlist, and tips.
Microsoft Teams Integration
Microsoft Teams integration. It is now possible to get to teams directly from the Windows 11 Taskbar, which is more like FaceTime from Apple. Teams will be available for all of these platforms, including Windows, Mac, Android, and iOS. Microsoft Teams makes it quick and easy to connect with the people you care about, right from your desktop. People can call or chat for free on any device they may be using.
Better gaming with Xbox
A key feature that the Xbox One features, like Auto HDR and DirectStorage, will appear in Windows 11 to improve gaming on your Windows PC.
Virtual desktop support has been improved
When you start using Windows 11, you'll be able to create virtual desktops that are similar to what you see in OS X, with options to use multiple desktops for work, school, personal, or gaming use.
Better multitasking
One of the new features in the OS is Snap Groups and Snap Layouts. Snap Groups can be put together in the Taskbar to give you instant access to a collection of your apps, and then the group can be minimized when you're working to reduce Taskbar clutter. They also allow you to connect and disconnect a monitor without losing the position of your open windows.
Curated Content
You can quickly stay on top of the news, information, and entertainment that matters most to you by using Microsoft Edge and a multitude of widgets. The new Microsoft Store makes it easy to locate the apps you need and shows you love to watch.
Will my attached devices like printer or other accessories work with windows 11?
Probably they all will work. It is important to understand the differences between Windows 10 and Windows 11. Make sure your accessories work with Windows 10, but also check to see if they meet the Windows 11 requirements. Please verify with your equipment manufacturer.
Download and Install Windows 11
All the procedure for Windows 11 is almost same as of Windows 10. Existing Win10 users can easily upgrade to Win11 from the windows update settings. For a fresh Win11 installation I didn't find any ISO image for the Windows 11 insider preview. Whereas it is available for Win10. Here is the link to download the iso file.
Read the detailed guide on How to install the windows 11. If your PC / Laptop hardware supported for Windows 11 then here is a hack to install Windows 11 on unsupported hardware.
Upgrade for existing Windows 10 users
Your existing Windows 10 PC will be able to upgrade to Windows 11 if it's running the most current version of Windows 10 and meets the minimum hardware specifications. It will start rolling out for the users in the late 2021 and will lasts up to 2022. Download and run the PC Health Check app to see if your PC is eligible for an upgrade. During the rollout, go to Settings/Windows Updates to see if your device is ready for the upgrade. There is a guide on how to upgrade to Windows 11.
Will Microsoft force me to upgrade to Windows 11?
No, Microsoft will not compel anyone to upgrade to Windows 11. Beginning with Windows 10 version 1903, the Redmond company ceased requiring users to install feature updates. This followed the disastrous Windows 10 version 1809, which deleted the files of some users.
When you run Windows Update, it simply informs you that a feature update is available if you want it and that you can choose to install it. Microsoft will only force a Windows 10 feature update if the version you're using is approaching end of support, which won't happen with Windows 11.
This holiday season, Windows 11 will be made available to all users for free. If you're not interested, there will also be a new Windows 10 update, version 21H2. Microsoft would not commit to whether or not version 21H2 will be the final Windows 10 update, but it has confirmed that the OS will be supported until 2025, which means that those who don't want Windows 11 will be fine for the foreseeable future.
What if my PC fails to meet the minimal hardware requirements? Can I stay on Windows 10?
Yes! You can't upgrade to Windows 11 if your system doesn't meet the requirements. The improvements in Windows 10 keep it as a great version of Windows. Microsoft has confirmed that they will support Windows 10 until October 14, 2025. So you can stay with Win11 without any problem.
Do I have to stick with Windows 11 if I don't like it? Or Can I downgrade and go back?
Yes. There is a 10-day period after installing the Windows 11 upgrade during which you can return to Windows 10 and keep your files and data. After 10 days you can't go back to the previous version easily. In that case a user have to backup all the data and need to do a fresh Windows 10 installation. And you have the option to get the Windows 10 updates till 2025.
Read more here on how to downgrade windows 11 to Windows 10 from Windows 11.
First look review of Windows 11
According to Microsoft, the Windows 11 preview build introduces a new Start menu, new icons, a new startup sound, and other visual changes. In addition, a new File Explorer has been included that replaces the ribbon with a new command bar to make it easier for you to access your tools. New notification center features, such as rounded window edges, new volume flyouts, and the Windows 11 widget, have also been added. New themes, including new wallpapers and both light and dark modes, are now supported in this preview build of Windows 11.
Android support and Microsoft Teams integration are not included in this preview build. For customers who use Windows 11, being able to access Android apps through the Amazon Appstore is a prominent staple. Team integration is a result of the pandemic-induced shift in using Windows. With the release of Windows 11, Microsoft Teams is the go-to app for video calls, replacing Microsoft Skype. So, it appears that both of these things are still under development and will arrive in later releases, but they will be part of the stable release build that may be released in October.
What you will miss in Windows 11
Windows 11 has removed many things from its default list and here the list that you will miss in the Windows 11 as compared to Windows 10
Cortana
Desktop wallpaper syncing disabled
Internet Explorer Disabled. IE Mode included in the Microsoft Edge
Math Input panel removed
Quick status from lock screen removed
S Mode is only available for 11 home edition
Snipping tool replaced with snip and sketch
Note:
pinned apps on Start menu will not be migrated from windows 10 to 11
Live tiles are no longer available [ You can use widgets for dynamic content ]
Layout not resizable
Tablet mode removed.
3D viewer, OneNote, Paint 3D, Skype are some apps that will not be pre-installed. They can be downloaded from the Store.
FAQs