Users facing issue of IDP.Generic infection warning even when accessing some legitimate programs. So is it really a virus or just a false positive. Actually, we found that this was a bug of AVG and Avast antivirus software. Avast and AVG detects it as a Identity protection vulnerability. IDP means identity protection. There is no specific type of programs, it is showing warning for. But users are facing issues with legitimate software and games. Steam users are also facing this issue.
What is the cause of the issue?
The major cause of the IDP.Generic warning is outdated programs. Most is the outdated version of AVG or Avast Antivirus software. Though False positive warning by Avast & AVG has been fixed in the latest update. So if you are still facing this issue be cautious either you have not updated the antivirus program or it is a real infection.
If the infection is within temp folder it could be a virus or trojan, so you should clean it or delete it. And if it is showing warning with exe program, it cloud be false positive, if you believe the program is from a trusted source.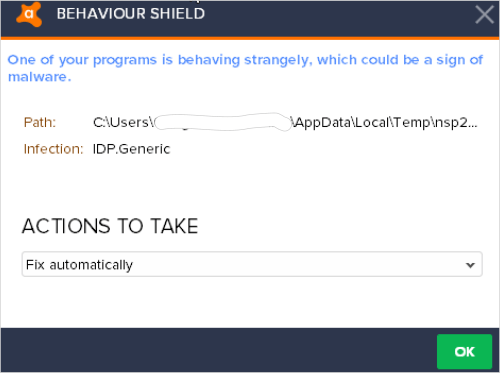 Actually behavior shield catch the file thinking that it could be a malware. Behavior shield is a component of antivirus to catch the files based on their behavior to give a Zero day protection. So it could be false positive. Another major cause is the outdated version of Java in the computer. So always update your installed software up to date to avoid problems.
How to fix the IDP.generic warning issue?
Follow the below steps to remove this warning or remove the infection from the system.
---
---
2. Update Antivirus software
If you are getting warning with legitimate game or program then chances are that it is a false positive, and a known issues by the security company which they would fix in the latest version. So your first step should be to update to the latest version of Antivirus software. Update both program and virus definition specially if you are using AVG or Avast.
3. Update Java run time environment
You java run time environment could be outdated or conflicting. Download Latest Java. And remove all old version of Java using Add / Remove Programs in the control panel. Then install the latest version.
Make sure IDP.Generic is a not a real threat
If the above methods are unable to solve the issue the chances are strong it is a real virus infection and not a false positive.
Scan with other anti-malware software
To make sure then your system is clean and you are not at risk it is better to scan the computer with an Antimalware Program or with Online scanner.
Resources to Refer
https://support.avg.com/answers?id=906b0000000DvETAA0
https://forum.avast.com/index.php?topic=197704.0
Note:
Please do not remove or disable the Antivirus software just to fix this issue. What if the file is infected with the real virus and not a false positive? Also please don't add any file in exclusion list in an antivirus software.
Please share your experience using the below comment box.