New AVG 2019 is a good choice to protect all household devices like desktop, laptop, tablet or  mobiles based on any operating system Windows 10, Android etc. AVG 2019 comes with unlimited devices subscription. With single subscription protect all your family devices.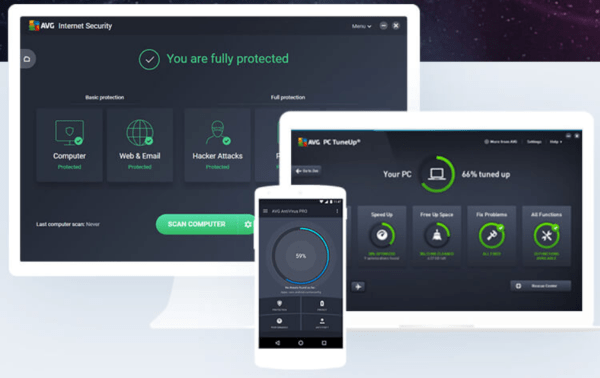 AVG 2019 Download
Download AVG 2019 Free edition
It provides basic protection for free. It is ideal for basic home users who don't have much important data in their computer.
AVG Internet Security 2019 Unlimited
AVG internet security provides advanced level of protection for advanced and business users.
---
---
Download AVG Tuneup 2019 Unlimited
AVG tuneup is a PC optimization software which optimize and tune up devices for best performance. It is one of the best optimization software available in the market. It is available as web tuneup to run it remotely.
Download AVG Ultimate 2019 Unlimited
AVG Ultimate is a combination of Internet Security + Tuneup + HMA Pro vpn. It provides ultimate security solution in a single package.
Install, Upgrade and Renewal
After downloading your desired version you can easily install new AVG. Upgrading to the newer version is also very easy as it will automatically detect and uninstall the old version and install the new one.
AVG Renewal Center – To renew or upgrade your AVG License.
Trouble shooting
if you are getting any error during installation or some compatibility issue and need to uninstall it completely from the system use the official AVG removal tool to do this. This will uninstall the software completely from the system. Removing and Installing again can solve your problem easily. If still you are facing issues then you contact directly to the AVG customer support.
What is new in 2019
As in avast new AI based phishing detection has been introduced in the new AVG.
Data protection with an option to encrypt private data, to make it ransomware proof.
For banking protection a secure browser to transact online.
AVG Review
AVG is widely regarded for their "world-class virus protection". They are dominating this market since 1991. Therefore, being a top developer of "real-time" virus protection, AVG always ensures a complete reliability and robustness. From a final standpoint, it can be clearly stated that their latest product (i.e. AVG Internet Security – Unlimited) with its complete family protection, advanced payment protection, and hacker attack protection features is one of the best antivirus software presently available on the market.
AVG Internet Security – Unlimited 2019 Review & Features:
1. Computer, Web, and Email Protection:
The products features the advanced real-time protection which keeps your gadgets free from spyware, rootkits, Trojans, viruses, and all other nasty malware. Plus, it blocks unsafe links, automatic downloads of email attachments, and let you to quickly scan the DVD drives and removable USB etc.
Additionally, it updates the security system automatically (on a periodic basis) and offers the real-time analysis and advanced artificial intelligence to stop the newest threats from attacking your PC/Phone/Gadgets.
2. Hacker Attack Protection:
This antivirus product always keeps the hackers away. Its In-built Enhanced Firewall Mechanism effortlessly bounces and blocks the cyber criminals or hackers who might snoop to sneak onto your laptop to steal the confidential private data, including files, passwords, and photos.
3. Private Data Protection:
You may often need to encrypt your personal data. Taking this into consideration, this advanced antivirus comes with the "Private Data Protection" feature that allows you to easily encrypt and hide all of your personal files and private photos.
Even, you can permanently shred those stuff (if required). In this way, when you handover your laptop or PC to someone else, you can prevent those users from seeing your personal stuff just by using "AVG Internet Security – Unlimited".
4. Complete Payment Protection:
With the advent of technology, online shopping has become an integral part of our daily lives. With the facilities of online shopping, you can always browse/purchase the favorite products simply by using the internet. But, the concern is – how can you shop freely and securely?
Whenever you are browsing, shopping, and banking, you will probably need an added protection to secure your transactions. That's why this cutting-edge antivirus now offers a "Complete Payment Protection" facility for safe and secure browsing and shopping.
It automatically blocks the scam or spam websites and prevents you from accidentally sharing your passwords and credit card numbers to the unscrupulous criminals.
5. Protects The Whole Family:
This latest antivirus, as implemented by AVG offers a complete family protection. No matter how many devices you and your family members own (irrespective of what kind of devices they are) – this antivirus allows you to protect all of those gadgets and control their safety through a single dashboard.
Here to note, AVG Internet Security – Unlimited offers the best virus and malware protection of Windows devices, Android gadgets, and Mac.
Browser Cleaner
This doesn't add a lot to your security. However, it tracks things like browsing history, saved Web form data, and cookies, and lets you click to delete them. But in Chrome, Firefox, and Internet Explorer, you can simply press Ctrl+Shift+Del to do the same, with finer control over what gets deleted.
Separate firewall
You can set the firewall to give alerts each time it detects an attempt to access your computer. You can also have the AVG firewall perform all decisions automatically.
AI Detection
This will proactively identify new threats.
Real Time Outbreak Detector
This will help contain the outbreak of new malwares in real time.
Anti-Spam
This helps stop scammers and spammers in your inbox.
AVG Ultimate 2019 Review & Features
AVG Ultimate have the same set of features of the Internet Security. Ultimate bundled with the AVG Tune up product and privacy protection.
AVG Internet Security employs a range of technologies to protect your PC from dangers, both on and offline. AVG's antivirus engine is the core of package, always monitoring the files you access, your downloads, email attachments and more, detecting and removing malware before it can cause any damage.
The package also includes the following apart from the internet security:
AVG Anti Virus PRO and Cleaner for Android
Included in the package are these powerful tools. On top of the core browsing and antivirus protection for your Android Device you will get a stack of anti-theft features that allow you to locate, wipe or lock your device remotely; be able to use your camera to take shots of the thief; and have your device lock automatically if the SIM card is replaced.
AVG's Web Tune Up
This includes a Do-Not-Track component that will check each page one visits for trackers and will optionally cut off their tracking. It's disabled by default; I suggest you turn it on.
Why should you get it?
Unlimited device license
The modern connected household brims with connected devices, so a modern security suite must take that fact into account. AVG Ultimate lets you install protection on most devices in your household. It offers comprehensive security on Windows and Android devices, but just a simple antivirus on Macs. A single subscription will cover unlimited personal Windows, Mac and Android devices.
Easy to use
AVG is very easy to use. The user interface is simple for illiterates but offers great customizable features for techies. Panels like "Web", "Email" and "Firewall" show your current security status in each area; clicking any of these gives you access to their various settings, and you're able to launch a scan in a click or two.
Updates
Updates are pushed to you automatically, hence for so long as you are subscribed to the AVG , your security will always be up to date. What about new features? You will automatically get these too whenever available.
Popup Control
Popups can be lessened or stopped by going through "options" and changing the frequency of popups from the default daily to weekly, monthly, or never, your choice.
Compatibility
It is compatible with Windows 10, 8 , 7, Mac OS 10 or above and Android 2.2 or above.
PROS
Encrypted storage for sensitive files.
Remote management from one single screen.
Good scores in independent antivirus lab tests.
One license protects an unlimited number of your Windows machines, Mac and Android devices.
Comprehensive Android security.
You can download the software with just a sign in as opposed to a serial number you have to write down and keep somewhere safe.
Many bonus features.
Can be put used in several pcs in the house.
CONS
The box version does not come with a disc.
The web tuneup and HMA Protection programs that come with the Ultimate package are offered as subscription service.
AVG Ultimate will offer a wide range of protection features to keep you safe as you shop, communicate or browse online. It will stop malware, bad links, spam, dangerous attachments and hackers. It offers an encryption safe to protect sensitive information. It's always up-to-date. It offers protection for Android devices and Macs as well. What more could you ask for?
AVG Coupon Codes
To buy AVG products at cheaper price find out the coupon codes or promo links to get some discount. Please visit our AVG Coupons.
FAQ
Q: What happened with AVG Zen
A: AVG Zen is no longer in use. Now you can login with in the software to manage subscription. So AVG management tool is integrated into the software there is no need to AVG Zen now.
Q: What is difference between internet security and AVG Ultimate?
A: Actually Avg ultimate is a bundle of Internet Security and AVG PC Tune up utilities.
If you have any further question you can write in the comments section.