The Print Spooler repair tool was developed by www.techsupportall.com in 2013 (Formally known as Print Spooler Repair Tool by TSA). This tool is a completely freeware utility made to repair print spooler service. It resets all components of the print spooler service to roll back to its default state. Once it comes into its default state, it will be restored as like a new one. So this is a full proof tool to repair print spooler service in Windows.
Download Print Spooler Repair Tool
Click on the given download button to get the Print Spooler repair tool.
Print Spooler Service Repair Tool by TSA
Supported OS: Windows XP, Vista, Windows 7, Windows 8, Windows 10, Windows 11
File name: print-spooler-repair-tool.exe
2.25 MB
Download
(Freeware)
Print Spooler Repair Tool is a powerful tool to reset print spooler service and its permissions to the default state.
It is a single executable file (Portable Utility), which doesn't require any extraction or installation. Just run the executable file, click on the repair button, wait for a few seconds and all your Print Spooler problems will get solved.
How to Use Print Spooler Repair Tool
Follow the steps given below to properly use the Print Spooler Repair Tool:
---
---
Steps:
1. Download the Print Spooler Repair Tool 100% FREE from the above given link.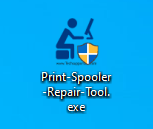 2. Run its executable file and click on 'Repair' button to start the repairing process.
3. Now the tool will check, update, repair, install and finally restart the Print Spooler. All these processes will be completed in almost 1 minute. Wait a moment to complete the repair process.
4. Once the process is completed, you will see 'Successfully Finished'. Click 'OK'.
5. Click 'Exit' to close the tool.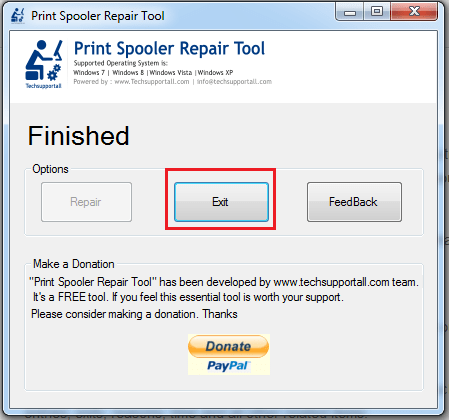 That's it your Print Spooler has been fully repaired and your printer should start printing normally now.
Video:
How does the print spooler service work?
First we'll see all about print spooler service and its possible errors that may occur then we'll see how we can fix them easily.
Print spooler is an essential service for Windows operating system to print smoothly. The print spooler service should be in a running state. If somehow it stops, then your printing functionality also gets stopped.
However, all printer users may have to deal with the Print Spooler problem in some way. Whether their print spooler service doesn't start automatically or manually (Print spooler gives error message), their print queue gets jammed or there are some other problems, the end result is the same, which is a printer that can't print.
Therefore, we are introducing a 100% FREE Print Spooler Repair Tool, which is a simple and easy to use tool that has the capability to fix all types of Print Spooler problems in a few seconds. You can successfully execute this repair tool in just one click without installing it on your computer.
This tool is fully compatible with all prevailing Windows operating systems like Windows 11, 10, 8, 7, Vista, XP and with all the Microsoft servers 2000 to 2019. This is an important note to inform you that it requires .NET framework version 3.5. Your computer must have this .Net framework v3.5. If you don't have it, then install it.
What type of errors can it be fixed?
Although it can resolve all the error messages related to the print spooler service in the Windows operating system, we are sharing with you the list of print spooler error messages that can be easily solved by this tool.
This utility may be able to fix the following kind of errors.
Print spooler service is not working
Print spooler error 1058
Print spooler service can't start
Print spooler is not working in local computer
Why choose 'Print Spooler Repair Tool' instead of manual repair?
Whether you know how to fix your Print Spooler or you don't, it doesn't matter our Print Spooler Repair tool is a must have for you. It can save you a lot of time and effort as it automatically performs a highly complex and time consuming process. The best part is that our tool doesn't require any installation and is truly lightweight. As you can see above, even a novice computer user can successfully use this tool to fix their Print Spooler related issues.
So, if you have a printer which suddenly stops printing due to some Print Spooler issues, then use our easy to use Print Spooler Repair Tool to completely fix your Print Spooler service in a few seconds with almost no effort from your side.
Feedback
Kindly leave your valuable feedback here. If you have any questions, suggestions or face any problems while using this tool then you can write us here.
FAQ
Q: What to do if the print spooler tool doesn't work for me?
A: If our tool does not work for you then try to manually restart your print spooler service manually from the services page and check if it gives you any error message or starts normally. If the print spooler does start as usual and then stops after a few seconds, it means some other third party application or .dll files conflict with the print spooler service. You'll have to fix this issue manually. To fix this, we have already created a dedicated page on how to fix print spooler service stops automatically. Especially following step 13 carefully.
Q: Does this tool require any specific .NET firmware version v3.5?
A: Yes, it requires .Net framework v3.5. Without it, it wouldn't start. If you don't have one, then download it from here.