Sometimes we need to record our computer screen to make a tutorial to show/share it with someone else. Either you are a professional tutorial maker or you do it occasionally. If you are doing it occasionally then there are a lot of options that come in free or paid editions. But if you are a professional tutorial maker then the options are limited in free. Well, in this article we will see the best screen recording software for Windows 10.
First, we learn what is screen recording software and why we use it: to recorder the computer screen, it is necessary to use some software to do the job. These programs are the screen recorders. The main function of these applications is to be able to record what is doing on the computer screen. Consequently, you can record tutorials, educational programs. Or simply leave a record of what has been done on the computer.
Today we are going to see the best applications to record the screen in Windows 10. Previously we saw how to do it natively with the operating system. However, the method has certain limitations. Now if you want to enjoy more features and options, it is necessary to use third-party tools.
---
---
List of Best Screen Recorder Software
So, let's start with the first one:
1. Camtasia (Paid)
This is a software that allows recording all the activities that are made on the computer. Consequently, you can create videos or tutorials to share and apply to different academic or work activities. Below we will detail the most important features of this popular software. Playback of files in any size.
Simple, easy to use and share videos created at home or in the studio
It has good accuracy for capturing on-screen movement.
Professional content in short production time.
It allows you to edit audio and video.
Applications created with this software can be integrated with other programs. For example: PowerPoint, Movie Maker and Audacity.
It is a very useful tool to develop e-learning processes. Since it allows you to record on video any action or operation that shows the screen. As a result, it allows you to continuously monitor activities.
It makes it easy to create beautiful interactive multimedia slides.
Applications made with this program can be integrated with other resources such as blogs
Allow teachers to use computer applications to design educational activities
This is a paid software that can be downloaded from here. However, a free 30-day trial version is offered.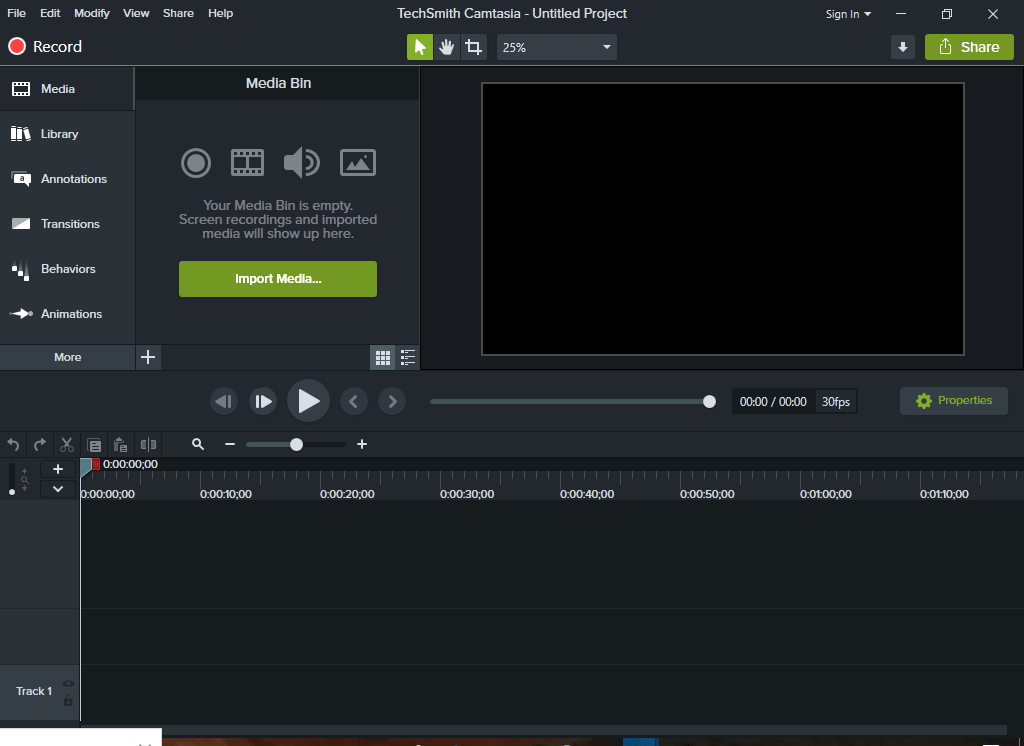 2. Free Studio
by DVDVideoSoft

(Free)

Free Studio. It is a suite of free utilities for Windows that offers a wide range of tools for audio and video editing and conversion. It includes several programs with which you can convert video and audio files between different formats. But it also includes a simple screen recorder that can be launched from the program's initial menu.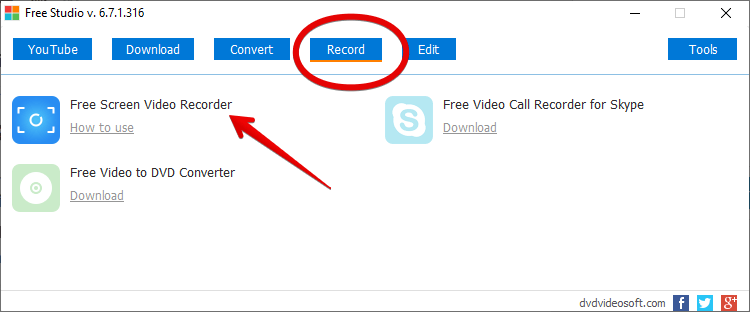 A small window with some options will be displayed immediately. For example, screen capture. But what interests us most is the option to record the screen. Indeed, the program allows you to record directly the screen, a window or a specific area of it.

Once the recording is completed, you can access the file in the My Videos folder. This is a very basic recording software, which by default sets the file to MP4. On the other hand, the complete Free Studio package can be downloaded from here. However, it is also possible to download the screen recorder individually, from here.
3. Filmora (Paid)

The next program on the list is Filmora. Despite being paid, it is a cheaper alternative to Camtasia. This version of the popular video editor of Wondershare is focused on screen recording. However, once the recording is finished, it has a simple editor to complement the work. On the other hand, Filmora also allows recording sound from the computer as well as voice, using the microphone. Likewise, it allows the recording of the screen and the webcam at the same time. This function is very useful for gamers who upload their video games to YouTube or Twitch.
Filmora Scrn is compatible with Windows 7 / 8 / 10 and also with Mac. As for hardware, you need an Intel or AMD processor of at least 2 GHz, with 2 GB of RAM. However, to record the screen in HD or even 4K you need 8 GB of RAM. Next, we will detail very briefly some aspects of the operation of this app. When the program is opened, this window appears. You can choose the option according to what you need.
The wizard then offers the options for the screen, audio and camera recording. You can also customize the frame rate. It is also possible to set the size of the screen to capture. Finally, it is possible to proceed to record games. To start recording, please click on Capture.
A menu with the basic recording controls will be displayed immediately. Please press the record symbol to start the process.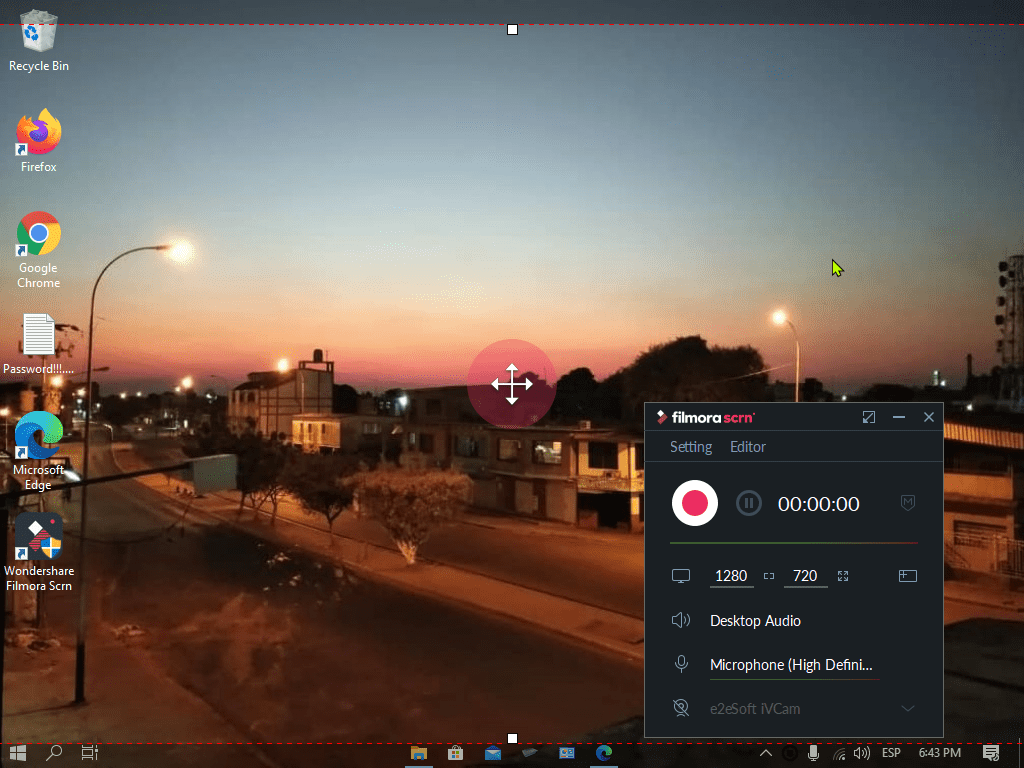 After the recording is completed, the editor will be displayed. This is an attraction of the program since you not only have the recorder, but also a simple but complete.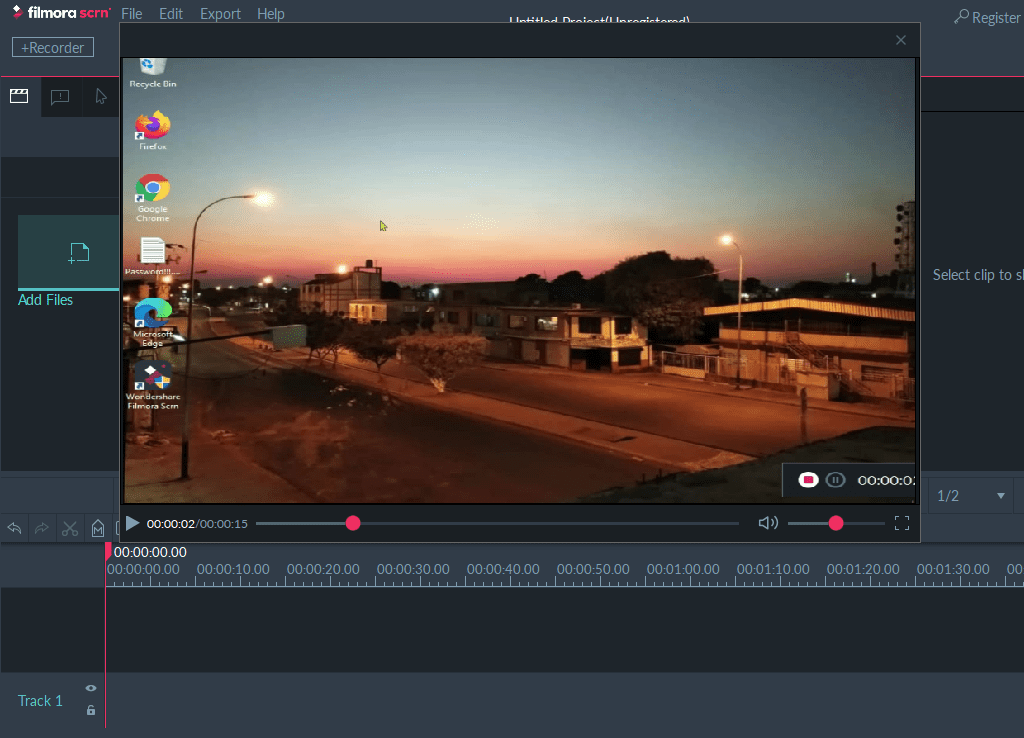 Filmora can be downloaded for free from this link. The limitation of the free edition is that the recordings have a watermark and there is no technical support.
4. FonePaw (Paid)
FonePaw is an organisation established in Hong Kong in 2014. The company created this software called FonePaw Screen Recorder. The software is available for both Mac and Windows and can be used by many people in different professions like: gamers, tech developers, new representatives etc. In this article, the main features of this useful computer screen recorder will be described for a better understanding of the software.
Features
FonePaw Screen Recorder provides audio and video recording for section of one's system and themselves or their environment.
A screenshot can also be taken of the work one is doing and one can even capture a section of the video as well.
One can also export their video through numerous formats or even place hotkeys for executing certain tasks.
FonePaw also provides hotkey customization and a mouse tracker, the mouse clicker is vital when needed to guide the viewer.
Annotations like arrows or captions can be added to your video. This provides your watchers with a good concept of what your work is about.
If you are hesitant to purchase this particular screen recorder you can just try their free trial and if you like it then you can buy the FonePaw Screen Recorder for a small price of only $34,95. Included with the package is a license for one PC along with lifetime software updates. FonePaw Screen Recorder provides numerous features that the other screen recorders cannot provide, at even a much cheaper price, this is one of the best screen recorder!
5. Monosnap (Free)
This program is very intuitive and also free. An interesting feature is that it allows you to record the screen in mp4 format.
The first thing you have to do is to download it from this link.
Then install it like any other Windows app. After the app is launched, its icon will appear on the taskbar.
There will also be a larger icon in the lower right-hand corner of the screen. Please click on either icon to start recording.
Clicking on any of the icons will display a series of options. But in this case, select the Record video option.
6. VLC (Free)

Many people know VLC as the ultimate open-source media player. What else can we say that is no longer known about it? It is a multi-platform program, with a very friendly interface that plays almost all media formats. However, maybe you didn't know that it also serves to record screen. The first thing you have to do is download and install it from this link. Once installed, just run it and click on the Media tab. Then scroll down to Open Capture Device.
In the display window, click on the Capture Device tab. Then select the Desktop option. Finally, press Play.
Once the VLC is ready, just click on Playback. Then scroll down and select Record.
From now on, everything you do on the screen will be recorded. Once you've finished the job, open the program again. Stop the playback and select the Media tab and click on Convert/Save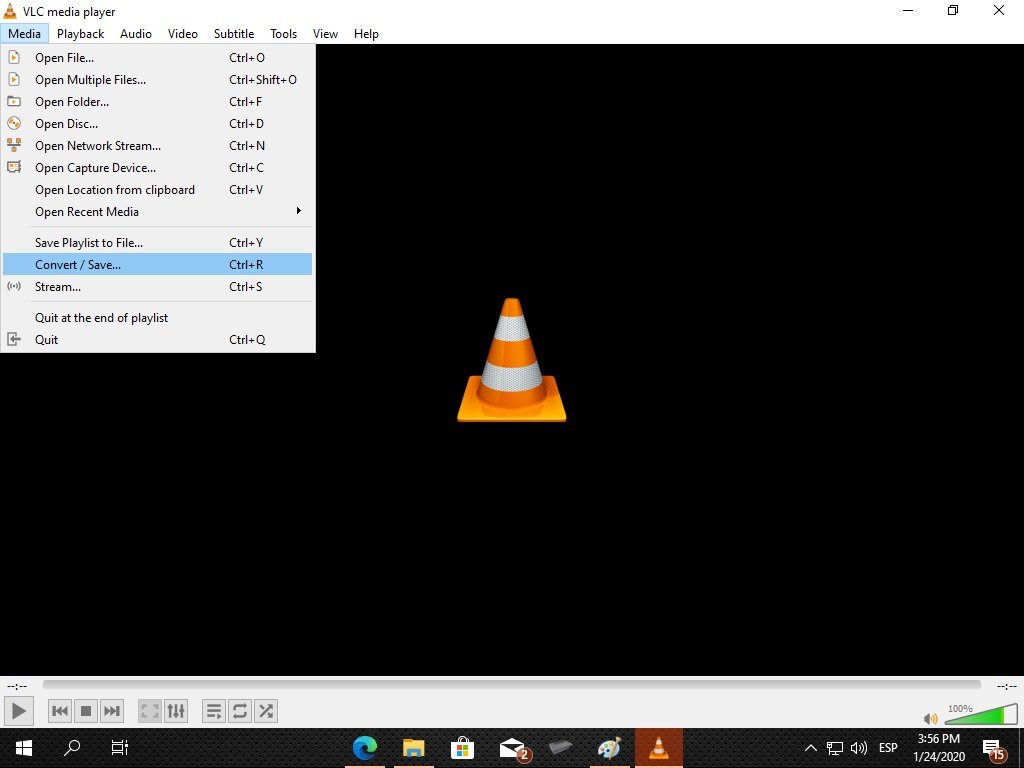 In the new window, open the Capture Device tab and then press Convert/Save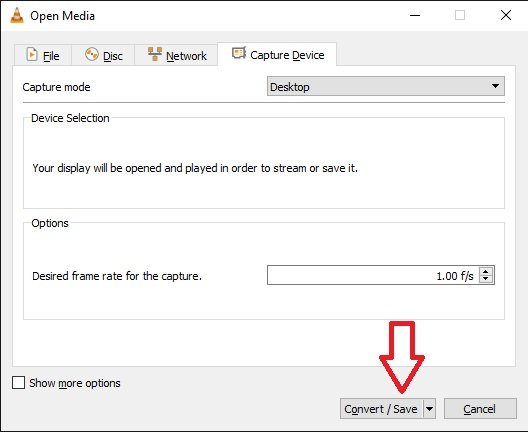 Then select the recording profile and the destination folder. Once this is set, press Start to save the project.
Finally, go to the destination folder and you will see the saved video file.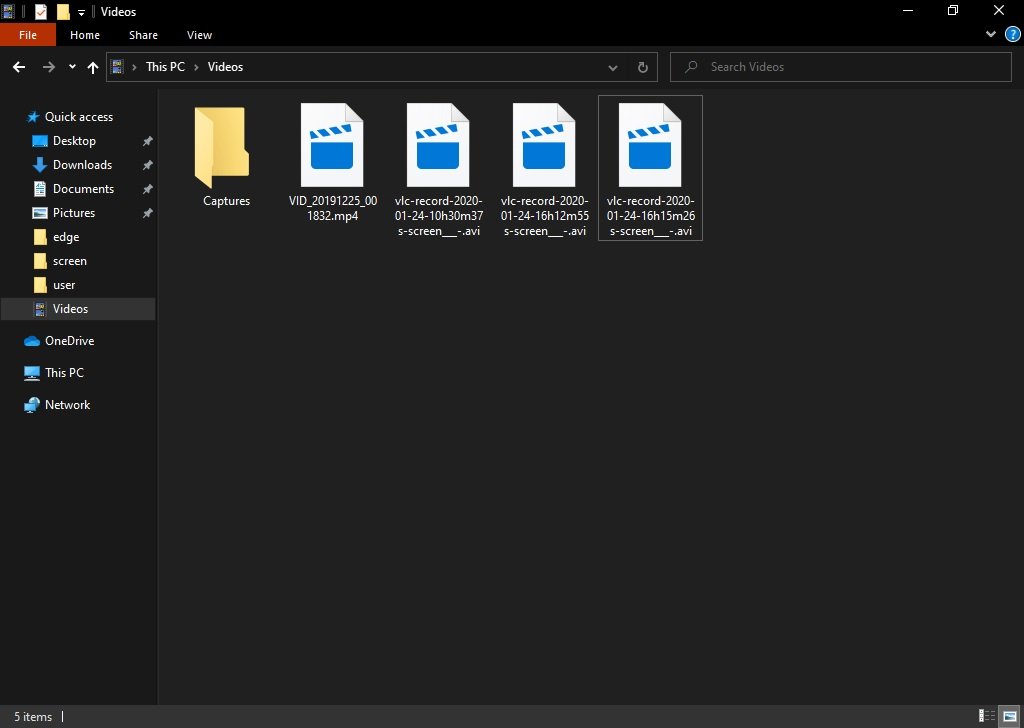 7. Ezvid (Paid)
With Ezvid we are in the presence of a totally free screen recorder. In other words, the videos won't have that ugly watermark. And this without paying for it. But perhaps the most interesting aspect is that it includes an editor to complement the program. On the other hand, its graphic interface is quite intuitive. It is also quite simple to use. Additionally, this program allows you to record up to 45 minutes of screen time in HD format. It also allows recording from the microphone input, automatically normalizing the signal.
As we mentioned, the interface is very complete and pleasant. It allows in one single screen to configure the recording mode, the title and description of the video. It also allows us to add audio from the microphone or configure background music. It is also possible to add a custom watermark. One function that I found very interesting is the possibility of adding stickers and arrows to the recording in real-time. This allows highlighting important moments of the playback. In short, it is a powerful tool and very simple to use.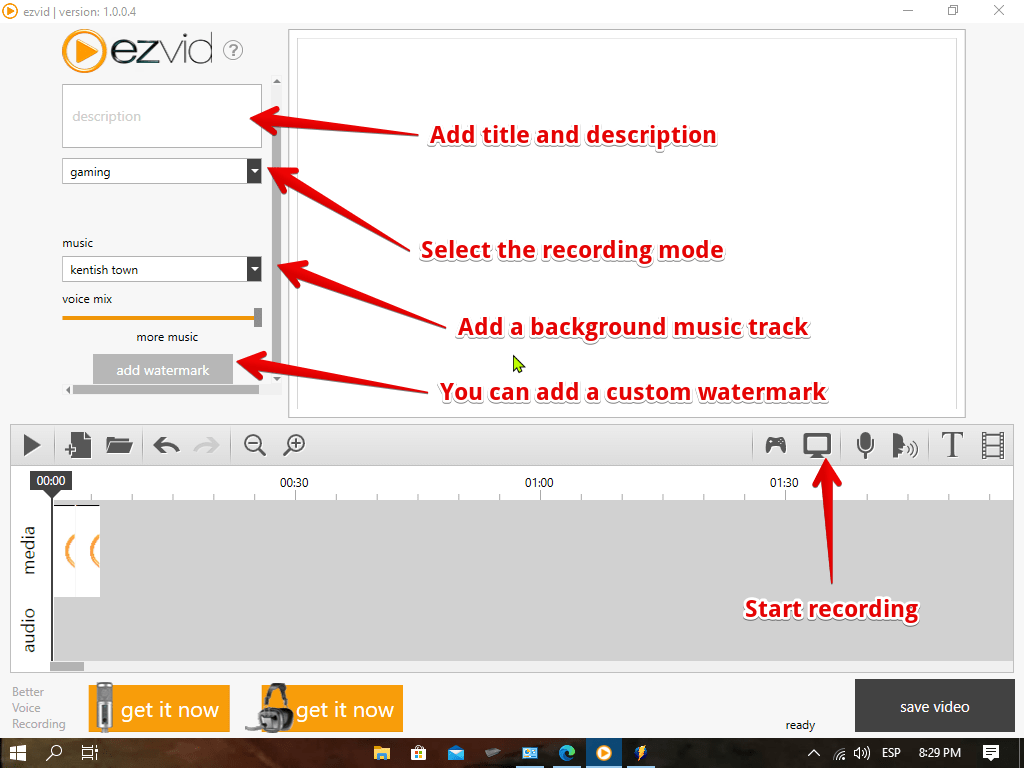 Finally, you can see the video saved in the Documents folder. I personally recommend this option for its features and for being free to use. You can download it from this link.
8. Apowersoft (Free)
Apowersoft's proposal for screen recording is different. Since it is a web-based application that allows you to record without limitations. Optionally you can install the application. But the web solution is a great option for those who want a fast method. It also has the advantage that you only have to download and install a launcher the first time. It is a simple solution, but at the same time, it has more complex options. Some of them are: export in several formats, create GIFs, add the webcam and edit the screencast in real-time.
9. OBS (Free)
Sometimes it may be useful to record your PC screen and audio. For example, to record a webinar, some steps you may need to take again in the future or record a Skype conversation. For this purpose, the OBS screen recorder function is perfect.
Several programs let you record your screen, but not all of them are freeware. Besides, not all of them allow you to record both the video and the audio at the same time.
This review examines Open Broadcaster software (also known as OBS Studio). Especially the OBS screen recording feature, which is ideal for recording your videos and audio.
This software is available for the three most popular operating systems (Microsoft Windows, Mac OS X, and Linux). You download it for free from the official website. In short, click on the operating system on which you want to install it. The installation is quick and easy.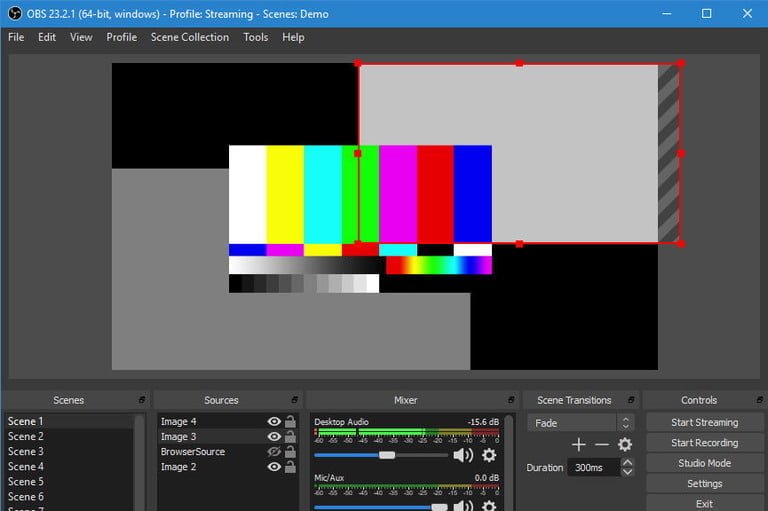 FlashBack Express is a simple and free application that allows you to record video and audio. You can also capture images from webcams and add comments through text, images or effects. It also has no time limitation and does not add watermarks. In addition, uploading videos to YouTube is a simple process. However, the free version is limited to MP4, AVI and WMV formats.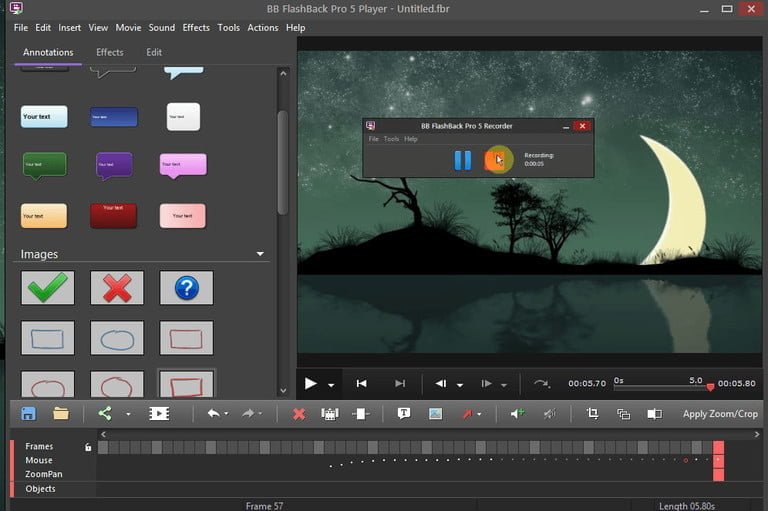 ---
Ultimately we have seen several interesting options to be able to record screen. I hope that with this guide you can make the right selection. See you soon!
Finally, we have seen the best options to record the screen in Windows 10. Most of the options I present you are open source and free. Some are paid, but with free trials. Therefore, you can choose the option that best suits your budget and needs. What is your favorite option? Do you use another one that is not on the list? Let us know in the comments. I hope you enjoyed this post. Please share it on your social networks.