The error DRIVER_IRQL_NOT_LESS_OR_EQUAL is associated with the blue screen error (BSOD). It is not easy to fix a blue screen error. But we've made a quick fix guide to get rid of this issue.
Error message: "Your PC ran into a problem and needs to restart. We're just collecting some error info, and then we'll restart for you. If you'd like to know more, you can search online later for this error. Stop Code: DRIVER_IRQL_NOT_LESS_OR_Equal"
Meaning of error (DRIVER_IRQL_NOT_LESS_OR_EQUAL)
Before discussing the solution, it's important to have a brief background of the problem. A DRIVER_IRQL_NOT_LESS_OR_EQUAL error, which appears on a blue screen as shown above indicating a faulty driver. It is caused by; corrupt system files, a damaged hard disk, improperly configured or outdated drivers. Other reason could be due to Malware or virus infections if you are not using a paid antivirus software.
The error can be traced to network drivers particularly the ndis.sys system file (when an incorrect memory address is used). The error can also be caused when full network drivers are broken, or they have errors.
How to fix DRIVER_IRQL_NOT_LESS_OR_EQUAL Error
You can troubleshoot the error in a number of ways. Below are 5 solutions for the problem. Follow the methods to fix Driver IRQL NOT LESS OR EQUAL Error Windows 10.
---
---
Method 1: Check your hardware & software
If you are unable to access your computer after seeing the blue screen Driver_IRQL_NOT_LESS_OR_EQUAL error, check hardware that you recently changed or added. For instance, check your RAM slots and clean any dust that may have accumulated there.
You should check all the hardware components that have been touched, added or changed recently. If you are lucky enough to access windows, attempt a clean boot to find the programs causing the 0x000000D1 error.
Performing a Windows 10 clean boot
Step 1: Open "Run" dialog box using shortcut keys WIN + R. Alternatively, right-click on the start menu and select Run. Proceed by typing msconfig in the Run dialog box then click OK or press the ENTER key.

Step 2: Click on the General tab and choose selective startup. Proceed by unchecking the load startup items.

Step 3: Select the services tab, check the "hide all Microsoft services" and click on Disable all.

Step 4: Click OK and Restart.
You could also uninstall recently installed software as such software could be causing the problem.
Method 2: Uninstall network drivers
Since the error tends to occur during startup preventing you from starting Windows normally in some instances, you may be required to enter Safe Mode.
Follow the steps below to uninstall network drivers if you are able to boot Windows successfully.
Step 1: Use shortcut keys Win+R to open the Run dialog box. Alternatively, rightclick on the start menu then select Run.
Step 2: Type "devmgmt.msc" then click OK to open the device manager.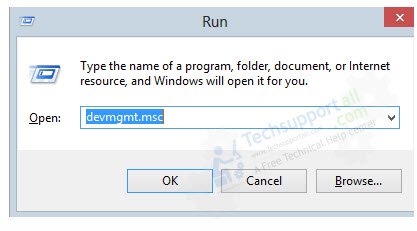 Step 3: Go to the network adapters, right-click on the network device and uninstall.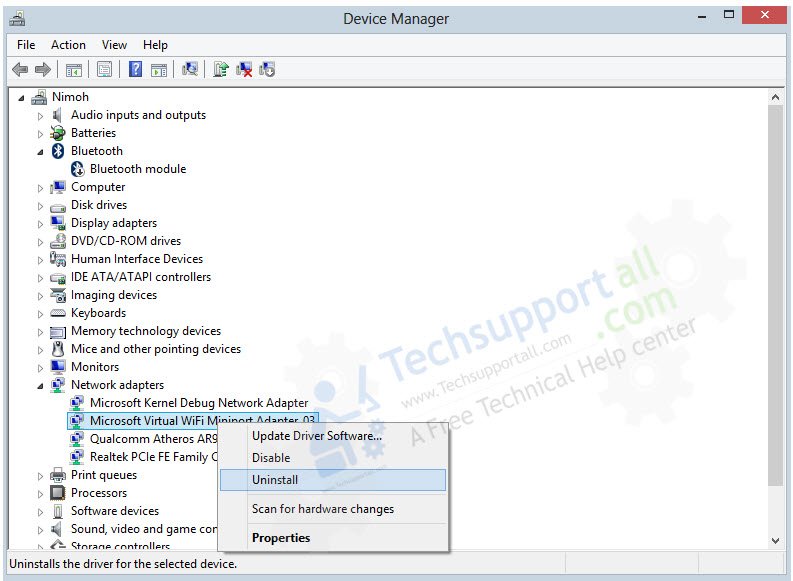 Repeat the above step if you have multiple wireless drivers.
Step 4: Reboot your computer, install the latest drivers and check if the error is resolved.
If you are unable to boot Windows successfully, conduct the above steps in Safe Mode.
Method 3: Repair corrupt drivers
It is recommendable to uninstall then reinstall the Windows 10 driver. If the error shows a *.sys file name, find the driver then uninstall and reinstall it. If the blue screen simply shows 0x000000D1 error alongside "DRIVER_IRQL_NOT_LESS_OR_EQUAL", it may be hard to determine the corrupted driver.

Method 4: Perform a virus / malware scan
Since the Driver_IRQL_NOT_LESS_OR_EQUAL error can also be caused by viruses/malware in your system, performing a virus/malware scan can detect and delete infected files/folders in your PC causing problems. We are suggesting you some virus, malware removal tools, follow them.
Method 5: Use the driver updater free tool
You can use professional driver troubleshooters to diagnose as well as repair the broken driver causing the Driver-IRQL error. This solution will fix driver_IRQL_NOT_LESS_OR_EQUAL error if you lack the time, patience or computer skills to update drivers manually or perform other related tasks needed to get rid of the error. Checkout the best Driver troubleshooter. These tools will identify and update the right driver automatically.
If you are still unable to fix this error that you can try other tutorial to fix the blue screen error.