If you have noticed that a file is consuming a lot of space on your hard drive and its name is hiberfile.sys. Do you wonder what this file is doing in the system. Is it a virus or something else. First of all on the first hand don't worry it is not a virus. It is a legit Windows system file. But if you still wonder why a system file is taking up so huge file and is it safe to delete it. Let's find out all the answer here. I will explain everything.
What is hiberfil.sys?
Hiberfil.sys is a hibernation file that is created by the Windows operating system. It is used to store the state of the current running system, so that it can be restored later on.
It is a file used to store the current state of the windows. As you put your PC in hibernate mode, it restores all the files later when you need it. So Windows uses hiberfil.sys in hibernation mode in order to restore the system to its state where you left it.
Hiberfil.sys is a legit Windows system file and not a virus as some people think about it as takes a huge amount of space. As it occupies a huge space in your hard disk. If you are having space issues and do not use hibernation mode, then you can disable it from your system to save space, and of course there are no side effects of that.
hiberfil.sys is a system-level hidden file. This implies that it was only visible in the Windows file manager if the 'Show hidden files and folders' option was checked in the folder settings.
---
---
Why hiberfil.sys takes up huge disk space
Hiberfil.sys is a system file that stores the contents of the computer's RAM when the system enters hibernation mode. It is used to quickly restore the computer to its previous state when it is powered on again.
When Windows enters hibernation mode, it takes a snapshot of all open programs, and saves them to the hard drive as a hiberfile. When Windows is powered on, it reloads these files from disk back into RAM and restores everything as if nothing had happened.
This means that any programs running in memory are also saved to disk, which can take up a lot of space if you have many programs open at one time or if you run resource-intensive applications such as games or video editing software. The amount of space taken up by your hiberfil.sys will be large.
Hiberfil.sys is a file that is used by Windows to remember the contents of the system when it goes into hibernation mode. When Windows enters this mode, it saves the contents of memory to disk so that they can be restored later. This file is only created when you use hibernation mode, and it's not created if you use standby or sleep modes.
Windows has 2 power management mode
Windows has two modes for power management, one is Sleep mode and the other is the hibernation mode. In sleep mode, you leave your computer in a low power state and whenever you use it again you can resume the same work instantly. However, in hibernation mode the PC shuts the system completely and saves the memory into the hard drive. To know more about these two modes refer to the Sleep vs Hibernate.
This file is only created when you use hibernation mode, and it's not created if you use standby or sleep modes.
Can we delete hiberfile.sys?
Hiberfil.sys is a Windows system file, so this file cannot be deleted if the hibernation mode is on. But, if you are not using hibernate mode, you can delete the hiberfil.sys.
You can delete this file if you want to free up space on your hard drive, but doing so may cause some problems with your computer because Windows won't know how to restore your system in
How to check if hibernation is on?
Open the command prompt and check the directory list, if hiberfil.sys is mentioned in that list, this means that the hibernation mode is on. Or you can check from Windows Explorer in the C drive and if you found hiberfil.sys file that exists there, it means it is enabled.
Go to the Settings → System → Power & Sleep. Click on the additional power settings. Click on the power plan to change the settings. See if hibernation is on or off for various provided settings.
Also read in detail how you can turn on or off the hibernate option: How to enable / disable hibernate option in Windows
How to disable or delete hiberfil.sys file on windows 10
First, open command prompt with run as administrator.
Once you are there, enter the following command powercfg.exe -h off. Press enter and then type exit. You may restart your computer now.

powercfg.exe -h off

You will notice that when you click the shutdown option in the start menu, there will no 'Hibernate Mode' anymore. Also, if you open the local disk C, you will see that hiberfil.sys file has been deleted. In addition, you will get back your space occupied by this file.

To enable it again, you can type the command powercfg -h on and press enter.


powercfg -h on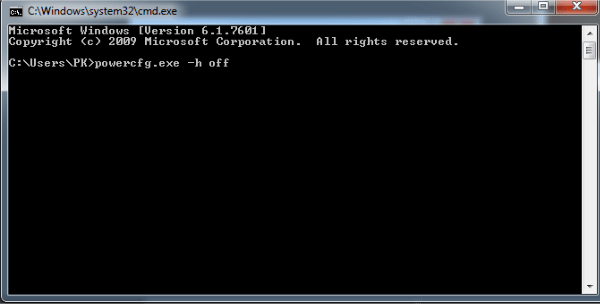 This method of disabling the hibernation mode can be applied to Windows 10, Windows 8, Windows 7. Windows XP has a little different method to turn off hibernation.
To Disable hibernation in Windows XP go to the Control Panel → Settings → Power Options. Click on the Hibernate tab to enable or disable the option here.
Why delete hiberfil.sys?
Although we do not recommend deleting it, but for certain reasons you may need to delete this file. For example, if you have limited space on your PC and because this file takes up a huge amount of space on your hard drive then you may delete this file.
Resize hiberfil.sys
By default, 75 percent of your RAM is occupied by this hidden file and it is stored in the C drive. The settings can be customized in the internet explorer, but if you want to delete it anyways, then there is no need to change the settings.
However, if you want to resize it, then open the command prompt and enter the "powercfg.exe /hibernate /size 50" command and in this way the 75 percent occupied space will be reduced to 50 percent which is the minimum that can be obtained.
powercfg.exe /hibernate /size 50
FAQs