Hiberfil.sys is a legit Windows system file and not a virus as some people think about it as takes a huge amount of space. As it occupies a huge space in your hard disk. If you are having space issues and do not use hibernation mode, then you can disable it from your system to save space, and of course there are no side effects of that.
What is hiberfil.sys?
Hyberfil.sys is a file used to store the current state of the windows. As you put your PC in hibernate mode, it restores all the files later when you need it. So Windows uses hiberfil.sys in hibernation mode in order to restore the system to its state where you left it.
Windows has two modes for power management, one is Sleep mode and the other is the hibernation mode. In sleep mode, you leave your computer in a low power state and whenever you use it again you can resume the same work instantly.
However, in hibernation mode the PC shuts the system completely and saves the memory into the hard drive and completely restores the same state as it is turned on again. In this way, power consumption is reduced and there is no need of completely rebooting the windows, but this file takes a significant space of the drive.
---
---
Hiberfil.sys is a Windows system file, so this file cannot be deleted if the hibernation mode is on. But, if you are not using hibernate mode, you can delete the hiberfil.sys.

How to check if hibernation is on?
Open the command prompt and check the directory list, if hiberfil.sys is mentioned in that list, this means that the hibernation mode is on. Or you can check from Windows Explorer in the C drive and if you found hiberfil.sys file that exists there, it means it is enabled.
Go to the Settings → System → Power & Sleep. Click on the additional power settings. Click on the power plan to change the settings. See if hibernation is on or off for various provided settings.
How to disable or delete hiberfil.sys file on windows 10
First, open command prompt with run as administrator.
Once you are there, enter the following command powercfg.exe -h off. Press enter and then type exit. You may restart your computer now.

powercfg.exe -h off

You will notice that when you click the shutdown option in the start menu, there will no 'Hibernate Mode' anymore. Also, if you open the local disk C, you will see that hiberfil.sys file has been deleted. In addition, you will get back your space occupied by this file.

To enable it again, you can type the command powercfg -h on and press enter.


powercfg -h on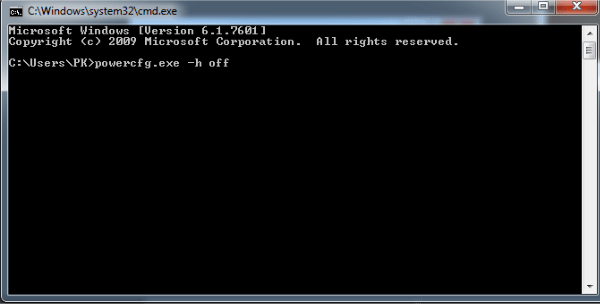 This method of disabling the hibernation mode can be applied to Windows 10, Windows 8, Windows 7.  Windows XP has a little different method to turn off hibernation.
To Disable hibernation in Windows XP go to the Control Panel → Settings → Power Options. Click on the Hibernate tab to enable or disable the option here.
Why delete hiberfil.sys?
Although we do not recommend deleting it, but for certain reasons you may need to delete this file. For example, if you have limited space on your PC and because this file takes up a huge amount of space on your hard drive then you may delete this file.
Resize hiberfil.sys
By default, 75 percent of your RAM is occupied by this hidden file and it is stored in the C drive. The settings can be customized in the internet explorer, but if you want to delete it anyways, then there is no need to change the settings.
However, if you want to resize it, then open the command prompt and enter the "powercfg.exe /hibernate /size 50" command and in this way the 75 percent occupied space will be reduced to 50 percent which is the minimum that can be obtained.
powercfg.exe /hibernate /size 50
FAQ:
Q: Is it safe to delete hiberfil.sys
A: Yes it is safe to delete. Since it is a system file, it will deny deleting it directly. To delete it you need to disable the hibernation option.
Q: Is it a virus?
No, this is not a virus file. But sometimes viruses can infect the file itself. So it is always recommended to keep an antivirus in the system
Write your questions / experience in the comment box below.