What is Pop up?
Pop up means something appear suddenly or unexpectedly. In computer world Pop up is a term used for a smaller screen or Window that appears above all other screens. They can be triggered on mouse click, mouse over or after a predefined time. Initially pop ups were used for a nicer user interface to provide useful information quickly to the users. But these days pop ups are notorious for advertisements. And the term become the Pup up ads.
What Are Pop-up ads?
Pop-up ads are the ads that opens up in a separate window while you browse any website. Not just the separate windows but as these days most of the browser support tabs, so they may also open up in a new tab. Even not just the pop up ads but you may also notice the pop under ads as well which remains open in a separate tab.
Are the Pop ups harmful?
Not all the pop ups or Pop up ads are harmful as some times in some legitimate sites they also contain some useful information. But some bad elements use this technique to scare the users for unfair things like to spread the malware or fake malware to force the users to pay for fake tech support. So basically these days scammers use this technique. For this reason mostly all browsers by default block these pop ups. But for some good reason some times we may require to enable the pop ups. Or if they are already enabled and you need to disable them then here is the guide for each browser to turn pop ups on or off.
How to enable or disable pop up ads in web browser
How to turn Off / On Pop-ups in Google Chrome
How to turn Off / On Pop-ups in Mozilla Firefox
How to turn Off / On Pop-ups in Internet Explorer
How to turn Off / On Pop-ups in Edge Browser
How to turn Off / On Pop-ups in Google Chrome
By default chrome have enabled this option for the security of the users. It display a warning when it blocks any pop-up while your browse the websites. You can opt to view or block that pop-up. If it is not then you can enable it or if you require to disable it then you can do so by following the below easy steps. See the screenshot images for more details.
---
---
Go to the Settings option from the Menu.
Click on the advanced settings and choose the Privacy option.
Now click on the Content Settings button.
Scroll down and find the Pop-ups settings to allow or block the pop-ups for all sites. To enable or disable for a
particular site you can click on the Manage Exceptions option.
How to Block / Allow Pop-ups in Mozilla Firefox
Firefox by default blocks pop ups and display a warning message each time it blocks pop-ups. You can Turn on or Off Pop-ups in Firefox by following the below simple steps.
Click on the Menu and choose the Settings.
Select the Content tab from the options.
Find out the settings for Pop-ups and change as per your requirement. In Firefox as well you can add the exception list to allow / block settings for a particular website.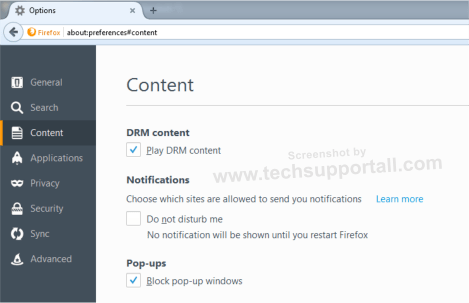 Turn On / Off pop-up blocker in Internet Explorer.
Click on the Tools Menu.
Click on Internet Options.
Select the Privacy tab from the Internet options pop-up windows.
And Turn on or Off Pop-up blocker.
For more settings you can click on the settings option to change the level of Blocking. By default Internet Explorer blocks pop-ups except trusted sites.
How to Enable / Disable Pop-up ads in Edge Browser
Edge is the Newest web browser from Microsoft introduced in Windows 10 to replace the Internet Explorer.
Click on the More Actions menu and Select Settings options.
Click on the View advanced settings by scrolling down. Click on it.
Find out the Pop-up setting to Turn on or Off Pop-ups.
Hopefully this guide will help you to block or allow pop-ups on your browser. Read below why we need to change these settings.
Why we need to Turn On or Off Pop-ups?
Pop-ups come up automatically in front of you without your permission. So sometimes they can become the medium of spreading malware. It is always advisable to block the Pop-ups always.  But for legitimate and trusted sites you may sometimes require to allow Pop-ups for a specific site. Every browser have these days settings to configure pop-up blocking. and you can Turn on or Off them as per your requirement. Even some banking site sometimes ask you to enable the pop-ups. So it is not easy to identify the good or bad pop-up. But always only allow trusted sites to show the pop-ups.
FAQs