Find the best offline email client by learning about their features and comparing them with other best email apps like Windows mail and Apple mail.
Email has become the preferred method of professional communication, due to its widespread availability and ease of use.
What is an Email Client?
An email client is a computer program that provides an interface for managing email messages. These programs are used to send, receive, and organize email messages.
These email clients come in two forms, online cloud email client or Web based email client. And another is offline email client or Local email app that it works on a computer system, and mail can be accessed offline. Later on, they synced when you would go online.
Email clients for Windows are a great way to manage and organize emails right from the desktop. They can be used for personal or business purposes. In this article, we will be reviewing the best email clients for Windows 11 and 10.
---
---
A local email app keep the emails in the user's computer and incoming and outgoing mails can be configured using the SMTP / IMAP / POP3 server information.
List of Best Offline Email Client Programs
I have personally used many email clients by configuring business emails using SMTP and IMAP / POP server details. So based on my personal experience I am here curating the best paid and free email clients good for Windows 11 and 10.
#1 eM Client
Easy to use email client with chat feature. It has calendar, task, and label features similar to Gmail.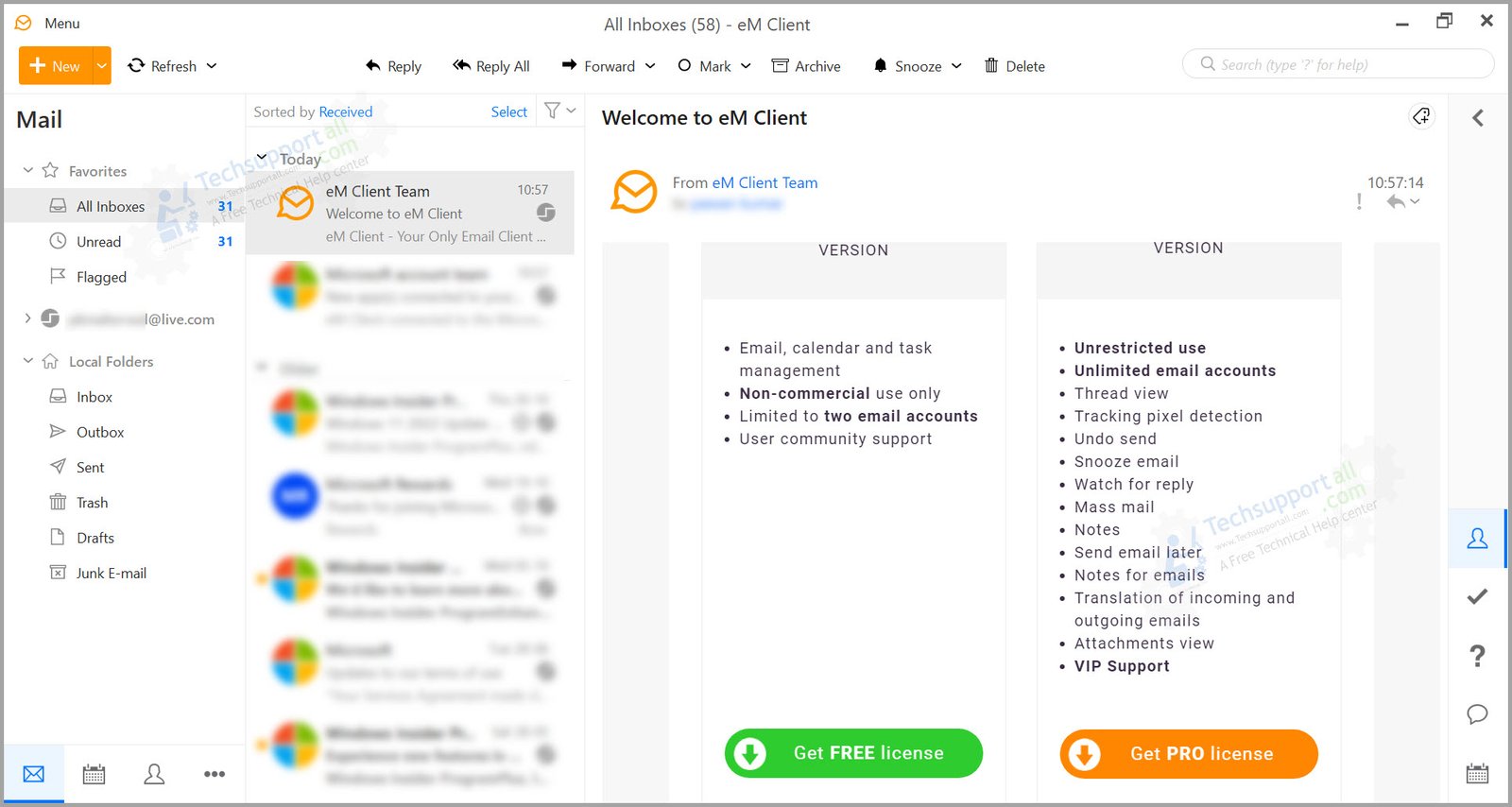 Em client provides more productive tools and is perfect solution to access emails offline on the desktop. It is available for both Windows and Macs. It is compatible with the touch screen devices with gesture and touch support.
Features
It has a sidebar that shows recent communication, chats, and agendas to increase productivity.
Use the Snooze email option to remind yourself later. To schedule the emails, use the Send Later option.
Easily search attachments. Option to insert images and other formatting options.
Spelling checker, message translation.
Message encryption as well as PGP encryption.
Compatibility with other productivity tools like Office 365 and easy import of emails from other clients.
Automatic live backup is supported. It also supports the AirSync protocol.
The e-mail client's best feature is that it comes with a free license for up to two email accounts.
Price:
– Free for up to 2 accounts with only basic features
– 30 days trial with full features
– $49.95 for one license with lifetime upgrade and 1 year VIP support
– Multiple license comes with additional discount.
Website : eM Client
#2 Outlook 365
It is a widely used, reputable email client with built in calendar feature.
Get outlook email and calendar app
Many people get confused with the outlook. Outlook was a Windows email client. But Microsoft relaunched its email service, hotmail.com and live.com, as outlook.com. So, Outlook is now a Microsoft email service. Outlook express is replaced with Windows mail.
Outlook's free plan comes with 15 GB of email storage and 5 GB of OneDrive cloud storage. It also includes free access to online office apps (Word, Excel, and PowerPoint). But free outlook app is just an online interface.
To use the native Outlook desktop app, you must purchase the Office 365 plan. The Office 365 paid plan includes the desktop versions of all apps, 50 GB of mailbox storage, and 1000 GB of OneDrive cloud storage.
Outlook 365 includes advanced features like a suspicious link checker, attachment scanning, data encryption, etc. With the 365 subscription, you get all of these features without any ads.
Features
Inbuilt Calendar
Data encryption
Suspicious link checker
Attachment scanning for malware.
Price:
– Free without desktop app and without premium features.
– 30 days premium trial.
– $69.99 / year with additional benefits 50GB mailbox, 1 TB OneDrive space & access to office desktop apps.
Website : Microsoft Outlook
#3 Thunderbird
Thunderbird is an open source and free software for email, chat, newsfeed and calendaring. It is developed by the Mozilla foundation the group behind Firefox browser. There is an active community of experts working to make it more secure and useful. It is free to use.
Features
It has a junk mail filter to fight spam email messages. It can also use the mail provider's spam filter. It also learns automatically to improve the spam's accuracy.
Thunderbird's phishing protection provides security from dangerous links.
Share large files with Thunderbird Firelink.
As it is an open-source email software, there are lots of community add-ons available there. And they can be installed or removed directly in Thunderbird using the Add-ons Manager.
End to end encryption for more security and privacy.
Price:
– Free
– But optionally you can contribute by donating to keep up the open source development
Website : Thunderbird
#4 Mailbird
Mailbird email app let you fly through emails by using its Speed Reader feature.
It has a unified inbox and contacts manager to easily manage all of the contacts in one place. This email app comes with an easy and clutter-free interface that can be learned within a very short time. It has the option of integration with other social apps like WhatsApp, Twitter, Facebook, etc.
Message snooze.
Multi Language support.
Speed reader feature helps to go through all emails very fast.
Connect via linkedin from within the inbox.
Attachment search feature to find the attachments fast.
Highly customizable, with a variety of attractive email layouts to choose from.
Price:
It comes with yearly and pay once option.
– $3.25 / year
– or $49.50 pay once.
*Pay once does not come with lifetime updates. For lifetime updates you need to pay extra $10 / year.
Website: mailbird
#5 Mailspring
They call their self as Newton's alternative. But in my view it is an alternative to Thunderbird.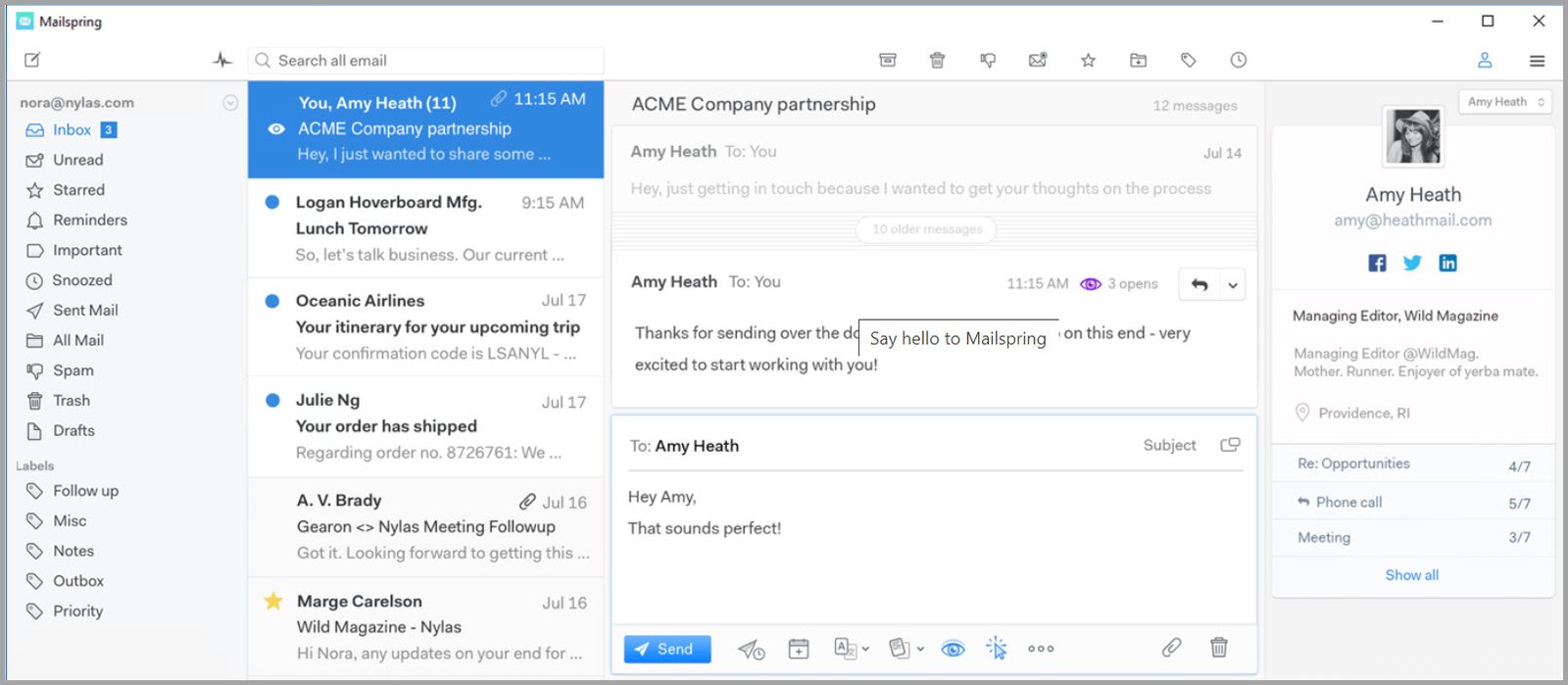 Mailspring is an open-source project and is free to download. But it also offers a paid subscription with additional features. Free includes
Unified inbox
Translation
Spell check
localization
Easy RSVP
Multiple layouts and themes.
It offers some pro features with some limitations, like read receipts and link tracking, etc.
Pro includes extra features
No limit for snooze, send later and schedule reminder features in pro.
read receipts, quick reply, link tracking
Price:
– Free for basic use.
– Pro features with $8 / month
Website: Mailspring
#6 Windows Mail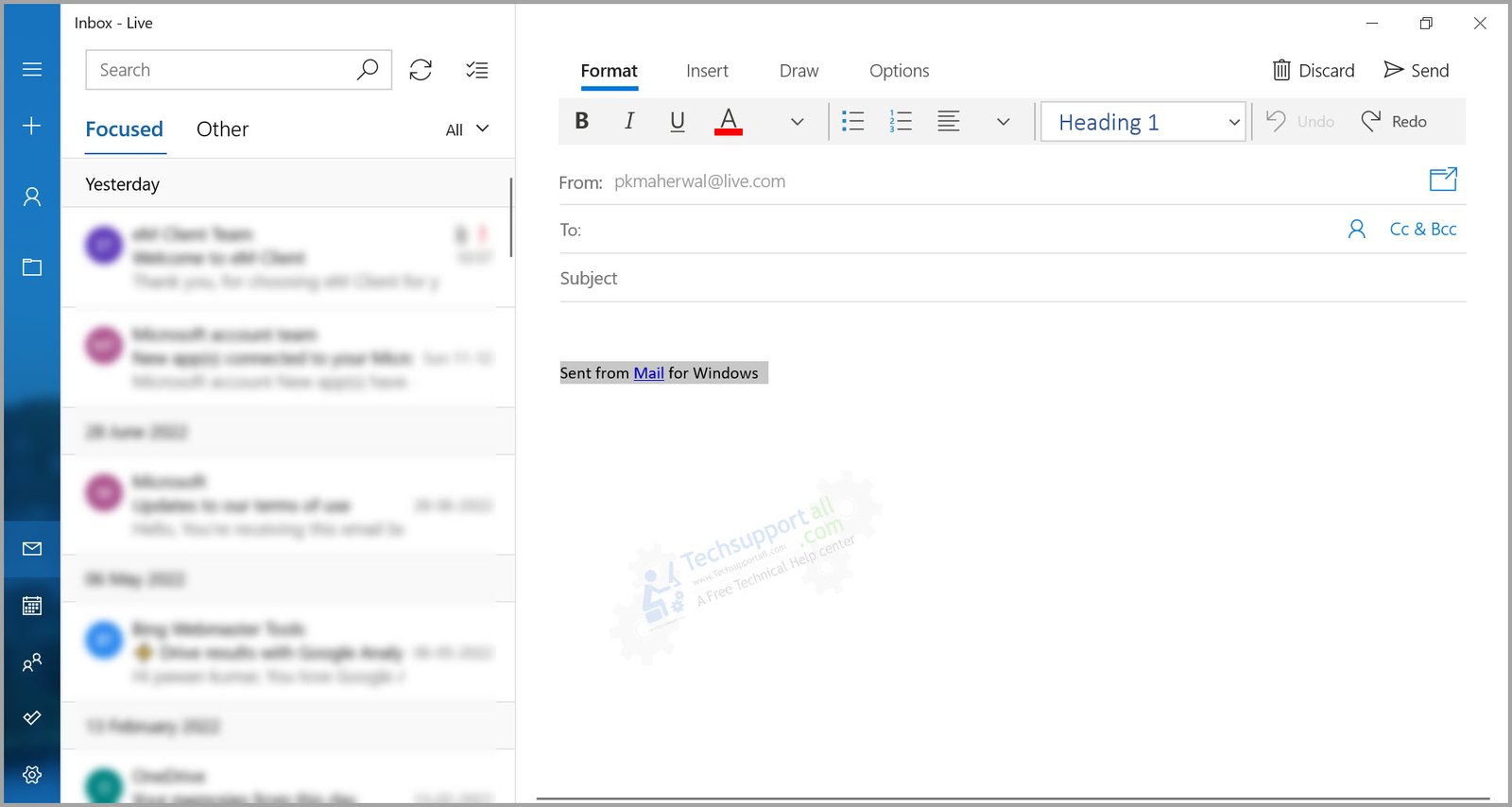 This is a simple email client without any extra feature bundled with Windows.
Comparison of Top email clients
Find out the comparison of top 3 offline email clients with the inbuilt Windows Mail & Apple mail
Email Client
eM Client
Outlook
Thunderbird
Windows Mail
Apple Mail
Calendar & Tasks
yes
yes
yes
yes
Yes
Chat
yes
–
yes
–
–
Encryption
yes
yes
yes
–
–
Snooze
yes
–
–
–
–
Full offline access
yes
yes
yes
–
yes
Read Receipt
yes
yes
yes
–
–
Phishing protection
yes
yes
yes
–
yes
Automatic Reply
(Out of Office)
yes
yes
yes
yes
yes
Functions of an Email Client
The reliability and ease of use of email clients are crucial to their function as communication tools.
One of the most important aspects of running a business is keeping in touch with your clients and staff, and email clients facilitate this by providing a centralized hub for both parties to communicate and collaborate.
In addition, they offer specialized functions for internal company communication. Email clients today employ sophisticated encryption algorithms and key pairs to keep your messages private while in transit.
Thirdly, email clients are efficient because they allow you to maximize your productivity and efficiency by supplying a wide range of optional extras like snooze feature, send later, translations and so on.
Why companies prefer local email app over web based email clients
The use cases of email are also increasing. Businesses use it for their day-to-day work, while other organizations use it for internal communications.
Most companies have a dedicated email client that they use to send and receive emails from customers and clients. This is because the security features in these email clients are better than those in web-based services.
It is also a good way of keeping track of what you are doing and what others are doing. Another reason is that web based email software have limited cloud space whereas in local machine it is cheaper and more space than the online cloud space.
What to consider when select the email client for offline use
There are many things you need to consider before selecting a certain email software.
You need to consider what features you need in your email software for windows like how many accounts can be added, how many messages can be sent at once, how many attachments can be sent at once and if it supports HTML templates or not.
Email is a great way to communicate with customers, but it's also a great way for hackers to steal your customer's information. That's why it's important to have an email software that can protect your data from phishing attacks and malware attacks..
Some of the features that make paid email software for Windows more secure are: Encrypted messages & Malware protection.
On the other hand, if I talk about phishing and malware protection, then this task can be done by your antivirus software as well. This feature is included in a good security suite.
Also check.
Final verdict for best offline email client
I have listed here email clients that support full offline access and can be easily installed on Windows or Mac systems. Finally, the best open source and free email client is Thunderbird. The best overall email app is EmClient. Though each user has their own set of requirements and budget, choose wisely which one best meets your needs. Please share your experience.
FAQs