Outdoor WiFi extenders are devices that let you use your home WiFi network outside, in the garden, on a farm, or in other buildings that are a long way away.
There are a lot of different types of long range outdoor Wi-Fi extenders available with different use cases and specifications. So I decided to put together all the options for outdoor WiFi extension and long-range connectivity as per my own experience and research.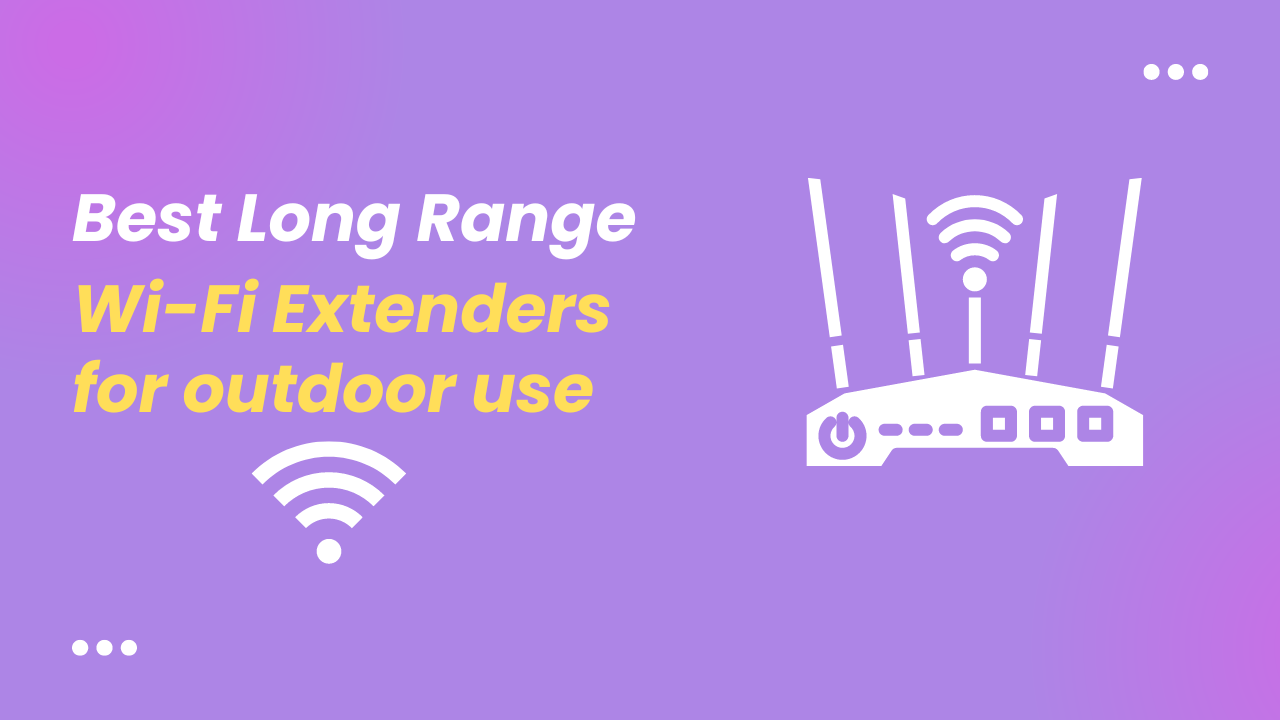 Best long range WiFi extenders for outdoor use
It was not easy to make the list of the best long range wifi extenders for outdoor use. By testing many outdoor wifi boosters personally, finally I made the list of reliable WiFi extenders provided by reputed companies.
Below are the different type of weatherproof WiFi products that are suitable for outdoor environment and can be used for long distance connectivity.
Each of these WiFi Extender has different variations. They come in different WiFi versions. So choose carefully.
---
---
#1) NETGEAR Orbi Outdoor Satellite WiFi Extenders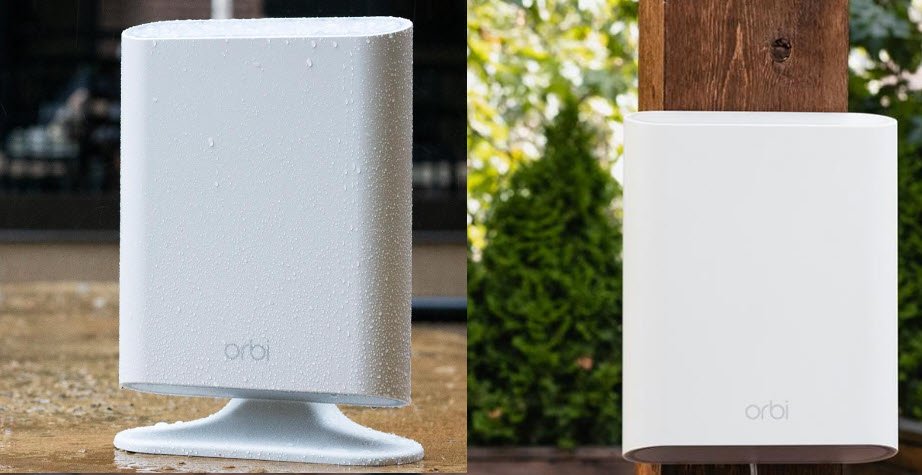 Best indoor / outdoor range extender to boost the existing WiFi network.
Orbi Satellite WiFi Booster is the best choice if you are looking for a wireless home network range extender for either indoor or outdoor use. It works with any WiFi router, gateway, or ISP rented equipment.
It is an IP66-rated weatherproof extender that can withstand rain, dust, snow, and sprinklers. So it is ideal for indoor as well as outdoor use.
With WiFi 5 and WiFi 6 generations, it comes with tri-band, and for 6E generations, it comes with quad-band support. A dedicated 5 GHz (1733 Mbps) extra band is specially for the WiFi link between the Orbi Router and Orbi Satellite extender.
This dedicated link enables a faster and more reliable data connection. Six high-performance antennas with amplifiers help give better coverage and signal strength. It can also be used to create a mesh network.
It can be connected in two modes: Orbi mode and Extender mode. Orbi mode can be used only if you have an Orbi router; otherwise, you need to use it in extender mode.
With 512 MB RAM and 256 MB NAND memory, it provides better range outdoors. It also works with Amazon Alexa and Google Assistant. The operating temperature range is between -20°C and 50°C. It is a DIY outdoor range extender, which does not require professional installation but can be easily mounted anywhere—in a porch, gazebo, shed, etc.
Setup is very easy using the Orbi app. with a single WiFi network name, it provides seamless connection switching without any interruptions. LED lights at the bottom of the extender provide ambient lighting for the outdoors.
Personal Review
In my personal range testing, Orbi Satellite Extender has a good range within a 6-meter (20 feet) radius. Internet speed drops by up to 60% when you are 15 meters (50 feet) away. If you have a multistory house or need to boost signals up to the garage or garden, It is a good choice. It can be backhauled by wire or wireless. It is expensive, but worth the money if you are looking for a reliable wifi extender to use outdoors.
Pros
Comes with extra dedicated backhaul band between router and extender.
Six Antennas.
Cons
Orbi outdoor extenders: products
Below are different versions of the Orbi series wifi extenders.
Last Amazon price update was: November 30, 2023
#2) TP-Link EAP Outdoor Access Points
You must connect it to the main router using an ethernet cable.
Best long range WiFi extender to boost the existing network with ethernet cable
TP-Link EAP series devices are suitable for extending WiFi connectivity. It is a dual-band extender that has a range of up to 200 meters on 2.4 GHz and 300 meters on 5 GHz in open space. But remember, if there are obstacles, this range could be different. In real-world scenarios, it can provide at least 15 meters of coverage.
All EAP model extenders are also mesh compatible. But to create the mesh, the first root access point should be connected by cable to the main router, and then other EAP extender can work in the mesh. Mesh can only be created with the Omada software controller. You can use a 60 meter cable with it.
A PoE (Power over Ethernet) adapter is included with it. With PoE, you do not need to supply the power separately. Ethernet cables carry both power and data.

Because it has an IP65 rating, it is safe to use outside. Its weatherproof enclosure provides protection against ESD surges of up to 15 kV and lightning strikes of up to 6 kV.
Two omnidirectional MIMO antennas provide a strong and reliable signal. Antennas are detachable and can be easily replaced with other external strong antennas if required.
This is a small size extender and it can be easily mounted on a wall or on a pole. A mounting kit is included with the device. Despite its small size it has a good long range in the outdoor.
The Omada EAP225-outdoor extender is an affordable professional piece of equipment. This WiFi WAP is an excellent option if you need a range extender for your office or want to host a party in your backyard.
There are many variations of EAP devices, including indoor and outdoor models. There are primarily three models available for use outside. EAP110-outdoor, EAP225-outdoor, and EAP610-outdoor. The same models are also available for indoor use. So, if your use case is outdoor, choose an outdoor wifi extender model carefully. Check the outdoor written on it.
Personal Review
I have tested the EAP 225 outdoor extender on both bands in an open area. At the 2.4 GHz band, the signals dropped up to 50%, even near the extender itself. But at 5 GHz, it provides the full bandwidth near the router.
At 100 meters, the 5GHz speed was 40% and the 2.4GHz speed was only 5%. As an addon extender you need to provide a wired backhaul to it. But with Omada app multiple extenders can be used in mesh. This is cheaper than the orbi but required wired backhaul.
Pros
Small size and powerful extender.
Cons
First extender need a wired backhaul. (Wired input from the router)
EAP Outdoor Extenders
Last Amazon price update was: November 30, 2023
#3) TP-Link Long Range Outdoor CPE
Best solution for point to point connectivity over a very long distance
After providing two different solutions, here is another solution to fill the gap of many Kilometers. If you need to connect to another building many miles away, this is the ideal enterprise-level very long range directional wifi extender device.
This is called CPE (customer premises equipment). It is a directional wifi extender for long range transmission and reception. TP-Link has many options with different coverage and band requirements. It can transmit signals over long distance from 5 km to 30 km.
This is a commercial solution used by the wireless Internet service providers (WISP) to distribute broadband connections. These CPEs are not available in dual band, so you have to choose the right band before ordering either 2.4GHz or 5GHz. This is useful to provide point-to-point or point-to-multipoint connectivity over a long distance.
You need at least two devices at each end to establish point-to-point. And then another device will be connected by wire at the receiving end to further establish an access point that other devices can connect to. So it is costly, but it is the best way to connect two WiFi networks many miles apart.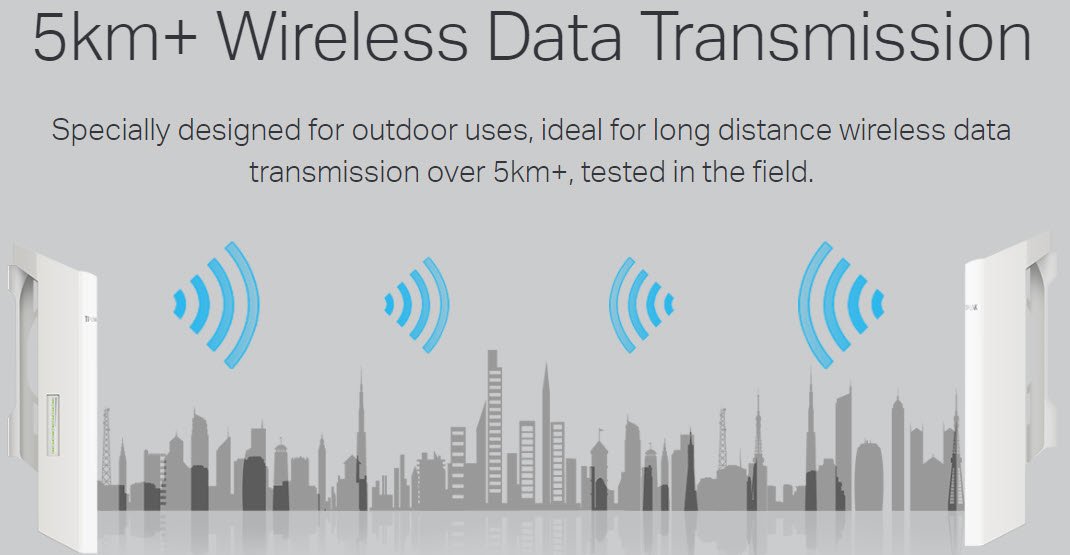 These radio devices are powered by the PharOS centralized management platform and web interface to allow you to control all the devices with ease. Because these are used only outdoors, they come with a weatherproof enclosure that provides protection from harsh weather. It can survive between -40 °C and 70 °C. It was outfitted with minimum two directional antennas of 9 dBi.
According to wireless bands and distance, CPEs come in various models. CPE210 has a range of 5 km, and CPE710 comes with a 30 km wireless range. So choose the best fit for your requirements.
Pros
Long range connectivity up to 18 miles.
Cons
Can only be used for directional point to point connectivity.
Last Amazon price update was: November 30, 2023
#4) Linksys Outdoor Wireless Business Access Point
Business Cloud Managed AC1300 WiFi 5 Outdoor Wireless Access Point
Find on amazon.com
Find on amazon.in
Best weatherproof outdoor extender with 4 antennas
This outdoor wireless extender with an IP67 rated weatherproof access point is a business-class device perfect for outdoor deployment. It has dual-band functionality with a combined speed of 1300 Mbps. There are two antennas for each band, for a total of four removable antennas.
It can be remotely managed with the Linksys cloud manager. Its operating temperature is between 0 deg C to 50 deg C. It has a PoE+ compatible gigabit LAN port. It also comes with a 5-year warranty in most countries. In Australia and New Zealand, it comes with a 2-year warranty. This is similar to EAP extender but it comes with 4 antennas.
Pros
4 Antennas with good connectivity range
Cons
No WiFi 6 support. It is a WiFi 5 extender.
#5) TP-Link Deco X50-Outdoor
If you are using the TP-Link Deco mesh system indoors and want to extend that mesh to the outdoors, then this is the perfect solution for you. This outdoor device seamlessly plugs into your Deco Mesh system.
It is a waterproof and dustproof extender specially designed for outdoor use. It is a WiFi 6 Standard extender device which supports higher coverage and speed with dual band.
TP-Link Deco Outdoor Mesh WiFi (Deco X50-Outdoor), AX3000 Dual Band WiFi 6 Mesh, 2 Gigabit PoE Ports, 802.3at PoE+,Weatherproof, Works with All Deco Mesh WiFi
9 new from $119.99
Free shipping
#6) Netgear AC1750 WiFi Mesh Extender (EX6250)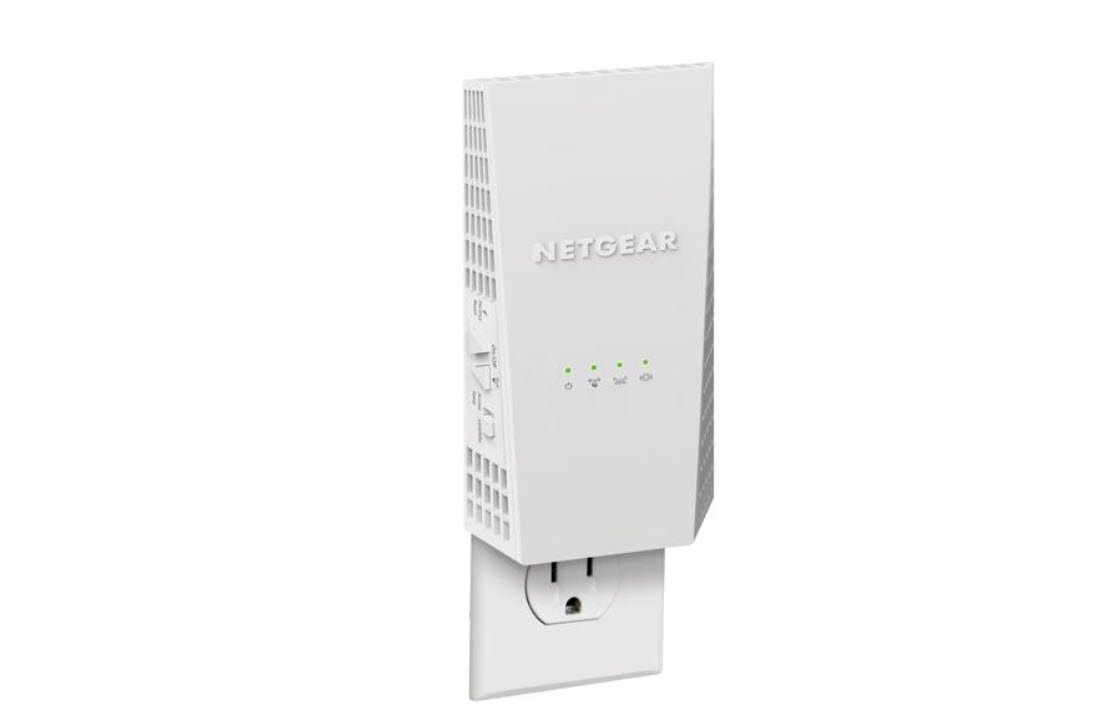 Best simple plugin WiFi extender
This is a plug extender which can be directly plugged in a power socket. It can work with any of your existing routers and is suitable for HD video streaming and gaming purposes. Antennas is inbuilt inside the casing.
But it is not a weatherproof extender so, can not be used in open area permanently. It can be used temporarily to boost the existing WiFi.
This extender is mesh compatible, so you can create WiFi mesh using your existing router. Seamless roaming technology helps to automatically connect to the best access point. Setup is easy, which can be done by pushing a button.
It also has an Ethernet port for more reliable speed for game consoles and other devices. It is also compatible with Netgear's NightHalk app for device setup and management.
This dual-band extender has a combined speed of 1750 Mbps. FastLane technology creates a high-speed connection by combining both bands.
Things to consider before buying an outdoor WiFi extender with long range
When it comes to choosing the best outdoor WiFi extender, there are a few factors that you should consider.
1) RF Power
RF power is a measurement of the power radiated by a wireless device. The higher the power, the better the coverage will be. TA good outdoor extender should have a high RF power so that it can cover a large area and give a strong signal.
A WiFi extender's RF power is measured in dBm, which stands for decibels relative to one milliwatt. The higher the dBm, the stronger the wireless signal.
2) Antennas
The antenna is the most important component of a WiFi extender after RF power. It captures radio waves and converts them into data packets that can be transmitted over a network.
2.1) Consider no. of antennas
The antennas serve a single purpose, regardless of where they are used. It functions as a signal gateway. The greater the size of the gate, the greater the number of signals that can be sent simultaneously. This is why multiple-antenna range extenders are recommended over those with a single antenna. Outdoor WiFi boosters come in variations of 1, 2, 4, or more antennas. The more antennas there are, the larger the coverage area and bandwidth.
2.2) Consider power of the Antenna
The antenna's dBi, or decibel isotropic, is a measure of its ability to transmit radio waves in all directions. The higher the dBi number, the more powerful the signal strength. Many WiFi range booster devices come with detachable antennas that higher power antennas can be replaced easily to increase the transmission and reception power and coverage area.
2.3) Consider Type of Antennas
The kind of antenna also counts. For the wifi extender's antennas, there are unidirectional and omnidirectional options. A unidirectional antenna sends and receives signals in only one direction, while an omnidirectional antenna sends and receives signals in all directions i.e. 360 degree coverage. For point to point connectivity usually directional antennas are used and for extender or router device omni directional antennas are used.
3) Compatible bands & WiFi version
WiFi bands are the frequency ranges that WiFi operates on. The 2.4GHz band is the most common and is used by most WiFi devices. It can penetrate through walls better than the 5GHz band. However, 5 GHz has much faster speeds and longer range than 2.4 GHz but gets weak when penetrating through walls.
Consider a WiFi extender that is compatible with the band of your modem or router, which is where you get the internet. If you purchase a 5.0 GHz wireless extender for your 2.4 GHz internet connection and vice versa, it will be a complete waste of money.
However, if you require a flexible compatibility device and don't want to be doubtful. Choose extender that work with both the 2.4GHz and 5.0GHz bands. These days latest routers, repeaters, or extenders come with dual band technology, which includes both bands.
Also, select the correct WiFi version because the most recent WiFi version devices use cutting-edge technologies to provide greater range and a more stable connection. They also support more devices being connected.
WiFi 5, WiFi 6 & WiFi 6E
IEEE 802.11 is the protocol for wireless networks. Different Wi-Fi generations or versions are assigned to different 802.11 standards. WiFi 5 is the 802.11ac standard, and WiFi 6 is the 802.11ax standard. These have frequency bands of 2.4 GHz and 5 GHz. But in the latest WiFi 6E, a newer 6 GHz band has been introduced. So WiFi 6E comes with three bands.
4) Weatherproof
To boost the wireless network to the outside, the device needs to be installed outdoors, where it can be damaged easily by rain, sun rays, dust, snow, lightning, etc. That is why you must look for a waterproof and weatherproof WiFi extender to install it outside.
There are lots of wireless network extenders available in the market. To install the extender device outside it should be waterproof and weatherproof.
How to choose the best Outdoor WiFi Extender?
When you need to get an outdoor WiFi extender, it is important to know your needs. You should ask yourself the following questions:
What is the purpose of the extender?
How much coverage do I need?
Do you need a wired backhaul or wireless backhaul?
What type of outdoor environment should I use it in?
If you are going to use it in open area that you require a weatherproof extender and if you require to install it indoor then a weatherproof extender will only add the cost.
You also need to consider how many devices will be connected to your WiF?
In the end, my recommendation is to use the latest generation of WiFi extender, as it will provide the latest technology for better performance and a longer range. WiFi 6, or WiFi 6E, is the latest generation. WiFi 7 is on the way.
A good outdoor WiFi extender should have a high range and be able to cover a large area. It should also have an Ethernet port for wired connections and a USB port so that an external antenna can be connected. If you are going to install it outside on a wall or on a pole then it should be weatherproof.
Methods to boost WiFi Outside
There are many approaches to bringing reliable wireless network signals outside.
The indoor-only device floods the area that needs strong WiFi signals with reliable signals when it is placed near a window or door in that area.
The second method employs a mesh system. This necessitates positioning some of your add on range extender devices near windows or doors in order to push the amplified signal outside. In this instance, the router and satellite modules remain inside. However, if the device is weatherproof, you can place it outside.
The above two methods are good for normal range, but if you really require a solution for long range, then you need a weatherproof wifi booster to install outside, the wifi boosters mentioned in this post are useful for this approach. And these outside WiFi extenders can be connected by cable to an Ethernet port or a PoE connector. Or you can provide input wirelessly.
Best Long Range WiFi Extender for Outdoor – Video
Conclusion
Because routers have a limited range of WiFi signals. So to cover up the dead zone and boost the existing WiFi network outside, we need a WiFi range extender device . We can do so by installing an indoor long range extender or a weatherproof long range outdoor extender.
In the above list of the best long range outdoor extenders, I have mentioned four different types of solutions to boost the existing network. Each type of solution has different device variations that can be chosen.
To extend the WiFi network outside you require a best waterproof outdoor WiFi extender. There are many brands are available on the market, but my recommendation is that choose only the trusted and reputed brands.
It was difficult to find extenders that could be installed outside and withstand any type of weather. So I have curated the list of best IP rated outdoor WiFi extenders based on my personal experience and user's reviews.
Outdoor WiFi extenders Products and Deals
Alternatively I have also created a post for long range WiFi 6 routers. You can upgrade your router instead of using an extender.
FAQs