The Avast uninstall utility is a stand-alone application released by Avast to help you completely uninstall all Avast products from your computer. This Avast uninstaller tool is especially useful for those users who are unable to uninstall Avast programs by using usual methods. In this article, you will get download links of the Avast removal tool along with a comprehensive guide which will describe in simple steps the right method of using this uninstaller.
It will work for all Avast products like Avast Antivirus, Internet Security, Premium or Business security, etc. This tool will work for all Avast versions and will be fully compatible with Windows 10 / 8 / 7 for both 32 bit and 64 bit.
Avast Removal Tool Download
Avast removal tool is a small program which you can easily download by clicking on the link provided below. You should preferably download and save this program on your desktop as it will be easier to locate when you decide to run it in the future. It is recommended to run this tool in safemode.
| | | |
| --- | --- | --- |
| Avast Removal Tool – Uninstall Utility | 11.9 MB | Download |
This removal tool is fully compatible with Windows 7 to Windows 10 operating systems. Also, you can use this application to remove all Avast products, be it Avast Free version, Avast Business Edition, Avast Internet Security, etc. For the proper removal process, read the next section.
How to use Avast Uninstall Tool (avastclear.exe)
Follow the steps given below to uninstall the Avast antivirus suite from your computer or laptop. The steps given below are for Windows 10 OS, but a similar process needs to be followed for other Windows OS.
---
---
1. Run Avast and uninstall the utility file you saved on your desktop.
2. Your permission will be asked to start the uninstallation process, click on 'Yes'.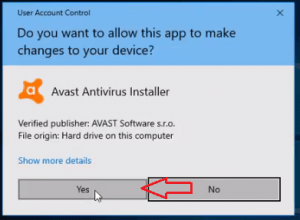 3. Now, you will be asked to restart your computer in 'Safe Mode'. This is necessary for the proper uninstallation of Avast program. So, click on 'Yes' button.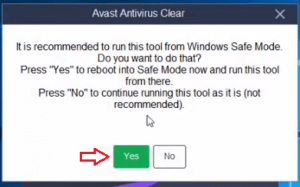 4. Click 'Yes' to confirm the restart of your computer in Safe Mode.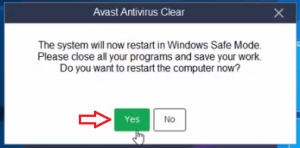 5. Once your computer starts itself in Safe Mode, wait for some time for Avast Removal Tool to show-up. In the Avast window, click on the drop-down menu to select your Avast antivirus program. Now, click on 'Uninstall'.
6. Uninstallation of your Avast antivirus will start.

7. Once the uninstallation is successfully completed, you will be asked to either 'Restart computer' now or to 'Restart later'. Select 'Restart computer' to complete the uninstall process.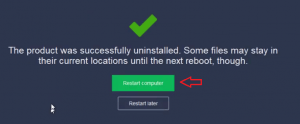 FAQs
Q: Is it safe to use Avast removal tool?
A: Yes, it's completely safe to use this tool. It won't uninstall any other program from your computer than the one you choose for uninstallation.
Q: Why use Avast removal tool if I can uninstall with default uninstallers?
A: Whether you have Windows OS or Mac the default uninstallers are unable to clean-up all the files and entries from your computer. Therefore, you should prefer Avast Uninstall Tool if you want a cleaner computer.
Q: Will Avast Uninstall Tool remove all entries?
A: Absolutely, Yes. All entries will be completely removed, which includes all registry entries, all group policies created, etc. The endpoint is that you get a cleaner computer without requiring you to perform any complicated command line operations.
When you are uninstalling an antivirus from your computer you must follow the process that results in the complete removal of that antivirus program. Therefore, to remove the Avast antivirus program from your computer, we have provided the Avast removal tool, which is officially recommended by Avast.
Otherwise, if you are looking for a way to remove the Avast Secure VPN other than Avast antivirus, then click here to get an article that explains to you how to uninstall Avast Secure VPN component from your computer.
Try Avast One essential – Free