AVG products can be simply uninstalled by their own uninstaller which is located in control panel (add or remove programs). If it fails to remove AVG, so we recommend you to use AVG clear or AVG remover utilities to remove it completely from a computer. Go to the below given download section to download AVG Removal Tool.
Read : how to uninstall a program from Windows
AVG uninstall tool
AVG uninstaller utility is a powerful tool that will remove all the AVG files, folders, registry entries, and shortcuts automatically. So, it removes the AVG antivirus completely & permanently from a computer.
Here, we are giving you the download links of AVG uninstall tool which would be compatible with Windows 10, 7, 8, 8.1, Vista, XP. It works on both 32-bit and 64-bit Windows.

---
---
You could also download the same tools directly from the http://www.avg.com/us-en/utilities official website.
Related: How to Remove VPN Secure VPN
AVG Removal tool is useful when AVG uninstall or repair efforts get failed.
How to Remove AVG?
There are two official tools available for the complete removal of the AVG products.
1. Uninstall using AVG Clear tool
Download the AVG Removal tool / Clear tool from the above given link.
Boot your computer in safe mode.
Double-click on downloaded avgclear.exe file and click on 'install anyway' if it asks. The avgclear.exe will start the uninstaller and you'll appear a process bar flash screen.

If you haven't booted your computer in safe mode in starting, then it gives you this disclaimer. Click on YES to continue.

It will ask for the installation directory, you can leave them as it is without changing. And select the product from the drop down list. Free, Internet Security or Business Security.
Click on the Uninstall button. It may ask you to restart the system in safe mode.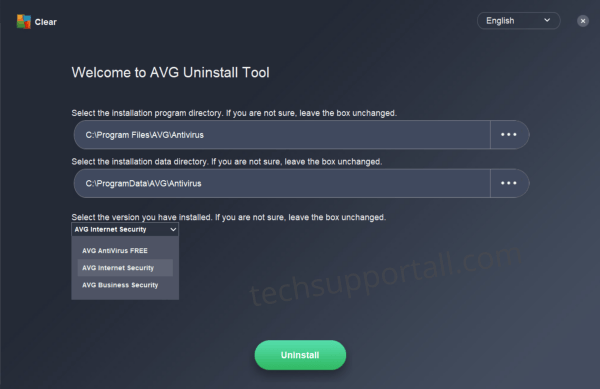 ---
2. Remove using AVG Remover Tool
Download global AVG removal tool and run it.
Click on that install anyway button if it asks.
Click on that continue button under AVG Remover.
It may ask to restart the computer to complete the process to removal.
If you couldn't uninstall AVG antivirus however, then you could use a third party uninstaller tool (Revo Uninstaller). If nothing worked for you then you could ask a question in the comment section below. We'll answer you as soon as possible there.
---
FAQ
Q: Why we use removal tool instead of uninstalling it from add / remove?
A: Normally to uninstall any software we use add / remove program feature of the windows. But sometimes we require troubleshooting various installation issues like the compatibility issues, registry conflicting issue unable to install / uninstall issue etc.
Q: Is this utility work for all versions?
A: This tool should work mostly all versions like 2019, 2018, 2017 and for 32 bit and 64 bit based Windows 10, 8, 7, XP.
Q: I  am unable to remove AVG Management Console (AVG Zen)?
A : AVG has discontinued its Zen features since last year. Now users can manage their subscription directly in the AVG software. So to remove AVG Zen first of all you need to remove all the AVG products and then uninstall AVG Zen. If you face any issue then you can use the Removal tool as mentioned above.