Adware Removal Tool by TSA is specially designed to remove Ad-wares from computers. The tool is developed by TSA Team – www.adwareremovaltool.org. It's a Freeware tool and completely free of use. This tool is able to detect and remove most of the Adwares from Internet Explorer, Google Chrome, Mozilla Firefox, system folders & files and from registry traces as well.
Adware removal tool's adware database is very powerful and it works on cloud based system. So you don't need to update adware definition manually, it updates the adware database automatically every-time you run it from the cloud. Its cloud database get updated regularly for the newly discovered adware.
Adware Removal Tool by TSA support following operating systems: Windows xp, Windows vista, Windows 7, Windows 8, Windows 8.1, Windows 10 and server edition as well.
Latest Version: V 5.1
For Support:- Please contact us for any help at our official email address: info@adwareremovaltool.org.
Click here to download latest version of Adware Removal Tool v5.1.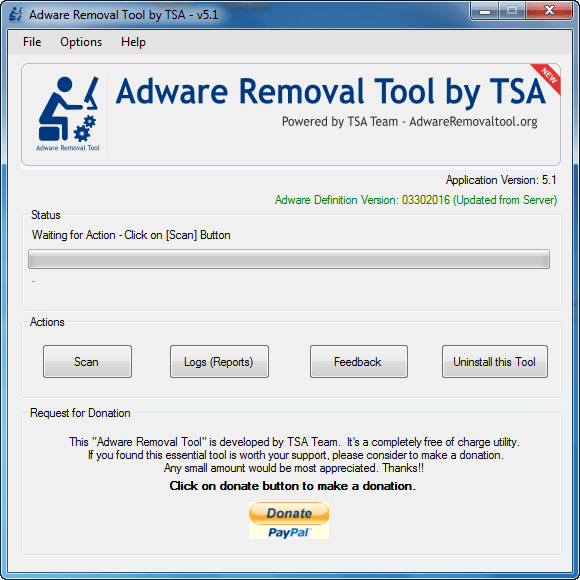 How to use Adware Removal Tool.
---
How to use Adware Removal Tool v3.9
Step 1 : Start our tool (Adware Removal tool).
Step 2 : Click on "Scan & repair" button. It will start scanning and it takes time so please be patient.
Step 3 : After finished the scan, you'll get a message. so please click on OK button. you'll get all the results in front of you.
Step 4 : Click on "Repair all" button. It will remove all the selected objects.
Step 5 : Click on OK again. Now it is notifying you for closing all the applications.
Step 6 : You will get a finished message click on OK to reboot your computer.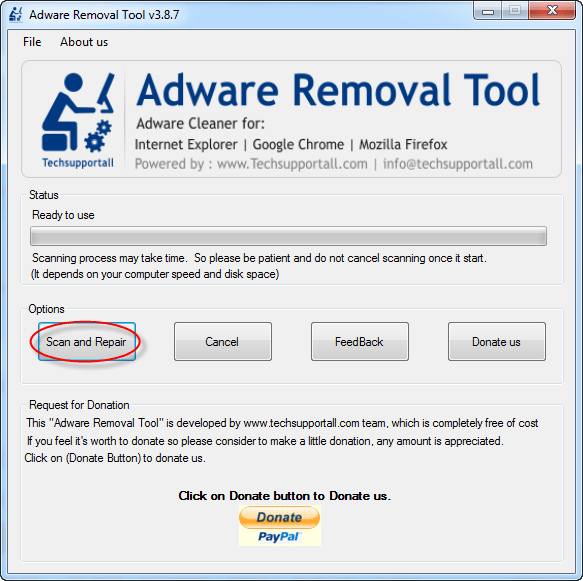 After reboot you'll get final finished message.
---
What is Adware
Adware is an unwanted software program that is designed to make money for the creator in some way. It shows pop-up advertisements on your screen or it can redirect you to an alternative website, depending on how the program works.
It is commonly disguised within a legitimate program or website browser and once you click on it you activate it. The aim is to get you to click on it, download it or get exposure to a website it is associated with in order to increase revenue. There are also some pretty malicious adware programs out there that will corrupt your computer, tablet or phone if downloaded when promoted.
Sometimes the first you know about it is when you see either a bogus virus message that your computer is unsafe (yes we've all seen it) and you need to install this software to take care of the problem (don't!) or you are redirected to a different site than the one you wanted.
Note:  Usually adware are not viruses but ads they show may contain malware or viruses. So it is advisable to install Best antivirus software in your computer. There are many Free and Paid antiviruses options are available in the market. So technically adware are not viruses they just fall under potentially unwanted programs. But adware removal tools are specially designed to remove them.