How to make start up from USB device in dell optiplex 3060, my computer cant be format.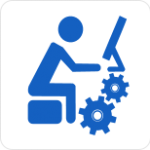 Put your USB drive into your computer.
Start your computer and immediately start tapping F12 key from your keyboard to open the boot menu. Then select your USB drive from there. Dell laptops usually have the F12 key to open the boot menu.
If the F12 key doesn't work you, then you will choose your first boot drive from the BIOS settings. So please start your computer again and immediately start tapping the F2 key or Delete key from your keyboard to open the BIOS settings.
In the BIOS settings, go to the boot tab and choose your first boot device as your USB. And then save the changes by pressing the F10 key to save and exit from there, and it will reboot the computer once. This time, your computer boot with your USB.
Click here to know more how to start the computer from bootable USB.