On this page, we're going to talk about Windows Updates in Windows 10. This is the Windows network update module. Additionally, this tool allows keeping the Windows operating system updated automatically. It also searches and installs the latest updates for the operating system and other components installed on it. As its name indicates, this module runs automatically and independently of the user. At first glance, it is not possible to suspend its operation. The most the user can do is to delay the updates for 7 days. Some people get frustrated to keep getting updates windows all the time. Some people need a break from these automatic Windows updates (stop automatic Windows 10 updates). However, on this page, I'm going to show you how to turn off the automatic Windows updates forever. These steps are applied on Windows 10 but you can use them on Windows 7, 8, 8.1 as well.
We do not recommend stopping Windows updates completely (permanently) as it is essential component for the Windows security.
Method 1: Disable Windows Update Service.
An effective way to stop automatic updates in Windows 10 is to stop the Windows Updates Service.
---
---
Press the Win + R combination from your keyboard.
Type the following command in the Run box: services.msc
In the next window, you scrolled down to get the Windows Update service. Double-click on it to enter its properties. Next, in the startup type select Disabled.
Then restart the computer and Windows will not download or install any updates. However, if you want to reverse the process. You just have to follow the same steps, but change the startup type of the service to Automatic.
Method 2: Disable Windows updates by creating a group policy
Another option to disable Windows updates is to create a group policy. With this in mind, press the Win + R combination and run gpedit.msc:
Then select the left menu and follow the next path: Computer Configuration → Administrative Templates → Windows Components → Windows Update.
In the next window select Disabled. Press Apply and restart the computer to set the changes.
Disabling Windows 10 automatic updates using a script (CMD).
It is also possible to turn off Windows 10 updates by creating and executing a script. To do this, just open the notepad and paste the following text:
Download: disable-windows-10-update.bat
sc config wuauserv start= disable
sc config bits start= disable
sc config DcomLaunch start= disable
net stop wuauserv
net stop bits
net stop DcomLaunch
Then save the file and rename the extension from ".txt" to ".bat". Just run this file as Administrator so that the service that manages updates (wuauserv) becomes disabled.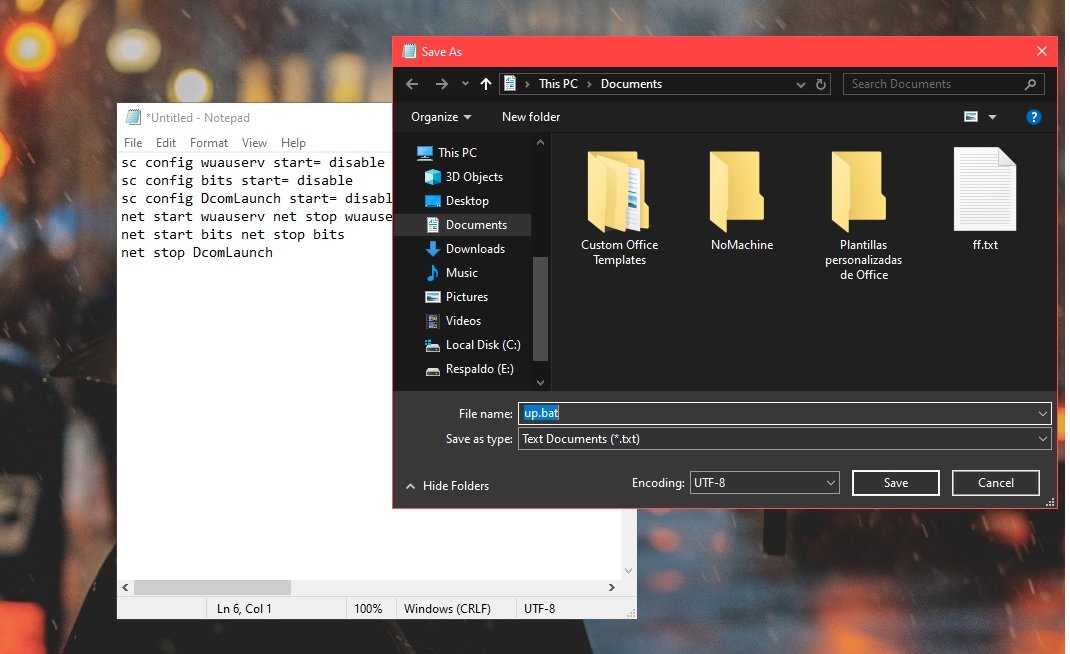 Enabling Windows 10 Updates using a script (CMD).
If you want to restore the automatic Windows updates service, then just follow the previous process, but enter the following text:
Download: enable-windows-10-update.bat
sc config wuauserv start= auto
sc config bits start= auto
sc config DcomLaunch start= auto
net start wuauserv
net start bits
net start DcomLaunch

We also save the file again and change the extension from ".txt" to ".bat". Then execute it with administrator user permissions, and that's it. I hope you liked the tutorial. Now you can suspend the update service according to your will. See you later!