Simply, We can not imagine the modern Internet without the DNS. By default DNS settings are set by your ISP. But there are options to alternatively use another DNS. Jump to the list of best public DNS servers available for Free.
What is a Public DNS Server?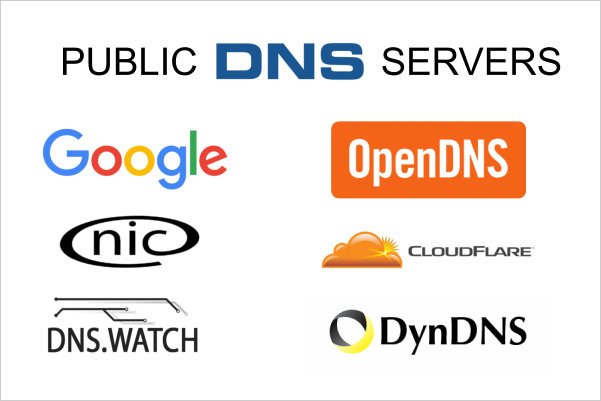 Freely available DNS Server which can be used by anyone are known as Public DNS Servers. In 2009 Google Announces DNS server available for everyone to make the internet experience faster and reliable. After that many other organizations started offering free DNS service to the public. Below is a list of all the popular DNS services offered by the top organizations. Some of the them keep the activity log, some filter the bad websites and some have policy not to keep activity log.
List of Free DNS Servers with their IP Addresses
Name
IPv4 Addresses
IPv6 Addresses
Google
8.8.8.8
8.8.4.4
2001:4860:4860::8888
2001:4860:4860::8844
Cloudflare
1.1.1.1
1.0.0.1
2606:4700:4700::1111
2606:4700:4700::1001
OpenDNS
208.67.220.123
208.67.222.123
OpenNIC
142.4.204.111
142.4.205.47
2607:5300:120:a8a:142:4:204:111
2607:5300:120:a8a:142:4:205:47
Quad9
9.9.9.9
149.112.112.112
2620:fe::fe
2620:fe::9
DNS.Watch
84.200.69.80
84.200.70.40
2001:1608:10:25::1c04:b12f
2001:1608:10:25::9249:d69b
Free public DNS Servers
You need to provide two IP addresses in the DNS field one as Preferred DNS Server and another as alternative DNS server. In above table use the First IP address as preferred and second as Alternative. Though you can provide only 1 but providing both will improve the stability.
Below are short review of each DNS Service listed above.
1. Google public DNS
Google uses a different methodology for the DNS which makes it most popular and widely used DNS server. More Detail
---
---
IPv4 Addresses: 8.8.8.8 and 8.8.4.4
IPv6 addresses: 2001:4860:4860::8888 and 2001:4860:4860::8844
2. Cloudflare 1.1.1.1
Cloudflare & APNIC together managing the 1.1.1.1 dns service. It is also a faster and privacy centric public DNS Resolver. More Detail
IPv4 addresses: 1.1.1.1 and 1.0.0.1
IPv6 addresses: 2606:4700:4700::1111 and 2606:4700:4700::1001
3. Cisco OpenDNS
Recently OpenDNS was acquired by the Cisco. It has both Free and Paid options. It have the option to block pornography automatically through settings. More Detail
Basic IPv4: 208.67.222.222 and 208.67.220.220
Family shield IPv4 addresses: 208.67.220.123 and 208.67.222.123
4. Quad9

Quad 9 is new filter DNS server. Its threat intelligence system detect in real time if a website is safe or dangerous. It uses data from more then a dozen cyber security companies to detect the threat in real time. More
IPv4 Addresses : 9.9.9.9 and 149.112.112.112
IPv6 Addresses: 2620:fe::fe and 2620:fe::9
5. OpenNIC
Open NIC is a project to keep the internet non-censored. It will show you the best available server to you according to your location. They have more then 50 servers. You can check the status of the servers. OpenNIC does not log any activity. More
IPv4 Addresses: 142.4.204.111 and 142.4.205.47
IPv6 Addresses: 2607:5300:120:a8a:142:4:204:111 and 2607:5300:120:a8a:142:4:205:47
Some other Public DNS Servers that might be useful for you
Comodo Secure DNS
8.26.56.26 and 8.20.247.20
Level3
209.244.0.3 and 208.244.0.4
DNS Advantage
156.154.70.1 and 156.154.71.1
Oracle Dyn DNS
216.146.35.35 and 216.146.36.36
Safe DNS
195.46.39.39 and 195.46.39.40
Why use custom Public DNS Server?
Here are the points which let us know why should we use alternative public DNS server.
Sometimes default DNS server get overloaded and show time out error which makes the internet connection unstable. Switching to alternative address can improve the speed and stability of the internet connection.
Some third party DNS servers provide filter features to filter out the porn and objectionable material. It also protects you from phishing attacks.
It also fix the search redirection issue due to the DNS set by the ISP.
Below is a comparison provided by Cloudflare with top 3 dns provider vs ISPs. One thing is sure that these public DNS servers are far better then the default ISP DNS servers. These days some ISPs has also started using the Public DNS.
How to find best DNS Server?
Performance of the DNS server varies from location to location. So marking any one server as the best is not possible. You need to check the best performance in your area.
Please share your experience regrading the use of alternate public DNS servers.
What is DNS Server?
DNS is an acronym for Domain Name System. It is a system which match the domain name to the right IP address using the database served by a DNS Server. Domains names are the name of the websites like Google.com, Facebook.com, Amazon.com etc. So a DNS server maintains the list of domain names and their IP Addresses.
Computers use IP addresses to identify and communicate with each other. Each website is also a IP address in the back-end. Remembering IP addresses for each website is not a practical approach so to overcome this issue DNS or domain name system came into the existence.
It let the users to type human readable addresses to open the websites like Google.com, Yahoo.com, Amazon.com etc. In background a domain name is redirect to its IP address to get the content from the server and view it as a web page.
Your computer by default use the DNS server set by your ISP. Different ISPs use different DNS servers. As DNS resolution is the first step taken places when your browse the internet. So DNS service should be reliable and fast for better internet experience. Unreliable DNS Server can lead to DNS Errors or slower internet experience.
Common Errors related to DNS
you can get the below error message in the chrome browser. In different browser they can be slightly different.
DNS_PROBE_FINISHED_NXDOMAIN Error
DNS_PROBE_FINISHED_NO_INTERNET Error
DNS_PROBE_FINISHED_BAD_CONFIG Error
ERR_CONNECTION_REFUSED Error
ERR_CONNECTION_TIMED_OUT Error
DNS Lookup Failed on Google Chrome
DNS Server Not Responding On Windows
Sometimes these common DNS Errors can be fixed by using a third party / alternate DNS server known as Public DNS Servers. See how to change the alternate DNS Server.