Malwarebytes Download – A free Antimalware
Today Malwarebytes is more then just an Anti-malware. Truly it provides you 360 degree protection. Above all it is free to scan your system for any infection. Though to get the real time protction you need to buy premium license.
Download Malwarbytes
There is no different variation for free and paid. You can download the free version later on when you require you can use that same software as a premium after entering the premium license key.
Malwarebytes acquired different security technologies and merged all of them into their single security software to make it more powerful. Apart from its malware removal & protection capability which are almost unmatched it can also be used as an Antivirus.
Another good thing about Malwarebytes is that under its 'web protection' it immediately block the access to dangerous websites. It is also capable to handle adware. So it make the internet browsing safe.
You will also get a Free 14 days premium access when you install it. After 14 days you still can use it as a on demand scanner. You can scan for the threats and even remove them with the Free version. But for real time protection and web protection you need to buy a premium key.
Features
Advanced Malware Detection and Removal
Industry Proven Clean-up Technologies Eradicate Existing Malware Infections
Rapid Response Malware Database and Heuristics Updates
Access to our Expert Community and Knowledgeable Support Team (Email/Forums)
Chameleon Technology Gets Malwarebytes Running on Infected Systems
Multi-Language Support (currently 35 and counting!)
Heuristic Protection Prevents New Zero Day Malware Infections
Malicious Website Protection Blocks Access to Known and Zero Day Malicious Web Content
Automatic Priority Updates and Scheduled Scanning
Blazing Fast Flash Scans
Real-Time Active Malware Prevention Engine Blocks Known Threats (In Pro version)
How to use malwarebytes
1. Download Malwarebytes Anti-Malware Free  then double click on it to install it. Click on Install Anyway if Windows 10 asks.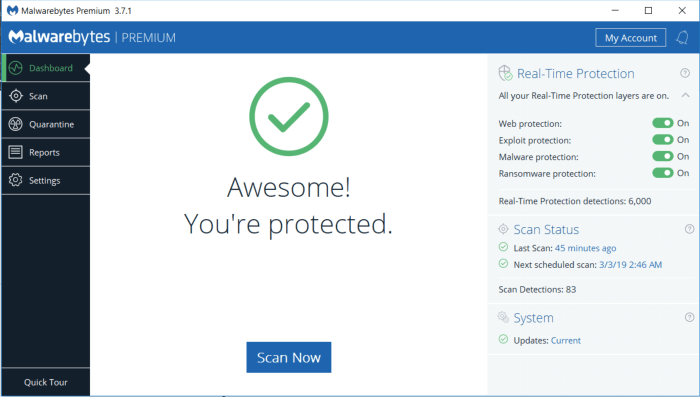 2. After install, first thing is to update its threats definition database. On the right pane look for the update under System. Click on the link and it will start checking and downloading latest updates.
3. After completion of the update. Now click on the Scan Now button to start the scanning process.
4. After finishing scanning process it will show the list of infections.
5. After clicking on Show result it will you a another window where you will get the found threats. Click on "Remove Selected"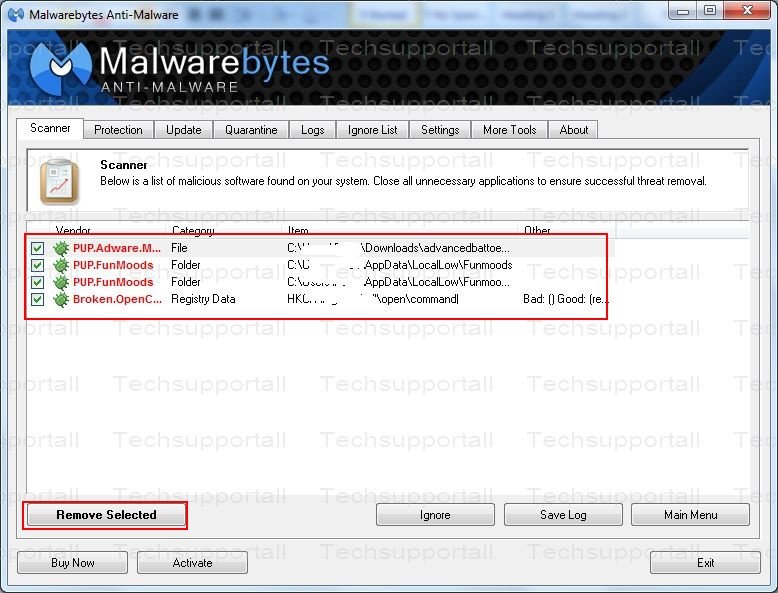 ---
Malwarebytes Free vs Paid
As we have already discussed that it comes with two variant free and paid. So lets discuss here what is the difference between Free and Premium (Paid) versions.
Free version is actually effective to scan the system which is already infected with the malware whereas in Paid version is stops before a malware enter into the system.
Free version does not provide web protection to block dangerous website whereas paid version does not let you open the dangerous websites which spread malware.
Free version can only be used on Windows platform whereas a paid version is compatible with Mac and Android as well.
| | | |
| --- | --- | --- |
| Features | Free | Premium (Paid) |
| Compatible with | Windows only | Windows, Mac, Android, Chromebook |
| Cleans infected device | Yes | Yes |
| Real time protection from virus, malware, spyware, ransomware | No | Yes |
| Safe web browsing | No | Yes |
| Automatic updates | No | Yes |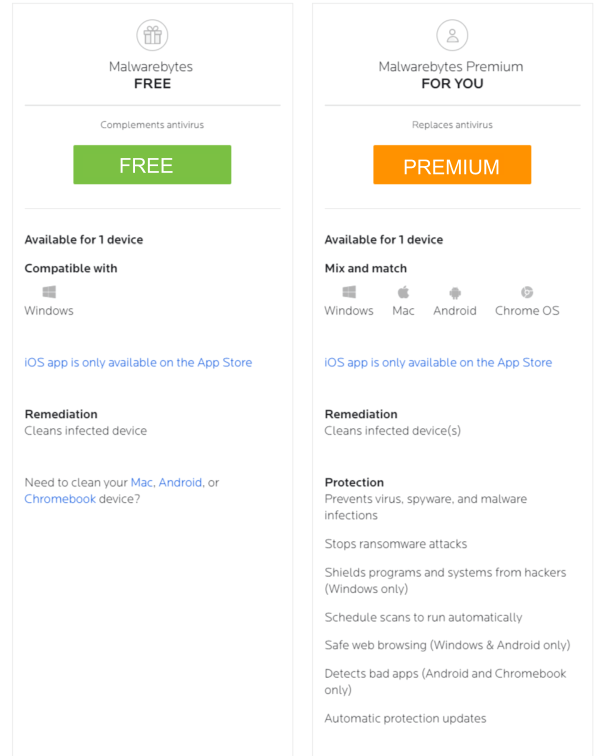 FAQ:
Q: Does it also remove the malware in its free version? or free is just to detect?
A: Yes it detect and removes malware in free version. Paid version is to catch the malware before they enter into the system.
Q: Is it worth to buy a premium license?
A: As per my recommendation malwarebytes is worth to buy. You can take a 14 days trial to check its usefulness and then make your decision.
Q: I already have antivirus, do still I need it?
A: If you already have an antivirus on your system you still can use this tool without any compatibility issue. You can keep both in your system. You can use Malwarebytes free as a second opinion on-demand scanner.
Check: Malwarebytes Coupon Codes
Please share your experience or have any question ask in the comment section.