Malwarebytes have both free & premium subscription. Hitmanpro alert is a paid software but after free trial it still provide a few free features. Below comparison table will helpl you to find out the features in both these antimalware.
Features
HitmanPro.Alert Free
(After 30 days trial)
HitmanPro.Alert
Malwarebytes Premium
Malwarebytes Free
(After 14 days trial)
Real Time Protection
No
Yes
Yes
No
Anti Exploit
No
Yes
Yes
No
Anti-Ransom-ware
No
Yes
Yes
No
Malicious Website Protection
No
No
Yes
No
Anti-Malware On Demand Scanner
No
Yes
Yes
Yes
Anti Root Kit
No
Yes
Yes
Yes
Cloud Based Multi AV Engine Scanning
No
Yes
No
No
Webcam Notification
Yes
Yes
No
No
Keystroke Encryption
Yes
Yes
No
No
Bad USB protection
Yes
Yes
No
No
Browser Protection
Yes
Yes
No
No
PUP Protection & Remediation
No
Yes
Yes
No
Price
$34.95
$39.99
Comparison Table – Hitman Pro Alert Free VS Hitman Pro Alert VS Malwarebytes Free VS Malwarebytes Premium
HitmanPro.Alert can also handle the situation when system is in no boot situation. HitmaPro.Kickstart can work in this case (After the launch of the Windows 10 now kickstart is not available).
Features Comparison of Malwarebytes 3.0 and HitmanPro.Alert
Installation
To run a scan malwarebytes must be installed in Windows Whereas HitmanPro has the portable option as well, So there is an option to run the HitmanPro from a USB stick.
User Interface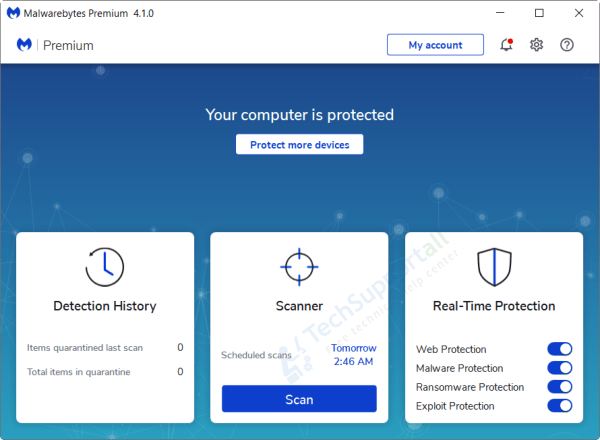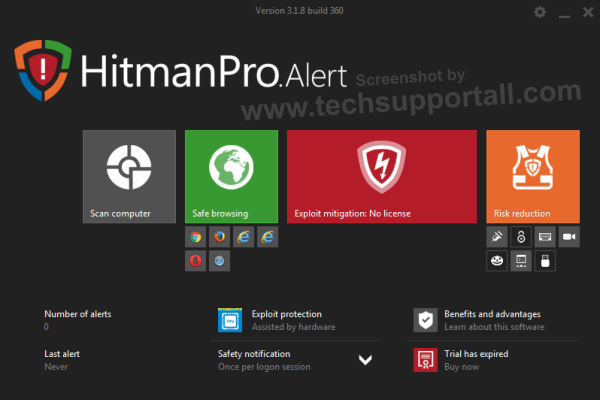 When infected system denies to install an antimalware
Some times infected virus denied to install the program. In this case HitmanPro can be used as a portable scanner. And in case of Malwarebytes you can download the Free Malawarebytes Chameleon cleaner. To help to run the malwarebytes in this case. Later on you can also install HitmanPro.Alert to activate the realtime scanning functionality.
Internet Dependency
HitmanPro.Alert required internet connection to perform the scan whereas Malwarebytes can scan without internet connection. Malwarebytes only require internet to download its latest threats definition file.
---
---
Detection of Malware and Removal
HitmanPro uses cloud based Multiple Antivirus engines to scan a suspicious file. If it found some suspicious file it upload that file to the cloud to scan with multiple antiviruses like Bitdefender, Avira, Emsisoft, Avira etc. Whereas on other hand Malwarebytes perform scan based on their offline malware database, but that database is really huge & powerful.
Real Time Protection
Both used different method for real time protection. Malwarebytes uses its signature database to identify the threat on the other hand HitmanPro.Alert uses behavioral detection or signature less technology for real time protection.
Anti Ransomware Protection
Both Malwarebytes 3.0 and HitmanPro.Alert have the Anti-ransomware protection in their paid version to safeguard data from cryptoware.
Which software should I Choose Malwarebytes 3.0 or HitmanPro.Alert? Which is the best option.
Both software works almost equally good. But here is my personal review about both these software. Hopefully it will help you to choose the one which fits to your requirement.
HitmanPro is better in cleaning an already infected system and Malwarebytes is better in protection.
HitmanPro.Alert is better in cryptoguard and ransomware protection whereas Malwarebytes is better in exploit protection.
Malwarebytes have Malicious website protection which blocks you to visit to bad website whereas HitmanPro.Alert encrypts all your keyboard inputs like username and passwords on internet to make it hard to read by a hacker.
HitmanPro provides some of the extra features like Webcam notification, It notify you when any app uses your webcam. And bad USB Protection, Process protection from hijacking.
FAQs
Q: What will happen after free trial of both antimalware?
A: After free trial of both the software you can still use some of their features available as a Free software. And you can upgrade to premium version any time to utilize all the features of the software. Above comparison table can give you the idea of the features of both the software as premium and as free.
Q: Can I Replace my Antivirus Software with it?
A: Malwarebytes claims to replace your antivirus software. But HitmanPro is still telling itself as second opinion scanner. Though HitmanPro.Alert is more than just a second opinion scanner and can be used as a replacement of antivirus. Another point to be noted here is that Antivirus and Internet Security is different program, So if security is your serious concern then do not replace your internet security suite and keep these Anti-malware software as an extra layer of security. But users who uses basic antivirus software, They can replace their antivirus with Anti-malware software.
Q: Can I use these with my existing Antivirus / Internet Security Software?
A: Yes both these software are compatible with mostly all reputed security software. For enhanced security you must have add this extra layer along with your existing security software. Both these software are equally light and takes very less system resources.
Q: Is there any other antimalware apart from HitmanPro & Malwarebytes
A: Yes, there are many other antimalware software available in the market. Go to Best antimalware software.
Use the comment section to share your experience of using both these software.