About Warning Message 'Your Connection is Not Private' in Chrome
Many a times when we try to open a website we get this message in Chrome 'Your Connection is Not Private'. It is a warning message and not an error. So what does this message mean and why we get this message?
This warning message is related to SSL certificate.
How to fix 'Your connection is not private'
So to quickly solve the issue you can visit a site by ignoring the warning message. To do so follow the below steps.
Click on the advanced button in the bottom of the warning page.
Then click on the text 'Proceed to sitename (unsafe)'. It will the website without any issue.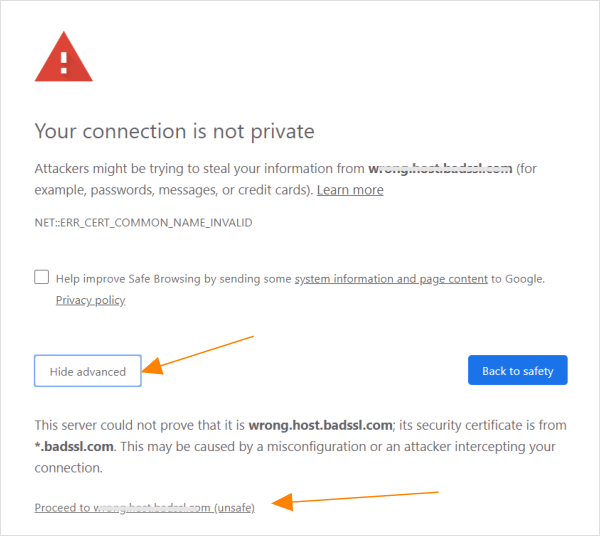 Or you can also visit the site without using https. Type the website address using http instead of https. To fix this issue permanently, first of all notice that if you are getting this error with every website you try to visit even the reputed one like google.com or just for some specific websites.
1. If getting warning for some specific websites
If you are getting this message for some of website that means there is no issue in your computer or browser but the problem is with the website itself. And there is nothing in your hand to fix this issue only website owner can fix this this issue.  Just follow the step above to visit the website forcefully.
There is nothing wrong to visit the websites with this warning as it only establish connection with the websites without private connection. You just have to be careful to share personal information at that website.
2. If getting warning 'Your connection is not private' for all websites
If this is the case that you are getting error with every websites which you are opening then it means the there is incorrect date set in your computer clock. Correct the date of your computer. to do so
search for date in the search bar and open date & time settings.
Correct the date. In windows there is open option to set the time automatically. It sync the time with a server or you turn off the automatic time and set the time manually.
Hopefully the above steps will fix the issue surely. If not then you can try clearing browser cache
go to Settings → Show advanced settings → Clear browsing data under Privacy options.
Why we get this message?
Actually user get this error when there is any issue with the SSL certificate of the website. It may be expired, Misconfigured or there is no SSL at all. Google is encouraging website owners to use the SSL on their website. Chrome can show the error code as below
NET::ERR_CERT_COMMON_NAME_INVALID
NET::ERR_CERT_AUTHORITY_INVALID
NET::ERR_CERT_REVOKED
NET::ERR_SSL_PINNED_KEY_NOT_IN_CERT_CHAIN
NET::ERR_CERT_WEAK_SIGNATURE_ALGORITHM
What is SSL?
SSL is Secured Socket Layer connection between a user's computer and website. It make an encrypted connection that hackers can't catch the information in between or if they somehow catch information will not be their use as it will be in encrypted format.
FAQ?
Q: Is it safe to visit a site having warning 'Connection to this site is nor private'?
A: There is no harm in visiting the website having this warning. But you just have to be careful to enter your personal information on these websites as the information shared without private connection (over http) can be catch by hackers.
Was this article helpful?
Let us know if you liked the post. That's the only way we can improve.