Popular security company Trend Micro recently announced latest edition of its products for 2017 as Trend Micro 11. They have updated all of its security products to the latest edition i.e Trend Micro Antivirus, Internet Security, Trend Premium Security, Trend Micro Maximum Security etc.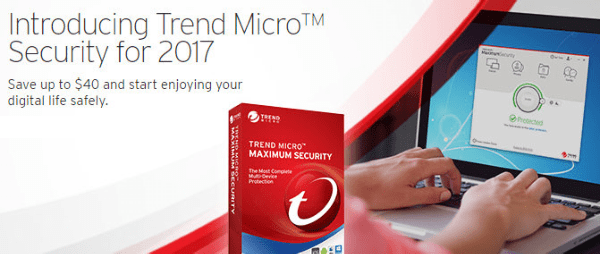 New in Trend Micro 2017
While this feature has been similar throughout the Trend Micro product line, the suite has introduced Folder Shield to help in combating the growing concern of ransomware attacks. It works by banning any changes by unauthorized programs in any document folder. From various lab tests, this security suite has proven to be effective in malware detection and rated well in other security measures.
Below are some highlighted features of Trend Micro 11.
Parental Control – this feature is new in the product line. It filters HTTPS sites and other proxy anonymity while browsing. In search results, the Trend Micro suite has a unique way of covering naughty images. It allows for capping on the number of times kids access internet and scheduling on the time kids are allowed online. The feature sends a report to parents for review on the blocked sites that kids attempt to access.
---
---
Password Manager – as a standalone product, Password Manager has been introduced by Trend Micro. It is available at $14.95 a year. If you subscribe for the Maximum Security suite, this feature comes for free. This feature works by importing any insecurely stored password, remove them from browsers and turns off the browser-based password capture.
Encrypted Vault – this feature will help to keep your sensitive files encrypted. You can be sure that an intruder into your machine won't access the files. Unlike most vault features, the Trend Micro Vault is just one. Predefined size does not limit it. You can drag and drop files into it to safeguard it.
Cloud Storage Scanner – with modern computing, files are both at local and cloud storage. Trend Micro 2017 has brought in this feature to make sure all your files in the cloud are as safe as those in the local disk. All you need to do is to start the process and leave it to scan for any irregularities.