What is Surface Studio?
Recently, Microsoft, Apples greatest competition, showcased an amazing trailer for its newest gadget for the future that is the Microsoft Surface Studio. It is a PC version of the Surface series with special features and extra functionality. Along with it being Apple's MacBook fiercest competitor, it also plans on totally replacing the modern PC and office space as we know. This is, of course, speaking of its revolutionary artist concentration and being everything everyone wants on a home computer. Why should Apple be scared? Let's go through the specs and facts on why this can ruin Apple running of having the 'Ultimate' computer for millennials.
Pre-order Microsoft Surface Studio and get Surface Dial for Free
Special Features
Flexibility
One thing that makes this unit a special PC is the fact that it is flexible and easily convertible. You can switch it from the standing Desktop Mode to the slanting Studio Mode. This is made possible by the Zero Gravity Hinge that lets you adjust the display monitor to whichever angle you prefer, though the minimum slanting angle is 20 degrees.
Surface accessories
These accessories have been designed specifically for the Surface Studio PC. When you switch it to the surface studio mode, it lets you utilize the Surface Dial and the Surface Pen.
---
---
The Surface Dial is a miniature wireless device that lets you navigate, scroll, and zoom across the display with ease. The rotational device also lets you customize the shortcuts and controls of the software and apps in the PC.
Conversely, Surface Pen is just like the one that was used with the Surface Pro 4. The pen boasts a battery life that can last for 12 months, and the pen tips can be replaced to suit your preferences.
Also, the PC comes with a dedicated Surface Ergonomic Keyboard and a Surface Mouse. The keyboard has been designed to improve the typing experience, while the mouse is designed for comfortability when using it.
Specifications
Display
The Surface Studio comes with a 28-inch PixelSense touchscreen display, with a thickness of only 12.5 mm. The screen has a 192 dpi resolution, and it is a 4.5k Ultra HD that displays 13.5 million pixels.
Weight/Size
The PC measures 25.1, by 17.3, by 0.5 inches, with a base that is only 9.8, by 8.7, by 1.3 inches. The base is where the storage and control system of the PC is located. It weighs about 9.56 kg, so it can be easy to move it to a different workstation.
Memory and storage
It comes with a storage space of 1TB or 2TB, depending on the Rapid Drive option. Also, the RAM varies from one version to another, ranging from 8GB, 16GB, and 32GB.
Processor
This machine is packed with the 6th Gen Intel Core i5 or i7. The i7 versions run on a quad-core 2.7GHz processor.
Graphics
Another great feature of the Surface Studio is the incredible graphics chip. The 8GB RAM versions are packed with the Nvidia GTX 965M graphics chip and 2GB memory. The 16GB RAM units come with similar graphic chip and memory. Conversely, the 32GB RAM versions are packed with the Nvidia GTX 980M graphics chip and a 4GB memory space.
Connectivity
The PC has an 802.11ac WiFi networking, and it is compatible with IEEE 802.11 a, b, g, or n. It also has a Bluetooth 4.0 technology and a fitted Xbox wireless.
The Surface Studio has superior features to the 2-in-1 laptops, and it is also capable of handling heavy tasks simultaneously. The display also features an impressive 1100:1 contrast ratio for a comfortable view from different angles. The 4.5K Ultra HD screen delivers better pictures than the 4K HD screens by over 60%.
Pricing and launch date
Microsoft Surface Studio is in the high price tag category. It is expected to go for around $3,000, making it one of the most expensive computer of the recent years. If you need this hybrid unit, you'll have to pre-order it in advance since they will be available in limited numbers by Dec 26, 2016. However, more units will be available in Spring 2017.
Microsoft Surface Studio Discount Coupon Codes
Check out the latest offers and coupons available for the Surface Studio to buy it in cheaper price.
Microsoft Surface Studio Review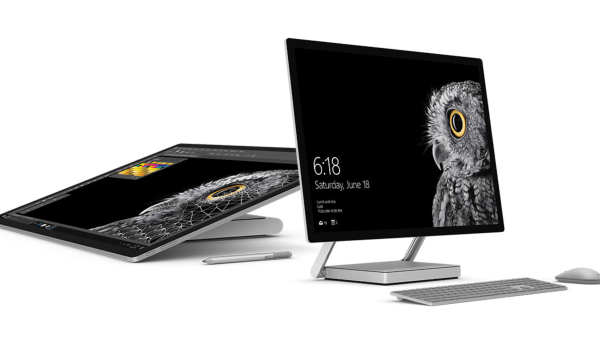 The technology is amazing.
Of course, the Surface Pen and Surface Dial is quite a charm, but in terms of power and strength, it's way deeper. Microsoft's technologically advanced giant will hopefully give them an edge in the gadgets market previously dominated by Android and Apple. Literally putting their all into it, the Microsoft Surface Studio boasts an amazing Intel Core i5 processor, 8GB of RAM, a 2GB GeForce GTX 965M GPU, and a 1TB hybrid drive; that's the base model even though it runs at $3,000 that's a great deal. The screen is a beautiful ultra-high resolution 4,500 x 3,000 which makes drawing on this as clear as paper. In addition, this is Microsoft stating that we want to value the creator; ring any bells? It should, this is what Apple focused on for nearly three decades. Delivering to the artist, the millennials the creators of our generation is Apple's niche. This niche includes artist, video game developers, app developers, and music producers. All of these creators can find a welcoming home inside Microsoft Surface Studio.
Microsoft experimented with this concept.
Unlike Apple's shot in the dark with the iPad Pro or their super recent touch bar on the newest MacBook Pro. Microsoft has some solid experience in the design area. In comparison with the iPad Pro, Apples first stylus based product in decades, Microsoft experience with these tools are far from new. In reality, Microsoft has been creating stylus based products since 2012. Among this, they have experimentation with touchscreen nav, custom interface, and larger screens. Microsoft for whatever reason just hasn't followed the same marketing approach that they are taking with the Microsoft Surface Studio. Don't believe me? Go to the YouTube trailer of the iPad Pro; guarantee you find one commenter claiming the stylus has been done before.
Microsoft Apps
The sub-title isn't saying Apple doesn't have a large number of apps. In comparison with Microsoft, Apple doesn't have much support for third-party apps. Microsoft appreciation towards third party desktop applications is spectacular; keeping this in mind think of the endless possibilities app designers can create with the stylus, surface dial, and movable screen. It's exciting to even think about the integration of applications that designers will come up with.
Capitalizing on Apple's current problem
Currently, Apple is having an identity crisis. Their lack of true innovations is what caused their first drop in sales since 2001. Since Steve Jobs death Apple hasn't created anything truly spectacular since then. You think it's a coincidence that Microsoft dropped this after the report of Apple sales and near the announcement of the newest MacBook? Nope, Microsoft strategy of placing their product in the timeline of Apple is business 101. They pretty much let apple know that they are competition and Apple should be very afraid. From the looks of it, Apple should be wary of Microsoft greatest move to the gadgets market. It could possibly be the end the Mac as we know it.