Avira has released the new 2017 Avira Security Suite which is a comprehensive bundle of its antivirus, Avira Phantom VPN, Browser safety, and computer optimization products. Having been touted that the 2017 version will undergo changes and improvements, let's find out what's new in Avira 2017 and its main feaures.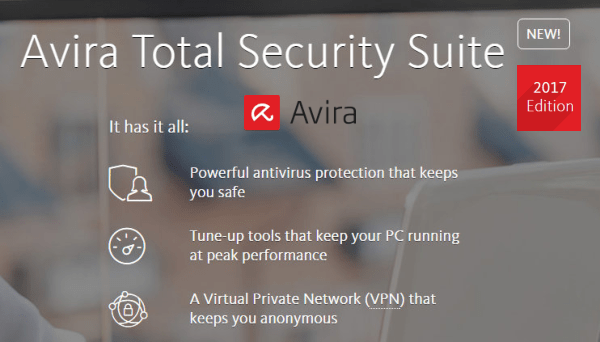 Improved Anti-ransomware Protection
The 2017 version delivers anti-ransomware protection that identifis, blocks, and removes ransomware before it takes hostage of user data.
With the new edition 2017 launch Avira made a revolutionary change by Launching Free Avira Security Suite by adding Anti-Ransomware, Privacy protection and continuous update features in it.

---




---
Ransomware is a malicious program that blocks out the legitimate users of a computer system from accessing their information by encrypting their data and then extorts money from them in return for access. With ransomware having grown into a billion dollar industry, the Avira 2017 Antivirus Solutions promises to thwart these attacks before they do any damages on user data.
Device Control Feature
Avira added a device control feature as additional layer of security to detect and scan removable devices like USB to protect the infection via removable devices.
Browser protection
The new browser protection module referred to as Avira Browser Safety comes as an add-on for Firefox and chrome and provides protection by blocking access to malicious sites and links. It enables users to spot potential malicious links at a glance by adding icons to the search engine results and if the user accidentally clicks a malicious link, it warns them of the risks.
The browser protection module enables users to:
Have their passwords, financial information and other sensitive data protected from interception by third parties.
Encrypt the web traffic, thus they can safely surf the internet even on public WiFi hotspots.
The New Avira Phantom VPN
Avira Phantom VPN provides advanced privacy and security by encrypting user communications and masking their IP address, making them untraceable. This prevents being tracked by eavesdroppers, advertisers and the Internet Service Provider (ISP) by allowing users to surf anonymously. This is now integrated for free in its top security suite product.
The VPN further facilitates uncensored access by enabling users to bypass geographical restrictions to access censored websites and geo-restricted content. It further prevents ISP throttling by hiding the users services options.
Enhanced performance
The improved Avira's System Speedup now provides a superior pc tune-up solution which includes wiping out of online history, freeing up of drive space, optimizes PC speed, provides boot optimization, secure deletion, encryption, and thorough drive cleaning.
Other services offered by the system speed up include:
Prolonged battery life
Facilitates faster boot up process
Registry cleaner to detect and fix registry errors
Junk file cleaner
File shredder
Continuous updates
The new version promises to constantly add security layers, components, and services to the existing suite by providing regular and free updates.
Revamped Avira Connect launcher
All the packages in this new edition are controlled and managed from a revamped Avira Connect launcher located at the system tray. Despite the fact that it manages a number of components, it launches quickly and allows the users to control all the components from a central location.