This is the first change that we saw in Hitman pro product after acquisition of its company Surfright by Sophos. Sophos is well known Antivirus vendor specially in endpoint protection. Recently Sophos acquired Surfright who is the maker of HitmanPro Antimalware and second opinion behavioral scanner.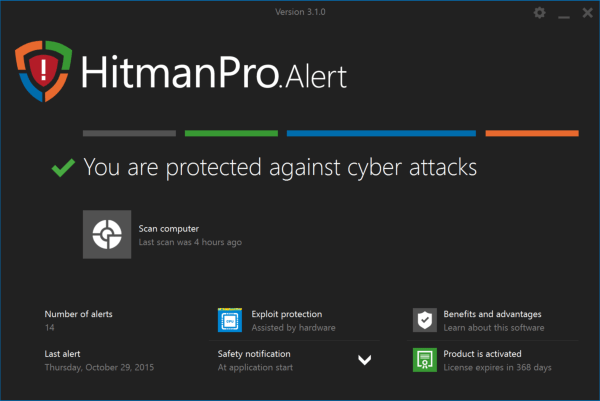 Previously HitmanPro.Alert was free for those who buy HitmanPro license. But now both these products are being sold separately by the company. Though still the HitmanPro.Alert license is also valid for the HitmanPro product.
Though it is no longer Free but still it is worth to buy.
Difference between HitmanPro and HitmanPro.Alert
HitmanPro is a well known and reputed on demand malware scanner. Later on surfright launched a product HitmanPro.Alert which has the real time protection feature to block the malware in real time along with anti-ransomware capabilities. See What is the difference between HitmanPro and HitmanPro.Alert.
---
---
Features
HitmanPro
HitmanPro.Alert
On Demand Malware scanning and removal

Yes

Yes

PUP /PUA (Unwanted software / toolbar Removal)

Yes

Yes

Cloud scanning with Sophos, Bitdefender & Kaspersky AV engines

Yes

Yes

Real time protection (Automatically Stop malware before they enter)

No

Yes

Anti-Ransomware to protect data from crypto-ransomware

No

Yes

Anti-Exploit to stop abusing software vulnerability

No

Yes

Safe Browsing, Webcam Notifier, Keystroke Encryption,
Process Protection, bad USB protection etc.

No

Yes

Price
$24.95
$34.95
Download Trial
Download
Download
New HitmanPro.Alert providing great protection against malware and ransomware with its unique technology. HitmanPro.Alert have combined many protection features into one product like Malware scanner, cloud AV Scanner, AntiRansomware and AntiExploit. Whereas the other strong competitor Malwarebytes is providing all the protection feature as the separate products. Read Malwarebytes Vs HitmanPro.