Remote desktop software is a very helpful tool to help friends, employees or customers over the computer.
What is Remote Desktop Software?
Remote Desktop Software are used to access the another computer's desktop over internet. It is useful when anyone want to access their computer from a remote location over internet like for Managing multiple computers, for education and presentation, for providing remote support, personal use or business use etc. These software are very helpful in troubleshooting a computer remotely.
Best Remote Desktop Software
Below are the Top Premium and Free Remote Desktop Software which are used by Remote tech support providers which have all the features that a professional tech company require weather a big enterprise or a small business. Mostly all these software are compatible with Windows 10. There are lots of choices for Remote troubleshooting software.
This is one of the best tool to provide remote tech support to the end users. Though it is not free and is a paid remote desktop solution but it has many features which are absent in other remote desktop software. It is very reliable and is very easy to use. Logmein provide solutions for all type of need. Its Pro & Central products are best tools used as Remote Access software for Small Businesses and It Professionals and its Rescue product as the best On Demand Remote Support software.
End user do not have to download any software at their end they just have to enter the 6 digit code to connect to the technician through browser. It supports Mobile, Mac and windows devices with all the great features like Session Recording, Chat, Audio Video Call etc. It does not support Linux platform.
---
---
Team Viewer is a very popular remote access software as it is free for the personal use. Mostly people use it for their personal tasks. But it is also very powerful in commercial use as it provide all the possible feature that a remote tech support company require like Chat, Whiteboard, HD Voip, Remote audio and video, Session Recording, service queue etc.
Setup of teamviewer is very easy and it supports OS X, Linux, Android and iOS and Chromebook etc. Team Viewer does not require any port forwarding setting or any other special settings to configure. It supports online meetings and Collaboration. It comes as portable utility and as well as installer.
After logmein and Team Viewer we are putting screen connect as it provide good features and good support. Screen Connect can be easily customized with your own brand. Another good point is that apart from its hosted services it also provides self hosted license which you can deploy on your own infrastructure. Its self hosted license starts from $2195. Its recorded session get saved in user's machine with AVI format.
Bomgar is specially designed to give Remote support to the customers. It can be easily integrated with the chat company's chat system or support system. It is a great tool used by IT support companies who troubleshoot their clients's PC. Companies can easily manage its customers with its capability of multi device support and all other features that you think should have in a remote troubleshooting software.
Citrix is well known name for its remote management products with GoTo Series like GoToMeeting, GoToMyPC, GoToManage and GoToAssist Etc. GoToAssist is specially designed software for the Remote PC Troubleshooting which was released in 2012. Citrix's old product GoTOMyPC is also very popular to manage the computers remotely and even some support providers still use this as Remote PC Support.
Citrix GoToMyPC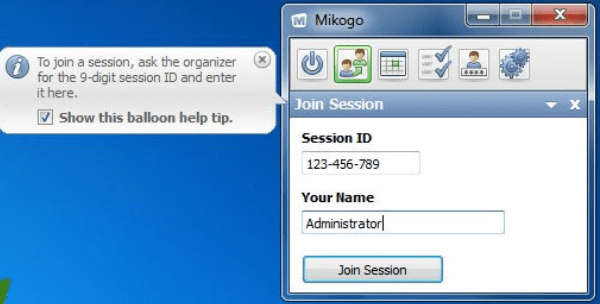 Mikogo is another good alternative of Premium Remote Support Software. It is packed with lots of features and easy to use. It is a totally Browser based solution and no need to download any utility or software. It is multi platform supported with VOIP facility. They are improving their software continuously to compete with other software.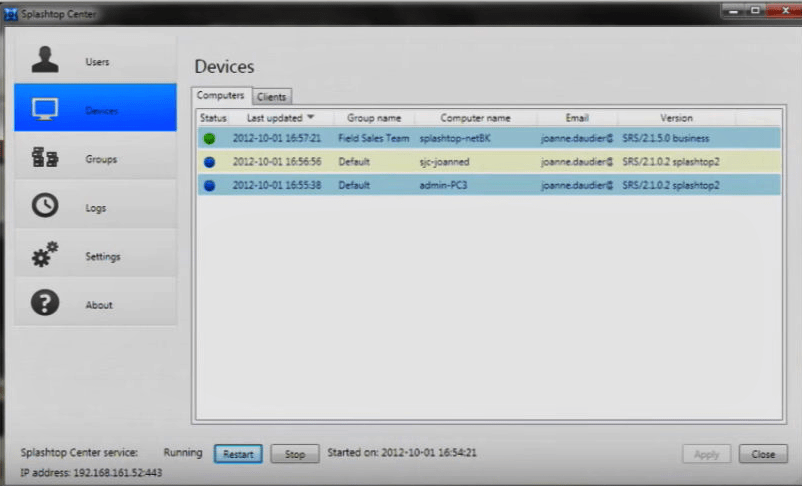 Splashtop is providing remote access solution in cheaper price then other premium service providers. If you require to use this on your local network then it free to use, but to use it over internet you need to buy a commercial license. It provide solution as per the user's requirement. On premise self hosted solution, Unattended support license per computer based and attended on demand support licensing based on per technician. Splashtop is giving good competition by becoming a good alternative to Legmein and TeamViewer like top remote support software.
---
Comparison of Top 7 Remote Access Software
Product
Remote Reboot/
Reconnect
Safe Mode
Support
File
Transfer
Remote
Printing
Session
Recording
Audio / VIdeo Support
Text
Chat
Platform
Supported
LogMeIn Rescue

Yes

Yes

Yes

Yes

Yes

Yes

Yes

Mac, Win, iOS, Android
Team Viewer

Yes

Yes

Yes

Yes

Yes

Yes

Yes

Mac, Win, iOS, Android, Linux,
Screen Connect

Yes

Yes

Yes

Yes

Yes

Yes

Yes

Mac, Win, iOS, Android, Linux
Bomgar

Yes

Yes

Yes

No

Yes

No

Yes

Mac,Win, iOS
Android, Linux
Citrix GoToAssist

Yes

Yes

Yes

No

Yes

Yes

Yes

Mac, Win, iOS, Android
Mikogo
–
–

Yes

No

Yes

Yes

Yes

Mac, Win, iOS, Android
Splashtop

Yes

Yes

Yes

No

Yes

–

Yes

Mac, Win, iOS, Android
The above comparison table can give you an idea of the common features available in Top Remote Access Software. But there are some other good and cheap and even free alternatives are also available apart from the Freely Available Remote Desktop Connection (RDP) by Microsoft and Chrome Remote Desktop by Google.
Though Windows have an inbuilt remote desktop option to share or control other computer. But setting up that is not easy. So there are other professional service providers providing many extra features with the remote desktop service.
Other Remote desktop Software Alternatives
Below are some Other Alternatives for Screen Sharing / Remote Desktop Sharing which can also be used as remote support software or troubleshooting software for Small businesses and personal use to help other user.
How does remote-access software help in the troubleshooting process?
Remote Access / Desktop Software let the technicians to access customer's computer and perform the troubleshooting steps remotely from their computer. It helps both customers and technicians to save time and money. Customers can get the support quickly without waiting for the technicians to visit personally. Remote support is cheaper then the Onsite support. Tech support companies can also enhance their support capabilities in less price.